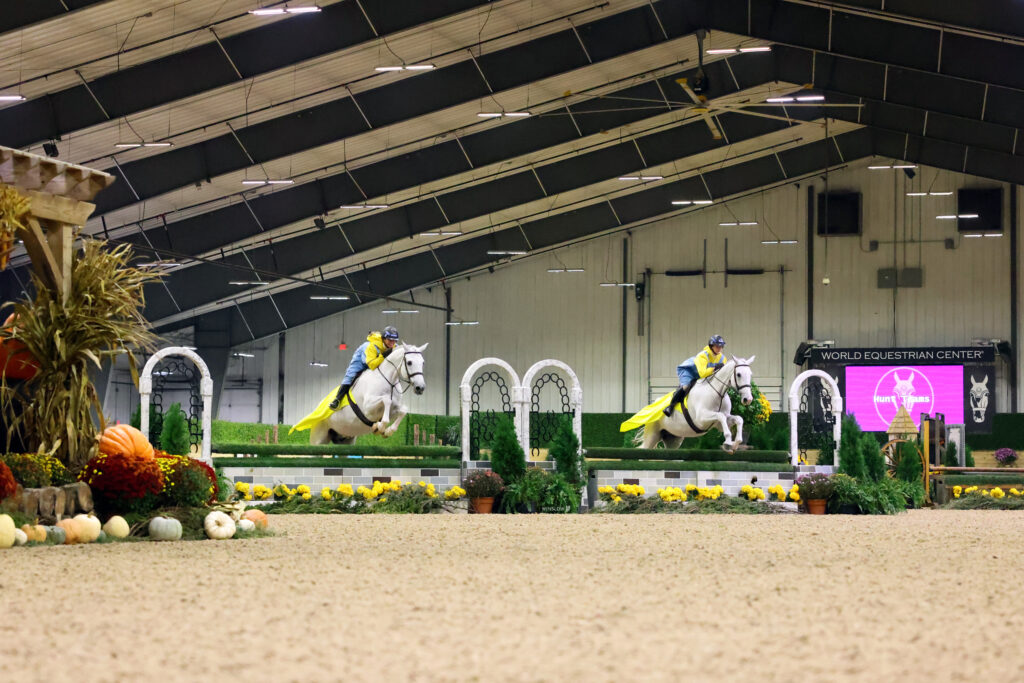 Wilmington, Ohio – Riders and trainers alike were in the Halloween spirit Friday evening of Fall Classic 4 at World Equestrian Center – Wilmington for the $1,500 Costume Hunt Team class!
A total of seven pairs followed each other around Bobby Murphy's traditional hunter course and met at jumps four and eight to jump in synchronicity.
Teams and their costumes included the Barbie Dream Team, Top Gun, Winnie the Pooh Bears, the M&Ms, the Lost Jumpers, Tall and Small, and the winning team, the Minions.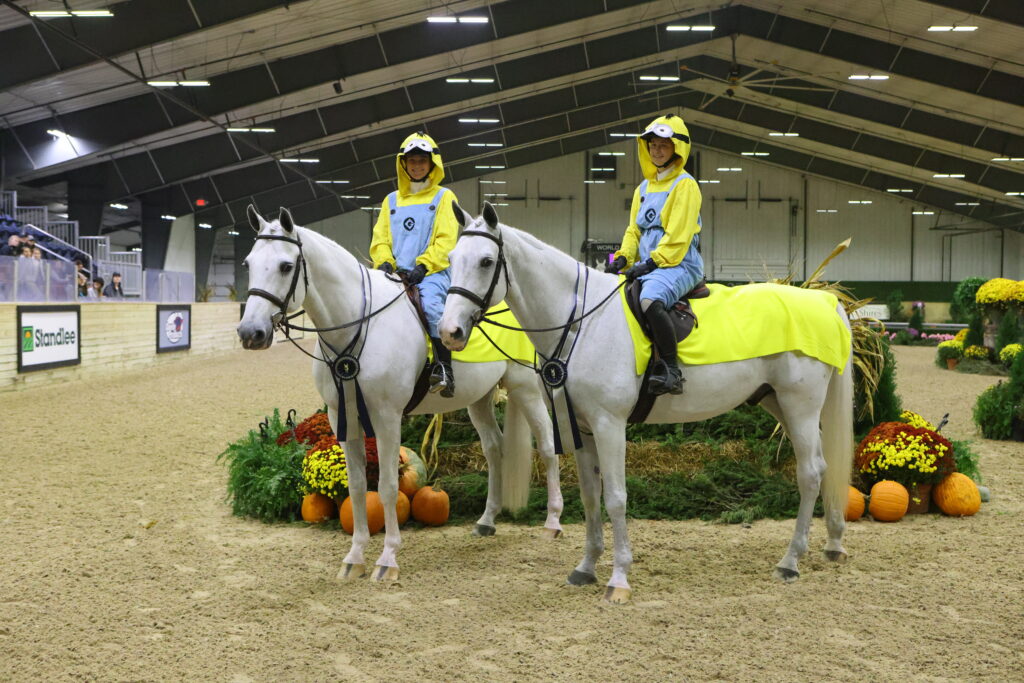 The Minions, made up of Melissa Donnelly and Taylor Johnson, accurately maintained a three-stride distance apart and jumped in perfect sync to claim the win.
Donnelly was aboard Corlando 49, a 17-year-old Holsteiner gelding, and Johnson piloted Castlebridge Cassius, an 11-year-old Irish Sport Horse gelding around the R+L, both horses and riders decked out as Minions!
If you were unable to attend, not to worry! Costume fun will continue at Fall Classic 5 with the $2,500 Costume Gamblers Choice Class .90-1.0m and the $3,500 Costume Gamblers Choice Class 1.10-1.15m. $250 will be awarded to the champion costume and $150 will be awarded to the reserve costume. The Spooky Horse Costume Competition will also take place Saturday, October 28 in Vendor Village!
$1,500 Costume Hunt Teams Results:
The Minions
1 Corlando 49, Melissa Donnelly
1 Castlebridge Cassius, Taylor Johnson

Winnie The Pooh Bears
2 Billy Cromwell, Elizabeth Rinehart
2 Contigo, Izzy Beisel

Tall & Small
3 Crescendo W, Elyse Batista
3 Sullivan GS, Ashley Grinyer

The Lost Jumpers
4 Capriccio, Nicole Tedford
4 Dolfinn, Brigette Myers

Barbie Dream Team
5 Arya Rose, Courtney Hicks
5 Mirocco Blue, Melissa Hicks

The M&Ms
6 Kingston Blue, Luke Rinehart
6 Hawkwinds Princenton Hit, Cooper Beisel
Top Gun
7 Monroe, Aubrey Ciriello
7 Grey Goose, Ellen Owens