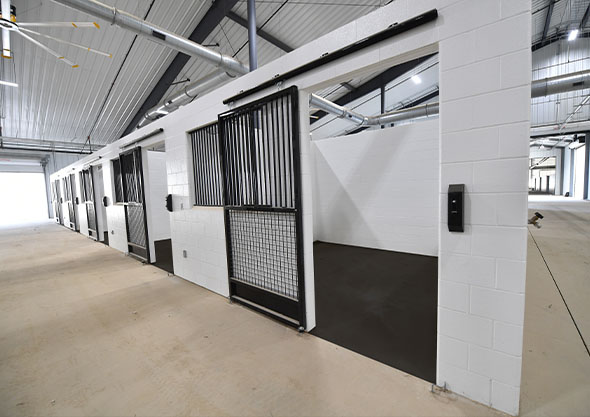 World Equestrian Center – Ocala features permanent stabling to accommodate nearly 3,000 horses. Each of our permanent Florida equestrian barns is climate-controlled and equipped with fans, ensuring proper air circulation. All stalls come equipped with individual ceiling fans to increase the comfort of the horses stabled on-site.
Barns have 12-foot aisles to provide plenty of room for horses and staff to move around. The stalls in our barns are very spacious, measuring 12×14 and 12×12, to accommodate horses of all sizes. The concrete barns and stalls come equipped with matted floors. All stalls in the permanent stabling have steel-grated sliding doors to maximize air circulation.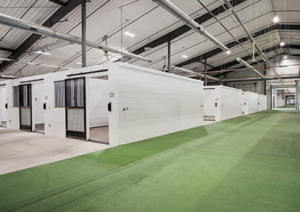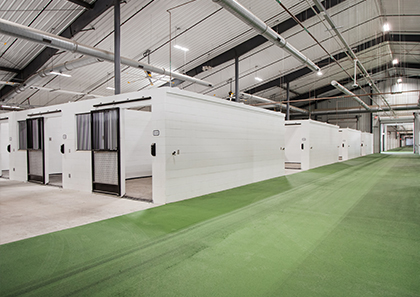 Amenities:
Florida Equestrian Barns
Each aisle has its own 12×14 tack room with temperature-controlled wash racks in each barn. There are seven racks in each corner of each barn.
Also, for the convenience of our exhibitors and their barn staff, our barns have separate washrooms for women and men.
The barns are situated within close proximity to:
Turnout paddocks
Lunging/schooling areas
Lighted arenas for safe and easy access
Dedicated paths and walkways around the facility that help horses efficiently move between barns and competition areas.
To order feed and bedding for horse shows at World Equestrian Center – Ocala, click here.