World Equestrian Center FAQs – Ocala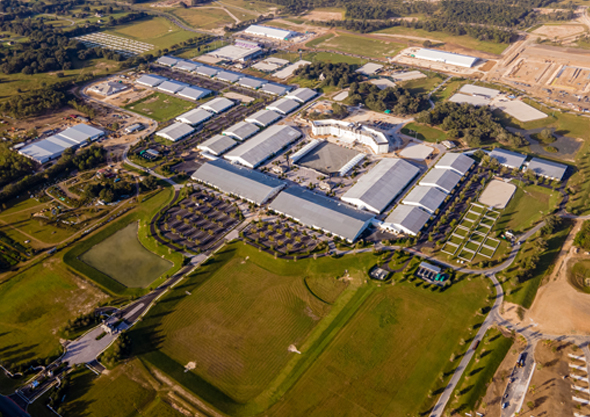 Address/Entrance for Exhibitors
1390 NW 80th Court Road,
Ocala, FL 34482
Phone Customer Service: 352.414.7900
Free Parking
WHERE CAN I FIND THE NSBA RULE BOOK?
The link to the 2020 NSBA Rule Book  can be found here. The 2021 NSBA Rule Book will be available in December. Specific class guidelines and other information may be found in the NSBA WEC Ocala Prize List. Watch for updates to the Prize List through the end of December 2020.
HOW CAN I REGISTER FOR NSBA MEMBERSHIP FOR MYSELF AND MY HORSE?
Visit the National Snaffle Bit Association website here.
WILL THERE BE EQUINE DRUG TESTING AT NSBA HUNTER/JUMPER SHOWS HELD AT THE WORLD EQUESTRIAN CENTER?
NSBA conducts equine drug testing at all of its horse shows.  The NSBA uses the Equine Analytical Chemistry Laboratory at the University of Kentucky in Lexington, Kentucky for sample analysis. Prohibited substances can be found in the NSBA rule book.  In addition, the NSBA shall give reciprocity to any suspensions or bans currently imposed by any international or U.S. based national equestrian governing body. If you are currently suspended by an international or U.S. based equestrian governing body for an anti-doping rule violation (human or equine) you will not be able to compete at NSBA horse shows for the duration of the suspension. NSBA also has its own enforcement rules and proceedings and has the authority to suspend or ban participants for violations of NSBA rules.
I HAVE HEARD THAT IF I SHOW AT THE NSBA HUNTER/JUMPER SHOWS THE USEF WILL SANCTION OR BAN ME FROM USEF COMPETITION. IS THAT TRUE?
Since we released our event schedule a couple of weeks ago, some of you have expressed concern that participation in NSBA Events at WEC Ocala will lead to a 6 month suspension by the USEF. This comes from confusion surrounding the FEI Unsanctioned Event rule. This notice will clarify the situation.
The USEF cannot suspend you for participation in NSBA events unless you are a registered FEI Rider or Official – the USEF does not have any rule in place that punishes USEF registered riders, horses or officials from competing in Unsanctioned Events. If you only compete or officiate at USEF level, there is no risk of suspension to you whatsoever. This includes, of course, everyone involved exclusively in hunters or equitation, as hunters and equitation are not FEI disciplines.
The FEI does have an Unsanctioned Event rule, which applies only to FEI registered riders, horses, and officials – we cannot say for sure at this time whether the FEI would choose to take any action against FEI registered NSBA participants. Any action taken would not be automatic: the FEI provides an opportunity to be heard before any sanction is imposed. The FEI can decide to impose no sanction, a warning, or up to a 6-month suspension from FEI and USEF events. In other words, 6 months is the maximum you could be suspended and it would only happen after you had an opportunity to explain the circumstances. If the FEI does suspend you, you can appeal to the FEI Tribunal.  But if the FEI Tribunal enforces the suspension, the USEF would honor the suspension and you would also be prevented from competing nationally.
I always worry about bringing my horses to new venues, what have you done to ensure that World Equestrian Center is a safe facility for horses?
When we built this facility, we had the horse in mind at every stage.  From the footing, to the rings, to the stabling, as well as our policies around horse welfare and anti-doping.  WEC Ocala was conceived with the welfare of the horse as a guiding priority.  This venue is not just VIP for the riders, it is also VIP for the horses.
What is the NSBA and WEC position of Safe Sport?
Safe Sport, World Equestrian Center and the NSBA will comply with all requirements for amateur sport as set forth in the Ted Stevens Olympic and Amateur Sports Act and will refer all complaints to the United States Center for Safe Sport for independent investigation. World Equestrian Center shall uphold standards equal to those set forth in the Equestrian NGB's Safe Sport Policy. World Equestrian Center shall give full reciprocity to any sanctions imposed by the U.S. Center for Safe Sport that are published on the Centralized Disciplinary Database.
WHERE CAN I FIND THE SAFE SPORT SUSPENSION LIST?
Click here to access the Safe Sport Centralized Disciplinary Database. 
WHO IS RESPONSIBLE FOR MAINTAINING COMPETITION SUSPENSION AND BANS?
The NSBA will provide reciprocity to any National or International Federation suspension.
WHERE CAN I LEARN MORE ABOUT POTENTIAL VIOLATIONS, GRIEVANCES AND HEARINGS?
Check out the NSBA website and associated rules.
HOW CAN I CONTEST COMPETITION POINTS?
Click here and complete the points issue form.
WHAT VACCINATIONS DOES MY HORSE NEED TO COMPETE IN NSBA SHOWS IN OCALA THIS WINTER?
Please consult with your treating veterinarian for recommended vaccines for horses traveling to or resident in Florida. At a minimum you must produce a valid health certificate, proof of a negative Coggins test within the past 12 months and written proof of the administration of the vaccine for Equine Herpes Virus and Equine Influenza for each horse that enters the grounds (stabled or ship in). WEC Ocala takes horse and horse herd safety and welfare very seriously. All horses and paperwork will be evaluated at the entrance gate and horses without the required paperwork will be denied admission to the grounds.
ARE THERE ON-SITE VETERINARIANS?
Yes, please call 352.812.1411 to reach our horse show veterinarian, Larry Wexler.
How do I get to the show grounds? What are the closest airports?
World Equestrian Center – Ocala is conveniently located in North Central Florida, less than two hours away from either coast and several major airports. We are near the Golden Ocala Golf & Equestrian Club and can accommodate vehicles and parties of all sizes.
I've never been to the World Equestrian Center before. Is there a map of the show grounds available?
Click here to view a map of the show grounds.
What are the dates of World Equestrian Center horse shows?
For specific show dates throughout the year, please see our online calendar of events.
Where can I find a prize list?
Prize lists are available here.
Where can I download an entry form, prize list or required health documents?
Required forms are available here.
What is the phone number to call the show office?
You can reach our show office by calling 352.414.7883.
Who can I contact for stall reservations or about feed and bedding?
Contact Stabling Manager David Orlando by calling 352.414.3582 or emailing ocalastalls@wec.net.
Where can I see results? Where can I watch videos of my round?
Ocala, Florida – Results, orders-of-go, ring statuses and more can all be viewed here.
How can I contact World Equestrian Center Security?
If you need to report suspicious activity or call World Equestrian Center security for any reason, call 352.414.7960. Security services are available 24/7.
Is there a livestream from the World Equestrian Center?
Ocala, Florida – Click here
Where can I see a list of judges and officials?
Please click here to see a list of the judges and officials.
Do you have on-site shopping at World Equestrian Center?
On-site shopping has never been better at the World Equestrian Center! At any given horse show, we have dozens of carefully curated vendors on-site who offer a selection of:
Equipment

Horse care products

Saddles and tack

Horse clothing and boots

Supplements and treats

Clothing for in and out of the show ring

Accessories

Tack trunks

Jumps

Specialty foods

Equestrian-inspired home goods
Ocala Spectator FAQs
Where can I learn more about the schedule of events that are happening at the facility?
The events calendar is accessible on the homepage of our website. You can also sign up to receive emails from the World Equestrian Center through our website, or by sending a message.
What types of events are happening at the facility?
World Equestrian Center – Ocala hosts a variety of horse show disciplines, as well as sporting events, expositions, canine events and more!
What are the hours of operation?
Hours may vary for select merchants, restaurants, events and offices. Please contact the appropriate department or visit our wec.net for specific hours of operation.
Is there an Admission Fee at World Equestrian Center shows?
All events are free unless otherwise noted.
Is there seating available at the events?
Yes, we have covered seating and pavilions throughout the facility. The Grand Outdoor Arena accommodates up to 2,500 spectators, over 7,500 at World Equestrian Center Stadium and over 1,300 at each of the four indoor arenas.
Is there a charge for parking?
Parking is free at World Equestrian Center.
Is the World Equestrian Center handicap accessible?
Yes.
Can I bring my dog?
Dogs on leashes are always welcome.
Are the World Equestrian Center events family-friendly?
World Equestrian Center hosts events for the whole family to enjoy.
Are there places to eat at the World Equestrian Center?
World Equestrian Center – Ocala offers multiple dining options throughout the property, including seven restaurants, each with unique menus.
Do you serve alcohol at the facility?
Yes.
Is there shopping on site at World Equestrian Center?
Yes, vendors are spread throughout the facility.
Can I take photos at the facility?
Yes, you may take photos for personal use.
Can my organization have an event at World Equestrian Center?
Yes. Please fill out our contact form to receive additional information.
Can my organization have an equestrian event at the facility?
Yes! Inquire here to learn more.
Are there job opportunities at World Equestrian Center?
Please see the Careers section of our Web site for job openings.