World Equestrian Center – Wilmington Restaurants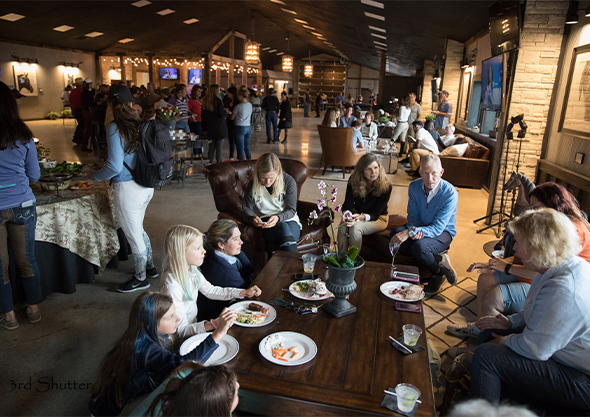 The Paddock Club
Open to exhibitors every day at 4pm during horse show days, The Paddock Club is one of the family-friendly, World Equestrian Center – Wilmington restaurants, as well as a gathering place featuring a full bar, flat screen TVs, free Wi-Fi and multiple comfortable seating areas.
World Equestrian Center – Wilmington guests enjoy the relaxed atmosphere and elegant, equestrian-inspired décor of The Paddock Club. There are intimate sitting areas complete with overstuffed leather sofas, broad coffee tables and saddle leather club chairs. High top dining tables are crafted from refurbished wine barrels with copper tops. These tables are the ideal spots for eating and conversing with friends.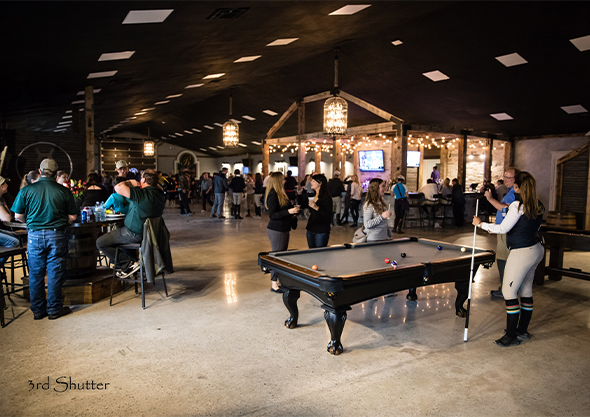 In addition to its relaxing atmosphere, the Paddock Club also has an area dedicated to fun with pool tables, Foosball and shuffleboard. There is also a karaoke machine for those who want to enjoy some active play time.
The Paddock Club also doubles as an equestrian art gallery, featuring a fabulous collection of original equestrian-themed linocuts by internationally acclaimed artist Sarah Lockwood Taylor that are available for purchase.
The Paddock Club also serves as an event space and accommodates a range of functions during our horse shows including exhibitor parties and other special events.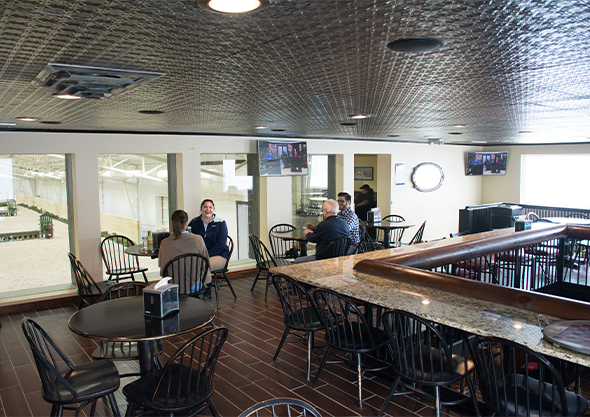 The International Grille & Café
The International Café at World Equestrian Center – Wilmington is conveniently located outside the Roberts Arena and next to the Horse Show Office. The International Café opens at 7am on show days. The café features a classic on-site dining menu consisting of full breakfast, lunch and dinner options. We offer daily specials and a selection of beer and wine.
The International Café is equipped with free Wi-Fi and offers several seating options including high top tables for two and four, booth seating and two private seating areas. Enjoy the spacious upstairs seating area with windows overlooking the Roberts Arena for an unparalleled view of the show ring action.
Dark Horse Coffee Co.
The popular Dark Horse Coffee Co. is now proudly serving Starbucks! Conveniently located in Vendor Village, this cozy coffee house is nestled in the corner by the Shaggy Chic Pet Parlor. A brand new Ride Up Window service is available for equestrians on the go. Dark Horse Coffee Co. opens daily at 6:30am and offers a variety of coffee, tea, lattes and specialty drinks, as well as a collection of pastries and sweet treats.