Vendors at World Equestrian Center Ocala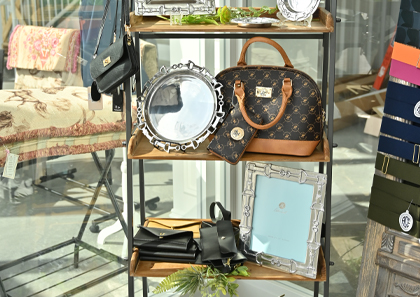 World Equestrian Center – Ocala's Florida horse show complex features several vendors at any given horse show. Vendors arrive from all over the country, even traveling internationally to offer their wide-range of equestrian items. Vendors are located within our vendor courtyard and specialty retailers are accessible throughout the property.
80th Avenue Retail Expansion | Coming 2025
The Shoppes off 80th Avenue, an 80,000-square-foot outdoor shopping mall, will be situated adjacent to The Riding Academy Hotel and the Event Center at WEC. Effectively doubling the property's existing retail with 31 new units, visitors and guests will be able to browse a swath of unique storefronts featuring luxury brands, all in one convenient location. Construction is set to begin in 2024.
Interested in reserving a future retail space? Contact Don Deluca and Mark Sherman directly by email at leasing@rlrllc.com or call 937.382.1494 Ext. 1426.
Products and services available at World Equestrian Center include:
WEC-branded merchandise
Horse care products
Saddles and tack
Horse clothing and boots
Supplements and treats
Clothing for in and out of the show ring
Fashion accessories
Gifts and stationery
Photography
Tack trunks
Specialty foods
On-site custom embroidery
Equestrian-inspired home goods
Be a World Equestrian Center Vendor
For vendor inquiries in Ocala, contact Christy Baxter at christy.baxter@wec.net. If you have a product or service that would interest World Equestrian Center exhibitors and spectators, please consider joining our Ocala, Florida vendor family!
While we welcome vendors at World Equestrian Center on a week-by-week basis, many vendors prefer to stay for the entirety of a show circuit.  Please see our home page to check the calendar of events to choose the right dates for your vendor experience at the World Equestrian Center and review our vendor kit in advance.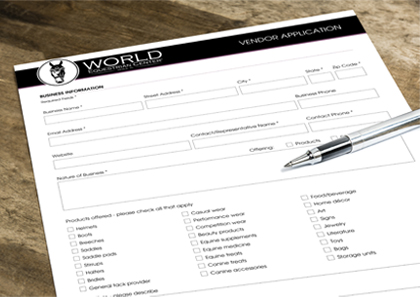 Horse Show Vendor Registration Requirements
Ocala, Florida vendors must complete an application and sign a contract. A non-refundable deposit will be due at the time of application. The deposit is applied to the total vendor fees.
Along with the application and contract, vendors must provide the World Equestrian Center with business tax number and certificate of insurance.
Vendors participating in Ocala will also need to comply with our WEC retail brand protocol.  A list of brands that are already sold onsite by one of WEC's retail outlets can be requested by emailing christy.baxter@wec.net.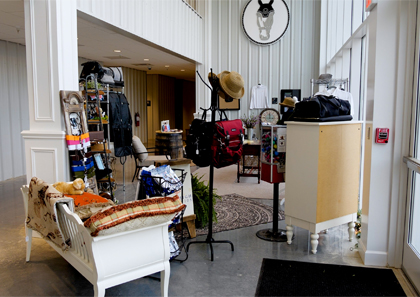 On-Site Set Up
Our vendors typically set up Monday or Tuesday. Special arrangements can be made for vendors who wish to open later in the week as long as it does not disrupt the horse show.
Vendor Services
Catering
Catering services are available for vendors who wish to supply refreshments or host a social event for shoppers.
Marketing Support
We are committed to the success of our World Equestrian Center vendors. Some of the services we offer our Ocala, Florida vendors to boost awareness of their presence at the horse show are:
Daily PSAs
Arrange and promote trunk shows
Host social events