Shopping at World Equestrian Center – Wilmington
On-site shopping has never been better at World Equestrian Center – Wilmington! At any given horse show, we have a collection of carefully curated vendors on-site who offer a selection of equipment, horse care products, saddles and tack, horse clothing and boots, supplements and treats, clothing for in and out of the show ring, accessories, tack trunks, jumps, specialty foods and equestrian-inspired home goods.
Our saddle vendors include industry favorites including Antarès, CWD/Devoucoux and Voltaire. Each company has on-site representatives available to do saddle fittings and to help with all saddle and tack needs.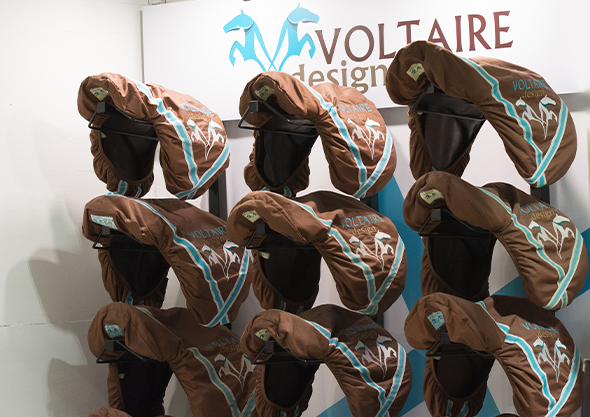 Dandy Products is always on-site during horse shows, providing exhibitors with made-to-order wall and floor padding for their personal barns and trailers, as well as a variety of barn equipment including tack trunks and liverpools.
Chagrin Saddlery, The Custom Fox and The Rider's Boutique have permanent on-site tack shops at the venue and work to ensure that the best brands in the industry are available to our exhibitors. Shoppers will recognize brands like Parlanti, Fabbri and Tucci boots. Helmets abound from top brands including Charles Owen, GPA, Samshield and KASK are available from expert helmet fitters. Clothing collections from Tailored Sportsman, Pikeur, Four Horses, Equiline, Animo, Cavalleri Toscano, and more. Shoppers can also depend on specialty services including tailoring, as well as custom helmet and boot fittings on-site.
Our own A Sudden Impulse boutique features an eclectic selection of elegant gifts, jewelry, whimsical home goods, fun stuff for kids and dogs and a whole lot of WEC-branded clothing and merchandise.

A Sudden Impulse: WEC Merchandise and More
We've carefully curated the items at A Sudden Impulse boutique to include a broad range of items from fanciful artwork, fine jewelry and equestrian-inspired antiques, to fun items like overstuffed pillows and throws from Sugar Boo Designs, travel bags, scented soaps and candles and insulated Swell water bottles.
Our co-branded logo merchandise comes from popular brands like Vineyard Vines and includes WEC-branded vests, elegant embroidered V-neck sweaters, fleece wear, polo shirts, spirit shirts, jackets, belts and three-quarter zip pullovers as well as WEC T-shirts, ball caps, coffee mugs, tumblers and weekender bags.
At A Sudden Impulse, you can shop the jewelry collection from Lisa Welch designs, an American jewelry designer who has combined her passion and talent of art and design with her love for animals. Her unique and distinctive jewelry styles are perfect for the fashion-savvy and discriminating pet owner.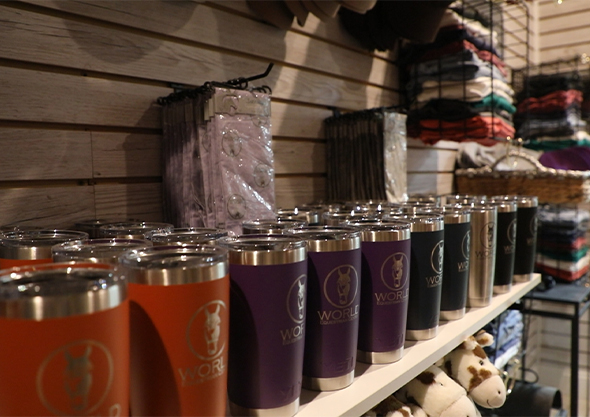 We also have a wonderful collection of unique items for kids like coloring books, stickers, popular WEC pop-sockets, colorful WEC branded socks and Melissa & Doug stuffed animals. For that furry friend in your life we have dog collars, leashes, travel bowls and treats.
There's something for everyone at A Sudden Impulse boutique. With two locations: in Vendor Village and by the Roberts Arena, open during horse show hours or by chance.
Visit the A Sudden Impulse website to view the entire collection.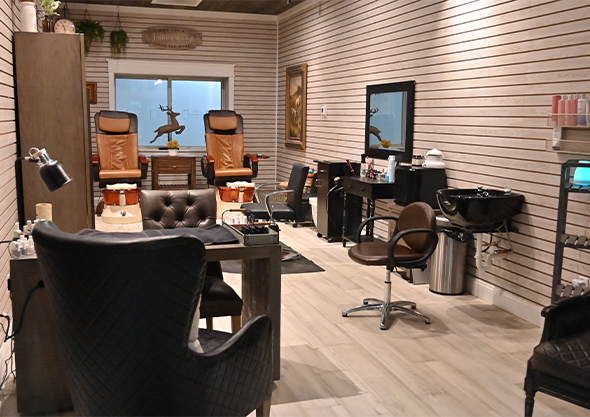 Salon & Day Spa at Vendor Village
Visitors to World Equestrian Center – Wilmington's Vendor Village can enjoy a single treatment or day of pampering at A Bit of Class Salon & Day Spa. Step away from the horse show hustle and bustle to revel in the soothing atmosphere of the day spa featuring quiet music, air transfused with essential oils and spa services including massages, manicures and pedicures, skin treatments, haircuts, coloring and blowouts. Whether visitors are at World Equestrian Center – Wilmington competing or spectating, they'll be relaxed, rejuvenated and looking their best after a trip to A Bit of Class Salon & Day Spa.