Wilmington Equestrian Arenas
Our facilities include nine indoor equestrian arenas designed for competition, warm-up, schooling, and lunging rings. The World Equestrian Center's outdoor facilities include three outdoor competition rings and three warm-up rings.
Visitors to World Equestrian Center will appreciate the bright, clean aesthetic and the open, airy atmosphere of our facility. The sign outside says Welcome Home Equestrians—and we mean that from the heart. Our friendly staff is here to welcome our guests and make them feel at home.
The climate-controlled indoor arenas at the World Equestrian Center connect to stable areas by covered walkways, so once you arrive, you'll never have to go outside. The entire facility is kept at a comfortable 68 degrees throughout. The state-of-the-art HVAC systems keep fresh air flowing. Industrial fans keep the air circulating in each arena.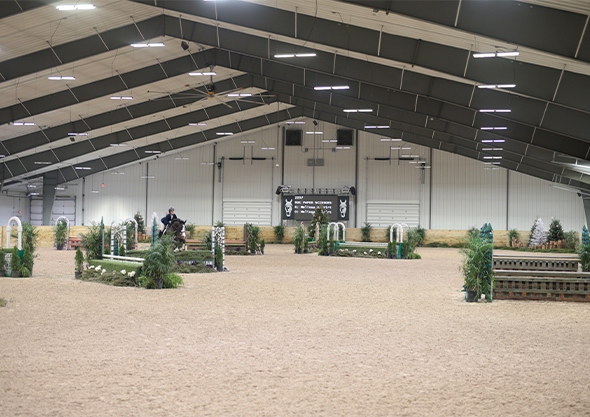 Our Indoor Equestrian Arenas at Wilmington
The R+L Arena
Bright, spacious, open and airy, the R+L Arena is our largest indoor arena. It can accommodate two show rings with dedicated schooling areas. The R+L Arena is climate-controlled and features custom-blended GGT footing, LED lighting, a state-of-the-art HVAC system, and high-end fans to ensure the space is bright and comfortable for our exhibitors and spectators.
There is ample space ringside in the R+L Arena for vendors and events such as exhibitor parties. The R+L Walkway runs the length of the R+L Arena and provides space for vendors and the elegant sponsor wall.
Spectators can enjoy comfortable ringside seating that spans the entire length of the arena, so they never miss a moment of the action.
The R+L Arena Specifications
Arena Dimensions: 120-by-615-feet
Seating Capacity: 330
Climate Controlled
Custom-blended GGT Footing
HVAC/Industrial fans
LED Lighting
Announcers Booth/Judges Stand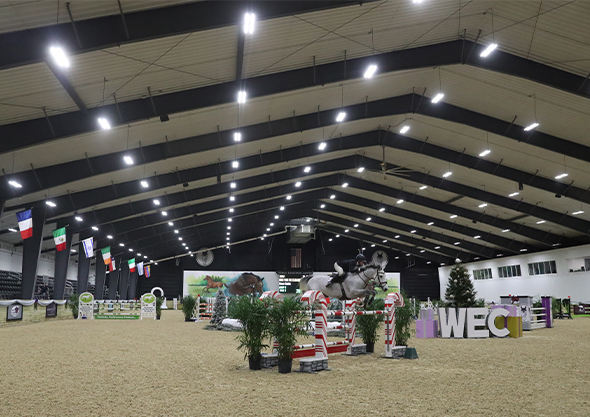 The Sanctuary
The Sanctuary is a spectacular 210-by-350-foot climate-controlled indoor competition space featuring custom-blended GGT footing, a digital scoreboard, LED lighting, a dedicated warm-up arena, and heated walkways to stabling and other competition areas.
The far end of the Sanctuary Arena features a magnificent mural.
The Sanctuary Specifications
Arena Dimensions: 210-by-350-feet
Seating Capacity: 1,100
Climate Controlled
Custom-blended GGT Footing
Digital Scoreboard
LED Lighting
HVAC/Industrial fans
VIP
Media Center
Announcers Booth/Judges Stand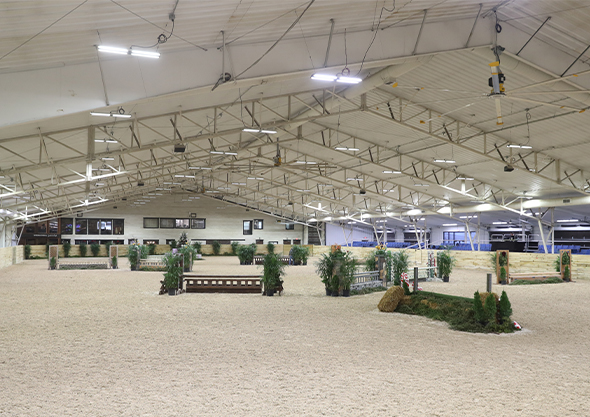 Roberts Arena
The Roberts Arena is a bright, airy arena that typically hosts pony, junior and young horse competitions. In 2018, the Roberts Arena underwent an extensive renovation, with new footing, a new roof, expanded seating and walkway, and a total cosmetic overhaul.
On one end of the Roberts Arena, The International Café and Grille offers a full menu and bar, and upstairs seating overlooking the ring. Sudden Impulse boutique is just outside the far end of the ring, next to the Junior Rider's Lounge. The Roberts Arena is adjacent to stabling, the R+L Arena, the Winners Circle, and the Sanctuary by enclosed walkways.
Roberts Arena Specifications
Arena Dimensions: 108-by-260-feet
Schooling Arena Dimensions: 60-by-150-feet
Seating Capacity: 268
Climate-Controlled Space
Premium Footing
Industrial fans
LED Lighting
Announcers Booth/Judges Stand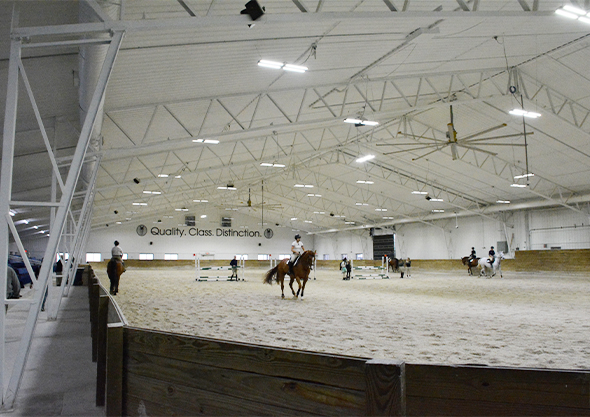 Bradley Arena
Currently used as the schooling area for the Sanctuary, the Bradley Arena is 100-by-208-feet. It is centrally located in the World Equestrian Center, directly outside Vendor Village. The Bradley Arena can easily convert into a competition ring with enough seating for 480 spectators. Equipped with custom-blended GGT footing, LED lighting and plenty of seating, this arena is prepared for you to enjoy any event.
Our indoor arenas are interconnected by a set of covered walkways. Contact a World Equestrian Center representative today to learn more about our Wilmington equestrian arenas and book your next event.
Bradley Arena Specifications
Arena Dimensions: 100-by-208-feet
Seating Capacity: 480
Premium Footing
LED Lighting
Judges Booth/Announcers Stand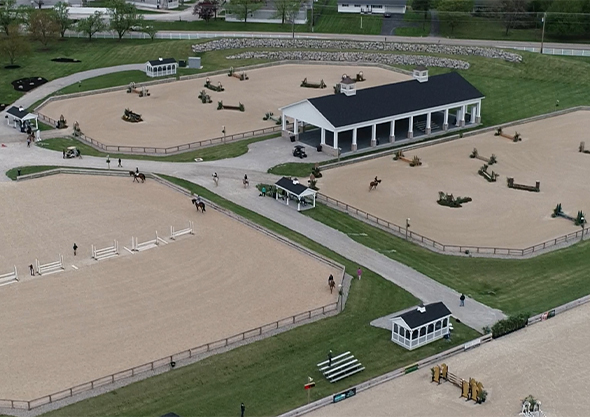 World Equestrian Center – Wilmington Outdoor Horse Show Complex
Our outdoor horse show grounds feature three spacious competition rings with two dedicated schooling rings. Exhibitors will enjoy golf cart accessibility and our spacious shade pavilion — equipped with large fans to keep exhibitors, spectators, grooms and horses comfortable even on the hottest days.
Exhibitors and spectators will experience ringside seating, concessions and vendor shopping, as well as conveniently located parking.
Outdoor Arena Specifications
Jumper Ring: 300-by-180-feet
Hunter 1: 280-by-150-feet
Hunter 2: 285-by-150-feet
Schooling 1: 220-by-180-feet
Schooling 2: 280-by-135-feet
Lunging Ring: 320-by-220-feet