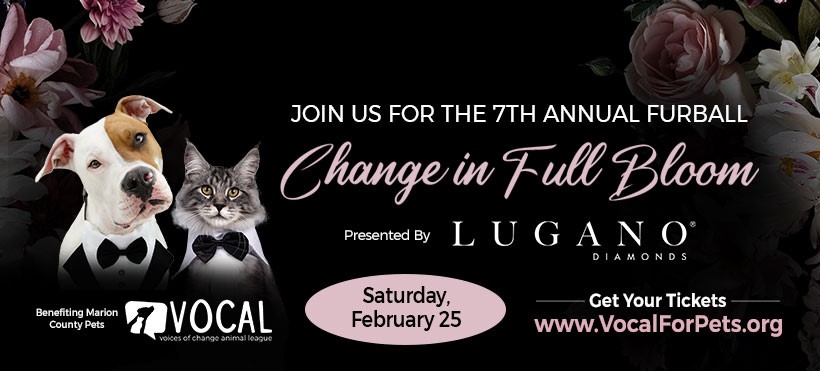 Ocala, FL – Get ready to dance the night away during the 7th Annual Furball Gala on February 25, 2023 at World Equestrian Center – Ocala. The Furball, presented by Lugano Diamonds, has become one of Ocala's premiere events of the season featuring great entertainment, delicious food all aimed at raising funds for VOCAL — Voices of Change Animal League to help homeless pets in the region.
Doors open at 6 pm and guests will be treated to a cocktail hour featuring a variety of delectable hors d'oeuvres including cheese and charcuterie, a tantalizing display of fresh vegetables along with a champagne tower and open bar sponsored by Bill & Cheryl Findlay.
Supporters in formal attire will certainly make fabulous fashion statements while showing off their latest moves on the dance floor. And although the event is formal, black-tie optional, ladies are not required to be in long gowns or dresses.
Keeping the crowd on their feet throughout the evening will be The Stagers, an energetic 6-piece variety band popular in the Central Florida region. The band's play list covers tunes from the '50s to today's hits from Rock 'n Roll, R&B, Blues, Latin, Swing, Pop, and today's Top 40 chart. Grab your dance partner and have some fun to a favorite tune from yesteryear or join in with a popular line dance and let your feet do the talking.
The Furball this year, "Change in Full Bloom" is in a new venue this year, Expo Center 1 at World Equestrian Center which allows more room to accommodate the increased gala attendance. It also means a larger dance floor to groove the night away.
All that dancing works up the appetite, but the culinary staff of World Equestrian Center has a great 3-course menu planned for the gala. Dinner begins with the WEC Salad completed with a citrus shallot sherry vinaigrette dressing. Next is a choice of one of the three entrée selections which include Braised Beef Short Ribs, Lemon Herb Crusted Chicken Breast or Butternut Squash Ravioli. And the finishing touch to dinner will be the dessert station featuring Chocolate Mousse with Whipped Vanilla Panna Cotta and Hazelnut Crumble.
While not on the dance floor, gala attendees will have a chance to learn more about VOCAL and the mission of helping homeless pets in Marion County, FL. The effort began in 2015 and has evolved to provide prevention services, community outreach along with adoption and collaboration. The fundraising goal for 2023 is $125,000, however the hope is to reach and exceed the goal. Proceeds from the 7th Annual Furball are earmarked to fund VOCAL's overall work to include the Community Clinic, Pet Food Bank, the adoption process and providing low cost procedures.
During the Furball, guests can further help the mission by bidding during the Silent Auction or the 50-50 Raffle.
"We have a package to stay at The Equestrian Hotel at WEC and attend one of the grand prix on the terrace during The Grand Prix Dining Experience presented by Wheels Up," said VOCAL Vice President/Founder Lauren Carpenter.
The auction will also feature a limited-edition bronze sculpture "She's Retired and Free" by local artist Todd Lane.
A must-visit stop during the gala is the Cuddle Lounge to meet Mermaid, the 2023 Furball Ambassador. Mermaid is a 3-year-old American Staffordshire Terrier who is described as "an amazingly friendly tri-colored tri-pod looking for a couch to call her own and who steals the hearts of everyone she meets." Be sure to get a selfie with Mermaid who is available for adoption during your cuddle session.
VOCAL also recognizes the list of sponsors for the 7th Annual Furball who help make the evening possible: Presenting sponsor – Lugano Diamonds; Platinum sponsors – Ocala Horse Properties, Solar Trek, Penn Flooring, Pat Myers Electric; Gold sponsors –Gold's Gym, Freedom Nissan, Ocala Fence; Silver sponsors – ClosetMaid, Furlong Financial Group, PLLC, Sullivan Cadillac, Ocala Periodontics & Dental Implants, Cone Distributing, SouthState Bank, First Federal Bank, Florida Express Environmental, Pediatric Associates of Ocala, Sabal Direct Primary Care and Dr. Paul & Mrs. Joyce Urban; Bar & Cocktail Hour sponsors – Bill & Cheryl Findlay.
The 2023 Furball gala "Change in Full Bloom," begins at 6 p.m. on Feb. 25th in Expo Center 1 at the World Equestrian Center. Event tickets are $150 and can be purchased online at https://vocalforpets.org until Monday, February 20.