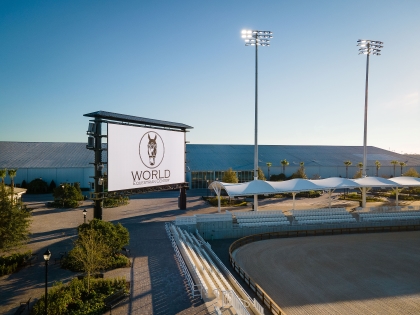 Maker of Adequan® supports Ocala venue as exclusive joint health partner
OCALA, Fla. – September 20, 2021- World Equestrian Center welcomes American Regent Animal Health, maker of Adequan® i.m. (polysulfated glycosaminoglycan), to its family of official sponsors at World Equestrian Center – Ocala.
"Adequan® has a 30-year legacy of supporting horses and riders, and we're excited to build on that tradition through our new partnership with the World Equestrian Center in Ocala," said Andy Ferrigno, Senior Director of Sales and Marketing for American Regent Animal Health. "WEC and Adequan both champion athletes at multiple levels and in multiple disciplines. We look forward to working together to provide riders with new competitive opportunities and to help keep horses moving through all the events at this world-class facility."
World Equestrian Center – Ocala is a year-round equestrian and sports venue with indoor arenas and multipurpose buildings for vendors. Two Expo Centers may host tradeshows and conventions, as well as automobile, art and antique shows and weddings. The expansive facility sits on 378 acres with another 300 in reserve for future expansion.
"At World Equestrian Center, the safety and comfort of our equine athletes is a top priority," said Roby Roberts, World Equestrian Center CEO. "We are grateful for American Regent Animal Health's contributions to our equine athletes, to World Equestrian Center and to equestrian sport."
The partnership with American Regent Animal Health supports WEC in hosting events for equine athletes from across the country and even the world.

About American Regent Animal Health
American Regent Animal Health, a division of American Regent, Inc., is committed to advancing animal health with proven FDA-approved products like Adequan® (polysulfated glycosaminoglycan). The company's portfolio is anchored by the only FDA-approved polysulfated glycosaminoglycan products for horses and dogs, which have been relied on for over three decades by veterinarians. American Regent, Inc., a Daiichi Sankyo Group Company, manufactures and distributes human and veterinary pharmaceutical products and is committed to providing the ever-changing U.S. healthcare marketplace with a growing and diversified American Regent portfolio. For more information on American Regent Animal Health, visit ARAnimalHealth.com or call 800-458-0163.
About World Equestrian Center
World Equestrian Center features two premier equestrian and multidisciplinary venues in Ocala, Florida, and Wilmington, Ohio.
These exclusive facilities comprise state-of-the-art arenas, expansive stadiums, versatile outdoor space, sporting fields and well-appointed exposition centers. An abundance of lodging options and luxury accommodations are conveniently located on-site, along with shopping and dining throughout each property.
Dedicated to offering great sport and fun in a family-friendly environment, World Equestrian Center promises an unparalleled experience for exhibitors, spectators, vendors, sponsors and retailers built on three core values: Quality. Class. Distinction.
Learn more at: wec.net
Media Contact:
Candace FitzGerald
candace.fitzgerald@wec.net
603.738.2788