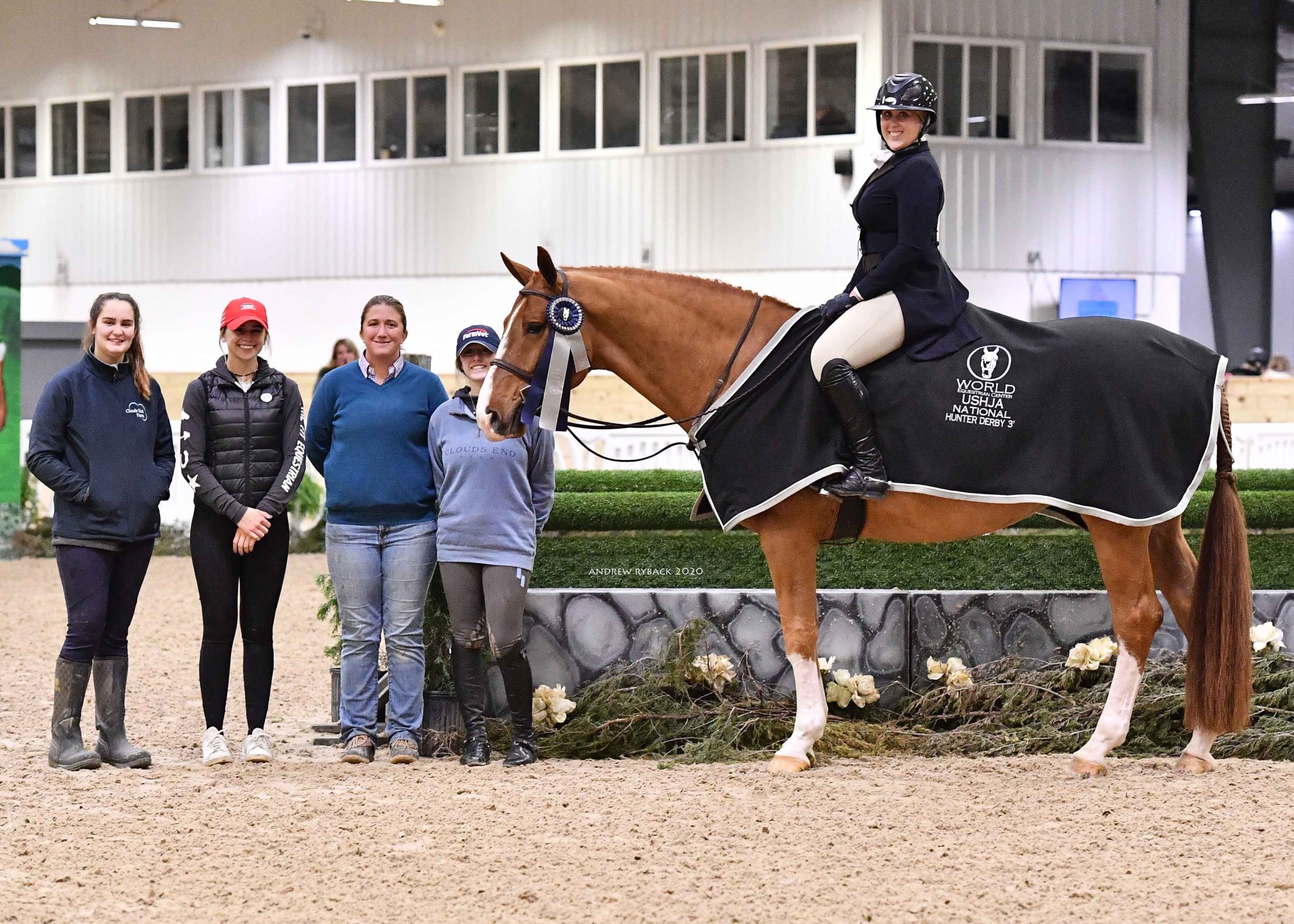 Thirty-five stunning hunters took to the R+L Arena this evening to vie for the win in the $5,000 USHJA National Hunter Derby. The course for tonight's class was designed by Tucker Williams of getjumps.com and featured multiple bending lines, a two-stride and four high options. The class featured fantastic hunter action with scores reaching into the 90s and just half of a point separating the top three placings. Ultimately, it was Anna Schierholz and Grace Hutson's Constellation (Cellestial) who delivered two foot-perfect rounds to take home the blue ribbon, a stunning wool cooler and the lion's share of the prize money.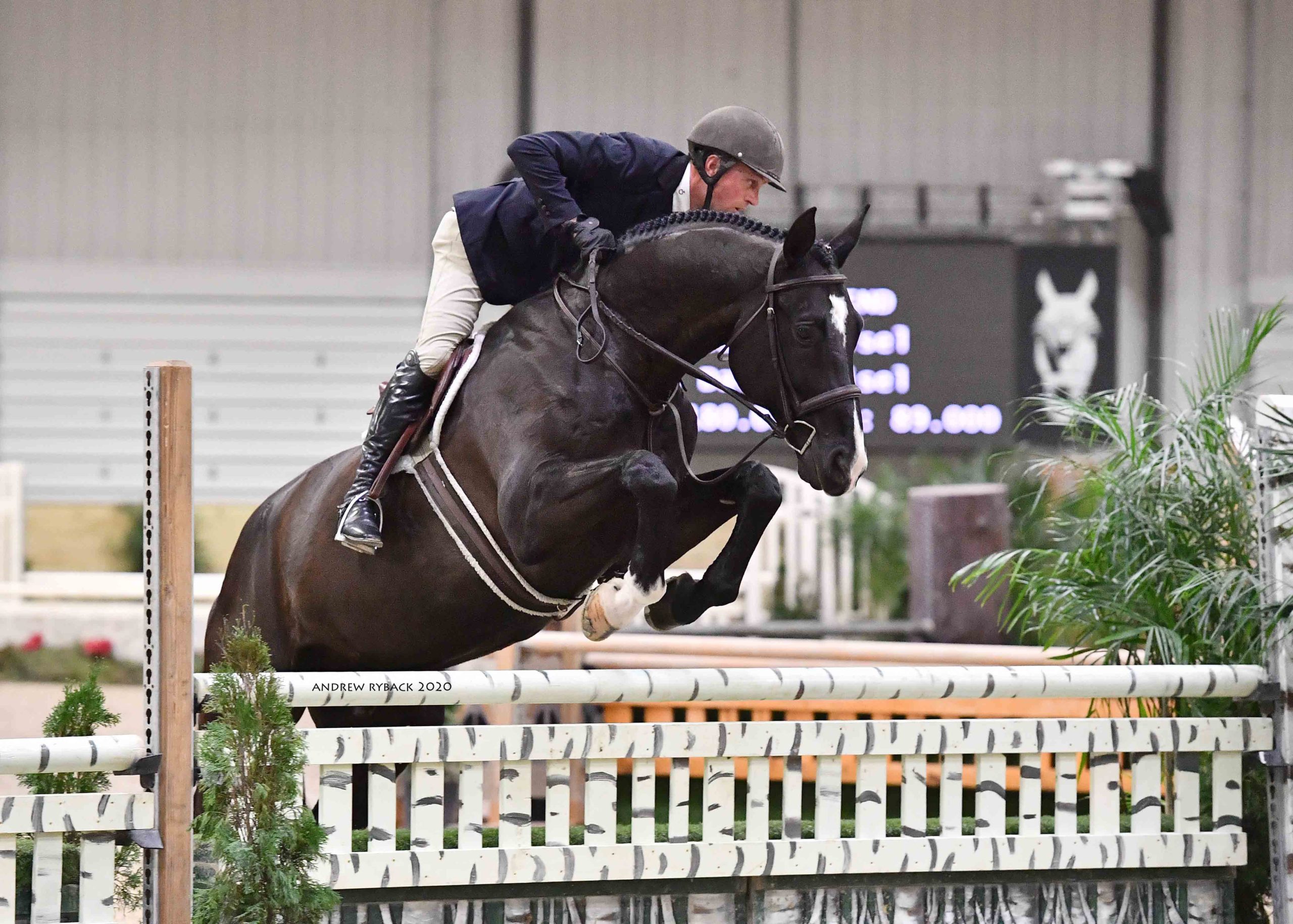 David Beisel and his own The Boy Friend (Gracieux x Vironja) set a high standard early in the class. The striking black gelding often competes with Beisel aboard in the Performance Hunters and also earns top placings in the Amateur Owner Hunter's with Beisel's wife, Paige. Tonight, Beisel and the 12-year-old Oldenburg gelding were second in the order of go and laid down a flawless first round, taking all four high options for a score of 89.5 and setting the bar high for the remaining entries.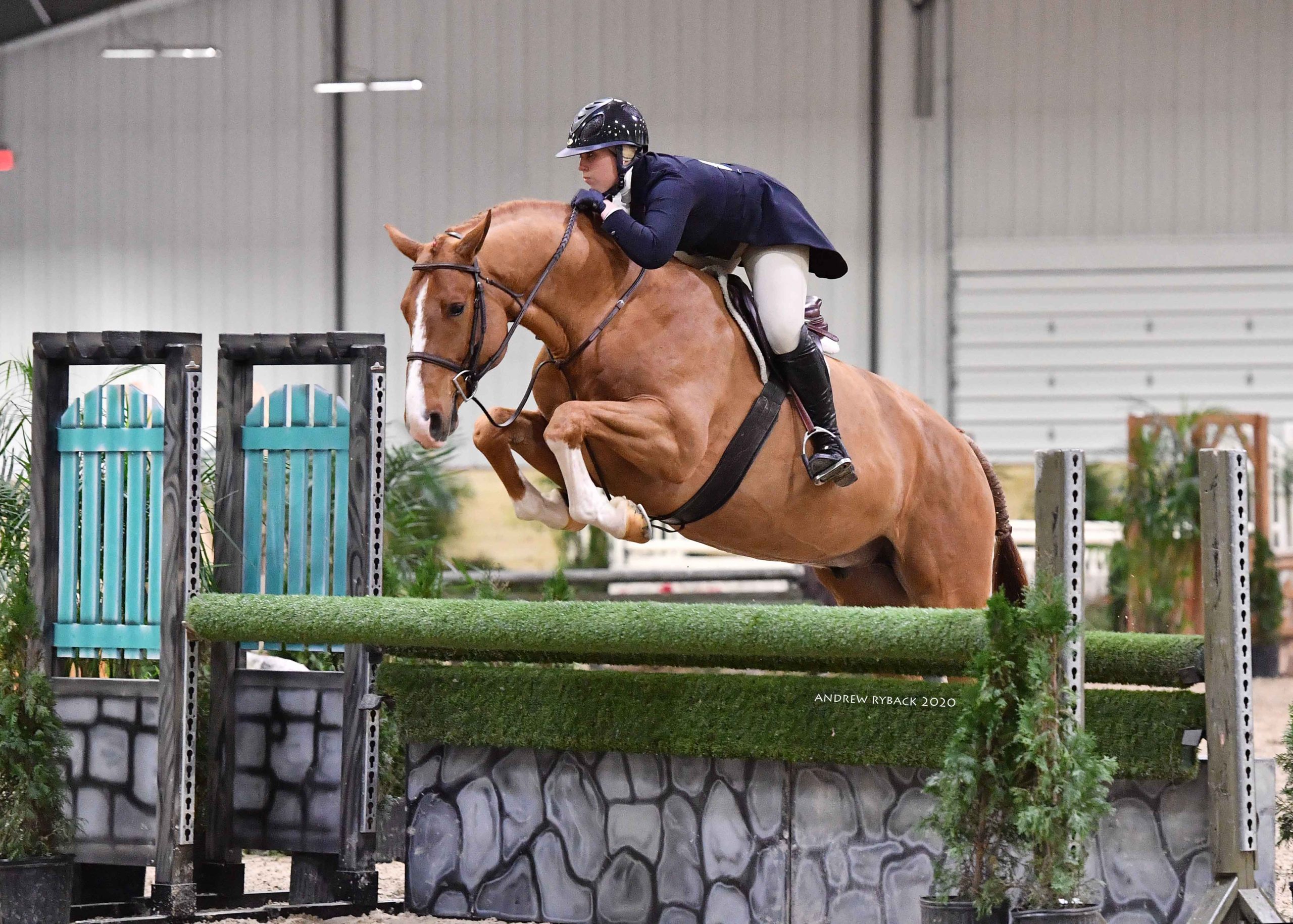 Anna Schierholz and Grace Hutson's Constellation (Cellestial) were hot on their trail, delivering a breathtaking first round and taking all four high options for a score of 88. Schierholz and the seven-year-old KWPN gelding earned a third place finish in the $5,000 USHJA National Hunter Derby during Week 6 of 'Winter in the Midwest' at World Equestrian Center with scores of 81 and 88, signaling that they would be strong competitors in tonight's class.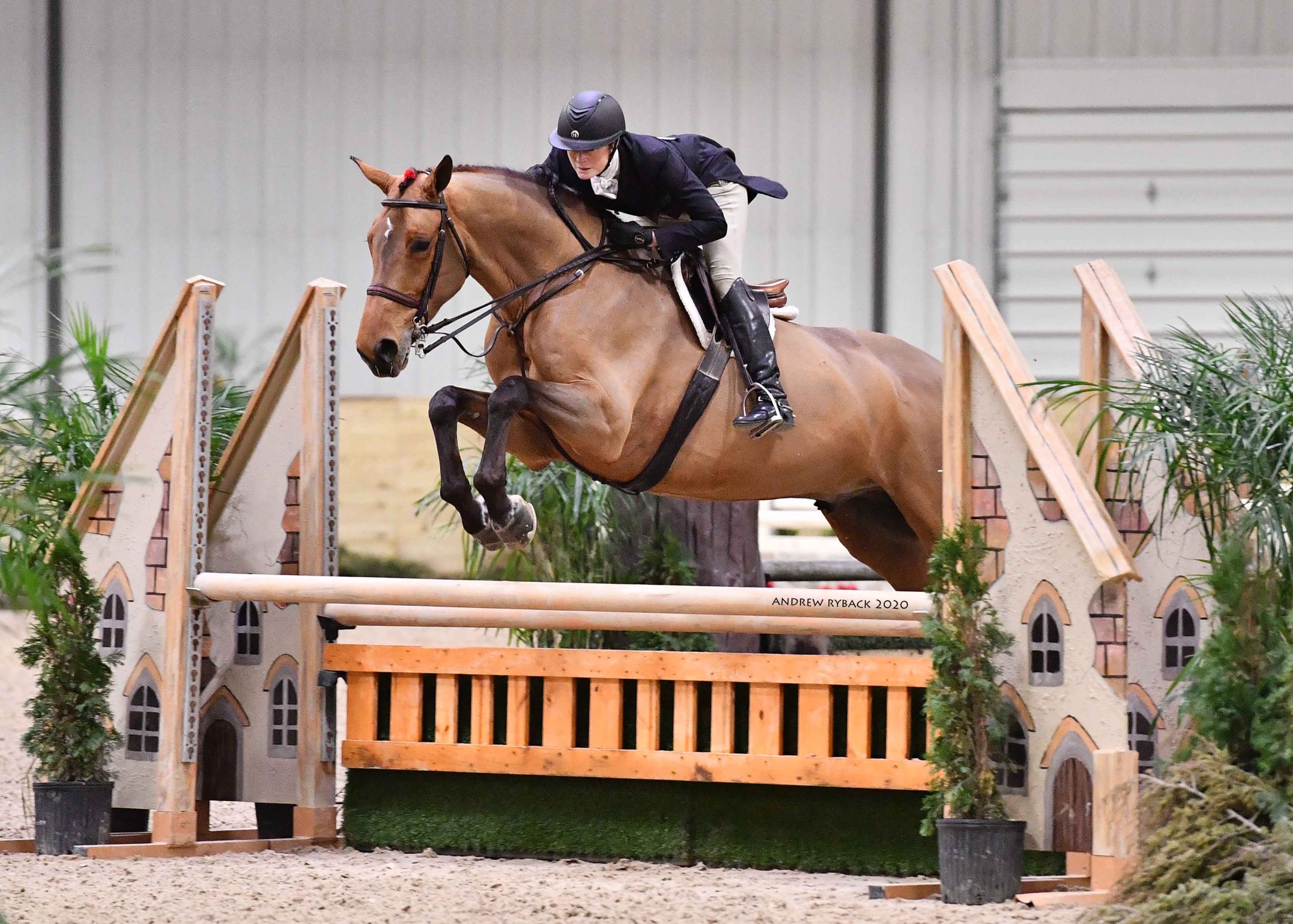 Meg Howard-Fuleky and Lissa Guyton's News For You (I Am Moerhoeve's Star x Boule de Neige IV) also made an impression on the judges, earning the highest score of the first round near the end of the order. The pair often competes to top placings in the Green Hunters and Performance Hunters, and recently earned a fourth place finish in the $5,000 USHJA National Hunter Derby at World Equestrian Center. Tonight, the pair flowed through the first round, effortlessly taking all four high options for a score of 89.5.
The ring was refreshed and the top twelve entries returned for the handy round. Schierholz and Constellation returned near the end of the order, executing tidy inside turns to fences 2, 4, 7 and 8. The pair was rewarded for their impressive round with a score of 92, bringing their overall total score to 180 and moving them into first place. Beisel and The Boy Friend were next to return for the handy round. The pair opted for the inside track to fences 2, 4, 5 and 7, earning a score of 89.5 for an overall total score to 179.5, just one-half of a point behind Schierholz and Constellation. Last to return were Howard-Fuleky and News For You. The pair chose to take all possible inside turns, winding their way through the course with expert precision for a score of 89.25. This brought their total to 179.75, securing a second place finish, moving Beisel and The Boy Friend to third place and leaving Schierholz and Constellation on top to take the win.
Schierholz of Clouds End Farm in St. Louis, Missouri stuck around after the class to chat with us ringside about her win aboard Constellation, "He's literally the most perfect hunter ride you could imagine; he's super soft in the mouth and you get to just leg up to the jumps. Thankfully, I had a really good friend here helping me set jumps this week and she told me to let go, and he jumped amazing. He's an incredible horse and he jumped beautifully all night. I'm really lucky to ride him."
When asked about her plan on course, Schierholz replied, "I thought the course designer set a course that allowed for nice options, not anything crazy, but options that showed off what your horse was able to do. Thankfully, my horse is very smart and picked up on exactly what I wanted. I was going for nice hunter turns and I wanted to be super smooth, but forward, which I think happened pretty nicely. I was really trying to show off the oxers that the judges could see well. For those jumps, I tried to give it my all so they could get a good last impression of him before I walked out of the ring."
We also got the scoop on Constellation's bubbly personality, "He is the biggest goober on the planet. He is a huge lover; he's just all over you all of the time. He's the most personable horse in the barn with the biggest personality. He's incredibly friendly and never pins his ears. He's the happiest horse, he smiles a ton. He loves Twizzlers, raisins and pretty much anything that you can feed him. His name is Riggs, but we call him 'Piggs' or 'Big Rigg' in the barn."
Schierholz also gave us some insight on her business, Clouds End Farm, "I was born and raised in St. Louis, Missouri. My farm, Coulds End Farm, is based there. Clouds End Farm is a boutique business with five main clients who have super nice horses with me. I also have a couple of investment horses of my own and a couple of investment horses for my clients. Constellation actually started with us as an investment horse. We bought him off of a video on a whim in Europe as a four-year-old. He's been in our program since then. We kind of started him from the ground up. We ended up selling him to a client in the barn, so I got to keep the ride on him, which has been amazing. I'm very grateful to all of my clients and owners for giving me the privilege to ride horses like Constellation. He's a horse of a lifetime for both me and for the people who own him."
$5,000 USHJA National Hunter Derby Results
Constellation, Anna Schierholz – 88 | 92 | 180
News For You, Meg Howard – Fuleky – 89.5 | 89.25 | 178.75
The Boy Friend, David Beisel – 89 | 89.5 | 178.5
Grand Tour, Elizabeth Becker – 85.1 | 91 | 176.1
MTM Bentley, David Beisel – 87.5 | 88 | 175.5
Commander B, Madison Weaver – 86.5 | 87.25 | 173.75
Ezekiel RM, Charlotte Clark – 86 | 87 | 173
Playlist, Claudia Wagner Wilson – 85 | 86 | 171
Outlook, Jennifer Schwartz – 86.75 | 81 | 167.75
Corlando 49, Melissa Donnelly – 85.5 | 80 | 165.5
Photos courtesy of Andrew Ryback Photography.