An enthusiastic crowd gathered for tonight's $50,000 World Equestrian Center Grand Prix sponsored by Buckeye Nutrition. Thirty six entries vied for their share of the $50,000 purse tonight with six entries advancing to the jump off, while seven pairs came away with four faults apiece.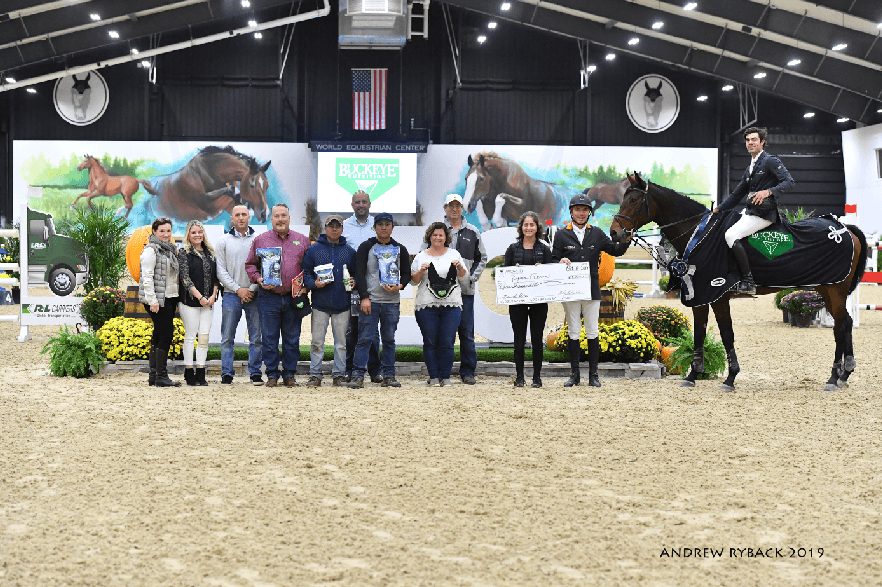 Competition was tight, but it was ultimately Ryan Genn and Bridlebourne Stables LLC's Colora (Contendro I x Hera XIX) that negotiated the course with two foot-perfect, clear rounds to take home the top honors. For their win, the pair received the lion's share of the prize money, a large prize pack from presenting sponsor Buckeye Nutrition, a prize pack from Horse First and a gift certificate from Dandy Products. Colora's three grooms also received the Groom's Award tonight of $100 cash and a $50 World Equestrian Center Gift Card for the mare's stunning turnout.
An elegant Fall themed exhibitors party at the ingate featured grilled cheese and tomato bisque, steak and potato bites, a massive charcuterie board and an array of desserts prepared by World Equestrian Center's Executive Chef Aaron Kemp. Spectators enjoyed the delicious spread as they watched the exciting action unfold in the ring. Most competitors in tonight's class sported green ribbons on the lapels of their jackets in support of fellow Grand Prix rider Kevin Babington.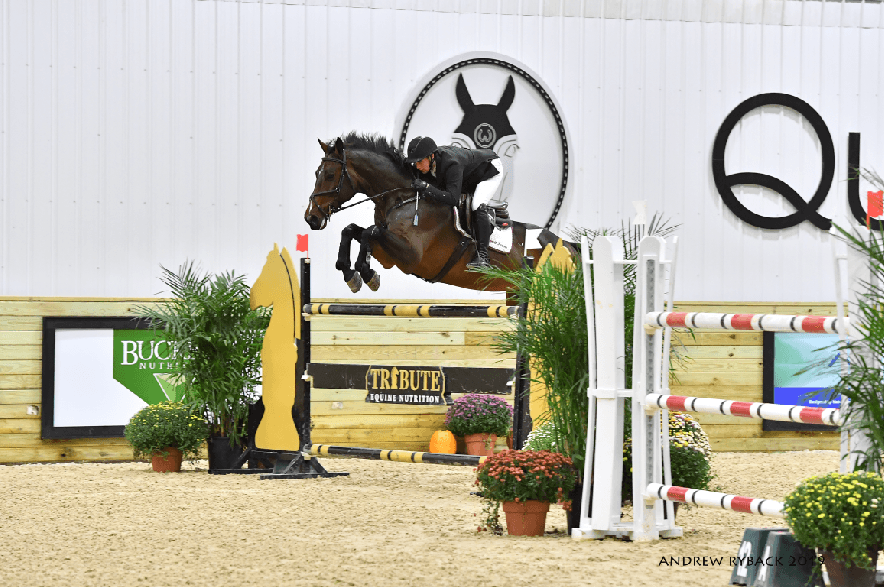 First to jump clear in the first round of the $50,000 World Equestrian Center Grand Prix sponsored by Buckeye Nutrition was Michael Burnett and his own Chagrand (Chacco-Blue x Centogrina). The pair took third place in last week's $25,000 World Equestrian Center Grand Prix and returned to the Sanctuary ring tonight to take on the technical track. Burnett and the ten year old Oldenburg gelding were blazing, leaving all rails up in a time of 65.530 seconds, well under the adjusted time allowed of 74 seconds, signaling that they would be tough to catch in the jump off.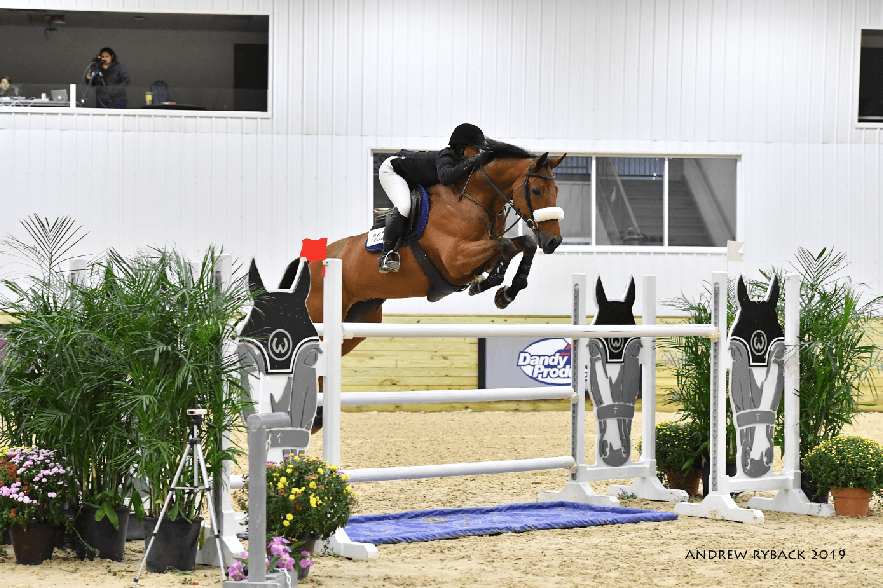 Next to jump clear was Tiffany Hammack and Foxwood Farm's Eldorado (Zapatero VDL x Pimpernel). The pair have taken top placings on the East coast this Summer in various 1.30m – 1.40m classes, preparing them well for tonight's track. Hammack and the ten year old Dutch Warmblood gelding were slightly slower in the first round, but still clear in a time of 72.737 seconds.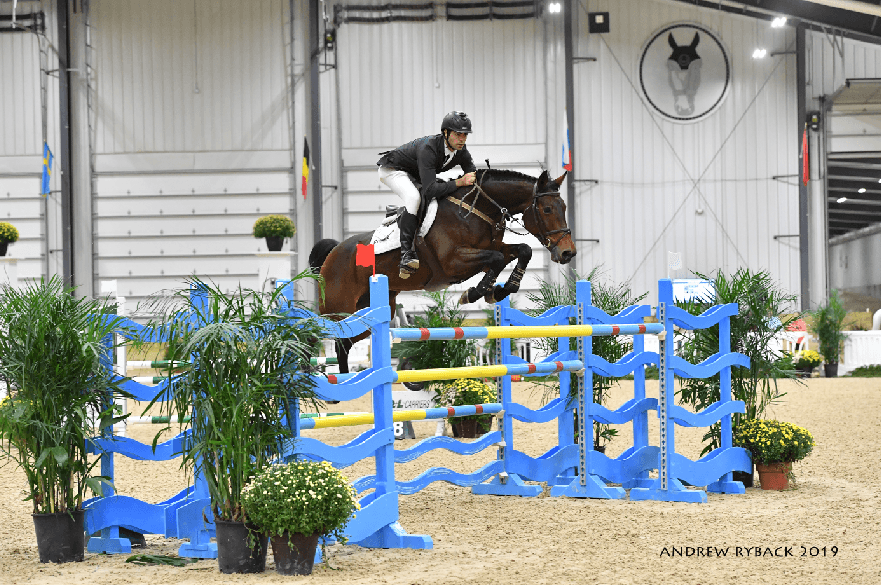 Ryan Genn also navigated a clear first round aboard Bridlebourne Stables LLC's Colora (Contendro I x Hera XIX). The pair had a fantastic Summer, taking top placings in Grand Prix across the Midwest and in Tryon. Tonight, Genn returned to World Equestrian Center to ready to win. Genn and the scopey ten year old Holsteiner mare delivered a foot perfect, clear first round in a time of 69.954 seconds, never touching a rail.
The course was reset and six entries returned for the jump off. The course did not offer many opportunities for inside turns, but did reward riders who turned early to approach fences. Burnett and Chagrand were first to return, setting the pace with a second clear round in 38.956 seconds. Next in the ring were Hammack and Eldorado. The pair blazed through the course, besting Burnett by a little over a tenth of a second in a time of 38.810. The pressure was on as Genn and Colora took to the short course. The pair sped through the lines, still managing sharp turns back to several fences, shaving crucial seconds off of the clock. The crowd roared as Genn and the bay mare raced through the timers at 37.961 seconds, moving themselves to the top of the scoreboard and holding their lead throughout the rest of the class.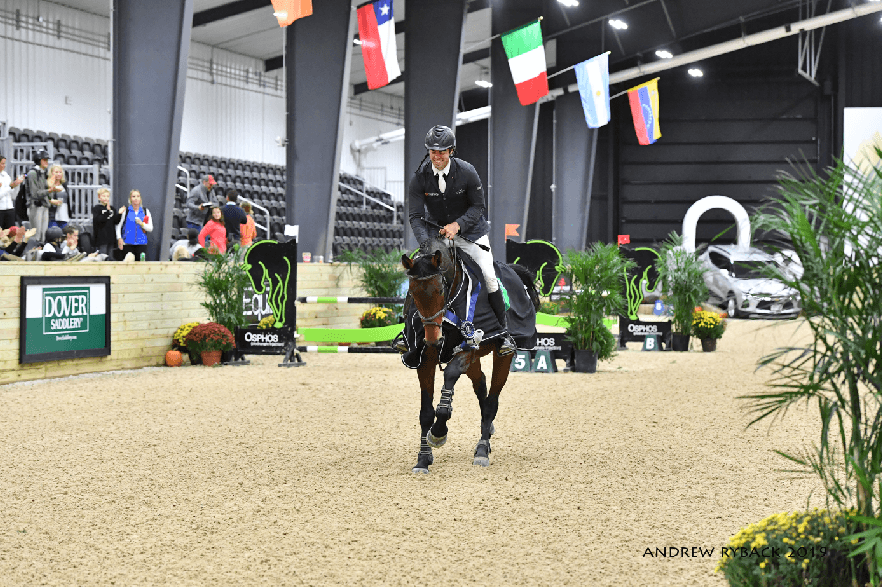 Genn chatted with us ringside after his win. "First off, I thought it was a really, really good course. Usually I get super excited walking the course and today I was just really, really excited about it and I think the horses feed off that energy too. I'm bummed with myself about my ride on Dieta in the first round. For sure that was my rail. She pulled a shoe half way through the course and she's really sensitive and I think she was feeling that a little bit. But I still blame myself because I think she still would have been clean, but I overrode to the combination a bit and she backed off because she's so careful so we didn't have enough momentum going out. So I'm really mad at myself about that. But then it rode the exact same way on Colora and I fixed the mistake and she jumped it picture perfect, so I guess it's good to have two. The jump off came off literally perfect. I started off with a good canter and usually I know how fast I'm going to be at the first jump. I got the first skinny exactly how I wanted, then she turned on a dime and I just kept going and she was prefect."
When asked about his mount, Genn offered a bit of perspective on Colora. "She's an angel in the stall, but you'd better lunge her the first day because she has so much blood that she can't contain herself and it's not fair to expect her to. So we just give her the lunge and she's perfect the rest of the week. Colora is owned by and Nina Moore and Paula Quinn of Bridlebourne Stables, one of the best owners on the planet, always patient and understanding. In the last class in Tryon, I had a time fault in the Welcome which is a $15,000 class and a time fault in the Grand Prix, so I was on the phone with and she was like 'What are you doing?!' So I can't wait to talk to her tonight!"
Genn continued, "I also want to add that I'm so thankful and blessed to have everybody on my support team."
Tucker Williams of Ocala, Florida designed the track for tonight's $50,000 World Equestrian Center Grand Prix. Williams took a moment to comment on the course , "With 39 in the class and 6 clear to the jump off, I'm happy with the way the class went and I think everybody rode the track really well. It definitely challenged them throughout the track. The faults were scattered which is a good thing – there was no one area that stuck out more than others. We had some distance challenges. The five to a one on that last line coming home seemed to challenge a lot of them tonight. But they seemed to figure it out and the jump off track worked out just right." Williams also added, "It's always a pleasure to come and work here, I love coming here. We have the right tools to do our jobs here and if we need something, they bring it to us. Anything we need we're always accommodated. One of the things that I like about designing for this Sanctuary ring are all of the colors just seem to pop out here with this footing and I love the recent change of the arena fence at the far end was moved out about 15 feet and the scoreboard moved back. It makes a big difference."
$50,000 WEC Grand Prix sponsored by Buckeye Nutrition Results
Colora, Ryan Michael Genn – 0 | 0 | 37.961
Eldorado, Tiffany Hammock – 0 | 0 | 38.810
Chagrand, Michael D. Burnett – 0 | 0 | 38.956
Van Gogh, Wilhelm Genn – 0 | 0 | 38.961
Darius, Sean M. Jobin – 0 | 4 | 41.828
Carlton Café, Jill M. Gafney – 0 | 8 | 38.041
Essince W, David Q. Beisel – 4 | 67.075
Amigo, Riley Mackillop – 8 | 67.517
Sovereign, Lisa Goldman-Smolen – 4 | 68.787
Easton, Kevin J. McCarthy – 4 | 69.085
Photos courtesy of Andrew Ryback Photography.