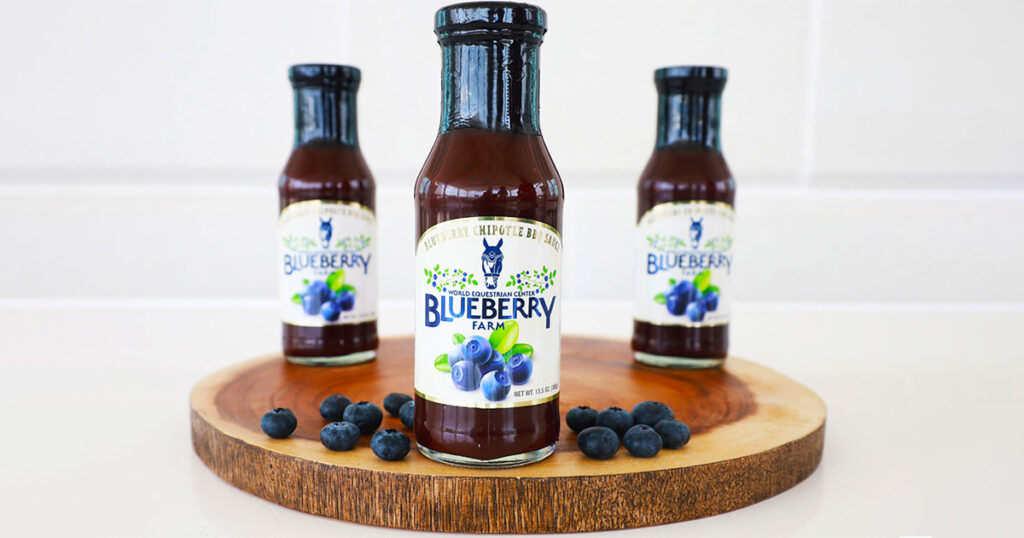 World Equestrian Center – Ocala will debut their own Blueberry-Chipotle Barbecue Sauce on Saturday, May 14 in conjunction with their inaugural Blueberry Festival powered by Gary Yeomans Ford. Made with blueberries harvested at World Equestrian Center's 25-acre blueberry farm in Ocala, the barbecue sauce is an all-natural product that's proudly made and bottled in America. WEC's world-class culinary team devised the unique combination of ingredients in-house, taking their inspiration from classic barbecue recipes and infusing the fresh and sweet flavor of the Florida southern highbush blueberry.
Ryker Brown, Director of Culinary, Food and Beverage at World Equestrian Center describes the flavor profile: "It's a sweet, but well-balanced sauce. The smoky chipotle spice is forward and strong, but it finishes with a mild, sweet note of blueberry. There's also molasses and worcheshire in the recipe, which gives it an umami flavor that complements traditional barbecue ingredients, like onion, garlic and brown sugar."
Attendees at Saturday's festival can get their finger's sticky and sample this zesty barbecue sauce on the smoked barbecue ribs and pulled pork sandwiches. Taste it, love it and bring it home! Purchase a 13.5-oz bottle at the outdoor farmer's market for just $12.
With Father's Day just around the corner and the summer barbecue season about to be in full force, a bottle of the Blueberry-Chipotle Barbecue Sauce makes a perfect gift for Dad and will be a fun addition to any backyard grill out. Try it at home with barbecue chicken, grilled steaks, roasted potatoes or as a fun side sauce for your favorite dippable snacks.

About Blueberry Festival powered by Gary Yeomans Ford
Saturday, May 14, 2022 from 8am-5pm, the Grand Plaza will feature live blues music, yard games, a kids zone and much more, all in celebration of the blueberry. Enjoy the best blueberry fare, including blueberry pie, jam and the new Wild Blue Belgian by Infinite Ale Works, a blueberry beer made with berries from WEC's 25-acre blueberry farm. Shop at the artisanal farmer's market with fresh and handmade goods from local vendors. Don't miss the Blueberry 5k Fun Run and Walk (8am) and pancake breakfast (9am). View the WEC event calendar for additional event details.
About World Equestrian Center
World Equestrian Center features two premier equestrian and multidisciplinary venues in Ocala, Florida, and Wilmington, Ohio. These exclusive facilities comprise state-of-the-art arenas, expansive stadiums, versatile outdoor space, sporting fields and well-appointed exposition centers. An abundance of lodging options and luxury accommodations are conveniently located on-site, along with shopping and dining throughout each property.
Dedicated to offering great sport and fun in a family-friendly environment, World Equestrian Center promises an unparalleled experience for exhibitors, spectators, vendors, sponsors and retailers built on three core values: Quality. Class. Distinction.
Media Contact:
Taryn Scher
taryn@tkpublicrelations.com