Ocala, Fla. – Calluna Spa, World Equestrian Center – Ocala's luxurious spa and salon on the second floor of The Equestrian Hotel, has recently launched a new website. At callunaspaocala.com, users can explore the state-of-the-art spa services and easily book an appointment at Calluna Spa online. "Being able to give our guests a luxury experience before they even step foot in the spa is something we are excited to be able to offer," says Director of Spa, Kendra Rice about the new website. For users, relaxation is now just a click away.

As a full-service resort spa and salon, Calluna Spa is open seven days a week to hotel guests as well as the general public, with no membership required. The versatile spa menu, now completely available online, will take guests on a journey into true relaxation through unique massages, signature skin care, professional salon hair styling and body treatment services, like facials and body wraps.
Calluna Spa is proud to provide World Equestrian Center – Ocala visitors, guests and Ocala locals access to top skin care treatments, leading technology, like their medical-grade HydraFacial® machine, and skilled providers in a serene setting. Other spa offerings include commonly sought services with sensuous elevations, like their steamed lavender milk pedicure, which is finished with a therapeutic calf and foot massage.
For the ultimate spa experience, browse curated spa packages online that are perfect for anyone celebrating a special occasion, discovering their pre-wedding glow or just looking for an all-day escape. Visit the website often to stay up-to-date on monthly promotions, new services and special offerings, or opt-in to receive emails from the spa by filling out the form in the website footer.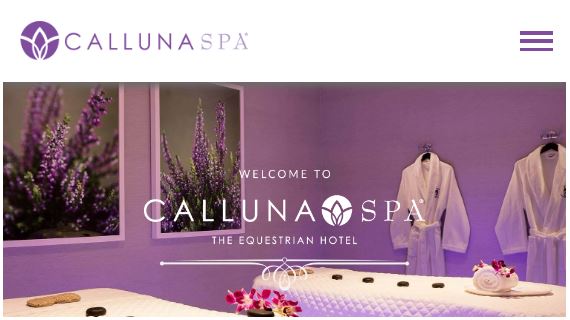 Convenient Booking
The Calluna Spa website makes booking a service with one of the spa's talented providers a breeze. Simply click the purple "Appointment" button in the top, right-hand navigation pane to secure an appointment with a member of our world-class team of providers.

Have questions about services? Detailed information, including a full menu with price sheet, can be found online, but visitors are always welcome to call the friendly front-desk team for recommendations or guidance. "As a five-star spa here in Ocala, we are proud to offer a place of restoration and calm. We invite all of our guests to come in and experience for themselves the many benefits of a tranquil day at the spa." says Rice.
Stay connected with us on Instagram or Facebook as you begin your journey to relaxation.
About Calluna Spa
Refresh and Renew – Rejuvenate the body, mind and spirit in our 7,000-square-foot full-service spa and salon on the second floor of The Equestrian Hotel. Featuring multiple massage treatments, body wraps, facials, manicures, pedicures and hair salon for men and women.
Calluna Spa is located at World Equestrian Center – Ocala
8510 NW 17th Lane – Suite 200, Ocala, FL 34482
Hours:
Monday – Saturday, 9am-7pm
Sunday, 10am-5pm
352.414.7862 | Callunaspaocala.com