Ocala, FL – Dressage riders are reminded to turn in their entries for the World Equestrian Center (WEC) November Dressage CDI3* show presented by Hampton Green Farm and Discover Dressage, which runs November 16-19, 2023. Entries are due November 8, 2023. The competition features Fédération Equestre International (FEI)-rated classes in the facility's stunning WEC Stadium as well as USEF/USDF-rated classes in outdoor arenas in order to enjoy Florida's beautiful fall weather.
The WEC November Dressage show includes CDI3*, CDI2*, and CDI1* competition, along with internationally rated divisions for Pony, Children's, Junior, Young Riders, Under 25, Amateur and Young Horses. The CDI classes will offer $40,000 in prize money. The CDI judges include Maria Colliander (FIN), Janet Foy (USA), Marlina Gruca Rucinka (POL), Clive Halsall (GBR), Mike Osinski (USA) and Raphael Saleh (FRA).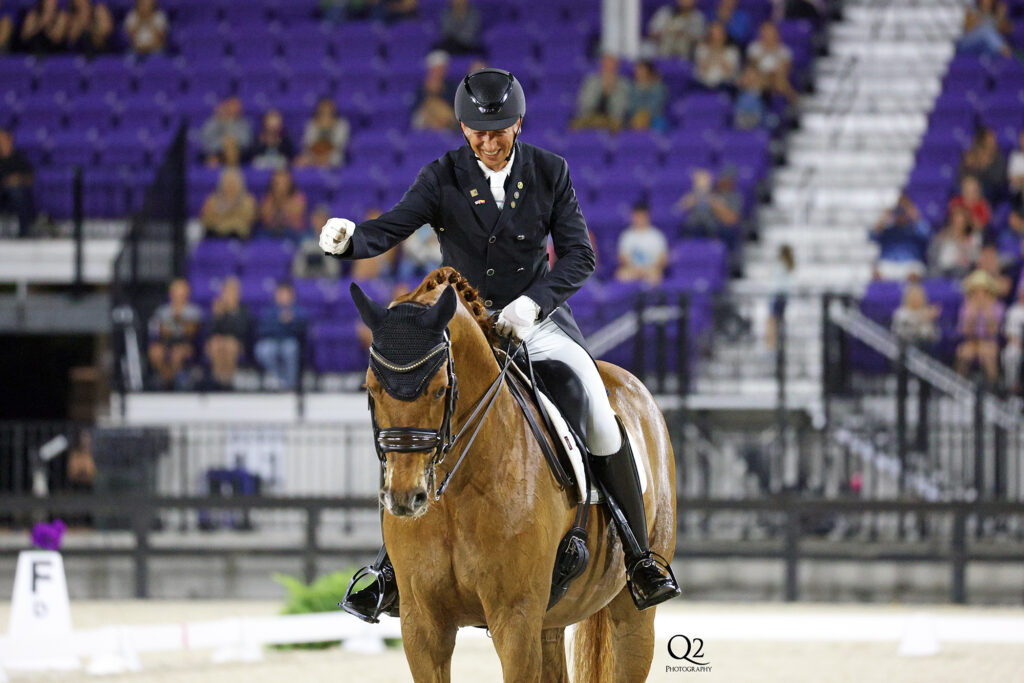 National competition is USEF/USDF Level 5 rated and offers official qualifying classes for the 2024 Great American/USDF Regional Championships and Para Dressage division, while international competition offers qualifying opportunities for the 2024 Adequan FEI North American Youth Championships and USEF National Championships in Children's, Pony, Junior, Young Rider and Young Adult Brentina Cup divisions.
Two dressage competitions, including WEC November Dressage, remain on the 2023 schedule at WEC – Ocala. The final competition, which features CDI-W and USEF/USDF competition, is on December 7-10, 2023.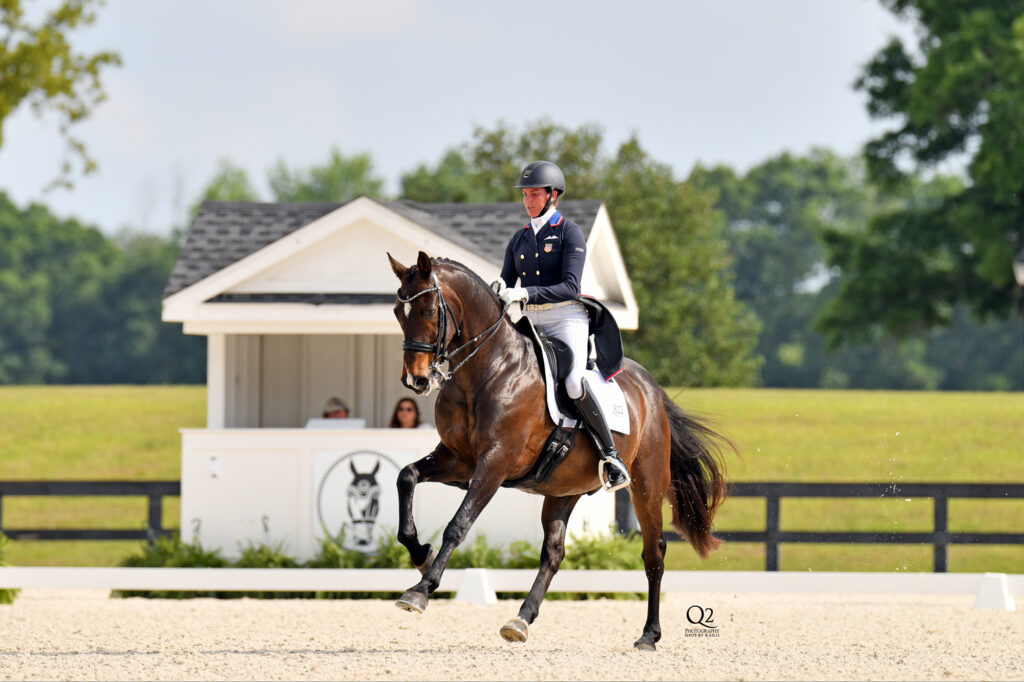 Make your plans now to compete at WEC throughout 2024. The dressage schedule includes:
January 18-19: USEF/USDF competition
January 20-21: USEF/USDF competition
February 15-18: CDI3*/USEF/USDF competition
March 14-15: USEF/USDF competition
March 16-17: USEF/USDF competition
March 28-31: CPEDI/USEF/USDF competition
April 10-14: CDI4*/USEF/USDF competition
May 22-26: CDI3*/USEF/USDF competition
July 13-14: USEF/USDF competition
August 23-24: USEF/USDF competition
August 25: USEF/USDF competition
September 19-22: Great American Insurance Group/United States Dressage Federation Region 3 Dressage Championships
October 19-20: USEF/USDF competition
November 14-17: CDI-W/USEF/USDF competition
December 11-15: CDI-W/USEF/USDF competition
Prize list and show entry information for 2023 competitions can be found HERE. Click HERE for the January 2024 Dressage show prize list. Stay tuned for more information about the 2024 competitions.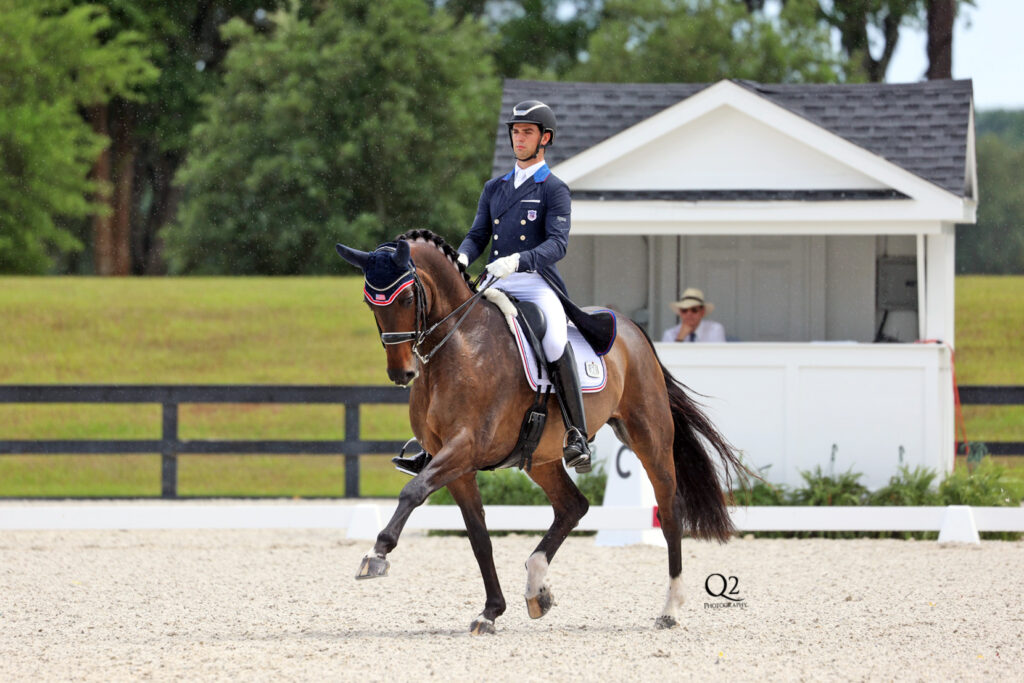 ---
Expanded Dressage Facilities for 2024
As dressage at WEC – Ocala moves into the end of the 2023 season, riders, trainers and owners will be pleased to know that WEC is hard at work completing the new dressage facilities. The new Arena 6 designed for dressage competition as well as seven additional outdoor arenas will be ready in spring of 2024. The new indoor arena will offer another spacious, climate-controlled environment with ideal footing for dressage athletes, plus grandstand seating for spectators and VIP viewing rooms, all located close to dedicated dressage stabling.
---
Grand Prix Freestyle Reception Presented by Wheels Up
Tickets for the Grand Prix Freestyle Reception presented by Wheels Up are now on sale! Get yours today and watch top-level Dressage athletes from across the globe dance under the lights in the WEC Stadium on Friday, November 17, at 7pm during WEC – Ocala November Dressage CDI3* competition presented by Hampton Green Farms and Discover Dressage. Guests at the Grand Prix Freestyle Reception, which opens at 6:45pm, will experience all the action ringside while enjoying a buffet meal along with an open bar throughout the evening.
---
Cutting-Edge Care for Your Animals
For all WEC competitors, horse owners and animal lovers in the surrounding Ocala area, the University of Florida (UF) Veterinary Hospital located on the show grounds offers the best way to have leading-edge care from board-certified specialists. Sport horses, backyard pets, and animals large and small can be cared for at UF Veterinary Hospital at WEC.
Visit hospitals.vetmed.ufl.edu/wec to learn about the services available at UF Veterinary Hospital at WEC or call 352-414-3858 for information and appointments.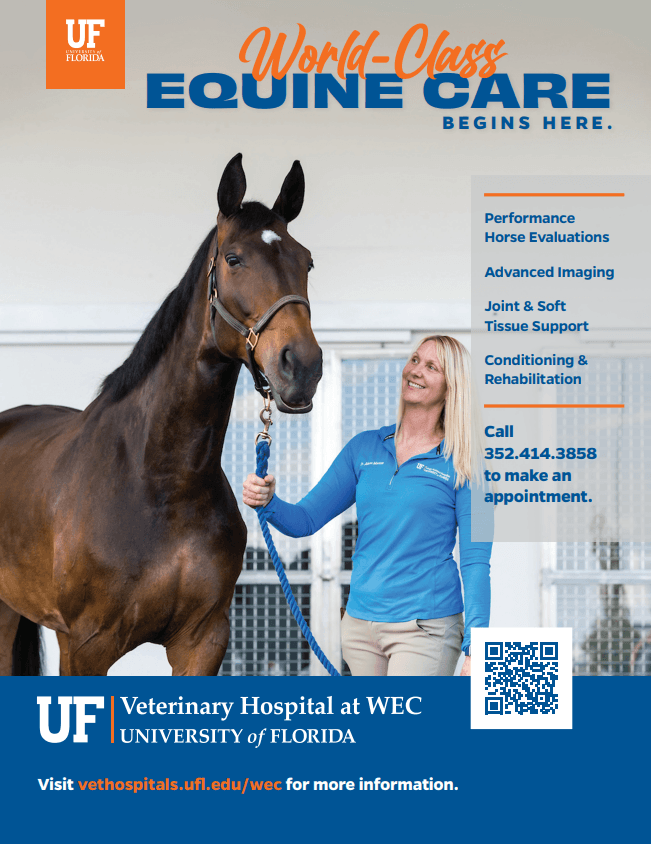 ---
About World Equestrian Center
World Equestrian Center features two premier equestrian and multidisciplinary venues in Ocala, Florida, and Wilmington, Ohio.
These exclusive facilities comprise state-of-the-art arenas, expansive stadiums, versatile outdoor space, sporting fields and well-appointed exposition centers. An abundance of lodging options and luxury accommodations are conveniently located on-site, along with shopping and dining throughout each property.
Dedicated to offering great sport and good fun in a family-friendly environment, World Equestrian Center promises an unparalleled experience for exhibitors, spectators, vendors, sponsors and retailers built on three core values: Quality. Class. Distinction.
Learn more at wec.net.
Media Contact:
Justin Garner
justin.garner@wec.net