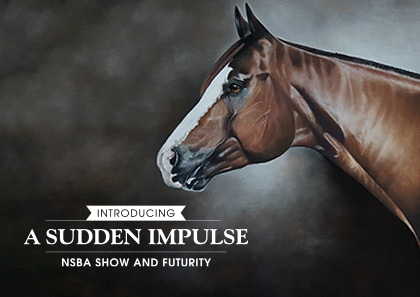 Show Bill Available Online Now
OCALA, Florida – December 15, 2021 – Save the date for the A Sudden Impulse AQHA & NSBA and Futurity, April 20-30, 2022 at World Equestrian Center – Ocala. A Sudden Impulse NSBA and Futurity horse show is managed by An Equine Production and sanctioned by the National Snaffle Bit Association (NSBA). With Two AQHA World Show Qualifying Shows. Click the button below now to view the show bill.
The 2022 A Sudden Impulse AQHA & NSBA and Futurity will feature more than 160 classes in 16 divisions, along with more than $400,000 in added money and prizes. $100,000 added Maiden 3yr. Old Western Pleasure. Two AQHA World Show Qualifying Shows. A new bonus of $50,000 added for all Novice classes and Walk Jog classes. This added money allows a missing sector of the industry to show for large purses and prizes that is normally not awarded. These Novice and Walk Jog classes will be open for exhibitors of all breeds. Also new in 2022, is $20,000 in APHA Chrome Cash offerings to regular and Solid Paint Bred horses.
For entries and additional information, visit An Equine Production.
Circuit stalls are $350.00.
Stall Reservation Form
Stall Layout by Agent
Need to ship a package to the A Sudden Impulse NSBA Show & Futurity?
All packages are delivered to the General Store.
Shipping Information:
WEC – General Store
8105 NW 21st Street
Ocala, FL 34482
Advertising and Sponsorship
Sponsorships are first for priority stalls. Find show sponsorship opportunity levels and details in the show bill. Contact karla.campbell@wec.net for A Sudden Impulse NSBA & Futurity Show sponsorships.
For WEC corporate advertising and sponsorship opportunities, please contact Jim Wolf jwolf@wolfsportsgroup.com or Karla Campbell karla.campbell@wec.net
Lodging at World Equestrian Center – Ocala
We advise exhibitors to make lodging reservations now, choosing from three, convenient on-site options. Stay at our elegant Equestrian Hotel, with 248 stylishly appointed rooms, restaurants, luxury shopping and day spa. Exhibitors may choose to reserve a charming multi-bedroom Home Away from Home unit, or reserve an RV space in our convenient park that includes a General Store with Starbucks and laundry, just steps away. For all lodging reservations, please visit wec.net.
About National Snaffle Bit Association
The mission of the National Snaffle Bit Association Inc., is to grow the show horse community through various equine programs and events where every activity benefits horses, breeders, owners and exhibitors alike.
The purpose of the National Snaffle Bit Association is to define, promote and improve the quality of the show horse, to promote exhibits, events and contests in expositions and shows; to promote the training of pleasure and show horses, to promote interest in show horses among younger horsemen, and to use and encourage the use of the standard rules for holding and judging contests of the pleasure and show horse.
NSBA experienced a very successful beginning in 1983. Based on the interest and response throughout the entire country, the NSBA is projecting unprecedented growth figures in the number of participants, events available and award purses.
For membership, horse registration and more, visit nsba.com.
About World Equestrian Center
World Equestrian Center features two premiere equestrian and multidisciplinary venues in Ocala, Florida, and Wilmington, Ohio.
These exclusive facilities comprise state-of-the-art arenas, expansive stadiums, versatile outdoor space, sporting fields and well-appointed exposition centers. An abundance of lodging options and luxury accommodations are conveniently located on-site, along with shopping and dining throughout each property.
Dedicated to offering great sport and fun in a family-friendly environment, World Equestrian Center promises an unparalleled experience for exhibitors, spectators, vendors, sponsors and retailers built on three core values: Quality. Class. Distinction.
Learn more at wec.net
Media Contact
Candace FitzGerald
603.738.2788
A Sudden Impulse NSBA & Futurity
Fast Facts
Show Management: An Equine Production
Date: April 20-30, 2022
World Equestrian Center – Ocala address: 8747 West HWY 40, Ocala FL 34482
An NSBA membership is required for each owner and exhibitor entering in NSBA classes. Go to nsba.com for membership information.
An AQHA membership is required for each owner and exhibitor entering AQHA classes. Go to aqha.com for membership information.
Show Bill link https://www.anequineproduction.com/a-sudden-impulse
Lodging information and RV Park reservations online at wec.net
Golf cart rentals at WEC General Store or call 352-414-7871