Ocala, FL – Entries and stall reservations are now open for the World Equestrian Center – Ocala 2023 November & December Show Series featuring four-weeks of Premier Hunter/Level 6 Jumper competition sanctioned by US Equestrian (USEF).
The series consists of two-weeks of national level hunter/jumper competition from November 8-19 and new for 2023, the December Series will host two weeks of Fédération Equestre International (FEI) CSI3* from December 5-17 set amidst WEC – Ocala's enchanted Winter Wonderland, a captivating festival with more than a million twinkling lights for the holiday season on full display from November 24-December 23, 2023.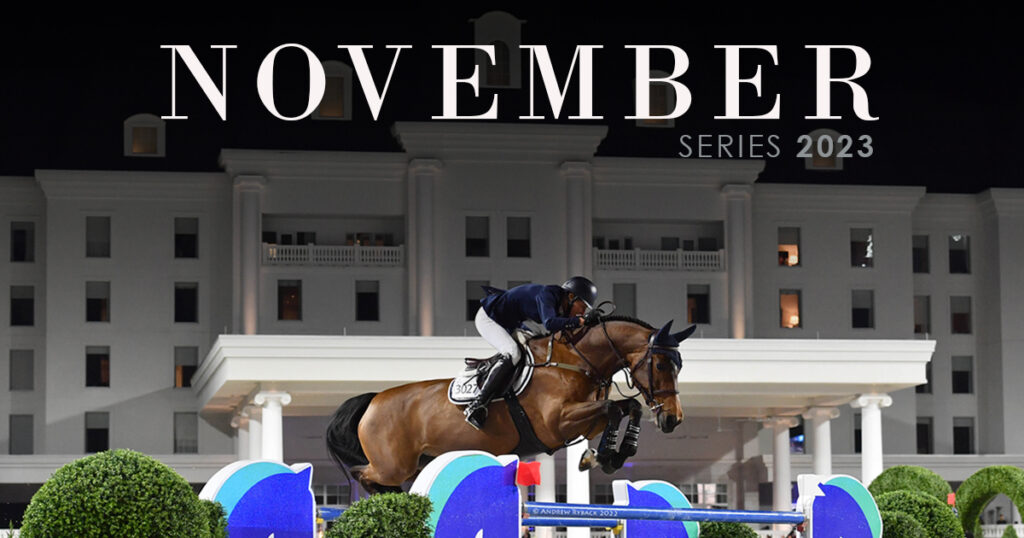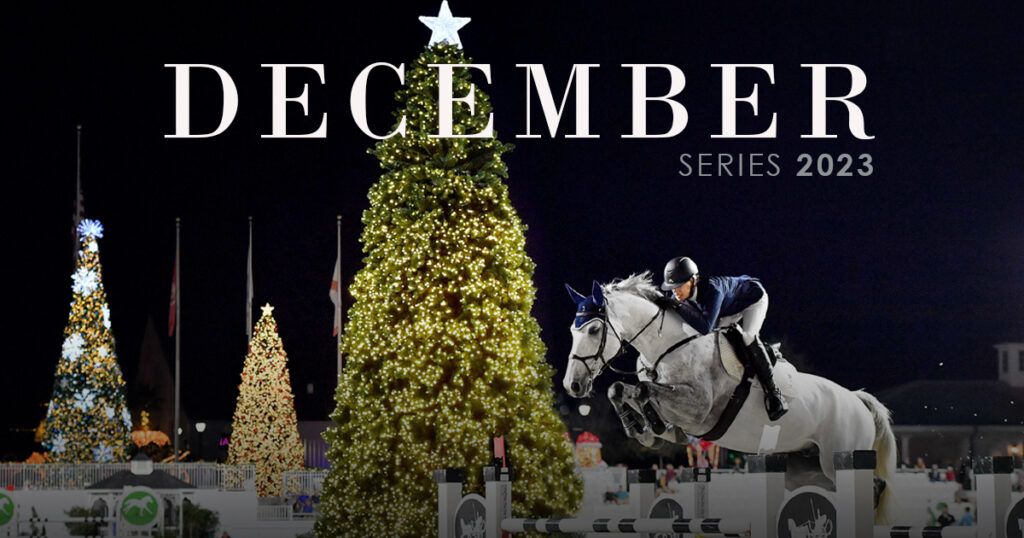 2023 November & December Show Series Dates & Tentative Class Schedules
November I – 11/08/23 – 11/12/23
November II – 11/15/23-11/19/23
December I – 12/05/23-12/10/23
December II – 12/12/23-12/17/23
December I CSI3* Schedule
December II CSI3* Schedule
November Series Tentative Class Schedule
December Series Tentative Class Schedule
Reserve Stalls Now at Stallinfo.net.
Entries, stall and paddock reservations can be made through Stallinfo.net.
Weekly stall: $300
Weekly paddock rental: $350
Please note, tack stall splits are no longer accepted.
Feed and bedding orders can be placed through the WEC – Ocala Feed Store.
Please note, 2023 November & December Show Series stalls are not included in 2024 Winter Spectacular Circuit stall pricing. November & December Show Series stalls must be paid separately. Circuit Stalls for the 2024 Winter Spectacular Show Series will open shortly at the end of August. Please visit WEC.net for updates.
Health Papers
Please bring to the following to the Show Office:
A 14-day statement of health, certificate of veterinary inspection or a health certificate, required for all horses arriving from instate or outside the state of Florida
Coggins that were taken within the span of 1 year
Vaccine records of Flu/Rhino within the span of 6 months
Click here for equine health and safety protocol details.
Grand Prix Dining Experience presented by Wheels UP
Join World Equestrian Center – Ocala on Saturday nights during the four-week 2023 Ocala November & December Series from November 8-19 and December 6-17 for The Grand Prix Dining Experience presented by Wheels Up.
Catch top-level equestrian action from the best seats in the house. Enjoy the Saturday night Grand Prix from the terrace at The Equestrian Hotel while indulging a three-course chef dinner with complimentary beer and wine.
Vendors
For vendor opportunities please fill out the vendor application. Questions, email Christy Baxter at Christy.Baxter@wec.net.
Advertising and Sponsorship
For corporate advertising and sponsorship opportunities, please contact Jim Wolf at jwolf@wolfsportsgroup.com or Karla Campbell at Karla.Campbell@wec.net.
Media
World Equestrian Center welcomes journalists and members of the media to visit our facility. To apply for Media accreditation please fill out our Media Accreditation Form.
About World Equestrian Center
World Equestrian Center features two premier equestrian and multidisciplinary venues in Ocala, Florida, and Wilmington, Ohio.
These exclusive facilities comprise state-of-the-art arenas, expansive stadiums, versatile outdoor space, sporting fields and well-appointed exposition centers. An abundance of lodging options and luxury accommodations are conveniently located on-site, along with shopping and dining throughout each property.
Dedicated to offering great sport and good fun in a family-friendly environment, World Equestrian Center promises an unparalleled experience for exhibitors, spectators, vendors, sponsors and retailers built on three core values: Quality. Class. Distinction.