The Chagrin Saddlery / World Equestrian Center Mobile Boutique is just three short weeks away from hitting the road for its 2019 tour! This year, the Mobile Boutique will be traveling 11 horse shows in 7 states over the course of six months, bringing WEC gear and the latest in equestrian fashion from Chagrin Saddlery straight to a horse show near you.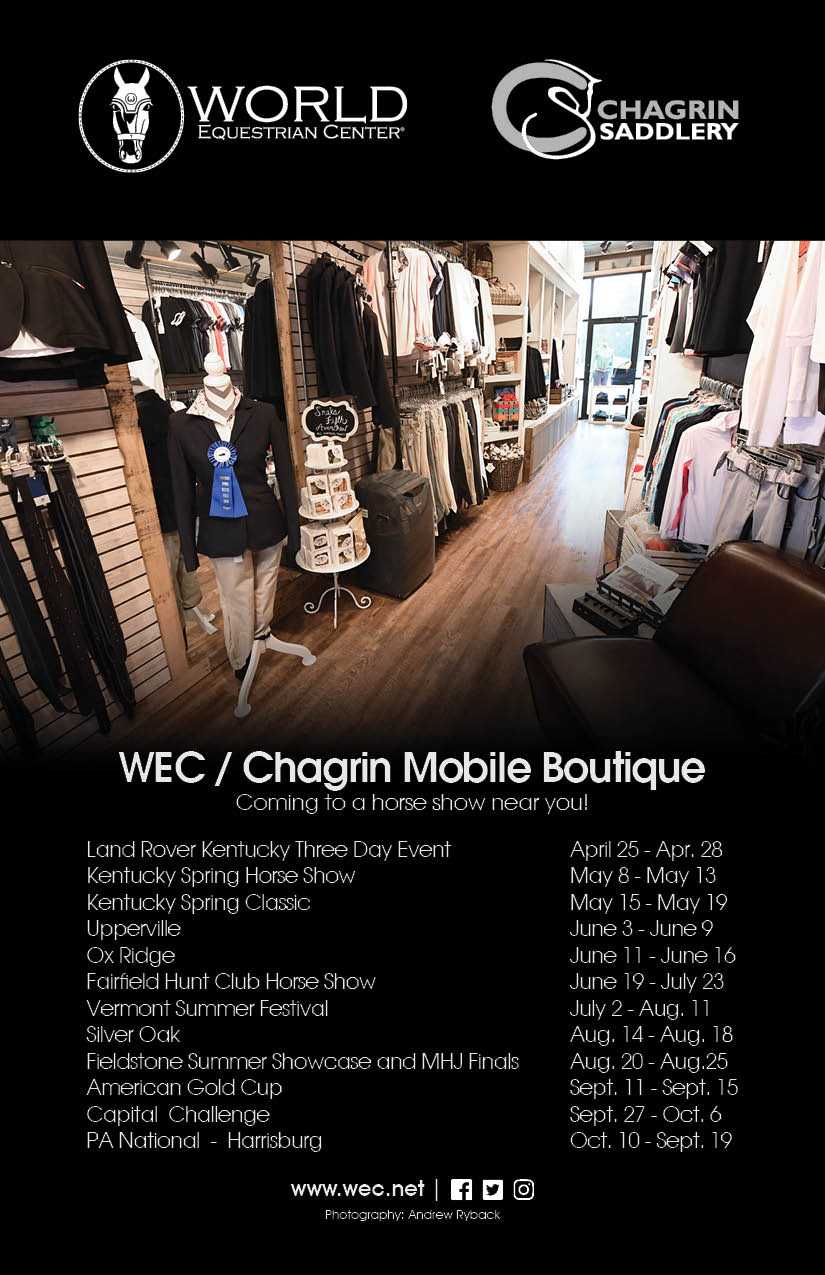 Chagrin Saddlery merges the latest fashion with classic equestrian style, offering customers a unique shopping experience and outfitting riders in trendy yet traditional looks tailored to their specific taste. Over the years, Chagrin Saddlery has become a staple at World Equestrian Center. Whether on the road on the World Equestrian Center / Chagrin Saddlery Mobile Boutique, or right in the heart of the show grounds in Wilmington, Ohio, riders have flocked to the store for all of their outfitting needs. Chagrin Saddlery has built a strong relationship with their customers, becoming the go-to for fashion-forward equestrian style. The Chagrin Saddlery / World Equestrian Center Mobile Boutique is staffed with experts on the latest trends who love styling their customers, keeping each customer's uniqueness in mind.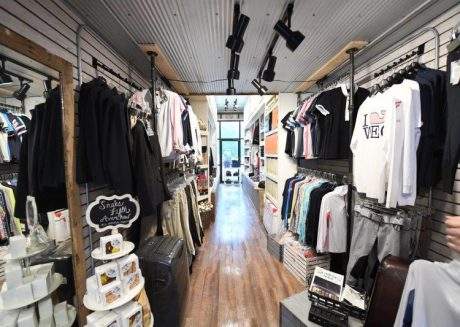 The Mobile Boutique is brimming with top brands from all of your favorite manufacturers including For Horses, Equiline, Animo, Samshield, Alessandro Albanese, Tailored Sportsman, Ogilvy, Haute Shore, Butter Super Soft, Skull Cashmere and more, offering everything to suit the riders' needs for schooling and showing, with a selection of breeches, shirts, jackets, gloves and socks. The experts from Chagrin Saddlery are happy to help style your competition, schooling or leisure wardrobe with the endless options available on the Mobile Boutique. The staff can also outfit you with a stunning new pair of tall or paddock boots in your choice of stock or made-to-measure styles from the most popular boot makers including Fabbri, Parlanti or Tucci.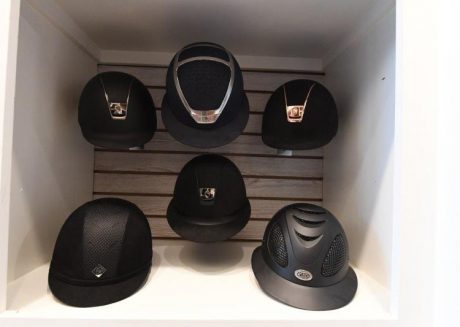 Along with fitting boots, the staff also specialize in fitting helmets. The latest and greatest helmets are in stock on the Mobile Boutique from Samsheild and GPA to keep you both safe and stylish in the saddle. The Mobile Boutique is also stocked with horse / rider essentials including grooming supplies, spurs, studs, hairnets, gloves and accessories. Equestrian gifts are abundant, and the experts are happy to help you hand pick casual wear, belts, horse treats, and sun hats / visors from Spiced Equestrian, Ruespari, Mane Jane, Snaks 5th Avenchew, Riata and much more!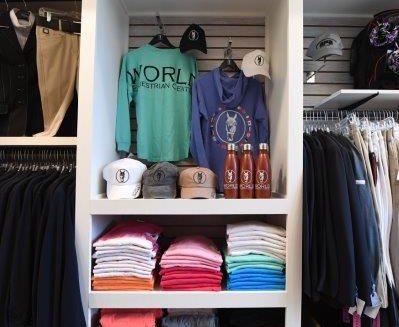 There's no shortage of tack and equipment on board from beloved brands like Ogilvy, Ecogold, Talisman Bonnets, Arch De Triomphe Tack, Edgewood Tack and EquiFit. Speaking of brands we love, we are fully stocked with WEC and Chagrin logo merchandise from Vineyard Vines and J. Crew as well as fun gifts and small items like Fluff Monkeys.
Don't forget to stop in and fill out a ballot for our weekly raffle featuring tons of terrific gear and prizes– no purchase necessary!
About World Equestrian Center
Located in Wilmington, Ohio, the World Equestrian Center features more than 200,000 square feet of climate-controlled riding space, making it one of the largest indoor/outdoor equestrian sport venues in the world. The state of the art facility features premium footing, permanent stabling and onsite accommodations as well as 28 weeks of AA rated Hunter / Jumper competition.
Dedicated to offering great sport and good fun in a family friendly environment, the World Equestrian Center promises their exhibitors an experience built on three core values: Quality. Class. Distinction.
In 2021, the World Equestrian Center will debut a brand new location, providing world-class equestrian competition and equestrian-inspired country club living, all adjacent to the fabulous Golden Ocala Golf & Equestrian Club in Ocala, Florida. For more information please visit www.wec.net.
Connect with the World Equestrian Center on Social Media: