This week we welcome Equitex back to the World Equestrian Center as our "Featured Find". The Equitex showroom is located in Vendor Village, so be sure to stop by to check out all of their incredible products next time you walk through! Equitex is a stable accessories company out of Napa, California that specializes in custom stable products including stall drapes, stall awnings, horse blankets and much more. Today we sat down with founder Cynthia Bradshaw Krantz to learn a little about what Equitex offers.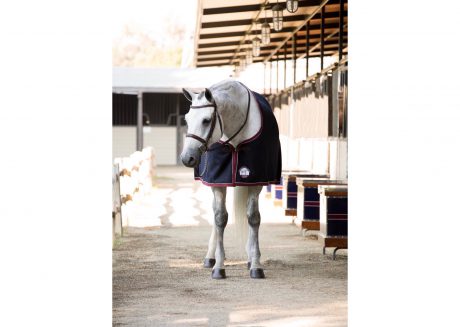 Cynthia started Equitex in 1985 out of her apartment. She was a graphic designer fresh out of school, not really knowing what she wanted to do as a career. Cynthia had ridden horses and, growing up, she noticed the curtains people would hang on their stalls at horse shows and thought, "You could do so much better than that!" So she made the "better" her business. She gradually built her company, selling all manner of products to take to horse shows, soon becoming a well-known face in the equine industry. Cynthia grew the company herself, with the help of her staff, until 2010 when she sold Equitex to Lixit Corporation, a forty-year-old institution in Napa, California specializing in pet care. She and her team moved a short distance to Napa, and have run the company from there for nine years now. Cynthia still works at Equitex as a salesperson and part-time designer, and her passion for helping others brand their barn through stable accessories shows.
Equitex offers an array of custom blankets, tack room drapes, awnings, directors chairs, embroidery, saddle pads and sponsor panels, and makes everything in house in Napa, California. Equitex's signature product is the 10′ x 10′ peak top awning, which has become a horse show staple for over 30 years. The awnings are seen from the horse show stabling to vendor row, with almost every saddle vendor set up underneath an Equitex awning. Cynthia says, "The 10′ x 10′ peak top awnings are a good horse show product. They are easy to put up and they are sturdy. They even pack up in a custom case that makes transportation simple."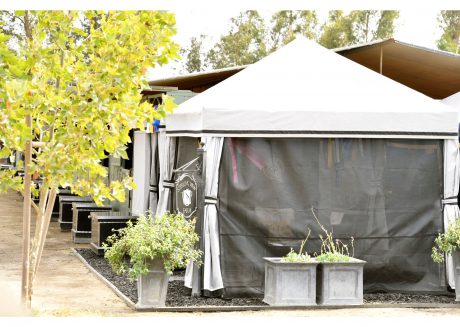 As for product innovations and new ideas, Cynthia says, "We're always on the hunt for something new that we can produce for people. For example, almost everyone on the West Coast has an awning, because we're not dealing with inclement weather like the East Coast is. We sell some awnings on the East Coast, especially to people going to Florida, but we don't sell as many awnings on the East Coast as we do on the West Coast. Last year, we came out with a shade screen to put on the awning. It was funny because, when we first put it out at a horse show, everybody just kind of walked by it. Then somebody walked behind the awning and realized how much cooler it was in the awning because of the shade screen. Then they had to buy it. Then person next to them had to have it. Then it went right down the barn aisle and everyone wanted one!"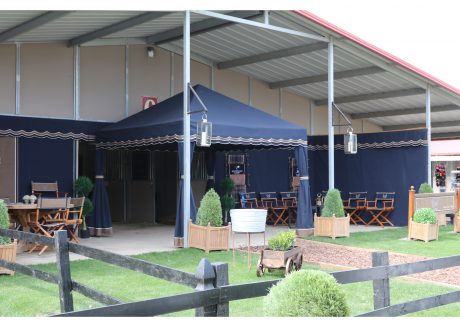 On the topic of colors, Cynthia says that the basics (navy, grey, black and beige) are the most popular colors. She notes that people are always looking for a neutral palette to work off of, adding their other colors on from there. Every two years, Equitex's colors get an update. "They kind of follow the fashion lines," Cynthia explains, "What you may be seeing in the fashion houses and in the stores is also followed closely by what you see in interior decorating. I would say that I'm drawn to neutral stuff, so I like to see somebody get something like grey and navy and white, then take that and build it out with artwork and accessories and plants. I think you get a better finished product like that. People sometimes shy away a bit from the newer, trendier colors, and I think that's mostly because they feel that they won't be able to find anything to match for blankets and stuff. In the end they want everything to match. But if someone has an idea in their head and they don't see the color here, we can sometimes research it and still make it happen for them." Cynthia also notes that people tend to buy what they see in other people's barns. If someone sees something they like, their inclination is to go with that color scheme, then maybe change a few of the shades. One of the most impressive aspects of Equitex products, aside from the vast array of color options, is that the material is marine-grade and fade-resistant, and even has a ten year warranty against fading.
As for styles, Cynthia explains that Equitex offers about six to eight different standard valance styles. However, if someone wants to design something, and if Equitex can sew it, they will make it. "It gives people a chance to feel like they have a hand in designing what they're buying," Cynthia says, "It's kind of like decorating a house, you have to be able to live with it. I try to help people get a good bang for their buck and feel like the product brands their barn and represents their name."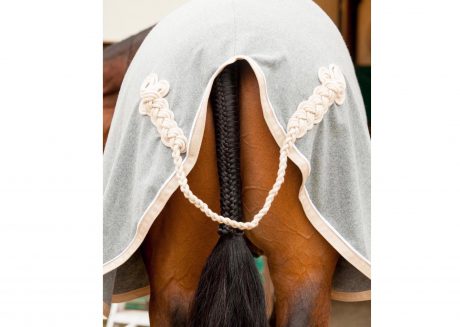 Cynthia is proud of the entire Equitex team, and says that they have a great team of people at the office back home in Napa that bend over backwards to try to keep the product coming out of the door. "They try so hard to get everything done every single day. I think that's probably what makes Equitex successful, too, are the people that work in the office that are really knocking themselves out to keep the schedules going, keep track of where everybody is, and to try to solve any problems that might come up," Cynthia says, "I couldn't have come (to World Equestrian Center) without everyone's help. We were excited to come out here to WEC and see what it was all about, and try to offer our products to people here in the Midwest. We get a good amount of people here in the Vendor Village and it's been really enjoyable."
To check out Equitex's products, visit their website or stop by their showroom in Vendor Village.
Photos courtesy of Equitex.