Discover luxury Lodging at the World Equestrian Center
Cramped hotel rooms miles away from a horse show are a thing of the past, thanks to the World Equestrian Center's beautiful lodging options. Every equestrian knows that the advantages of on-site horse show lodging are unparalleled, and that extra space for post-show relaxation is a must. The World Equestrian Center has made this dream a reality, offering two types of lodging options: quaint Cabins and charming Home Away from Home units.
Cabin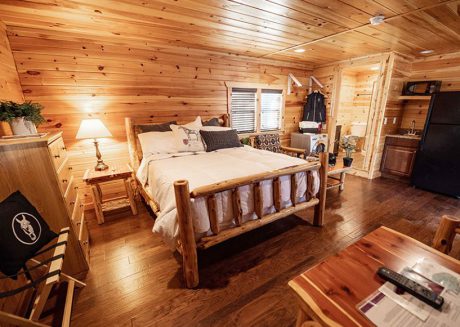 Thirty six luxury cabins adorn the southwest side of the World Equestrian Center property, all with spacious front porches and every amenity that the horse show exhibitor could need. Each of the cabins comfortably sleeps up to six guests and is outfitted with a refrigerator, a microwave, and TVs both upstairs and downstairs. The cabins also feature all of the comforts of home like a single-cup coffee maker, an all-in-one washer dryer combo, and Wi-Fi. The World Equestrian Center also offers two cabins with handicapped-accessible accommodations.
Guests will enjoy the convenience of the Cabins within walking distance of stabling and competition rings. Much like the rest of our facility, the Cabins are pet friendly, so guests can bring their furry friends with them!
Home Away from Home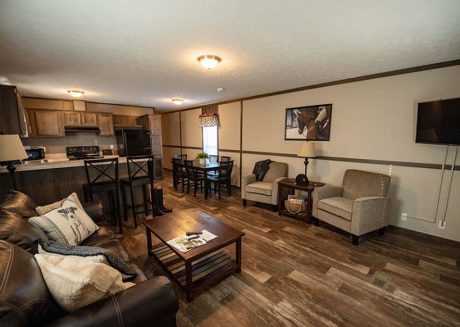 The World Equestrian Center also features seventy three "Home Away from Home" units directly across the street from the barns and arenas. Like the cabins, the Home Away from Home units feature spacious front porches with comfortable rocking chairs for relaxing before or after the horse show. Each unit features two to four bedrooms, a fully equipped kitchen with a dishwasher, a living and dining room, a full size washer and dryer, two TVs, a one-cup coffee maker, and Wi-Fi.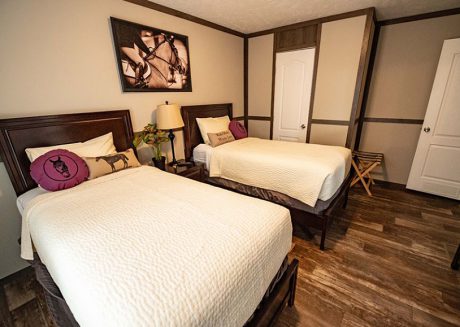 Our visitors will feel at ease in a Home Away from Home. Like the Cabins, the Home Away from Home units offer all of the comforts of home, including welcoming furry guests. Each unit features a fully equipped kitchen, which makes it easy to eat in during your stay. The spacious living room and comfortable, overstuffed furniture add to the relaxing atmosphere.
RV Sites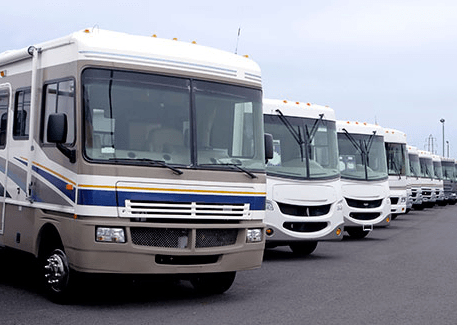 If guests prefer to bring their RV to the show, World Equestrian Center offers 96 hookups, 36 of which are full-service hookups that include electricity, water and sewer service. Partial hookups are also offered, which include electricity and water. RV and trailer parking spots are offered to provide easy access to all of the amenities and facilities at the World Equestrian Center.
Preferred Hotel Option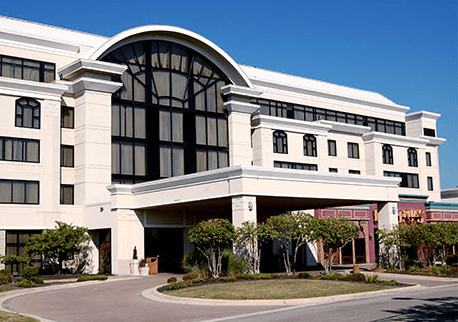 Just minutes away from the World Equestrian Center sits our preferred hotel, the Holiday Inn at The Roberts Centre. Guests will enjoy spacious rooms, a Max & Erma's restaurant, a fitness center and gym and all the comforts of home. The Roberts Centre is pet friendly and ready to handle all of your booking needs as a World Equestrian Center preferred partner.
Interested in booking a Cabin or Home Away from Home for your next show at the World Equestrian Center? Give us a call at 937-382-0985, option 3, or book online. Reserve an RV space online at www.horseshowing.com.