Vendor Village offers plenty of pampering for humans and horses alike, but it is the pups' turn to step into the spotlight. With this idea in mind, The Shaggy Chic Pet Parlor was born. The Shaggy Chic Pet Parlor is the newest addition to World Equestrian Center and Vendor Village, providing a relaxing, dedicated space for dogs to have a little "me time". The Pet Parlor features a state of the art iClean Dog Wash, plenty of dog treats and stacks of fluffy towels for furry friends to dry off after their baths.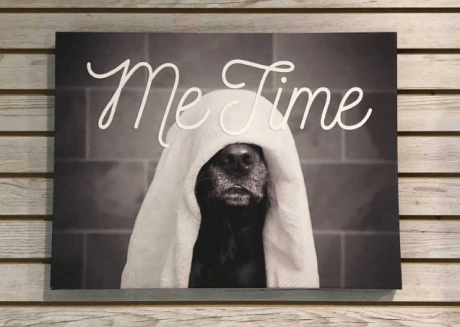 The Shaggy Chic Pet Parlor held its grand opening this past Saturday, to cap off an entire week of hosting dog-themed events in celebration of its opening. Events included a dog-themed painting party held in the Paddock Club last Friday, as well as a dog adoption with the Wilmington Area Humane Society, a demonstration by Spikes K9 with local police officers and their K9 counterparts and a dog puissance on Saturday. The iClean Dog Wash at the Shaggy Chic Pet Parlor was free for all to use on Saturday for the grand opening as well, and many doggos enjoyed a nice scrub in the brand new tub!
The iClean Dog Wash is a high tech, car wash type canine cleaner that allows the user to select a number of "washes" for their dog including a shampoo, a flea wash and conditioner. The dog wash is made by iClean International, whose innovative technology have made their dog washes some of the most advanced in the world.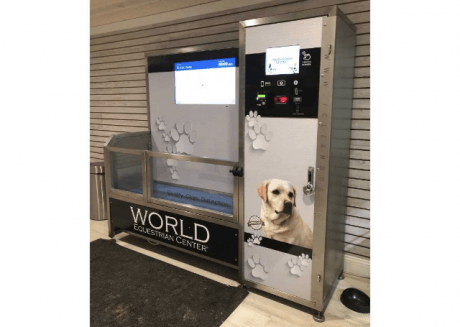 The Shaggy Chic Pet Parlor features an upgraded version of iClean's Classic model that includes a touch screen. The touch screen provides users with countless options including a large selection of languages from which to choose. The iClean also allows users to select the narrator of their dog wash experience. Narrators include the voice impersonations of Arnold Schwarzenegger, Matthew McConaughey and even Morgan Freeman, adding to the completely custom feel of the iClean Dog Wash experience. The touchscreen and video screen allow users to interact with the iClean Dog Wash. Directions for use are displayed on the video screen while the user's favorite celebrity instructs them on how to use the machine. The video screen uses short videos to show the user exactly how to use the dog wash.
Selections on the iClean Dog Wash include shampoo, rinse, conditioner, flea wash, blow dry low, blow dry high and disinfect tub. Users can select these in any order and can select the options multiple times if they wish to (because we all need to double up on shampoo sometimes!) Once the wash is compete, users can grab a fluffy towel from the shelf and place it in the laundry basket when finished, or use the warm blow dry function for that 'fresh from the (dog) salon' blowout.
The iClean Dog Wash includes many safety features, including clips to hook to a dog's collar so that the dog cannot jump out of the dog wash. There is also a mat in front of the dog wash so that no one slips coming out of the tub. The dog wash stands at a comfortable height for washing, so light dogs can be lifted in and heavier dogs can hop in.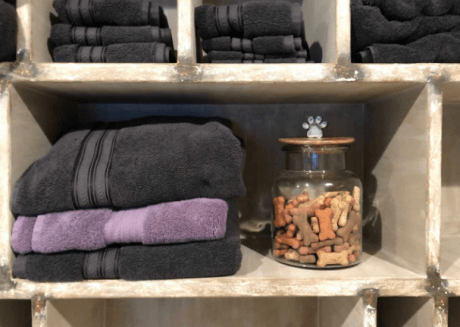 Payment is simple when it comes to using the iClean Dog wash. The machine accepts credit cards, as well as exact amount cash and coins. Towels are free to use during a visit to the Shaggy Chic Pet Parlor, and should be discarded in the laundry basket next to the dog wash after use. We want our furry friends to enjoy their dog wash, so treats are complimentary of World Equestrian Center!
Bring your furry friend to the Shaggy Chic Pet Parlor in Vendor Village for a little pampering during your next horse show at World Equestrian Center!
We want everyone to enjoy the Shaggy Chic Pet Parlor, so there are a few rules to follow during a visit:
– Please take care of our equipment as if it were your own.
– Pets must be on a leash no longer than 6 foot. All pet owners are responsible for the actions of their pets.
– Always assume the floors are wet and slippery.
– Restraints are provided in the tubs to prevent your pet from jumping out.
– DO NOT leave your pet unattended at any time.
– Please leave your pet in the tub when using the forced air blower.
– The blower is to be used to remove excess hair and water from your pets' coat.
– Towels are provided to dry off your pets, please do not take them with you.
– Please put used towels in the hamper next to the pet wash.
– Please be courteous to others and pick up after your pet if an accident occurs. Bags are available and free!
– Please notify us if there is a mess that needs to be cleaned up right away, we will be happy to take care of it.
– Please be aware that there may be someone waiting to use the tub after you.