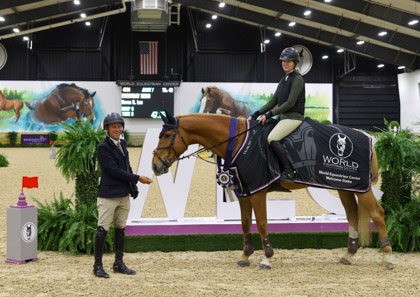 Ladies topped the podium today at World Equestrian Center – Wilmington in the $5,000 WEC Welcome Stake where Heren Lee and her own Everyday Hero prevailed with a jump off time of 47.155. Claire A. Wasielewski rode Cix Degrees HH to a second place finish in 43.266 with just four faults, while Emily Reder rounded out the top three with a 48.191 jump off time aboard Colato Sabata.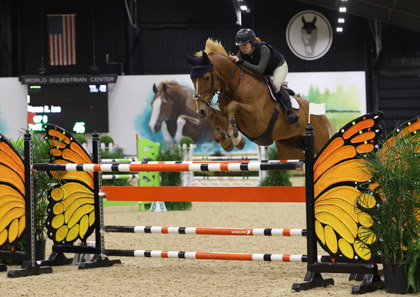 Eleven horse and rider combinations took to the Sanctuary arena this afternoon to contest a track designed by Bobby Murphy of Lexington, Kentucky. Five pairs delivered clear first rounds within the time allowed qualifying them to continue straight to the jump off in the Table II, Section 2a event.
Heren Lee rode her own Everyday Hero (Amadeus x Serania P Van D'Oerte) to a first round time of 76.429. The pair headed straight to the jump off and stopped the clock at 47.155 with all the rails up, giving them the edge to win the class. Lee and the 12-year-old Dutch Warmblood gelding earned ribbons during the winter at the WEC Winter Spectacular in Ocala, Florida, preparing them well for tonight's class.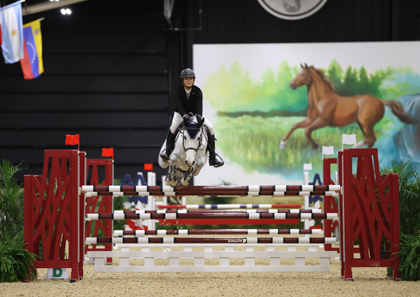 Owner/rider Claire A. Wasielewski piloted Cix Degrees HH (Calido I x Andoctra HH) to a first round time of 75.717. Wasielewski and the 9-year-old Holsteiner mare picked up the pace in the jump off to finish in 43.266 with 4 faults for one unlucky rail. The pair also spent time this winter competing at the Winter Spectacular in Ocala, Florida.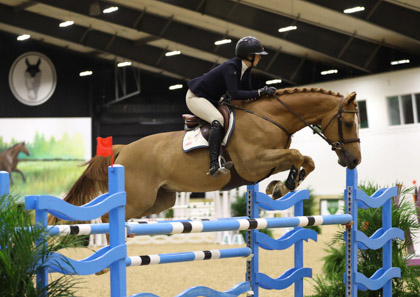 Emily Reder and her Colato Sabata (Colato R x Nifa) clocked a clear first round in 79.079 and retuned to the short course with the 11-year-old Czech Warmblood gelding to finish up a double clear effort in 48.191 seconds.
WEC $5,000 Welcome Stake Results
Everyday Hero, Heren R. Lee – 0 | 0 | 47.155
Cix Degrees HH, Claire A. Wasielewski – 0 | 4 | 43.266
Colato Sabata, Emily Reder – 0 | 0 | 48.191
Londonderry De La Ramee, Keely McIntosh – 0 | 7 | 50.346
Limerick, Keely McIntosh – 0 | 8 | 47.788
Catch A Star HSS, Kevin McCarthy – 4 | 71.370
Vegas H, David Beisel – 4 | 71.662
Wondergirl, Diana Conlon – 4 | 73.643
Quantofino, Sarah Meier – 4 | 76.814
Strawberry, Molly Kindness – 12 | 71.927
Photos courtesy of Winslow Photography.