Twenty-four horse and rider combinations took to the Sanctuary tonight to vy for the win in the first WEC $25,000 Grand Prix of the Winter in the Midwest circuit.
Designed by Tom Hern of Plymouth, Massachusetts, the winding 1.40m course was set with long bending lines, plenty of rollbacks, a liverpool across the short side of the ring and a daunting triple combination. A total of eleven pairs returned for a very competitive jump off over a similarly challenging track.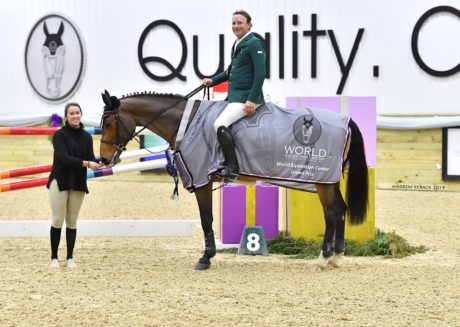 After parting ways with Catch A Star HSS (Sheraton x Tolinda), in the $5,000 Welcome Stake earlier this week, it was a determined Kevin McCarthy who earned redemption tonight by winning the $25,000 WEC Grand Prix 1.40m. A victory made sweeter by the fact that his family in Ireland were watching his win via the WEC live stream.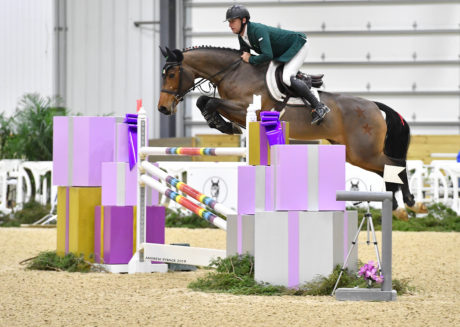 After stopping the clock in 78.756 in the first round, McCarthy and Catch A Star HSS flew around the short course in 38.361, nearly 12 seconds under the time allowed of 50 seconds.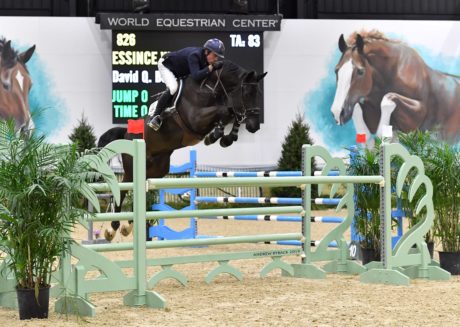 Halfway through the class, David Beisel and Essince W (Chacco Blue x Rossan) delivered the fastest time of the first round in a blazing 76.009 seconds and clear, which added them to the jump off roster. The pair came back to the short course bringing their signature speed and 'jump the standards' style, stopping the clock at 40.360, and sliding in to second place. In addition to a recent $5,000 Open Welcome Stake win, the Goshen, OH-based pair have previously won a WEC $25,000 Grand Prix in April 2019.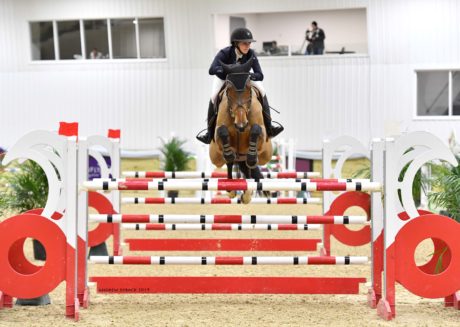 Third place finisher Alliy Moyer of Moyer Farm in Carmel, IN skillfully piloted her own Etoile Van't Lambroeck (Kashmir Van Schuttershof x Stella), a 15 year-old Belgian Warmblood, to a clear first round in a time of 79.828; then breezed through the jump off timers at 40.616.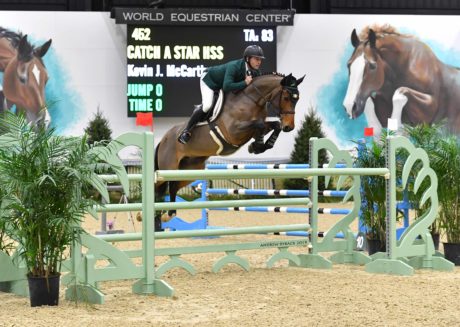 Cazenovia, NY-based McCarthy and Catch A Star HSS, a 9 year-old Swedish Warmblood mare, are no strangers to the winner's circle. The pair won the WEC $25,000 Grand Prix in February 2019 along with several Welcome Stake 1.30m classes. In addition, McCarthy rode the mare to two $30,000 Grand Prix victories at the Vermont Summer Festival in 2019.
We had the opportunity for a brief chat with McCarthy after his win.
"As my Dad would say, bad start to a good finish. It was a good win, he'll be happy. It was great to win, the horse jumped great. She just goes in and does what she does.
I thought the course designer built a really nice course. He got a nice number in the jump off – it was really a good group of people out there tonight. I'm just delighted we came out on top. She's such a great horse, Casey, you know she always wants the win."
Referring to his fall earlier in the week, McCarthy added, "we had a bit of a tumble Thursday in the Welcome, so big thanks to the Pulse Magnetic folks who put me and the horse back in the winner's circle."
Results:
Catch A Star HSS, Kevin McCarthy – 0 | 0 | 38.361
Essince W, David Q. Beisel – 0 | 0 | 40.360
Etoile Van't Lambroeck, Alliy Moyer – 0 | 0 | 40.616
Coneja, Karen Cudmore – 0 | 0 | 40.951
Chagrand, Michael D. Burnett – 0 | 0 | 45.103
Kinsella, Charlotte E. Clark – 0 | 4 | 40.717
Carla de Kalvarie, Nicole E. Loochtan – 0 | 4 | 41.674
Clarence, Carly Campbell-Cooper – 0 | 4 | 48.825
Igor, Brooke Cudmore – 0 | 4 |
Kennedy VD Rechri, Julia Curtis – 0 | 15 | 50.398
$7,500 Futures Prix 1.30m sponsored by Voltaire Design
Earlier in the afternoon, the Sanctuary hosted the $7,500 Futures Prix 1.30m sponsored by Voltaire Design.
Nineteen horse and rider combinations contested the winding Tom Hern-designed track. With a time allowed of 79 in the first round, 12 pairs made it to the jump off.
The short course began with two tight rollbacks and continued with several galloping lines, finally asking riders to negotiate a two stride combination near the end of the course; all within a time allowed of 46 seconds.
In the first round, Brooke Cudmore established an early lead with Southern Rose (Southern Pride), going clear with a 69.698 and moving straight to the jump off in the Table II event. She then delivered a foot perfect jump off, stopping the timers at 35.775, which fixed the pair atop the leaderboard.
Although several more pairs went clear and inside the time, it was Patty Stovel and her 18 year old Zangersheide gelding Carigor Z (Caridor Z x Angora Z), that loped through the first round clear in 71.672 seconds, then delivered a textbook clear jump off round in 34.250 seconds to take the lead from Cudmore.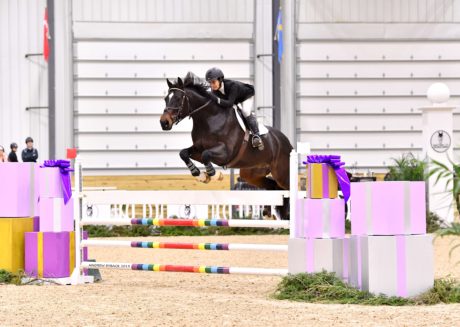 Near the end of the class, Michael Kocher and Chunk (Calvaro Z x Honeymoon VD Padenborre) tackled the course going clear in 72.650. The strategy of leaving some strides out worked for the pair, who stopped the timers at 33.997 in the jump off and grabbed the lead from Stovel.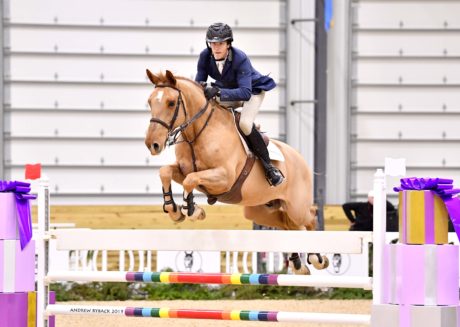 Alliy Moyer and her Irish Sport Horse mare, Galway Bay Pandora (Askoll Peter Pan x Neptune D'07), finished the first round in a speedy 67.293. They advanced to the jump off ready to try and unseat Kocher from the lead. Ultimately their jump off time of 34.871 landed them just behind Stovel in third place.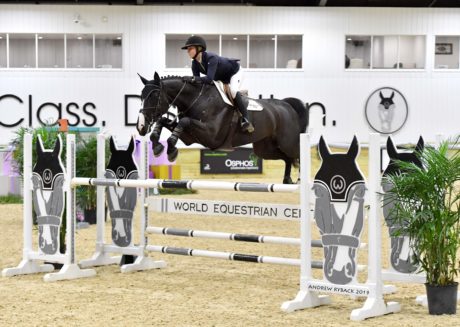 Fresh from their awards ceremony, Kocher joined us ringside for a post-victory chat this afternoon.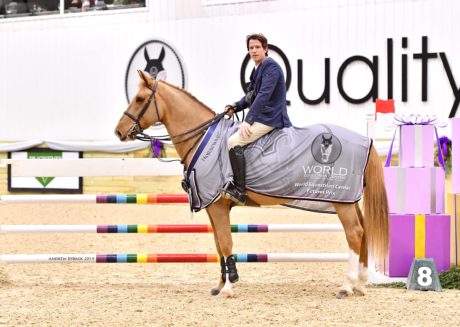 "Our main base is in Wellington, Florida, but we're here in Wilmington for the Winter show circuit this year. It's such a nice facility and a nice group of people, I'm really looking forward to it.
Kocher shared a bit about his mount, the aptly named Chunk, an 8 year-old Zangersheide gelding owned by Eye Candy Jumpers of Wellington, Florida. "He's like a little linebacker," Kocher joked about the compact gelding. "We got Chunk at the end of last year from a dealer in Europe. I actually rode him in his first few classes those first few months he was here, then my brother Andy showed him a bit and took him to Spruce this past summer. Eye Candy Jumpers bought him during Spruce and I took over the ride again at the end of the Summer. He's still a bit green so we did some small grand prix and had some good results. I'm glad to be riding him, we have a really good connection."
Kocher complimented the course and discussed how it suited Chunk's style.
"I thought it was a really nice course, the jump off allowed you to really gallop so you could test the horse's strides as well as the tight rollbacks. So a horse like Chunk who is actually really slow, it gave him a chance because he was able to leave strides out in places where other horses couldn't. So it was a really nice course and worked out well for us."
Results:
Chunk, Michael Kocher – 0 | 0 | 33.997
Carigor Z, Patricia Stovel – 0 | 0 | 34.250
Galway Bay Pandora, Alliy Moyer – 0 | 0 | 34.871
Southern Rose, Brooke Cudmore – 0 | 0 | 35.775
Beaujolais, Kevin M. McCarthy – 0 | 0 |35.861
Centedel Blue, Carly Campbell-Cooper – 0 | 0 | 36.362
Dilara Van De Kattenberg, Karen McFarland – 0 | 0 | 37.233
Chatender, Madeleine R. MacNeill – 0 | 4 | 36.846
Famiebur B, Melissa M. Decaster-Lesch – 0 | 4 | 37.497
Many thanks to our exhibitors, spectators and our generous sponsors for a great evening of equestrian sport.