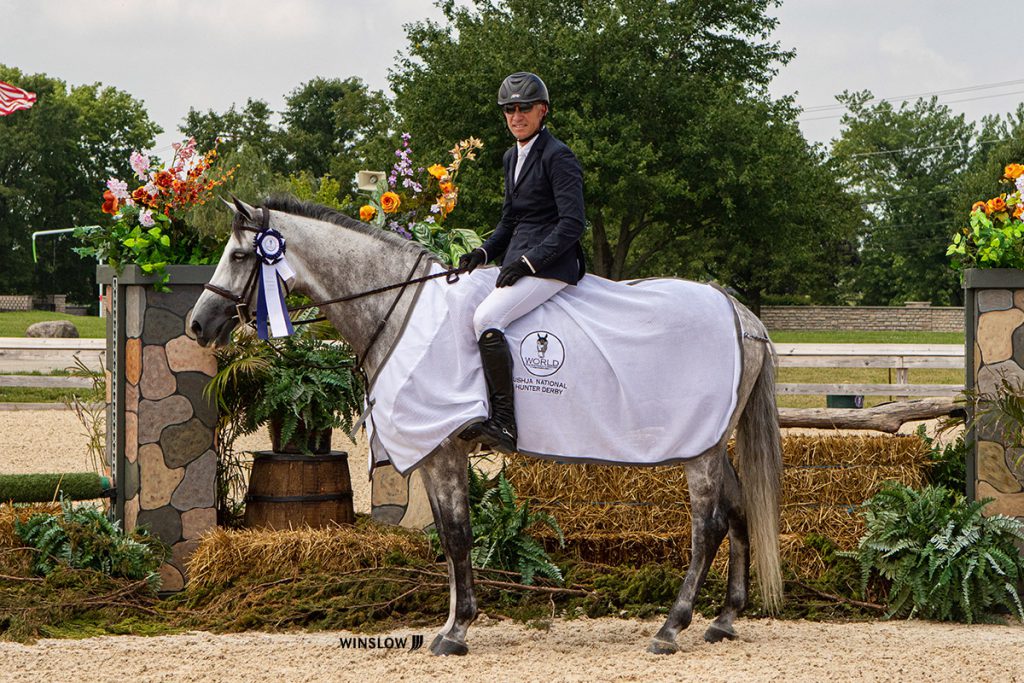 This afternoon featured fantastic Hunter Derby action in the Main Hunter ring as twelve horse and rider pairs vied for top honors in the $2,500 USHJA National Hunter Derby. The course featured beautiful cedar brush-filled jumps that emulated obstacles that may be encountered in the hunt field including stone pillars, brick boxes, hay bales and even a decorative wagon at the top of the arena. Courses were designed by Bobby Murphy of Lexington, Kentucky, with four high options available to entries as well as several opportunities for handy inside turns. Though several wowed the judges throughout the class and many scores climbed well into the eighties, it was Jeff Gogul and Roberts Stables, LLC's At Last that broke into the 90s in both rounds.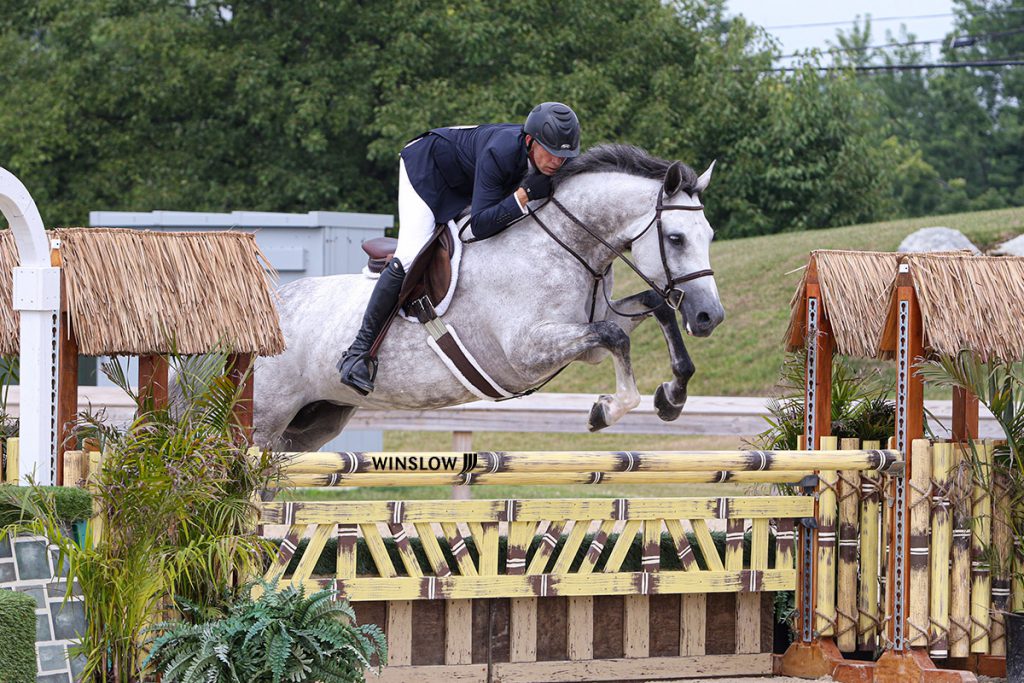 Gogul and At Last rode near the top of the order in the first round of the Derby. Gogul and the eight year old Warmblood mare compete in the 3'3″ Performance Hunters, regularly taking top placings. This afternoon the pair delivered an elegent performance, taking a steady and stylish approach to each fence. Gogul and At Last took all four high options, earning a score of 92 in the first round and set a high standard for the remainder of the entries.
Though none of the remaining entries were able to break the ninety mark, many scored high into the eighties in the first round including Elizabeth Orozo and Linden Knoll Farm LLC's Piano Man (Diarado x Calina). The pair compete successfully in the Junior Hunters on the East Coast and showed off their skills in today's class. Orozo and the ten year old Oldenburg gelding took all four high options for a score of 88.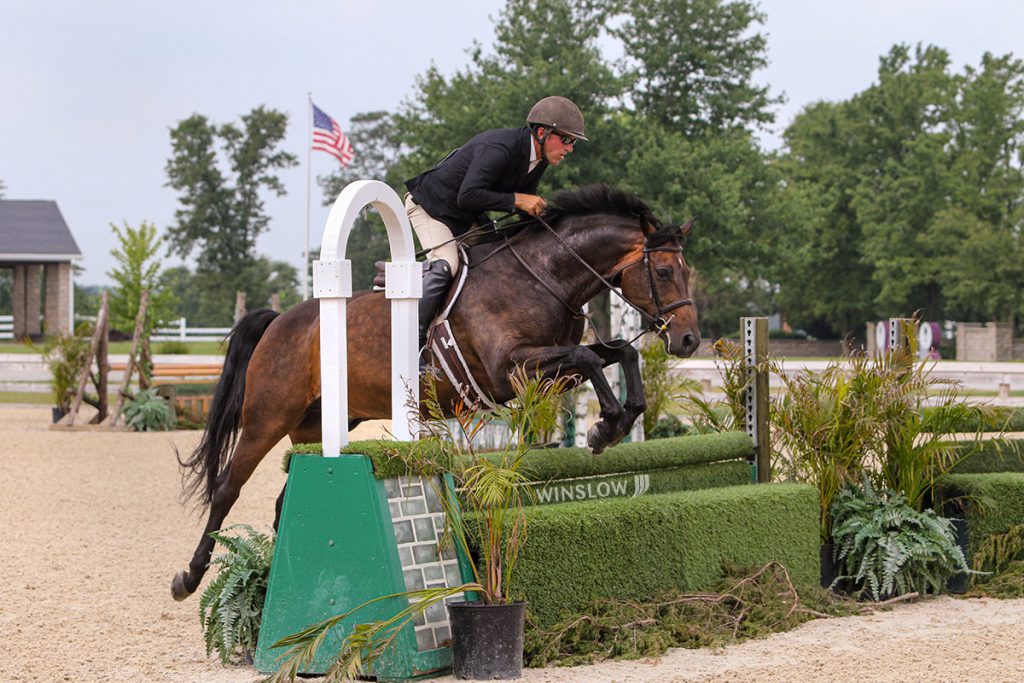 David Beisel and Phyllis Harlow's Lavish (Don Bedo x Hauptstutbuch) also impressed in the first round of the $2,500 USHJA National Hunter Derby. Beisel and the fourteen year old Westphalian gelding often compete in National Hunter Derbies, generally taking top placings. This afternoon, Beisel and Lavish were polished throughout the course, opting not to take any high options and earning a score of 86.
The course was adjusted as the top twelve entries prepared to return for the handy round. Due to their high first round scores, Gogul, Orozo and Beisel were the final three entries to return. First of the top three contenders was Beisel and Lavish. The pair mirrored their performance in the first round, navigating a second skilled round, opting again for the low option fences. Beisel and Lavish earned a second score of 86, bringing their two round total to 172, the highest score of the Derby thus far.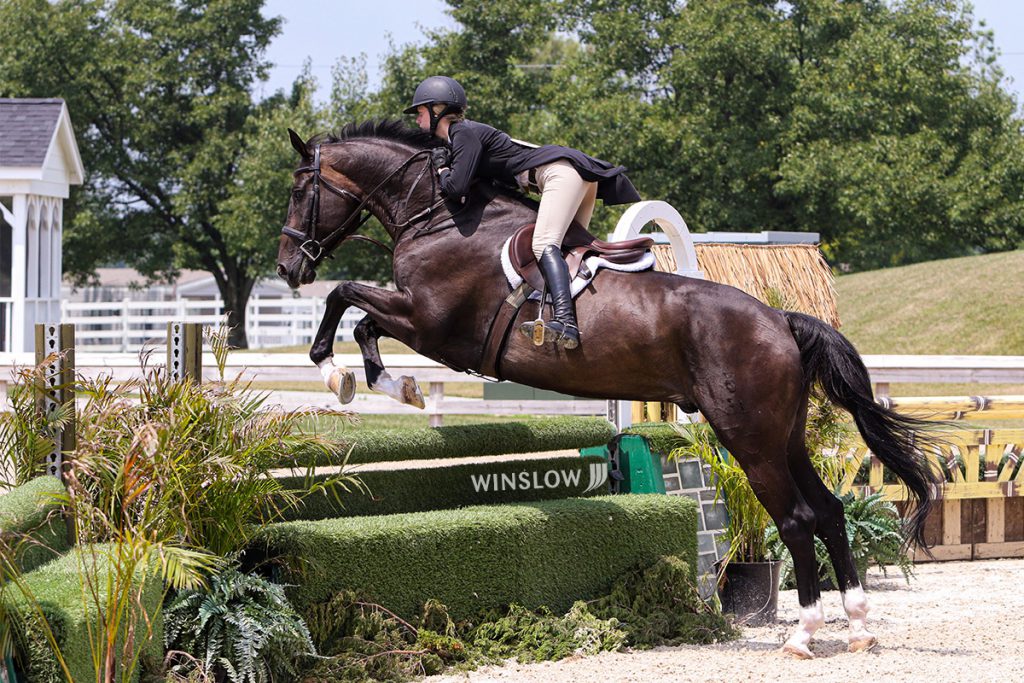 Next to contest the handy course was Orozo and Piano Man. Like Beisel, Orozo rode a second flawless round, piloting Piano Man through several handy inside turns and taking all four high options for a score of 89, bringing their total score to 177 and making them the new class leader.
Last to go was Gogul and At Last. Once again the pair delivered a foot-perfect round, taking all four high options and every possible handy turn with natural ease. Gogul and At Last earned a second score of 92, bringing their two round total to 184, deeming the pair the winners of the $2,500 USHJA National Hunter Derby and moving Orozo and Beisel to second and third place, respectively.
Gogul took a moment to chat with us after the awards presentation. "This was her second Derby. She has a little bit of mileage in the 3'3″ Performance. We've just worked out some rideability kinks; its all coming together really nicely. It's super exciting. She went beautifully last week but unfortunately rubbed a high option and had a rail down in the first round, so we didn't get to do the handy. So, she's probably only done two or three other handy rounds in her life in the Performance Hunters. We've just been working on preparing her and getting her ready to be a 3'6″ horse," explained Gogul.
When asked about his plan on course, Gogul replied, "I executed what I was hoping to do on course. I wasn't sure after hanging around between rounds if she was going to be at all nervous or anxious going into the handy when I had to turn and ask a little bit more of her. But, she was quite good and I was able to do the tighter turns and the options that I wanted. I did have a backup plan in a couple of places in case the rideability wasn't there just to give her a good experience."
Gogul also commented on At Last's personality, "She's super brave and she has a huge stride, which is awesome. You can literally canter in place and still get up the lines in the right numbers. She's super ambidextrous and she has such quality in her jump off of both leads, which is really nice. The feeling in the air with her is amazing because she can be so high and so slow and it feels so effortless for her. We're really hoping that we can build from this and have a superstar for the 3'6″ and beyond going forward."
$2,500 USHJA National Hunter Derby Results
At Last, Jeff Gogul – 92 | 92 | 184
Piano Man, Elizabeth Orosz – 88 | 89 | 177
Lavish, David Beisel – 86 | 86 | 172
Elliance, Brian Hardie – 81 | 87 | 168
Lukelele, Rachel Kolar – 84 | 83.5 | 167.5
Corbin, Raffi Kechejian – 80.5 | 83 | 163.5
Like Clockwork, Emily Moll – 77 | 84 | 161
Blueprint, Faith Vergerio – 69 | 84 | 153
App For That, Madison Winebrenner – 65.5 | 79 | 144.5
Oeba Van Ter Royen, Molly Kindness – 76 | 67 | 143
Photos courtesy of Winslow Photography.

Join us for our Upcoming Shows
Be sure to get your entries in now for our August 7-11 horse show – the last show of the Spring / Summer Series which features a $5,000 USHJA National Hunter Derby. An added plus: there is no braiding required! Reserve your stalls and submit your entries at www.horseshowing.com.
Get your entries in early for the WEC Fall horse shows featuring 5 back-to-back shows with nearly $1 Million in money and prizes offered. Feature classes include two $20,000 USHJA National Hunter Derbies (Open and Non-Pro) weekly. Entries are open now and stall reservations can be made online at www.horseshowing.com.