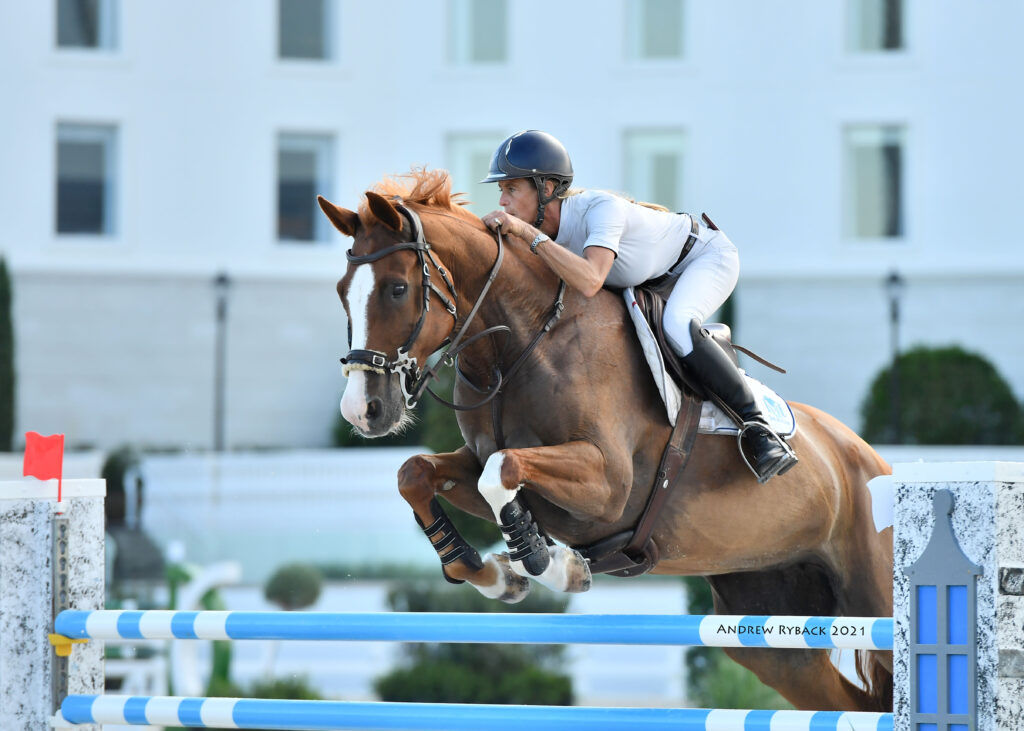 Ocala, FL – June 10, 2021 – Feature competition kicked off the 2021 Ocala Summer Series with the $15,000 WEC Welcome Prix. Jenni McAllister of Dunnellon, FL, and her own Escada V S sped to victory besting a field of 42 competitors in the class.
Jumping a course designed by Manuel Esparza, seven horse-and-rider pairs produced fault-free rounds to qualify for the jump-off. McAllister and Escada V S, a 14-year-old Swedish Warmblood mare took the class victory with tight turns and accuracy. "She went in the ring, and she was all business," said McAllister.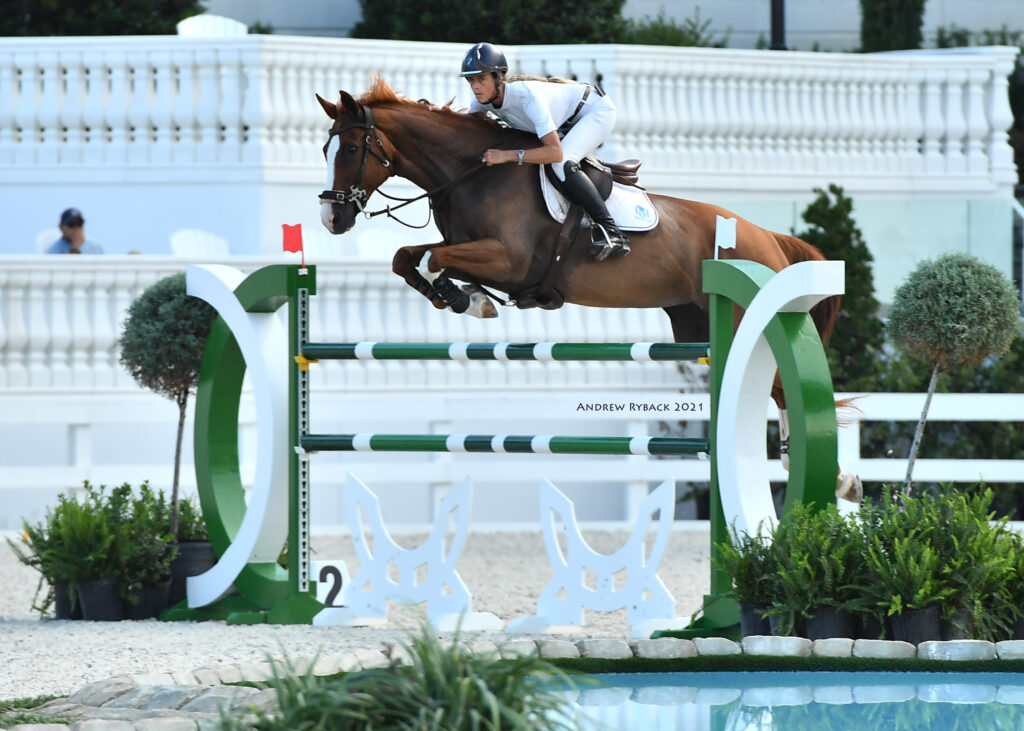 McAllister and Escada V S delivered a fast first round time of 79.780 seconds with no jumping faults, easily beating the tight time allowed of 82 seconds, which caught out nearly half the class. McAllister had a plan for her jump-off, which she completed immediately following her first round ride.
"It was long gallops; there weren't a lot of numbers," said McAllister. "It was more about the turns and track. When I went on Escada [today], I didn't know if there were a bunch that jumped off or a couple, or how fast they were. I just kind of had to ride my own ride. For big classes, I prefer [to return at the end of the class for the jump-off], but today with the weather break and everything, it worked out better [to jump off immediately]."
McAllister and Escada V S (Escudo I x Flora) soared through the jump-off with sliced fences and forward distances to record a time of 42.821 seconds for the win.
"She's one of my favorite horses to ride. She's really fun, and she really likes to rise to the occasion," said McAllister. The pair will return to the WEC Grand Arena for the $50,000 WEC Grand Prix, which is currently scheduled for Saturday night.
McAllister and her husband Steve, who run Team McAllister, recently settled in Dunnellon after years living in New Mexico. McAllister, who has competed in two FEI World Cup Jumping Finals, was riding in the WEC Grand Arena for the first time in the Welcome Prix.
"It's exciting; I love it," said McAllister of the World Equestrian Center-Ocala venue. "The ring has a great feel, and I think it's going to be really fun for night classes."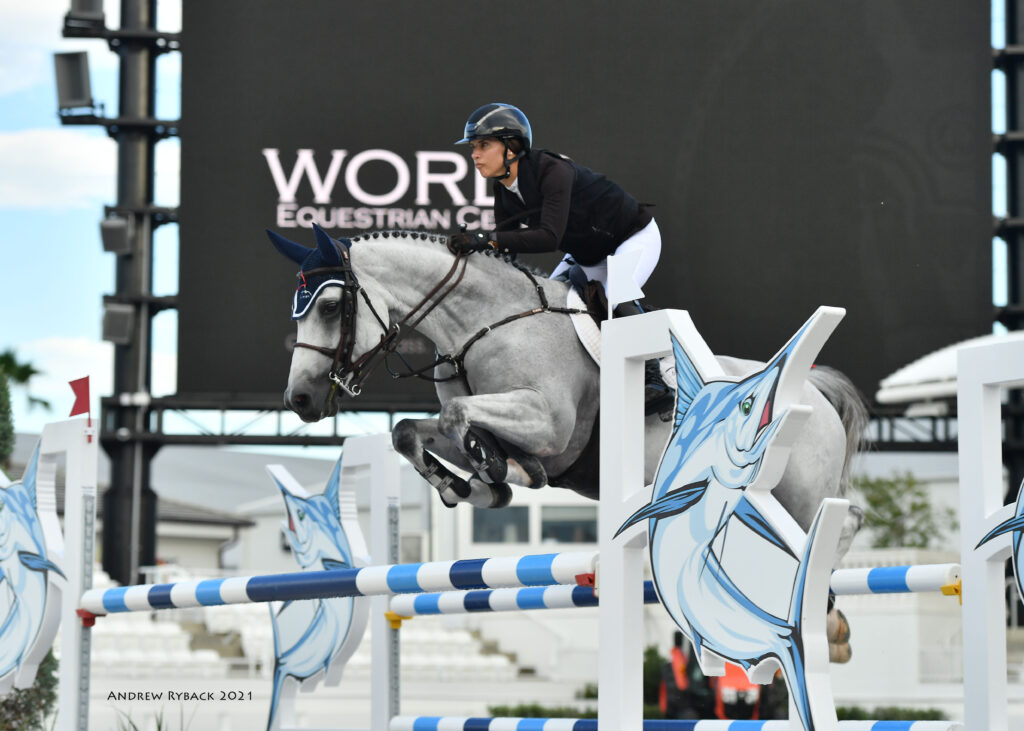 Rebecca Conway and Blue Hill Farm, LLC's, Con Coleur (Contendro 1 x Charlotta), a 12-year-old Hanoverian gelding, delivered a fast and clean jump-off round with a time of 45.113 seconds for the second-place finish.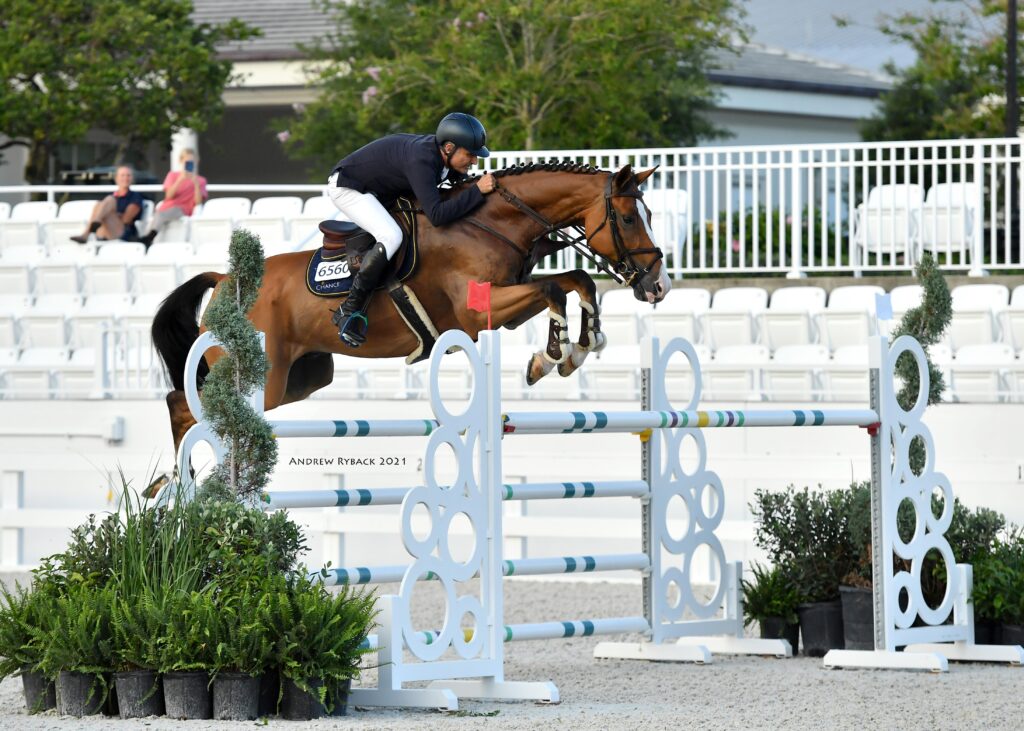 Fabio Costa and Bonne Chance Farm's VDL Ilex were the third of three double clear rounds. Costa and VDL Ilex galloped to third place with a jump-off time of 48.265 seconds.
The first week of the Ocala Summer Series continues on Friday, June 11, at World Equestrian Center – Ocala with competition in six rings, including the feature hunter classes of the week: the $12,500 WEC 3'6"-3'9" Hunter Derby, the $10,000 WEC 3' Hunter Derby, and the $2,500 WEC Pony Hunter Derby. View the free live stream at ClipMyHorseTV.com.
Photos courtesy of Andrew Ryback Photography.  
Ocala 2021 Summer Series $15,000 WEC Welcome Prix Results
1 Escada V S, Jenni McAllister (USA), Jenni McAllister: 0 | 0 | 42.281
2 Con Coleur, Rebecca Conway (USA), Blue Hill Farm, LLC: 0 | 0| 45.113
3 VDL Ilex, Fabio Leivas da Costa (BRA), Bonne Chance Farm: 0 | 0 | 48.265
4 Flashdance, Megan Wexler (USA), Felyn Farms: 0 | 4 | 42.586
5 Diamant's Legacy, Jordan Petersen (USA), Derek Petersen: 0 | 4 | 42.605
6 Cosmona, Johan Kachelhoffer (RSA), Anton Marano: 0 | 4 | 43.318
7 Infante SK, Marcus Gruenthal (USA), Marcus Gruenthal: 0 | 4 | 45.421
T8 ABC Quantum Cruise, Diego Perez Bilbao (ESP), Wyndmont Inc.: 1 | 82.024
T8 Batida PJ, Jenni McAllister (USA), Viksberg Sateri AB: 1 | 82.024
10 Just Luck, Hayley Waters (USA), Chuck Waters: 1 | 82.262
11 MTM Unexpected, Carlee McCutcheon (USA), Carlee McCutcheon: 2 | 83.002
12 Desperado, Samantha Senft (USA), Samatha Senft: 2 | 83.341