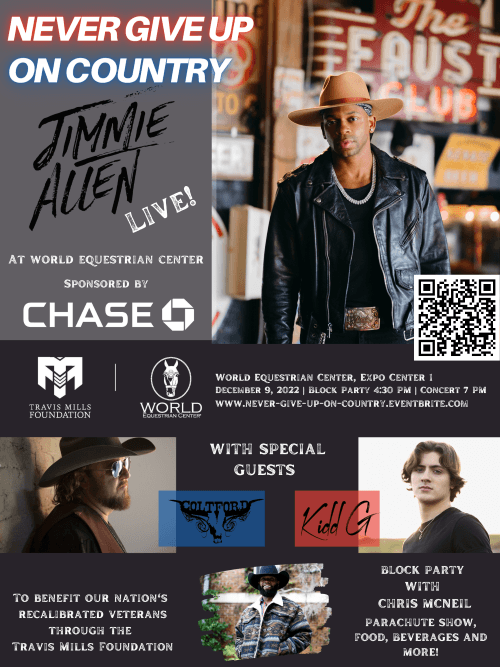 Ocala, FL – World Equestrian Center – Ocala is honored to host three of country music's top entertainers in the Never Give Up On Country benefit concert for the Travis Mills Foundation Friday, December 9 in Expo 1. The concert will feature powerful performances by Jimmie Allen, Colt Ford and Kidd G.
A block party kicks off the event at 4:30pm with music by Chris McNeil and includes a parachute show, food, drinks and more.
Three ticketing levels are available for General Admission, Premium and Premium Enhanced. View the details and purchase tickets online at https://never-give-up-on-country.eventbrite.com.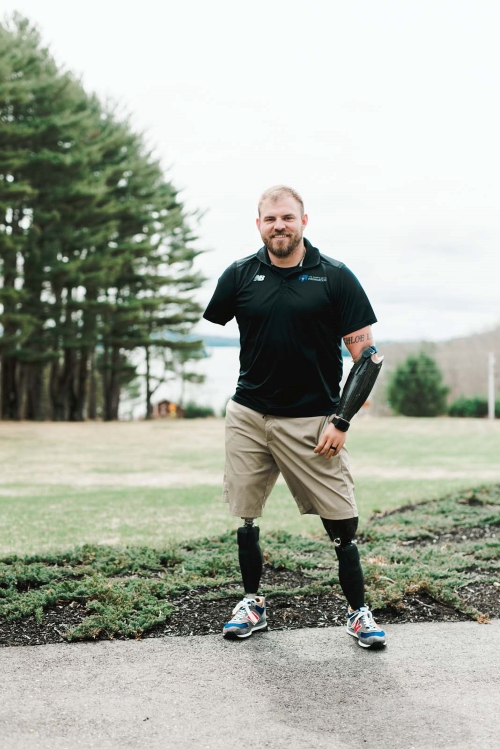 About the Travis Mills Foundation
The concert's name is inspired by the lifelong motto of U.S. Army SSG (Ret.) Travis Mills: "Never Give Up. Never Quit." Mills was on his third tour in Afghanistan with the 82nd Airborne Division when he set his rucksack down on an IED and lost portions of all of his limbs. One of only five quadruple amputees to survive his injuries in the war in Iraq and Afghanistan, this motto, along with tremendous support from his family, carried him through his recovery journey to find his new mission: to support fellow "recalibrated" veterans and their families.
Mills coined the term, "recalibrated veteran," after his life changing injury. He didn't want to be referred to as a wounded warrior – his wounds had healed. He needed to change his way of thinking and his purpose in accordance with his new normal; he recalibrated.
In 2017, the Travis Mills Foundation launched in Maine to serve recalibrated veterans and their families throughout the country through programming that helps them overcome physical and emotional obstacles, strengthen their families and enjoy much needed rest and relaxation.
"I can't serve my country anymore," Mills said. "But what I can do is give back to my fellow veterans and their families through the Travis Mills Foundation. Many of our participants call Florida home and we're eager to spread the message of the good work we do to the Ocala community."