2019 Winter weather predictions call for a cold, wet Winter, but we won't let that stop us from horse showing!
The 2019 Winter weather predictions are in and despite early rumors of a warm and mild winter, you're going to be breaking out your down jacket more often than you would probably like to this year. The Farmer's Almanac, notorious for its incredibly accurate long-term weather predictions, is foreseeing blustery winds, sharp drops in temperatures and above-normal precipitation across the entire United States.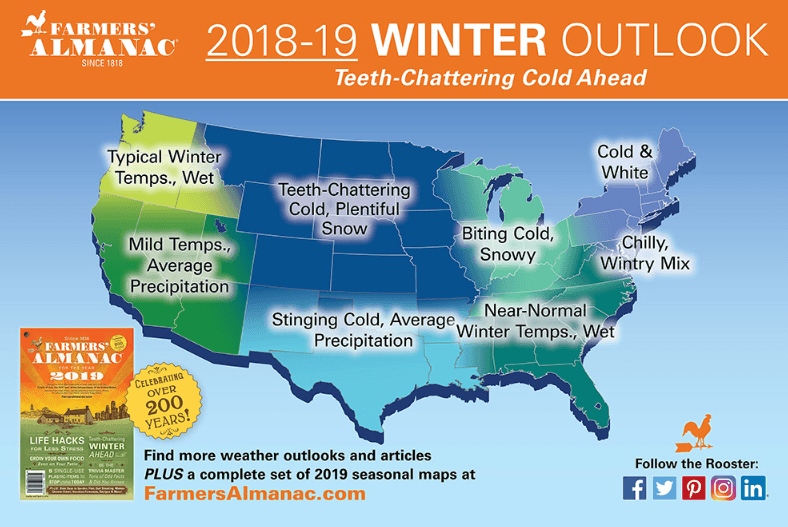 The coldest temperatures are expected to be seen in February as an Arctic cold front surges through the Northeast, Great Lakes, Ohio Valley, Midwest and even the Southeast. All areas are predicted to see lower then normal temperatures along with widespread snow showers and squall activity ahead of the front. Weather described as "frigid" is expected in all Northern regions. These stormy winter conditions are expected to last through the official start of Spring, particularly along the East Coast, which historically leans toward a late start to the Spring season. While many equestrians have the opportunity to escape to Southeast, that region is expected to experience abnormally wet, chilly conditions as well.
Much of this winter weather activity can be attributed to El Niño, which is a phenomenon best explained by AccuWeather:
El Niño is a part of a routine climate pattern that occurs when sea surface temperatures in the tropical Pacific Ocean rise to above-normal levels for an extended period of time. During a typical El Niño, the storm track will shift farther south, bringing more opportunities for rain and storms to California and the southwestern U.S. The southeastern U.S. also tends to be stormier during an El Niño winter because of the split jet stream which brings more tropical moisture across the southern U.S. An El Niño winter in the Northeast is often warmer, but the region can still be stormy with frequent snowstorms. However not all El Niños are the same, and other natural climate phenomena can also interact with El Niño, resulting in a wide variety of seasonal impacts across the globe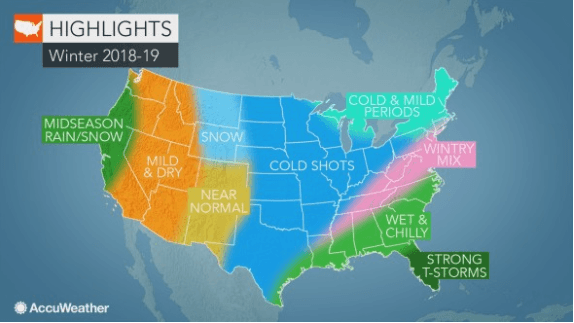 In this year's case, the "other natural phenomena" interacting with El Niño is the Arctic cold front, which will counter the usual warming effects of El Niño. The rain and storms usually brought by El Niño will turn to ice and snow storms.
While the coldest temperatures are yet to come, we have already seen proof of the accuracy of these predictions in November. According to the National Weather Service, areas surrounding the World Equestrian Center in Wilmington, Ohio spent a great deal of November in below-average temperatures and saw well above-average precipitation. While this weather is perfect for building snowmen, it certainly isn't conducive to horse showing…that is, unless you are showing indoors.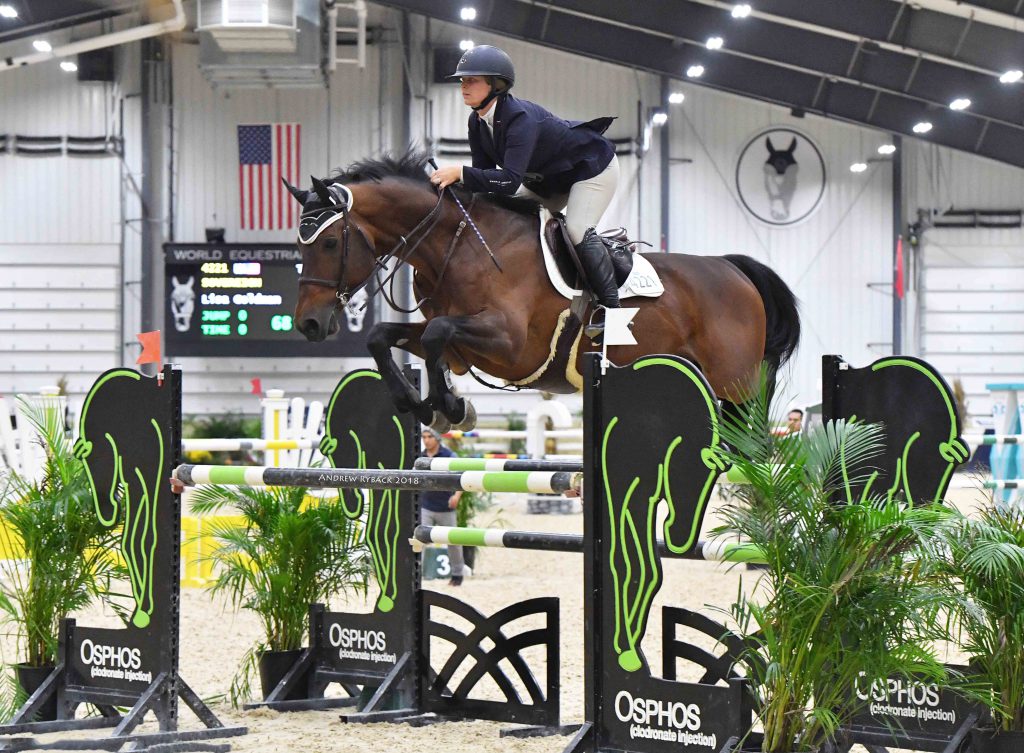 The World Equestrian Center in Wilmington, Ohio boasts more than 200,000 square feet of indoor, climate controlled riding space and 600 stalls.  Our stabling is connected to the larger horse show complex, which means you can horse show without ever having to go outside! It is truly the ideal place to escape the bad weather expected this year. The Winter Series of the Midwest, which spans from late November to late April, offers 18 weeks of top AA rated Hunter and Jumper competition in bright, airy and expansive arenas. While conditions in all arenas and stabling are perfect year-round, there's no place quite like the World Equestrian Center to spend the chilly months.
Horses and ponies alike stay comfortable inside of WEC, no matter the conditions outdoors. Worrying about adding blankets throughout the night as temperatures fall is obsolete at WEC, with consistent indoor conditions keeping all equines in their optimal comfort zone. While questionable winter footing is a concern for outdoor arenas across the North, and even in the South where rain muddies the rings, WEC's state-of-the-art custom custom blended GGT footing remains consistently ideal.
As if the appeal of comfortable, predictable riding conditions isn't enough, the World Equestrian Center offers exclusive shopping from top brands in the newly constructed Vendor Village, as well as in the halls of the R+L Arena. Vendors include elite saddle brand, trendy clothing boutiques and even a salon and spa for a little "me time" during the show.
The fun doesn't stop there. The World Equestrian Center is known to host countless events and activities at every horse show. From movie nights, to live bands, to a full-service bar, there is always something to do after the show at WEC.
Don't miss out on your chance to escape the cold this winter, reserve your stall for the Winter Series of the Midwest by  submitting an official Stall Reservation Form. The official Stall Reservation Form is available on horseshowing.com and or WEC.net. Stalls MUST be submitted via email to stalls@wec.net.