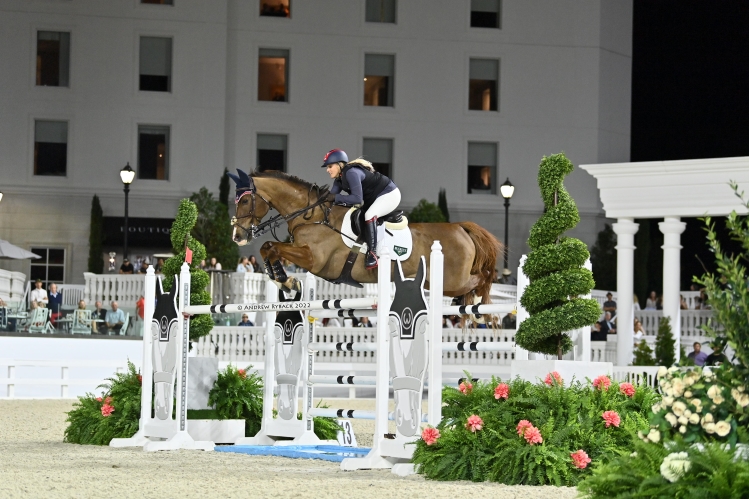 This week's Ocala Sunday Spotlight shines on Justine Dutton, a former eventing rider who represented Great Britain twice in Nations Cup competition. Dutton has switched gears to focus on the showjumping world. We caught up with Dutton to ask about her previous riding career and discuss her showjumping string.
WEC: Where are you from?
I am originally from the South of England. I moved to the USA permanently 18 years ago. We moved to Ocala five years ago. I watched World Equestrian Center being built from the ground up. Every time we would drive by, we would see more and more of the facility. We didn't imagine or could even imagine it would look like this. We have had friends visit us from Europe and they are always stunned when they get here. They have seen the pictures and videos but seeing it in person, they are always just in disbelief.
My fiancé, Chris Barnard has designed some courses here at World Equestrian Center. He is a top-level showjumping course designer that builds incredible tracks.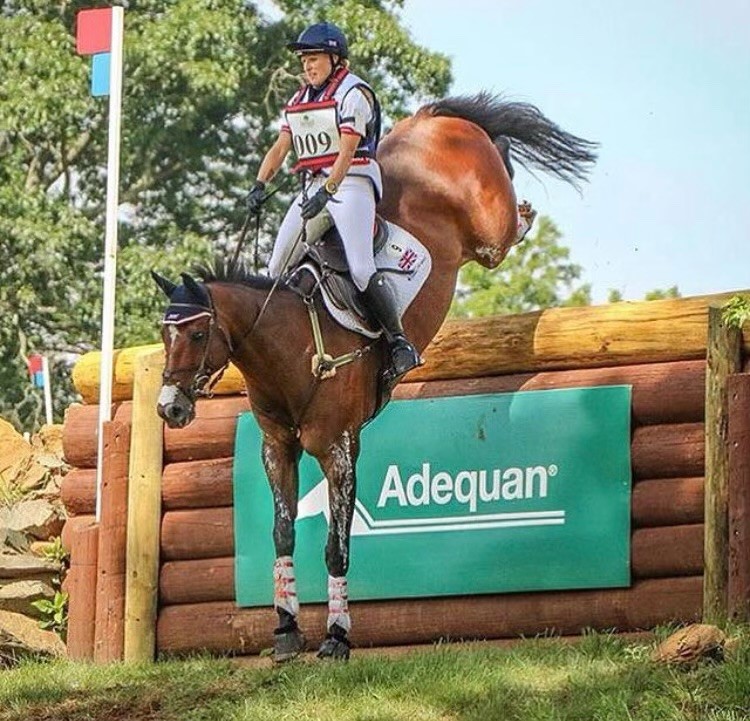 WEC: Tell us about your riding career.
I started out eventing. I competed through the four-star level and rode on the British Nations Cup team twice. I had a full-time eventing business and a string of event horses. I had some successful placings in three-star and four-star events.
I ended up having a few bad falls and had a really bad fall at the Nations Cup where I ended up losing most of my eyesight in my right eye. I continued to do eventing for about a year and was very successful on a really nice young mare that I had, but my heart just wasn't in it anymore. So, I decided I wanted to focus on showjumping.
WEC: Tell us about the horses currently in your string?
I have a few. I have Everse W who was be ridden by Rowan Willis. He won the Spruce Meadows derby twice with Rowan. He's a 12-year-old Dutch Warmblood who is a lot more horse than I am used to. Rowan and Everse W's owners leased him to me at first because I rode with Rowan, and he suggested that it was a good idea for me to get some miles. We ended up buying him and he's been great. We actually just won the 1.45m on Friday, and yesterday I competed in the grand prix which was our first 1.50m. We only had one down, so I am very proud of him.
Then I have Monkey, who is a little 15.1hh Anglo European pony type. He jumps the 1.40m and he's been consistently placing in the Futures Prix at WEC. He won a 1.40m here a couple weeks ago. He's done 1.45m grands prix at the Florida Horse Park and done well. He will be continuing the 1.40m with the hopes of doing some 1.45m stuff. He's very cool, but naughty.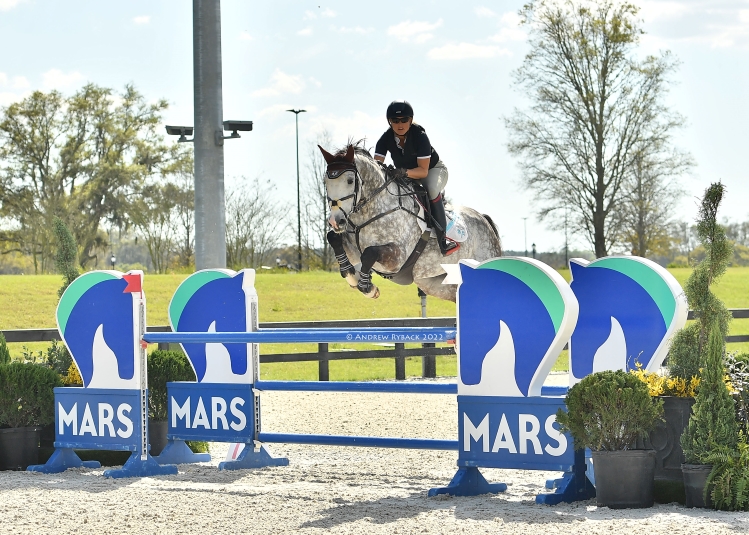 Karentino is my seven-year-old Dutch Warmblood gelding. We bought him as a sale horse as a just broke four-year-old. No one bought him so I kept him because he was very nice, and he just kept getting nicer and nicer. He has an amazing brain and has been doing very well in the seven-year-olds. He was actually the 2021 NSBA high point six-year-old and overall winner this year.
Ravello is owned by Ravello Syndicate. We bought him as my first school master for the jumpers. He's 16.3hh and 16-years-old. He jumped a 1.40m with a girl in Europe before I bought him. I went looking for something little and hot, but my great friend who helps me find horses said I will like him. It was the best decision I've ever made. He is the kindest horse and taught me so much from my first 1.35m to my first grand prix.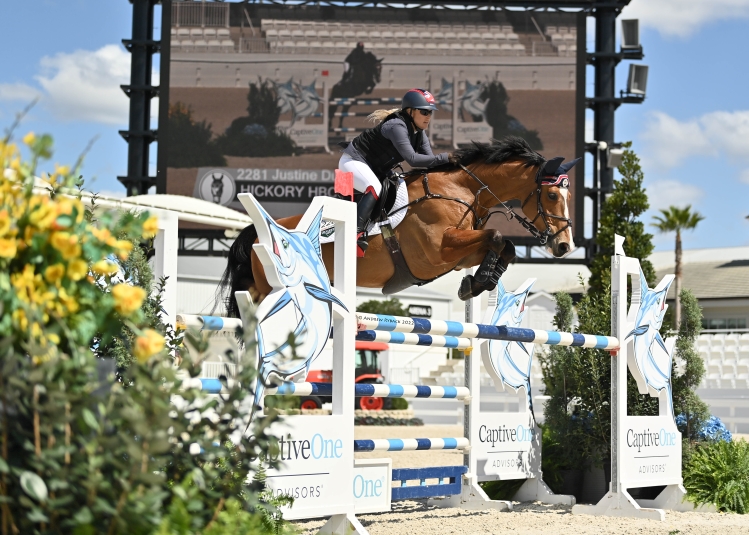 Then we have Henry or Hickory HBC who got second in this week's Futures Prix. He's a 15.3hh Dutch Warmblood who's owned by The Superman Syndicate LLC. We have had him for a year and half. We got him in England where he was doing the 1.20m, 1.25m. He was meant to be an eventing horse in the UK but, we ended up buying him as a showjumper. He's being doing great. He's careful and has been moving up the ranks.
Lastly, we have Hallmark who is new for me. She's a 16hh 10-year-old Dutch Warmblood mare that is owned by Davvvvv Holdings Inc. We have had her for about four weeks. We showed for the first time this week and she jumped double clear in both the 1.20m and 1.25m. So, I am very excited for her future.
I want to shout out my groom Jenn Cane, she manages me, my horses and just about everything. We are a team, and I couldn't do it without her. I also couldn't do what I do without my fiancé, Chris.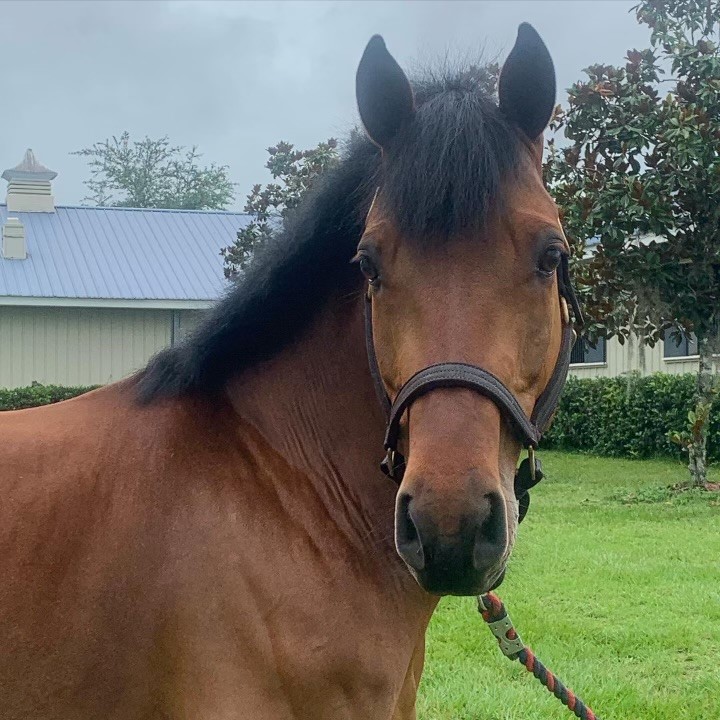 WEC: Tell us about your side hustle.
We source Connemaras for amateurs. We have sold six in the last eight weeks. I have sold a few to fox hunting homes and some to eventers. They do everything and anything. The ones we bring over from Europe are 14.2hh to 15.3hh and they all make amazing, super fun, lower-level amateur horses. I have a girl Kate Tarrant in the UK that sources all of my horses and she goes to find the Connemaras for me.
Thank you Justine for taking the time to speak with us. Congratulations on a successful week!