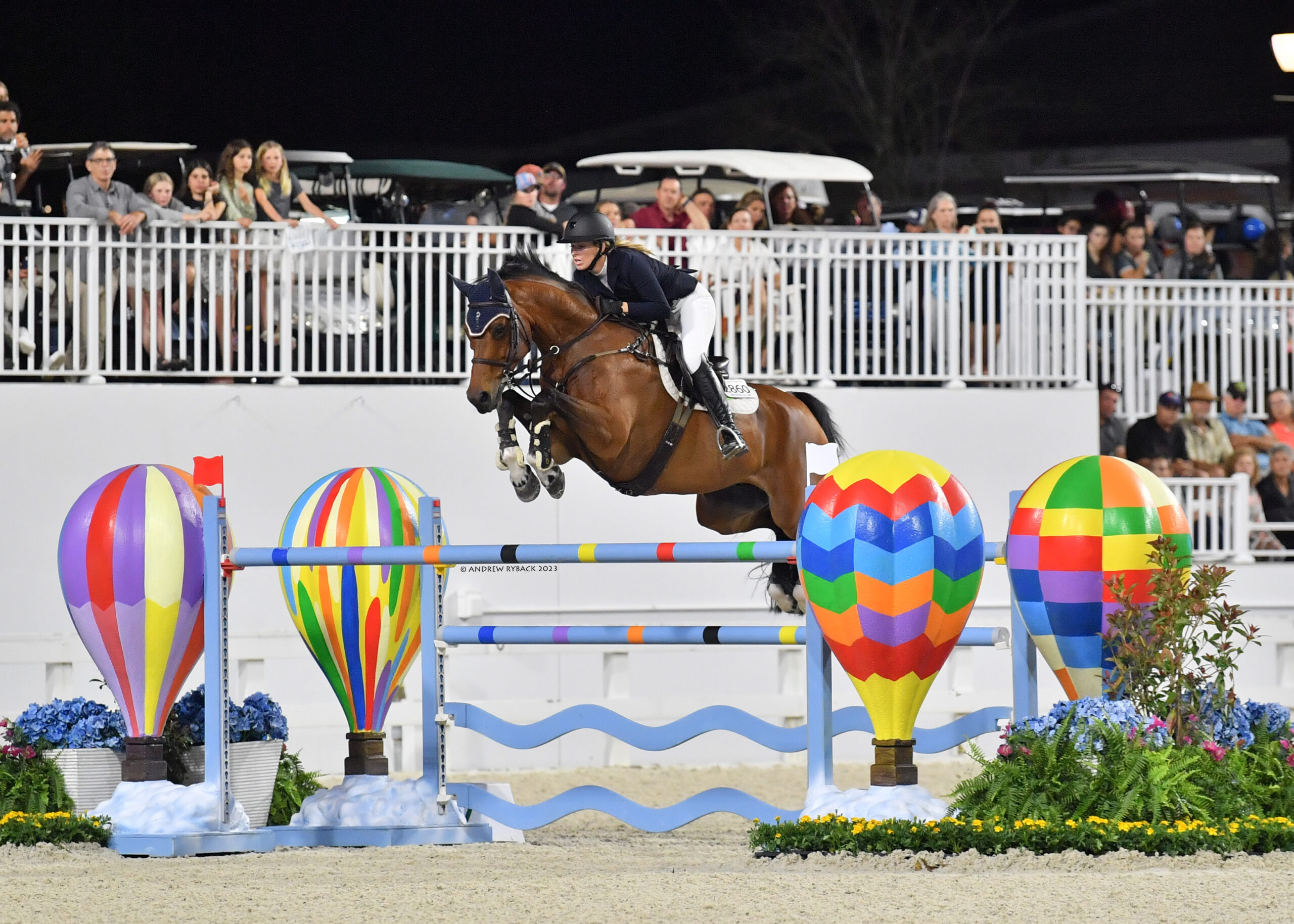 Ocala, FL – This week's Ocala Sunday Spotlight shines on MTM Pablo owned by Davenport Farms and ridden by Dorothy Douglas. MTM Pablo has become a figure on Saturday nights for his stunning looks and electric jumping style. The 10-year-old Hanoverian gelding by Perigueux and Celina kicked off his career as a seven-year-old at World Equestrian Center – Ocala with Douglas and through the nearly four-year span the pair has racked up a long list of victories and podium finishes. We caught up with Douglas to learn more about the exquisite gelding's career.
WEC: How long have you been riding MTM Pablo.
We got him as a seven-year-old. We bought him from Mike [McCormick's] business partner in Germany. Obviously, we thought he was beautiful. The jump was amazing, he had a really pretty style, but he still was green and needed miles. Mike was able to look past all the training he needed and see what his abilities were.
I started riding him as soon as he came over. I showed him in some 1.30m classes and we have such a sales business, whatever horses Tracy [Fenney] or I are riding, people ask about. After showing in just a few classes people were asking about him and Mike was the first one to say, no he's not for sale we are going to keep him and produce him.
I am so grateful for Mike and Tracy to give me that opportunity. Davenport Farms, a big supporter and partner of MTM Farm owns him. They have always had hunters, and now have a few jumpers. They love it. Michele and her daughter Abbie love coming out to watch them. When Michele can't be here to watch, she tells everyone she is busy on Saturday nights because she wants to watch Pablo on the live stream. I am blessed to have such a strong group of supporters that let me compete these incredible horses.
WEC: Tell us a bit more about MTM Pablo.
He is out of Perigueux, an incredible European stallion that had a huge career with Ava Bitter. I actually got to meet Pablo's dad when I went to Europe and prettiness runs in the family. It's so funny they have the same head, ears and neck, not to mention same jumping style and competitiveness.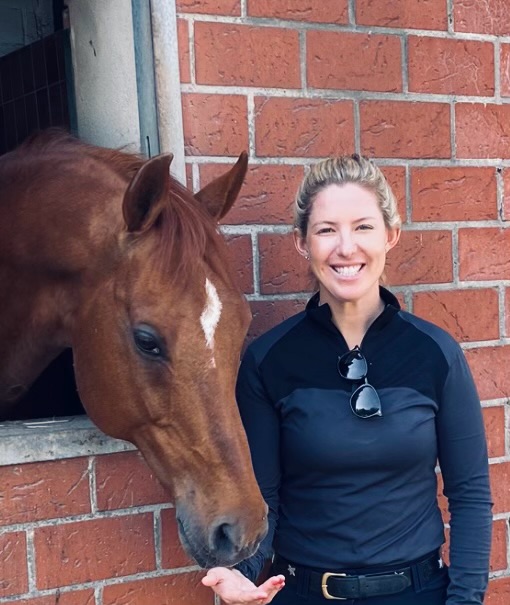 Right from the start we knew he was going to be a great competitor. As an eight-year-old we did the Futures Prix classes, then we moved up to the Welcome Prix. It wasn't until this past winter, that we moved him into the grand prix, but we knew he was ready, and he's been extremely competitive in every grand prix ever since.
I think as a horse-and-rider combination, we have progressed together, but I was lucky to have started off with him having so much talent and ability. He's naturally so quick, and turns it on when it matters.
During a Saturday night grand prix, he knows it's a special occasion. He turns on all the things he needs to be in that moment. He's an unbelievable show horse. He wants to do good, wants to be careful and wants to win.
WEC: How was it producing a seven-year-old at World Equestrian Center – Ocala?
To be able to produce a seven-year-old horse at a facility like this, it's incomparable. I think the hotel ring [WEC Grand Arena] is a hard ring for horses to get used to. Starting a seven-year-old in this ring, they get exposed to everything. I think horses come far in a short amount of time here because of it. If you're able to have a comfortable consistent horse in that ring, no matter what level, I promise you'll be able to jump anywhere.
Pablo is unfazed by so much now. We did the $250,000 MARS Grand Prix during the last week of winter and jumped a waterfall wall and jumped through a two-stride tea party and he did bat an eye. He was just more impressed, and it made him jump even better. But it's not just Saturday night. Every day is impressive, even a Wednesday morning, the horses go out there and get a different type of exposure.
When you walk down the ramp, the jumps are shiny, there is a brand-new set of jumps every day and décor. It's an atmosphere you can't' beat. Pablo loves when everyone cheers for him, and he jumps his best because of it.
Thank you, Dorrie for taking the time to chat with us! We can't wait to root for you and MTM Pablo during the Saturday night grands prix!