Wilmington, OH – As the only clear round in the $30,000 Premier Equestrian Grand Prix, Richard Rinehart of Westfield, IN, handily took home the win on Vincent, owned by Ron Caraway, on Saturday, November 11. They finished in a conservative 72.619 seconds over a course designed by Michael Pegg. Second place went to Michael Burnett and his own Chagrand. They blazed around in 66.716 seconds, but it came at a cost of four faults. Izzy Beisel and her mount Diaz Barbotiere finished third with four faults in 69.841 seconds.
Rinehart noted it was a "very nice, fair course." He added, "There were some unlucky rails. There were five with only one rail down, so definitely one or two of those should have gone clean. I was surprised there were not more clear."
"Vincent has a lot of experience," said Rinehart of his mount that has now won four grand prix classes in Wilmington this year. "This was right up his alley and well within his wheelhouse. He jumped super. I'd given him a little bit of a break, so he's coming back off a rest and picked up right where he left off. I have enjoyed a lot of good times with both Vincent and Ron, and Ron was here tonight cheering him on."
Rinehart has ridden Vincent, an 11-year-old Dutch Warmblood gelding by Van Gogh, for more than two years. "He's sensitive, extremely careful and does not like to touch the jumps," described Rinehart. "He's a little bit timid around the barn but very friendly, and he kind of rides the same way in the ring. He's not an overly bold horse, so it makes it easy to go fast."
While a grand prix win is always a great way to end a show day, Rinehart enjoyed even more that he got to compete against his son Luke, who is 16 years old and finished in fourth place.
"My favorite part of the class was that it was the first grand prix that my son Luke has done," said Rinehart. "I was hoping he would give me a riding lesson, but not yet, maybe next time. I would have enjoyed jumping off against Luke, but I'm fine with the way it turned out!"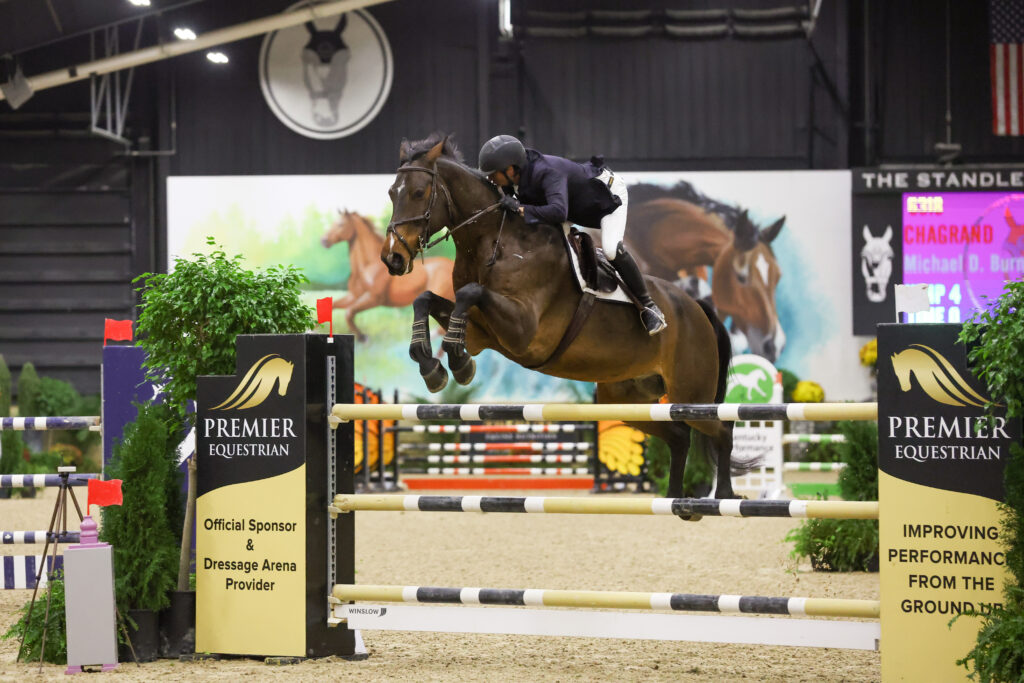 $30,000 Premier Equestrian Grand Prix Results:
1 Vincent, Richard Rinehart, Ron Caraway: 0 | 72.619
2 Chagrand, Michael D. Burnett, Michael D. Burnett: 4 | 66.716
3 Diaz Barbotiere, Izzy Beisel, Izzy Beisel: 4 | 69.841
4 Captain America 10, Luke Reinhart, Catherine E. Rinehart: 4 | 71.370
5 Nightshade SCF, Sarah R. Meier, Sarah R. Meier: 4 | 72.491
6 Corvet Enigma, Patricio Rodriguez, Patricio Rodriguez LLC: 4 | 72.651
7 Caesar, Richard Rinehart, Abby Ruth: 8 | 74.360
8 Canterella van de Hogeborg Z, Lauren Hester, Hester Equestrian LLC: 8 | 75.174
9 VDL Ivar, Kait Meggenhofen, Windara Farms Inc.: 12 | 68.674
10 Baltino, Danielle P. Urban, Halsey Hooper: 12 | 71.758
Dominant Z Shows Talent in $10,000 Futures Prix
Ten combinations found the key to a clear first round to continue on to the jump-off in the $10,000 Futures Prix on Saturday. Out of four double clears, the fastest round and the win went to Dominant Z, ridden and owned by Christopher Schenk in 38.048 seconds. They finished just four-tenths of a second faster than second-place finishers Leann Kelly and Graf Joe, owned by Sarah B. Hunter, who crossed the timers in 38.452 seconds. Lilly Yinger and Christiaan, owned by Lindsay N. Yinger, placed third in a time of 41.530 seconds.
Although the class was held in the 2b format where riders proceeded to an immediate jump-off, Schenk was able to watch Kelly and Graf Joe complete their jump-off before he went in the ring and knew how fast he needed to go.
"He felt great in the jump-off," said Schenk. "From jumps one to two, we took a nice tight turn and sliced, then from nine to ten we took a direct route and left a stride out. I think that helped us moving forward, and the direct track and leaving a stride out was the difference."
Schenk, who runs Azure Ridge Farm with his wife Kayla Schenk in Whitmore Lake, MI, has ridden Dominant Z, a six-year-old Zangersheide stallion by Dominator 2000 Z, since he was broke at three years old and has brought him along through the young jumpers. This was their fifth Futures Prix together.
While "Dom has a lot of attitude," Schenk has used the hunter divisions to get the talented young horse to calm down, go straight and keep its collection. "He is my first stallion," Schenk related. "He doesn't want to be forced around, so I just make suggestions to him. If we are on the same page, we're really on it. He has really matured a lot over the last year; he's got the collection and straightness, which paid off for us today."
The Schenks compete regularly at WEC – Wilmington, but this is Dominant Z's first big win. "It's definitely pretty exciting for us," said Schenk, who has been Dom's only rider and has forged a close relationship with the stallion. "For him to make it to this level at only six, it's exciting for the future."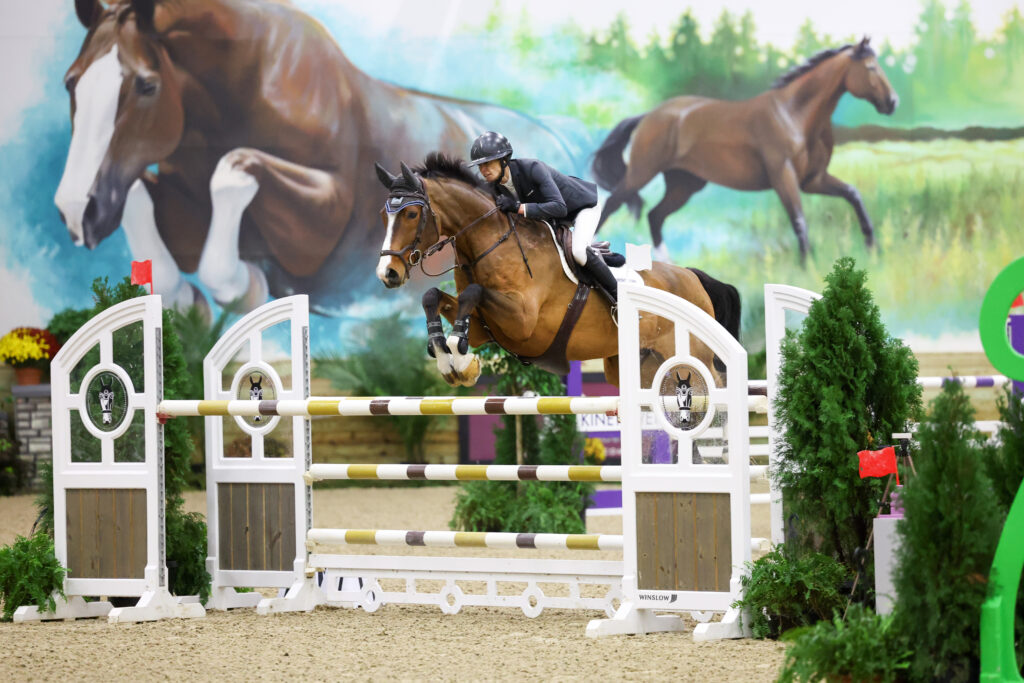 $10,000 Futures Prix Results:
1 Dominant Z, Christopher Schenk, Christopher Schenk: 0 | 0 | 38.048
2 Graf Joe, Leann Kelly, Sarah B. Hunter: 0 | 0 | 38.452
3 Christiaan, Lilly Yinger, Lindsay N. Yinger: 0 | 0 | 41.530
4 Borsalino Birdavenue, Leighton Goldberg, Leighton Goldberg: 0 | 0 | 44.066
5 Casandra, Leann Kelly, Kelsey Ware: 0 | 4 | 40.628
6 Favorite du Chateau, Emily Reder, Emily Reder: 0 | 4 | 41.308
7 Identiek, Kianna N. Luscher, Susan Cline-Wilkinson: 0 | 4 | 43.117
8 E.G. Ita Vero, Kianna N. Luscher, Northeast Equi-Wavetherapy LLC: 0 | 4 | 44.571
9 Capriccio, Nicole Tedford, Nicole Tedford: 0 | 4 | 46.518
10 Get Set, Leann Kelly, Caryann M. Scully: 0 | 8 | 40.195
Make sure to visit the WEC Blog and follow us on social media @worldequestriancenter for full coverage on all feature classes!
Results can be found at wec.net.
All horse show images are provided by Winslow Photography and can be purchased onsite at WEC – Wilmington or online through their website.