Wilmington, Ohio – The first $75,000 Grand Prix of the 2023 Fall Classic Series commenced at World Equestrian Center – Wilmington with an internationally acclaimed group of horses and athletes. Twenty-six combinations made their way over FEI Level IV course designer Guilherme Jorge's (BRA) first round track with 14 answering the technical questions to move onto the short course.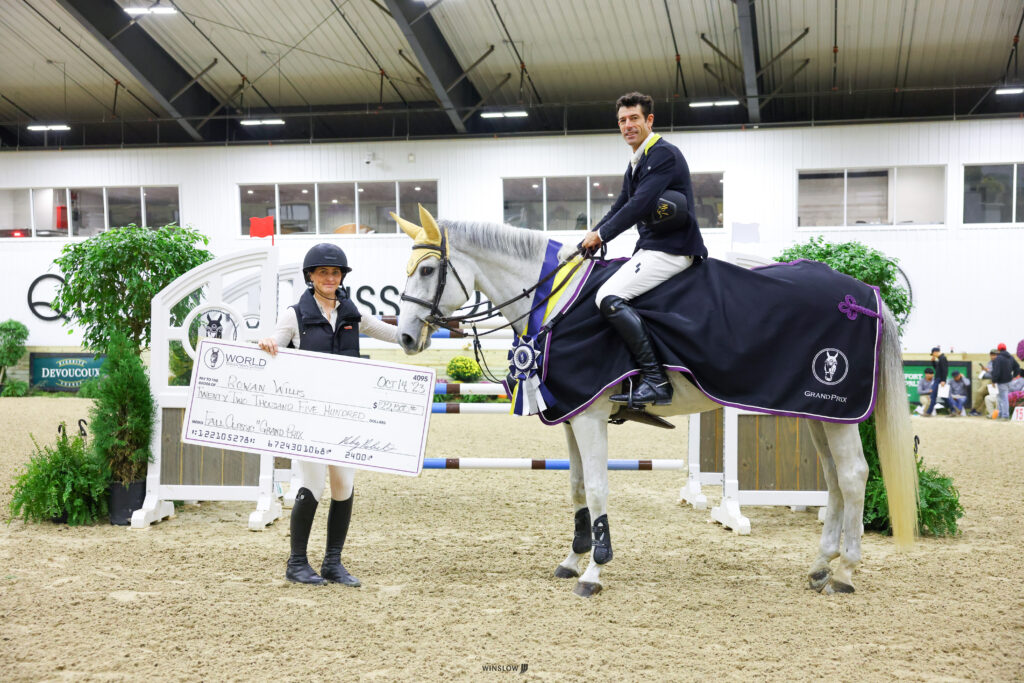 Rowan Willis (AUS) ultimately dominated the podium with his dynamic mare duo, taking the blue with Blue Movie (Chacco-Blue x Showtime) and third place with Wellington Grey Goose (Corlensky x Grandira).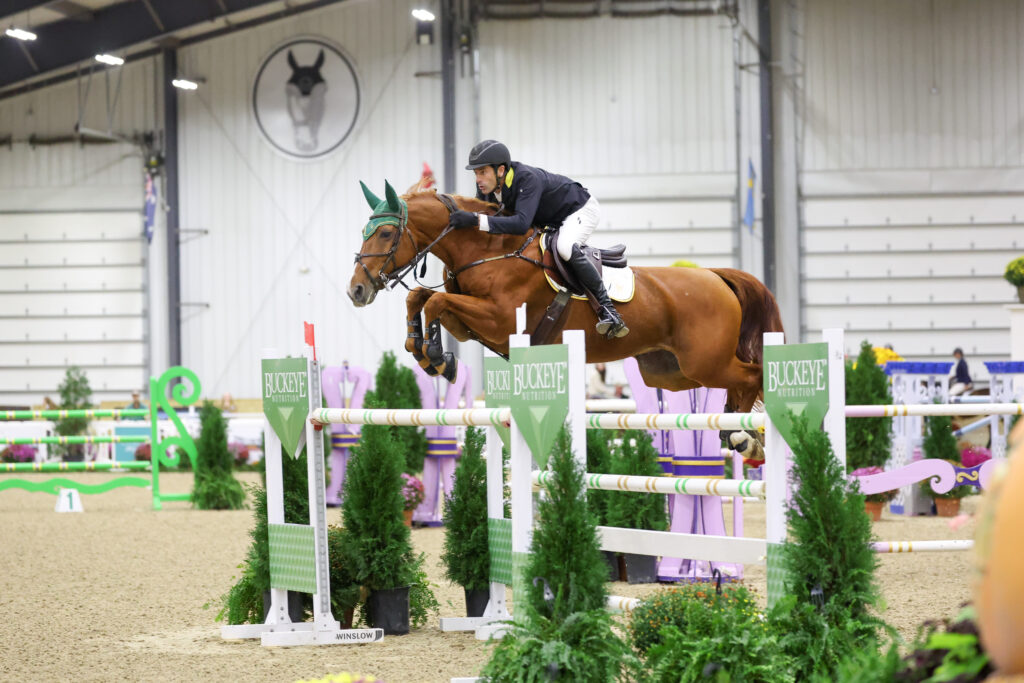 The professional rider based in Ocala, Florida, piloted three mounts to the jump-off, and knew his tried-and-true mares would get the job done amongst the competitive and fast field.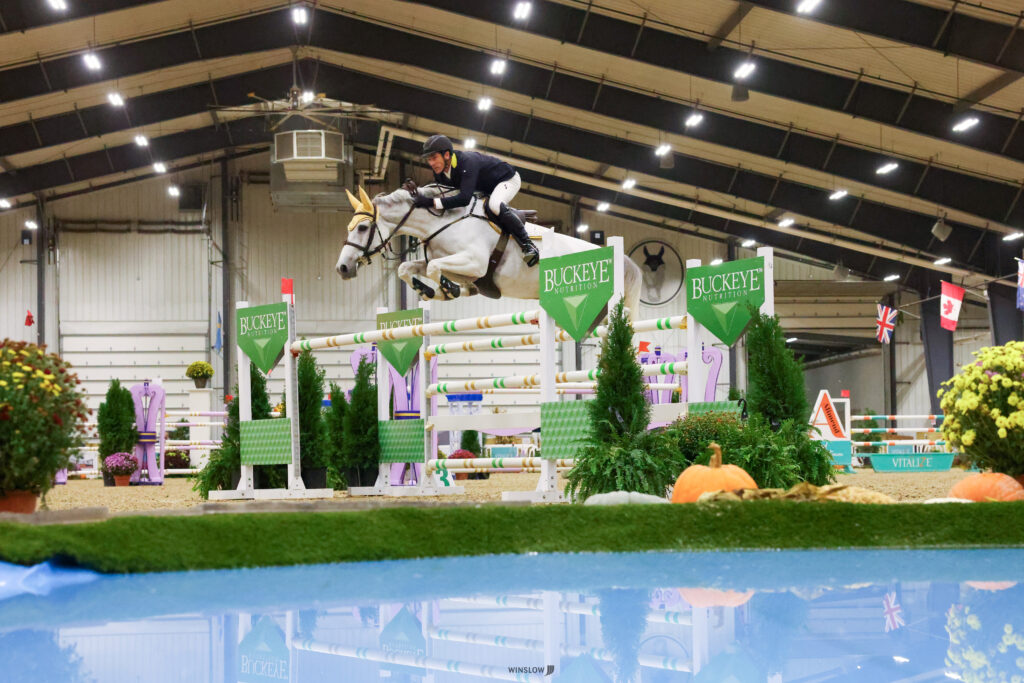 "It is a really nice set of jumps here; it encourages these horses to jump well. It was good to go in the ring with Billy Guilder first. He is a big jumping horse but maybe not the fastest. I think he set a good pace for the others to chase. I wasn't surprised that a few were quicker than him. But it was good to have two of my fast horses go later. Goose was very good, unfortunately I added in two places which probably cost me, but she jumped really well. Having Carrots [Blue Movie] last to go, as long as all of the jumps stay up, she is normally the fastest. She has a really big step, and I am always just trying to contain it. She did the six to the five quite easy."
Going in the middle of the pack with his own homebred 12-year-old Warmblood mare, Wellington Grey Goose, he moved into a temporary lead in 37.434 seconds.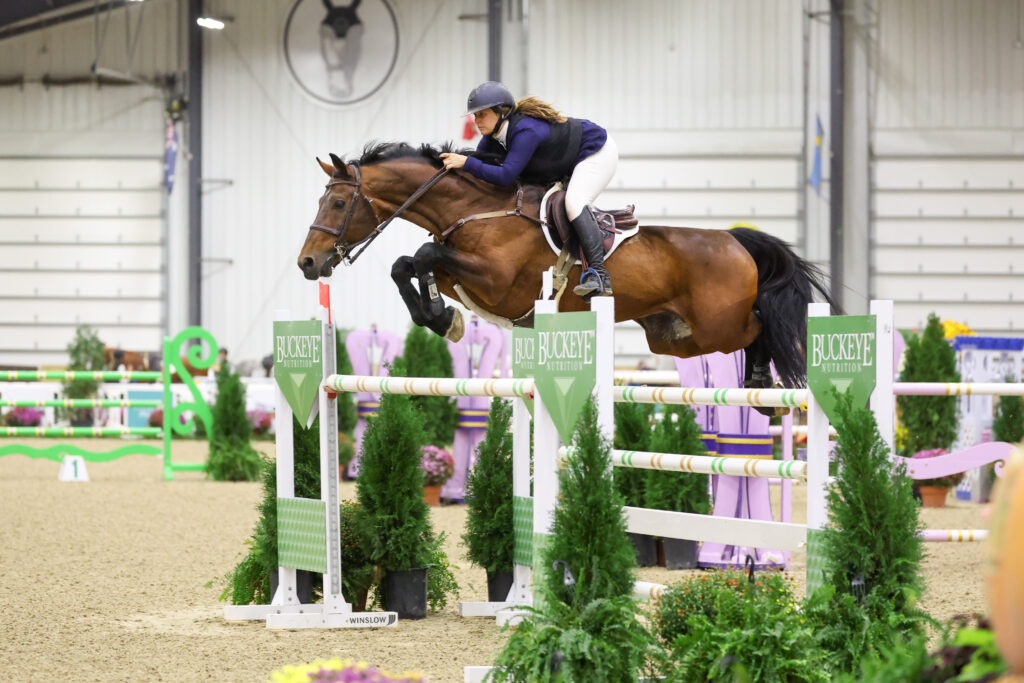 Lisa Goldman-Smolen (USA) was quick to challenge Willis's time with Barbara Disko's 17-year-old Selle Francais stallion, Sovereign (Frontal x Galledent). The historically quick athlete galloped around the track in 37.115 seconds, ultimately good enough for second and pushing Willis into third.
Goldman-Smolen's leading time didn't hold for long, as Willis and his 17-year-old AES mare "Carrots," to no surprise, jumped a clear and unbeatable time of 36.898 seconds.
Willis and his famous mares were celebrated by a young fan club as they exited the Standlee Sanctuary.
$75,000 Grand Prix Results:
1 Blue Movie, Rowan Willis, Rowan Willis | 0 | 36.898
2 Sovereign, Lisa Goldman-Smolen, Barabara Disko | 0 | 37.115
3 Wellington Grey Goose, Rowan Willis, Rowan Willis | 0 | 37.434
4 Rustica LS La Silla, Vicente Guillen, Tranquility Farm | 0 | 37.754
5 Cooper B, Johan Kachelhoffer, Johan Kachelhoffer | 0 | 38.124
6 Billy Guilder, Rowan Willis, Rowan Willis | 0 | 38.152
7 Ivaro N, Lisa Goldman-Smolen, Barbara Disko | 4 | 36.85
8 Formidable Diamant, Sam Pegg, Phyllis Harlow | 4 | 37.627
9 Nightshade SCF, Sarah Meier, Sarah Meier | 4 | 38.781
10 Esra, Paul Halpern, Vanessa Lee | 4 | 38.946
Kyle Perkovich Takes One-Two Finish in the $10,000 Futures Prix
The $10,000 Futures Prix saw a field of 22 promising partnerships contest Jorge's challenging tracks early in the evening at World Equestrian Center – Wilmington. Asking the athletes to think and react quickly with a tight time allowed, only six riders moved onto the jump-off phase.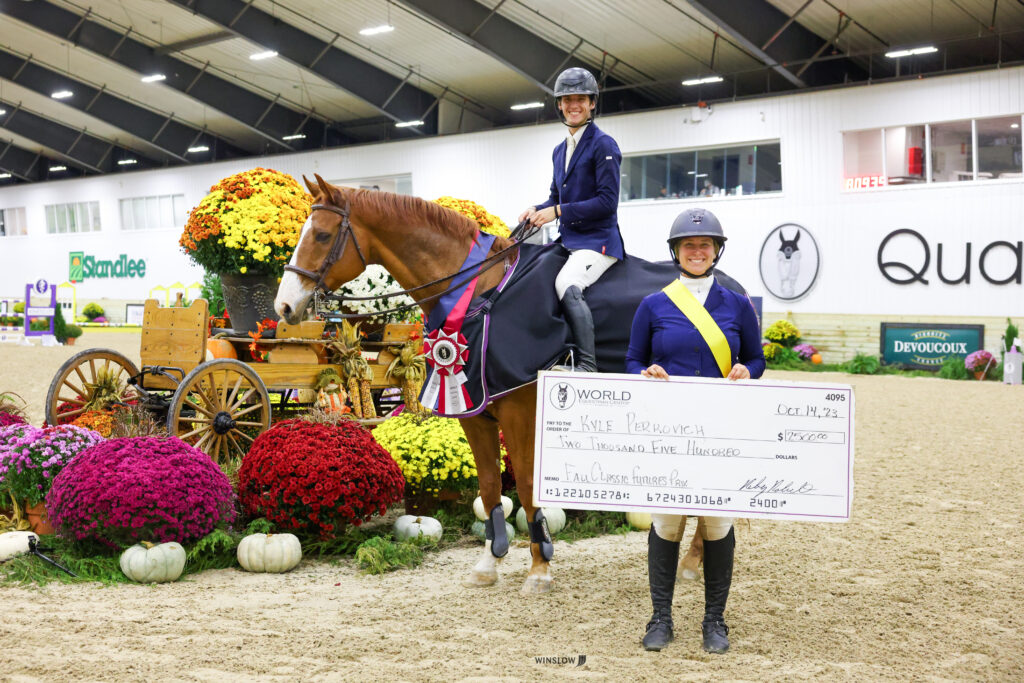 Kyle Perkovich (USA) set the tone for his future as he earned a one-two finish with Rarity (Roc USA x Revenna) and Hit Me Van't Zorgvliet (Flipper D'elle x Equita Van't Zorgvliet), respectively.
The young rider of Long Grove, Illinois, spoke on his goals, "I am taking a little bit of a break from school to see what happens with the horses. I am going to give it a go, I think! I am slowly getting started and shooting to be a professional in 2024. We decided to come here just yesterday, and I ended up signing all of mine up for the Futures. The one-two finish feels like a great start."
Aboard his own 12-year-old Oldenburg mare, Rarity, the duo set an immediate uncatchable pace as the first to go in the posted order. Perkovich jumped the first, winning double clear effort in 40.361 seconds.
Perkovich was pleased with the level of technicality to the tracks and rose to the challenge. "I thought all of the courses were great. The speed rounds this morning I loved, they were very smooth and very rideable. As well as the Futures Prix. It was very challenging, and it really forced us to know where we were going every step of the way. By the time I did my third horse, I thought I had a good feel for it. I loved the course. The lines were great, it was super sturdy everywhere. It was a very consistent feel."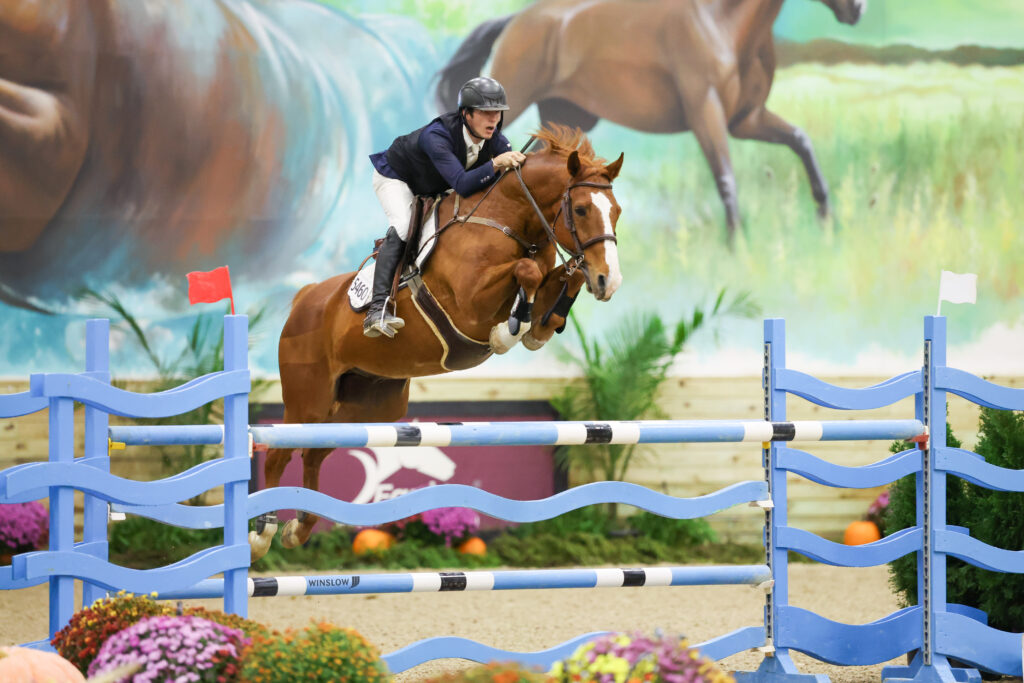 Entering as the last to go, Perkovich challenged his own leading time with his 17-year-old Belgian Warmblood gelding, Hit Me Van't Zorgvliet. In 41.688 seconds, he snuck right in front of his trainer, Lisa Goldman-Smolen (USA), for second place.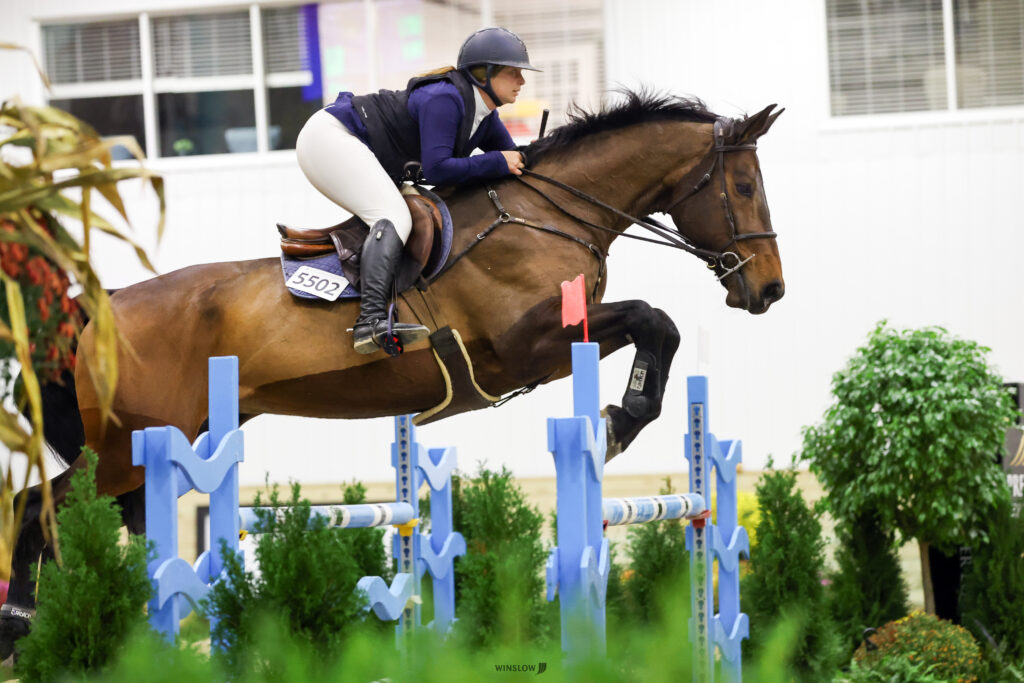 Goldman-Smolen and Stephanie St. John's Narcotique B (O'Splendido x Jenna B) claimed third place to fill the podium with Red Coat Farm entries. The ten-year-old Belgian Warmblood stallion made incredible efforts in a time of 41.985 seconds, just shy of second place.
$10,000 Futures Prix Results:
1 Rarity, Kyle Perkovich, Kyle Perkovich | 0 | 40.361
2 Hit Me Van't Zorgvliet, Kyle Perkovich, Kyle Perkovich | 0 | 41.688
3 Narcotique B, Lisa Goldman-Smolen, Stephanie St. John | 0 | 41.985
4 Primo Troy, Rowan Willis, Seven Oak Sporthorses | 0 | 42.598
5 Leroy Blue, Roxy Leyshon, Roxy Leyshon | 4 | 40.639
6 Evolene De Carles, Vicente Guillen, Tranquility Farm | 8 | 38.79
7 Santorini Sun Z, Sam Pegg, Nicole Roach | 2 | 80.939
8 Eldorados Edition, Vanessa McCaughley, Vanessa McCaughley | 3 | 81.658
9 Chacera, Vicente Guillen, Tranquility Farm | 4 | 71.29
10 Caribi, Vicente Guillen, Tranquility Farm | 4 | 73.929
Make sure to visit the WEC Blog and follow us on social media @worldequestriancenter for full coverage on all feature classes!
Results can be found at wec.net.
All horse show images are provided by Winslow Photography and can be purchased onsite at WEC – Wilmington or online through their website.