Thirty six entries took to the Sanctuary Arena for the final Welcome Stake of the World Equestrian Center Fall horse shows, sponsored by CWD Sellier. Twelve entries advanced to the jump off and just three managed double clear rounds, but it was Ryan Genn and Bridlebourne Stables LLC's Colora (Contendro I x Hera XIX) that emerged victorious by delivering a foot perfect jump off round that stopped the clock at 31.433, well under the time allowed of 42 seconds.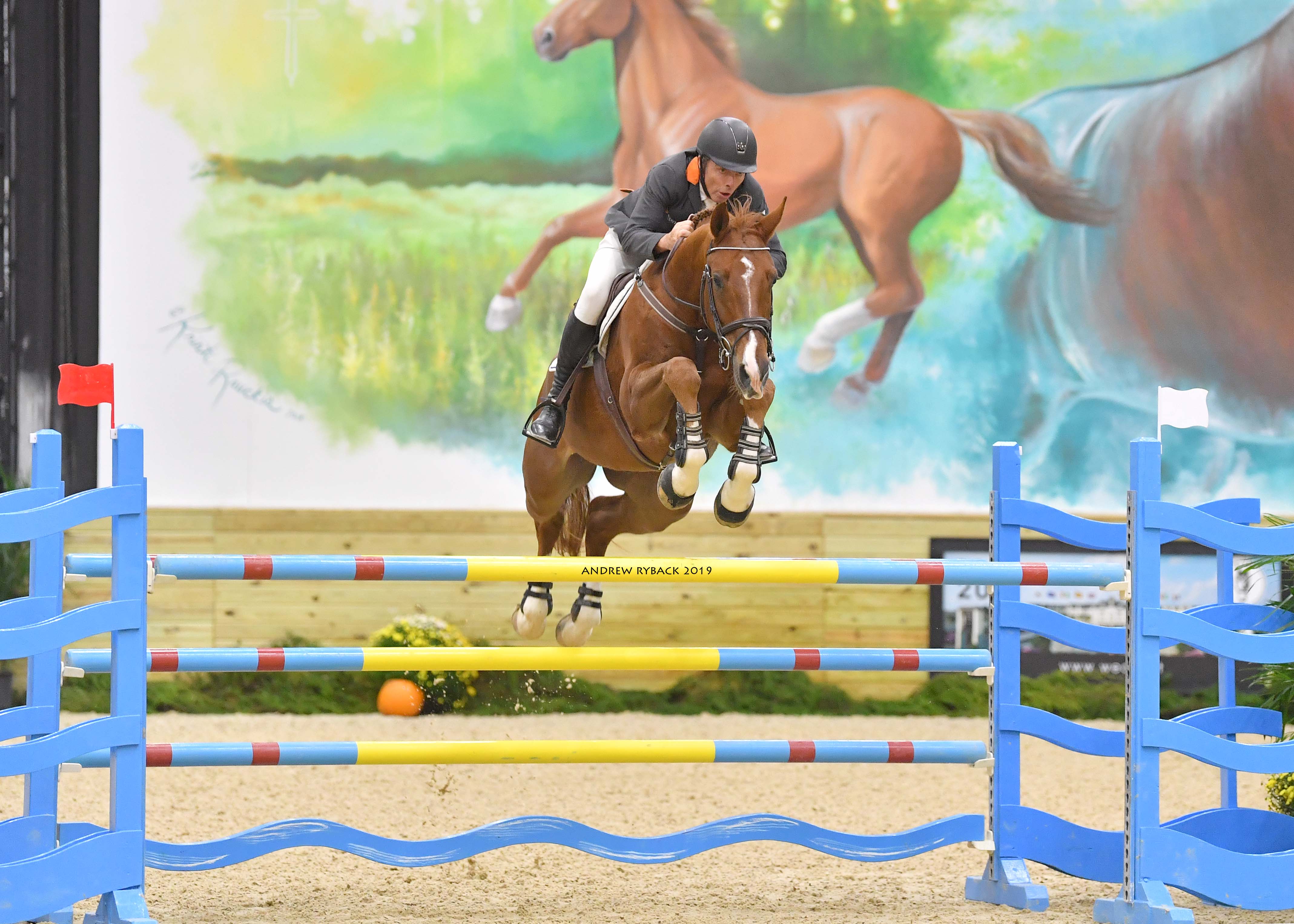 First to jump double clear over this afternoon's $15,000 Welcome Stake 1.35m course designed by Steve Stephens of Sarasota, Florida was Wilhelm Genn of Rhineland Farm and his own Van Gogh (Valentino x Calina Z). The pair had a fantastic Summer, taking first place in a $25,000 World Equestrian Center Grand Prix in May, a $30,000 Purina Animal Nutrition Grand Prix at Balmoral in June, a $50,000 GGT Footing Grand Prix at GLEF in July as well as the $50,000 Meijer Grand Prix of Michigan at GLEF in July. Genn and the eleven year old Oldenburg gelding were on fire this afternoon, jumping a clear first round in 67.225 seconds, well under the time allowed of 72 seconds. The pair continued straight to the jump off of the Table II 2b event, picking up speed and taking inside turns to fences six and eight, crossing the timers at 33.479 seconds.
Next to jump double clear was Ryan Genn and Bridlebourne Stables LLC's Colora (Contendro I x Hera XIX). The pair were fresh off of a win in last Saturday's $50,000 World Equestrian Center Grand Prix sponsored by Buckeye Nutrition against thirty six entries. The pair were positively simpatico this afternoon, delivering a flawless clear first round in 66.519 seconds. They continued straight to the jump off, negotiating the short course with a second foot perfect round and mirroring the elder Genn's inside turns in an incredibly quick time of 31.433 seconds, setting a new time to beat.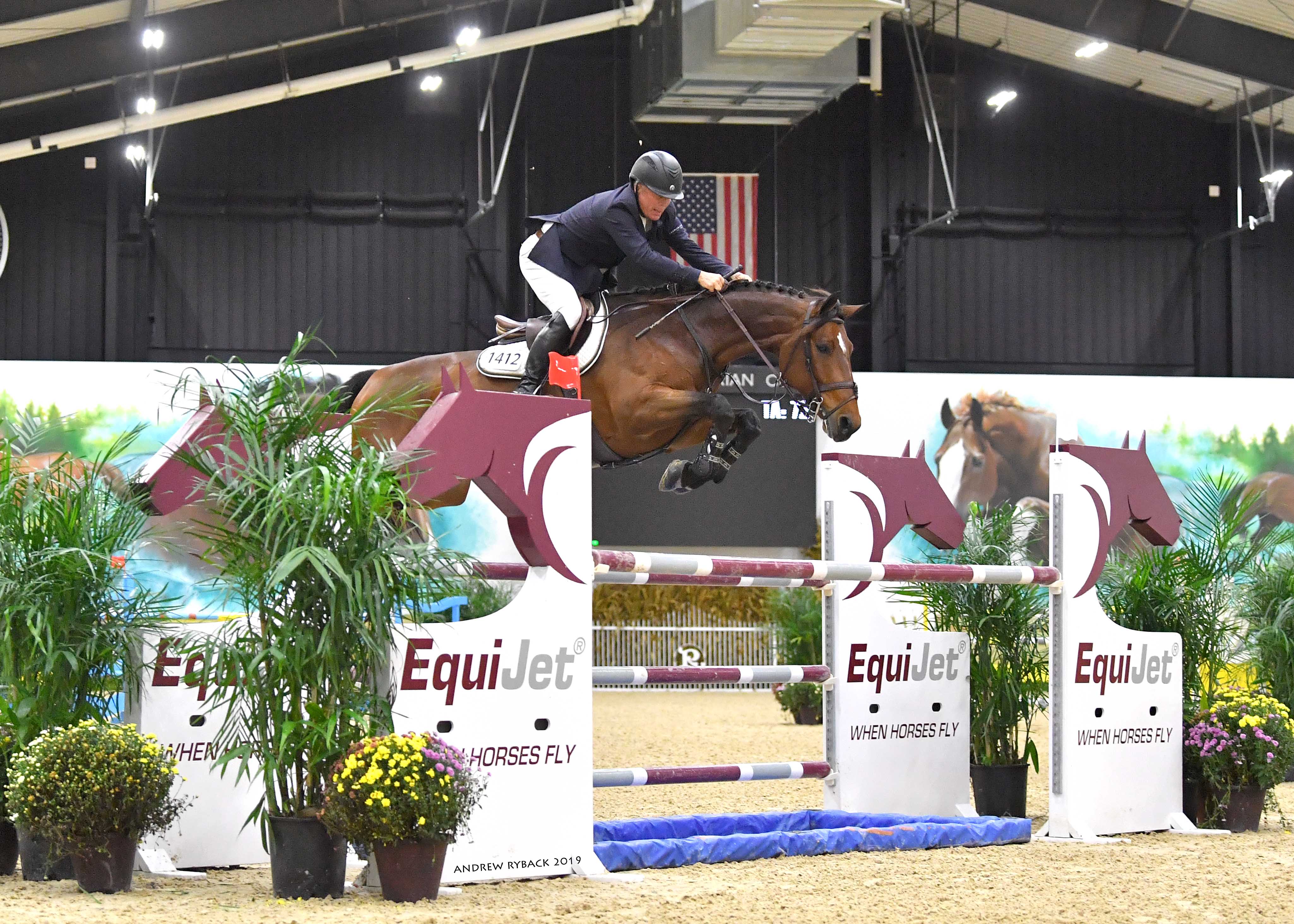 Last to jump a double clear round was David Raposa and Ronald Francoeur's Mic Jagger. Raposa and the ten year old German Riding Horse recently took second place in the $25,000 HITS Grand Prix at HITS on the Husdon in September and were well-schooled for this afternoon's class. The pair jumped a clear first round with ease in a speedy time of 63.966 seconds, signaling they would be tough competitors on the short course. They advanced to the jump off, also choosing the inside track and racing through the timers at 31.848 seconds, sliding into second place behind Ryan Genn and Colora and moving Wilhelm Genn and Van Gogh to third.
Genn took a few minutes to chat with us ringside after the awards presentation, "I'm delighted. The horses were amazing again. Today I was hoping for a nice double clean ride on Colora and she got the first jump really well and the rest showed up. She's so game. We saved time turning inside from three back to the liverpool, then back to the combination. She was amazing through those turns catching it all out of stride. After the combination to the yellow vertical, I had to settle a little bit because the leave out wasn't there and I was on the step. I was on the end of the rope turning back to the last four stride, I couldn't turn her any more than I already was. Luckily, the distance came right up."
When asked about Colora's history at Rhineland Farm, Genn responded, "She's been in the barn since she was six. She's ten now. My Dad showed her as a six year old and my brother took her over as a seven year old and rode her for a couple of years. He won a lot of classes with her and showed her up to the FEI level. They went clean in a 5* 1.50m before I took her over in the Spring. We started slowly and took our time to build up the relationship and now she's really starting to take off. We've learned each other's buttons and the chemistry is really good now."
Genn commented on his Dad, Wilhelm Genn's, third place finish, "He's just total class all of the time. He's so consistent. Van Gogh is an amazing horse and he gets the most out of him. He was just not as quick as Colora. If we were on the same horse, he probably would have caught me. Van Gogh is a scope monster, so I think he wants to start jumping him in some bigger classes."
Genn also commented on his seventh place mount, "Dieta was beautiful, too, and had a super clean round, then just a bit of bad luck. Last Saturday she had bad luck losing her shoe halfway through the jump off and then today she jumped amazing, then couldn't quite set her feet coming into the combination. She tried her heart out, though, and she's ready to go for the Grand Prix on Saturday."
When asked about his four leaf clover charm on his jacket, Genn responded, "This came on the bonnet Buckeye Nutrition gave us when we won the $50,000 WEC Grand Prix that they sponsored last week here at WEC. My mom is Irish, so I took it from there and put it on my show jacket. Maybe a new good luck charm. I also have on a green ribbon for Kevin Babington. We're all praying for him."
$15,000 Welcome Stake 1.35m Results
Colora, Ryan Genn – 0 | 0 | 31.433
Mic Jagger, David Raposa – 0 | 0 | 31.848
Van Gogh, Wilhelm Genn – 0 | 0 | 33.479
Classified, Brooke Kemper – 0 | 4 | 31.635
Essince W, David Beisel – 0 | 4 | 32.552
Freaky Liefhebber, Jacqueline Steffens – 0 | 4 | 33.085
Dieta, Ryan Genn – 0 | 4 | 35.110
Lasco, Summer Hill – 0 | 4 | 35.925
Shuttergold, Taylor Kain – 0 | 4 | 31.635
Nike, Lisa Goldman-Smolen – 0 | 4 | 36.463
Photos courtesy of Andrew Ryback Photography.