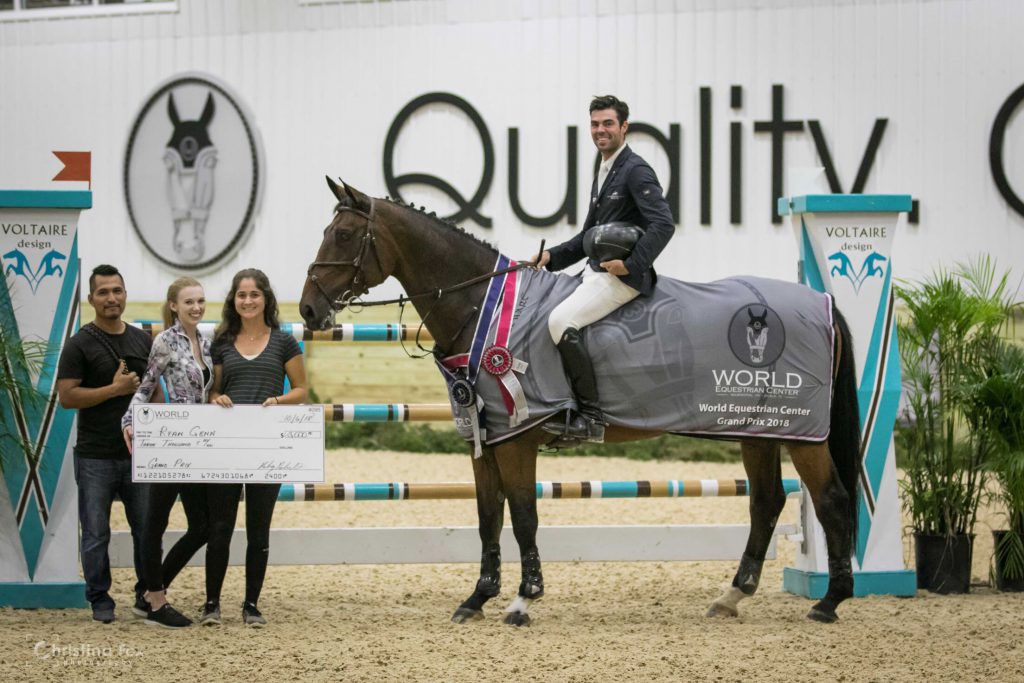 Talent Runs in the Family
The Genn family has much to celebrate as Ryan Genn proved unbeatable in back to back Jumper action at the World Equestrian Center, while in the same evening his father Wilhelm Genn and Bugatti were crowned winners of the $100,000 Longines FEI Jumping World Cup™ at the Sacremento Horse Show in California.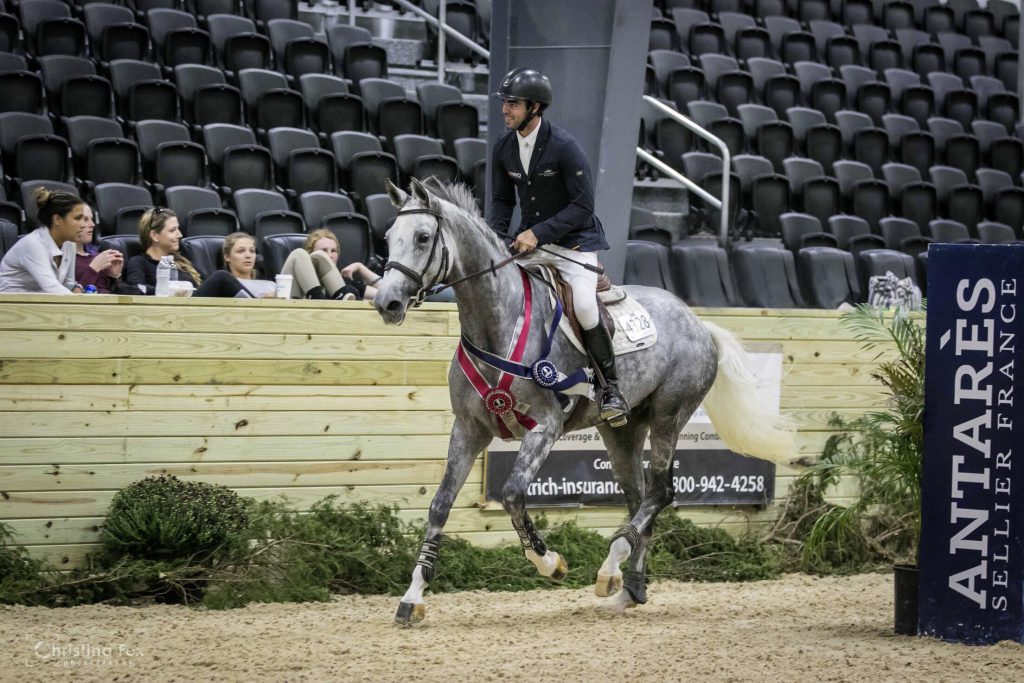 World Equestrian Center Grand Prix 1.40m
Twenty six horse and rider combinations contested the WEC Grand Prix Saturday evening, facing a tough, technical 1.40m track with a time allowed of 77 seconds. Fourth in the order of go, was Ryan Genn riding Wilhelm Genn and Big Sky Stable's For Advance. Ryan piloted the scopey chestnut to a clean first round, stopping the clock at 73.095 seconds. Sharn Wordley was 19th in the order of go with Gatsby, jumping the fastest first round of the zero-faulters in just 68.825 seconds. Also among the zero-faulters of the first round was another of Ryan Genn's mounts, Dieta. The two jumped a clean first round with a time of 72.842 seconds.
Ten riders returned for the jump off, but only three would jump clean. The first clean ride of the jump off was Ryan Genn and For Advance, setting an impressive pace of 38.073 seconds.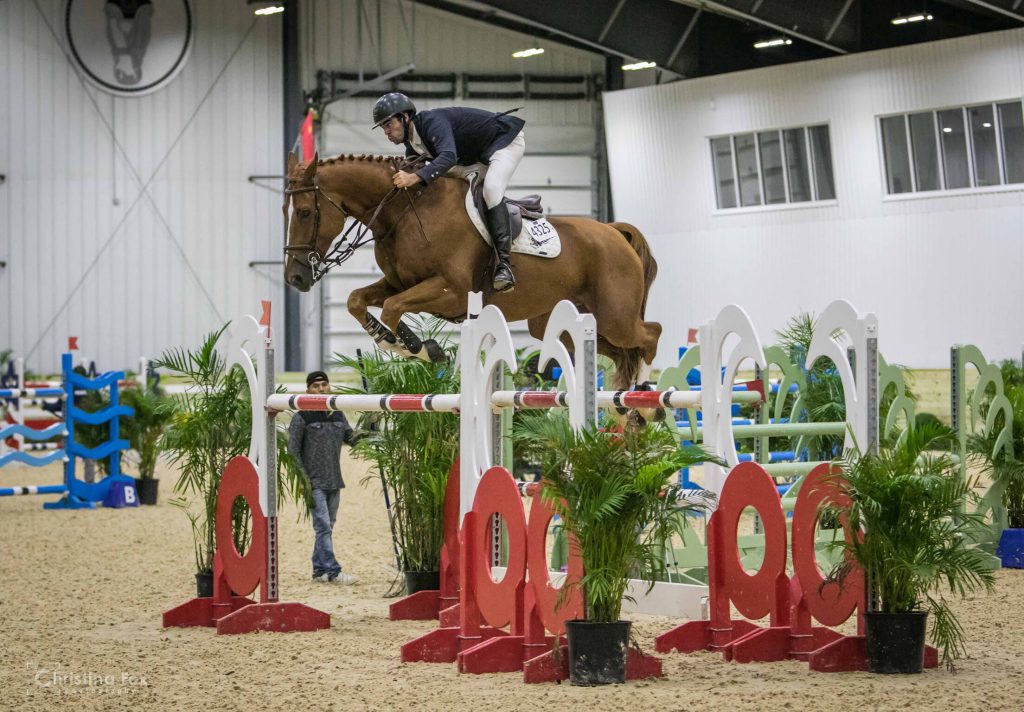 With that time to beat in mind, many riders attempted to out-do Ryan, but none jumped clean until 6th in the order of go, New Zealander Sharn Wordley and Gatsby, laid down a clear round.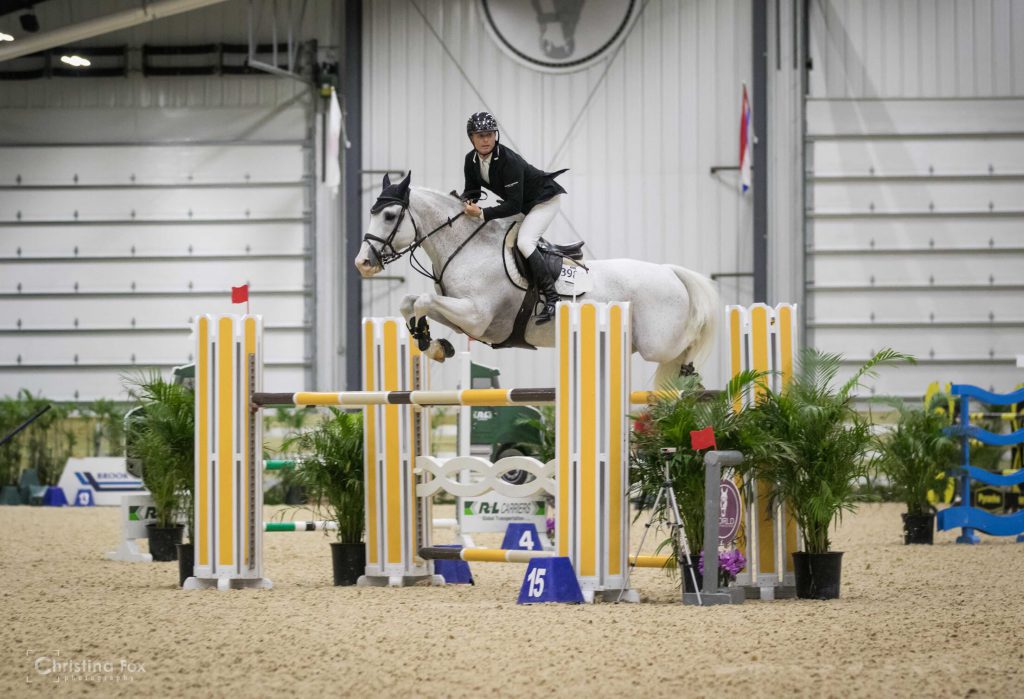 However, their time wasn't enough to beat Ryan's at 38.205. Just two later, Ryan bested his own ride on For Advance with Dieta, jumping clean in a quick time of 35.146 seconds.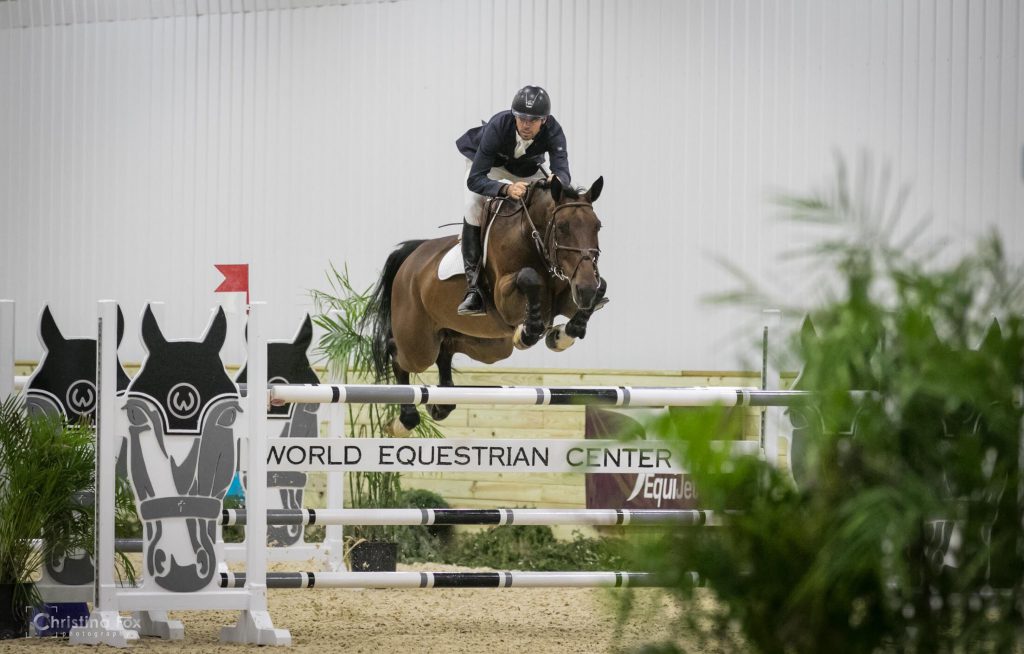 The World Equestrian Center Futures Prix 1.30m
Earlier in the evening Ryan Genn proved unbeatable in the Futures Prix 1.30m on his mounts Quax and Calamera. Of the sixteen entires, only six jumped a clear round. Sean Jobin and Banco Du Moulin were fifth in the order of go, and first to jump a clear first round in a time of 75.627 seconds. The pair continued into the jump off, setting the pace with a clear round in 40.009 seconds.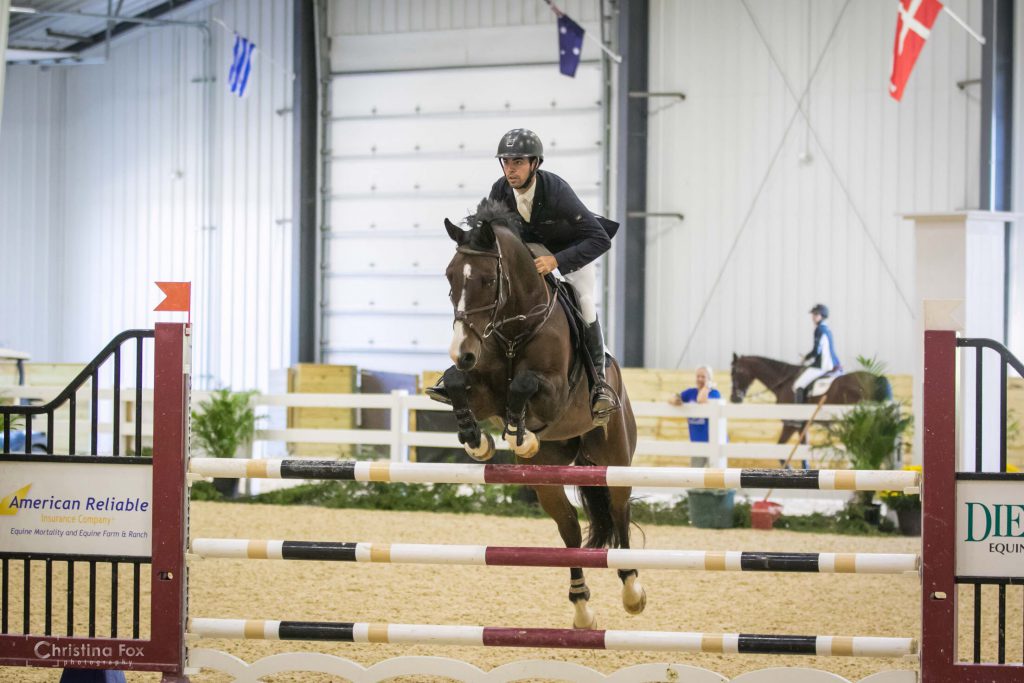 The next to jump a clear first round was Genn and Quax, ninth in the order of go. They, too, jumped a no-fault jump off, besting Sean with a time of 39.532 seconds. Three others jumped clear before Ryan returned to the ring with his second ride of the Futures Prix, but none were quick enough to steal the lead.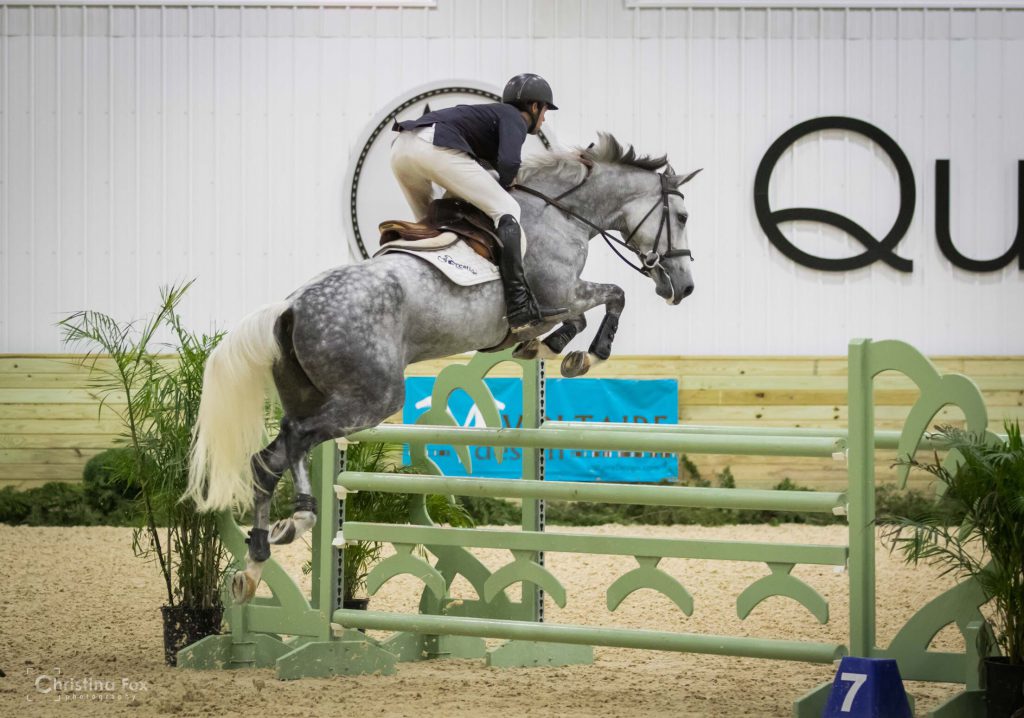 Last to ride, Genn entered the ring with Calamera. The two jumped a clear first round in 77.718 seconds and headed straight to the jump off. With a tidy course in the jump off, Ryan bested his own time by just fractions of a second, crossing the timer at 39.404 seconds. This landed Ryan Genn and Calamera in first and second with Quax, and Sean Jobin and Banco Du Moulin in third.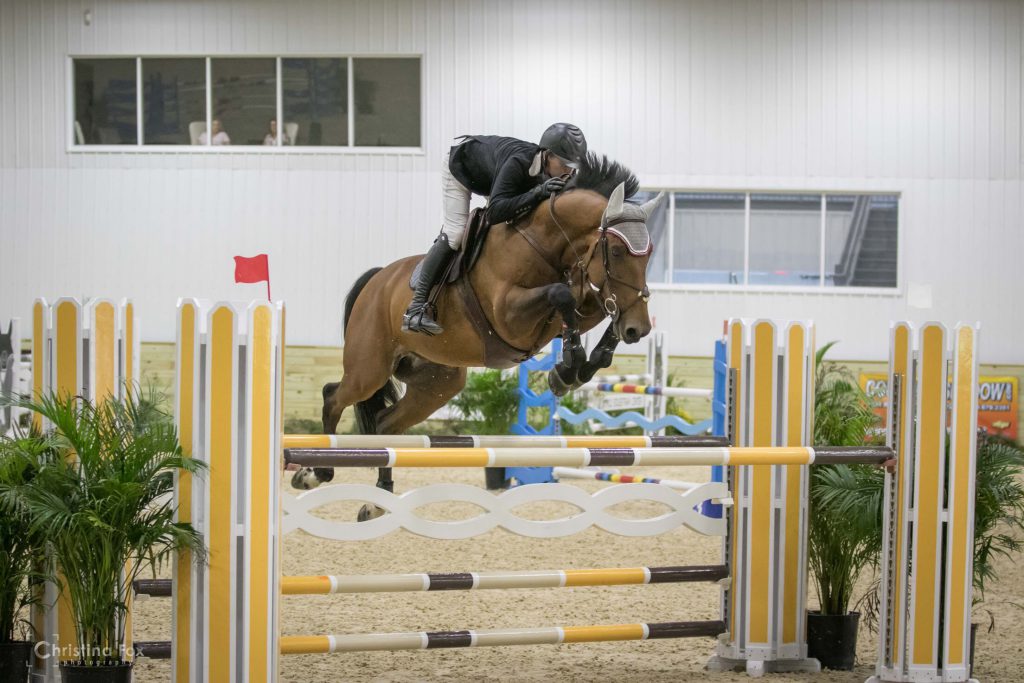 Genn: On His Rides
We caught up with Ryan after the Grand Prix to chat about his rides today. He first told us about his successes in the Futures Prix 1.30m with both Calamera and Quax. "[Calamera] was super quick…she was just unreal. She never touches anything," he shared with a smile. "I went faster with [Quax] earlier in the week and he loved it, and today, he was a speed demon. He was super great, he tried really hard."
Ryan went on to explain his rides in the WEC Grand Prix 1.40m. "When I was walking the course, I thought for sure it was the hardest course I've personally walked at the World Equestrian Center. It was quite technical; some things were set on half strides like into the triple combination. I was really excited. Usually, when I think a course is going to be really hard, that's when I end up riding my best. My adrenaline gets going and my horses respond really well to that. There's so much communication there."
When asked about For Advance, Ryan's 2nd place mount, Ryan said, "He was amazing…he's only 8 this year, so it seems like he gets better and more experienced with every class." We then asked Ryan about Dieta, "I rode her as a six year old in the young jumpers a few times back in college. My dad (Wilhelm Genn) developed her to the Grand Prixs, and my brother (Theo Genn) has been riding her recently. He rode her last week in Kentucky in the Grand Prix and she was clean. Today was my first Prix with her…she was double clean and fast!" Genn couldn't have been more thrilled with his horses and his rides and was effusive in their praise.
Congratulations to Ryan, Wilhelm and the entire Genn family on a Saturday night full of victories for all!