Ocala, Fla. – World Equestrian Center (WEC) is pleased to welcome Schneiders, a family-owned company that provides owners with everything they need to care for their horse, to the list of esteemed sponsors at World Equestrian Center – Ocala.
Schneiders is known for its dedication to value, product quality, innovation, customer service and a love and commitment to the equestrian industry. Its commitment to customers includes the right products, proven to work, at the lowest prices, with a 100% satisfaction guarantee.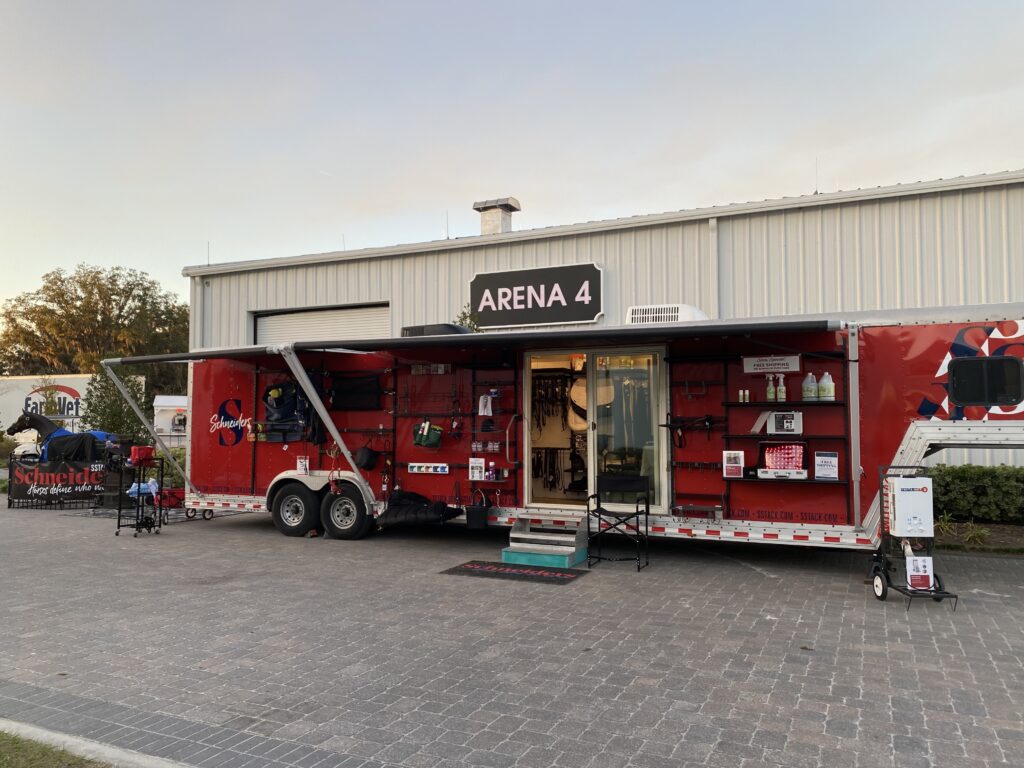 From lead line to World Champion classes, for 75 years Schneiders has satisfied millions of customers worldwide by providing the largest and most up-to-date selection of quality products specifically designed for the needs of the English, Western, and Arabian exhibitor, and the expanding trail riding market. Schneiders has been responsible for the development of more than 200 creative products, some unique enough to be granted patents. Schneiders products are designed to provide customers with everything they need to train, show, and enjoy their horses.
"We are thrilled to announce our mobile shop presence at WEC – Ocala, located in the vendor village outside Arena 4," said Dana Brown, Vice President of Customer Experience at Schneiders. "Our mobile shop offers a wide range of horse care items, including a great selection of stable organizers, fly sheets, stable sheets, turnout sheets, therapy products and more. Our knowledgeable staff is always ready to help you find the perfect products to fit your needs. Come visit us and see for yourself!"
Schneiders is celebrating their new presence at World Equestrian Center – Ocala with the following special offers:
$20 SSTACK cash on purchases of $100 or more
Free shipping from the showgrounds and delivery to your WEC stall or barn in Ocala
Monthly $250 shopping spree giveaway
World Equestrian Center – Ocala is a year-round equestrian and sports venue with indoor arenas and multipurpose buildings for vendors. This world-class facility is the largest equestrian complex in the United States situated on nearly 378 acres featuring state-of-the-art arenas and luxury accommodations with an additional 300 acres set aside for future expansion. World Equestrian Center facilities currently include a five-star hotel with high-end restaurants and a world-class spa in addition to numerous other restaurants and shops on property. 
About Schneiders
At Schneiders, horses define who we are. We understand the bond between horse and rider, and we've built our company around helping the horse community care for our equine partners. You'll find the best-fitting horse blankets and fly gear, durable stable supplies, English and Western horse tack and horse care essentials to keep your horse happy and healthy. Your satisfaction is 100% guaranteed and backed by the best customer service in the equestrian community. Family owned since 1948.
About World Equestrian Center
World Equestrian Center features two premier equestrian and multidisciplinary venues in Ocala, Florida, and Wilmington, Ohio.
These exclusive facilities comprise state-of-the-art arenas, expansive stadiums, versatile outdoor space, sporting fields and well-appointed exposition centers. An abundance of lodging options and luxury accommodations are conveniently located on-site, along with shopping and dining throughout each property.
Dedicated to offering great sport and good fun in a family-friendly environment, World Equestrian Center promises an unparalleled experience for exhibitors, spectators, vendors, sponsors and retailers built on three core values: Quality. Class. Distinction.
Learn more at wec.net.
Media Contact
Candace FitzGerald
candace.fitzgerald@wec.net