Another sunny, breezy day set the scene for thrilling Jumper action in the outdoor complex at World Equestrian Center. Exhibitors and spectators alike enjoyed a delicious pizza and ice cream party by the ring while they watched the classes. Both the $25,000 WEC Grand Prix presented by Buckeye Nutrition and the $7,500 Futures Prix 1.30 m sponsored by Voltaire Design saw fierce competition this afternoon as riders vied for the win in their respective class.
$25,000 WEC Grand Prix Presented by Buckeye Nutrition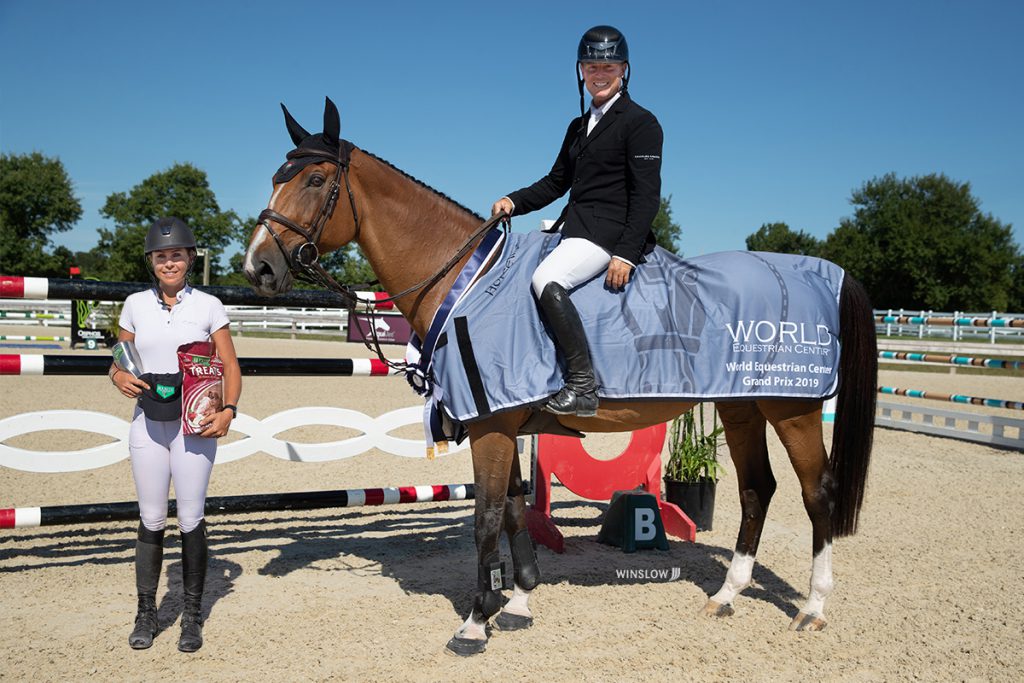 Seventeen tenacious competitors contested the course in this afternoon's $25,000 WEC Grand Prix presented by Buckeye Nutrition. With eight entries making it to the short course, riders were challenged to step up their game with speed, agility and precision in order to win the class. Though several rode fantastic double clear rounds, it was Sharn Wordley and his own Rye Val De Mai (Helios De La Cour II x Jonquille D'Elle) that emerged victorious. Along with their lion's share of the prize money, Wordley and Rye Val De Mai received several a special prize pack from sponsor Buckeye Nutrition. Rye Val De Mai's groom, Luis Gaytán, also received the Groom's Award for the stallion's stunning turnout, which included $100 cash and a $50 WEC Gift Card.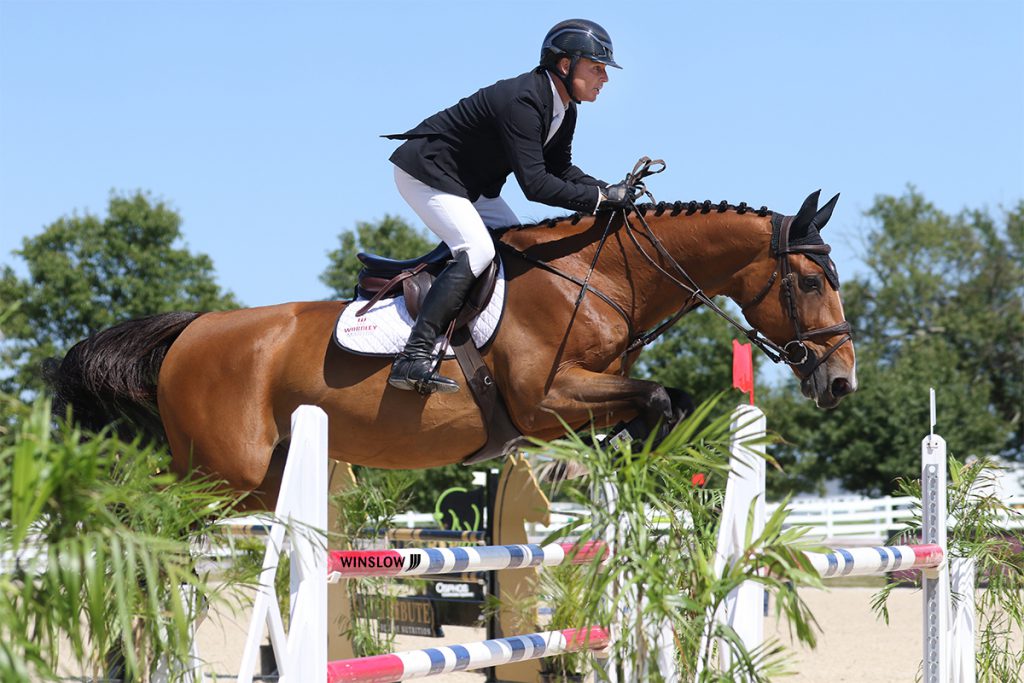 The course for the Grand Prix was designed by Tucker Williams of Ocala, Florida and featured a liverpool, a triple bar, two combinations and many opportunities for different jump off tracks. About mid-way through the order was top ranked International Grand Prix rider Sharn Wordley. Wordley is a highly accomplished horseman, competing in numerous Nation's Cups, the 2008 Olympics and the 2018 World Equestrian Games. This afternoon, Wordley rode his own Rye Val De Mai (Helios De La Cour II x Jonquille D'Elle), a fifteen year old Selle Francais stallion who has been on a winning streak in 2019. Most recently, they captured the win on July 17 in the $36,000 Sunday Classic CSI 2* at Tryon International Equestrian Center. The pair brought their A game to Saturday's class, delivering a flawless first round, easily clearing the 1.40 m fences in a time of 70.919 seconds, about five seconds under the time allowed of 76 seconds.
Shortly after, Sean Jobin and Foxridge Farms' Darius (Warrant x Sanita), an eleven year old Dutch Warmblood gelding. The pair have done well throughout the Summer at WEC, taking many top placings including a win in the $5,000 Welcome Stake 1.35 m during the first week of the WEC Spring & Summer Series. This afternoon, the pair were determined to continue that trend, jumping clear in a time of 71.757.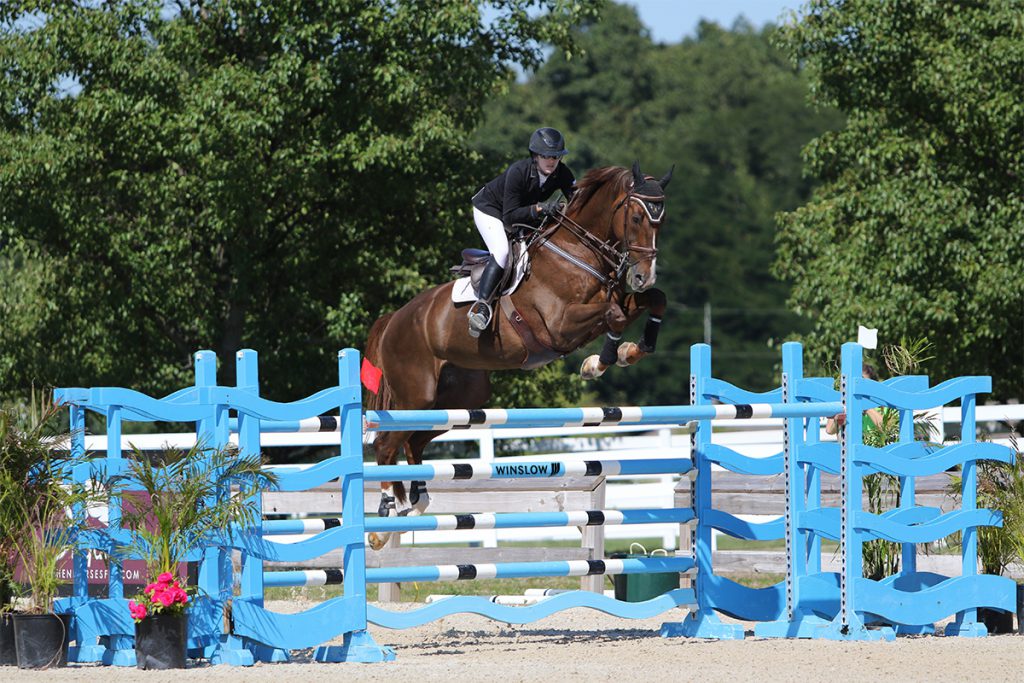 One of the last in the order was Megan Bash and Cleveland Equestrian's Silver Spring (Larino x Laganita), a twenty year old KWPN gelding. The pair had their game faces on, fresh off of a third place finish in the $50,000 Cleveland Grand Prix at the Chagrin Hunter Jumper Classic horse show. Bash and Silver Spring chose to take a slightly slower approach in the first round, crossing the timers at 74.776 with all rails up.
The course was adjusted and the ring was refreshed as eight entries prepared to return for the jump off. Third in the order were Wordley and Rye Val De Mai. With none yet to jump clear, Wordley chose to take a longer approach to the fences to ensure that all rails stayed up. His plan was a success and even with the longer route, the pair still managed a speedy time of 38.941.
Bash and Silver Spring attempted the short course one round after Wordley. Knowing the time they needed to beat, the pair blazed through the course, taking a quick inside turn to fence seven. Though they kept all rails up, Bash and Silver Spring were slightly slower than Wordley at 39.979 seconds, positioning themselves in second place.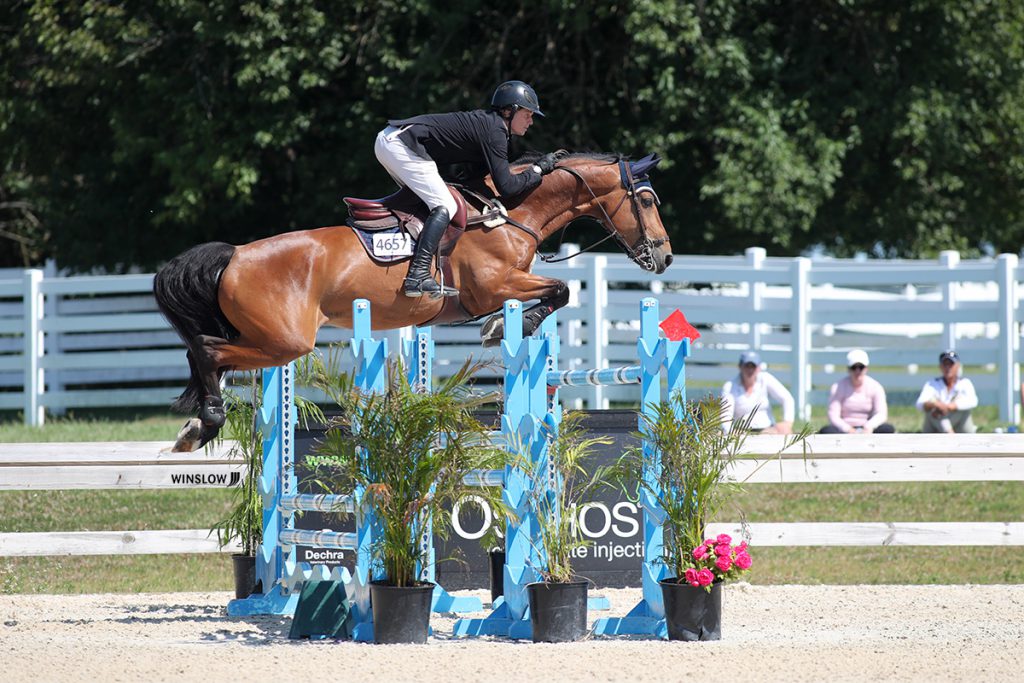 Jobin and Darius were one of the last entries to jump off. Knowing he would have to be fast to be a contender for the top spot, Jobin chose a slick inside turn to approach jump six. He and Darius were clear, but not quite quick enough to beat Wordley or Bash. However, their time of 40.461 seconds was more than enough to move them into third place.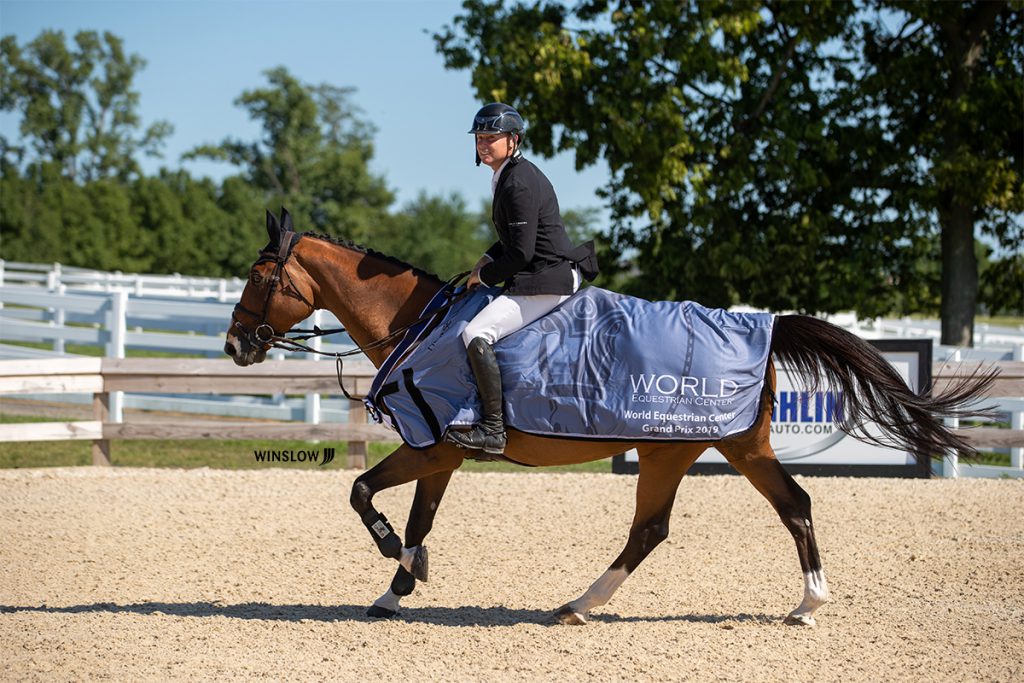 Sharn Wordley stuck around after the Grand Prix to chat with us ringside. "He jumped really good. The jump off didn't really suit us, those tight inside turns to the big oxers aren't his forte. He doesn't turns so great, so I took the strategy to go around and go fast and it nearly didn't pay off. The girl that was second was right on my tail. She went inside. I knew I could be beat but I took a chance and he jumped really well. He likes it here. Last time I was here he won the Grand Prix as well. So, in the two times he's been here he's won the Grand Prix. We like coming here. Whenever there's not an FEI show and there's a show here we try to come here," explained Wordley.
Wordley also commented on Rye Val De Mai's personality, "He's super laid back. He's French. He has a little bit of a downhill balance. I've had him about three years, he's fifteen years old now so he just trail rides and keeps fit and comes to the show and does his thing. I use him for the Ranking classes and the National Grands Prix and stuff. He's won, I don't know how many classes in the last three months. He's a little winning machine."
$25,000 WEC Grand Prix Presented by Buckeye Nutrition Results
Rye Val De Mai, Sharn Wordley – 0 | 0 | 38.941
Silver Spring, Megan Bash – 0 | 0 | 39.979
Darius, Sean Jobin – 0 | 0 | 40.461
Culino TF, Clark Montgomery – 0 | 0 | 44.467
Banco Do Moulin, Sean Jobin – 0 | 4 | 39.463
Borsalino Birdavenue, Ashley Falk – 0 | 8 | 45.489
Lasco, Summer Hill – 0 | 12 | 41.693
Gipsy 1134, Taylor Kain – 0 | 15 | 60.483
Shuttergold, Taylor Kain – 4 | 71.427
Light Show, Summer Hill – 4 | 73.156
$7,500 Futures Prix 1.30 m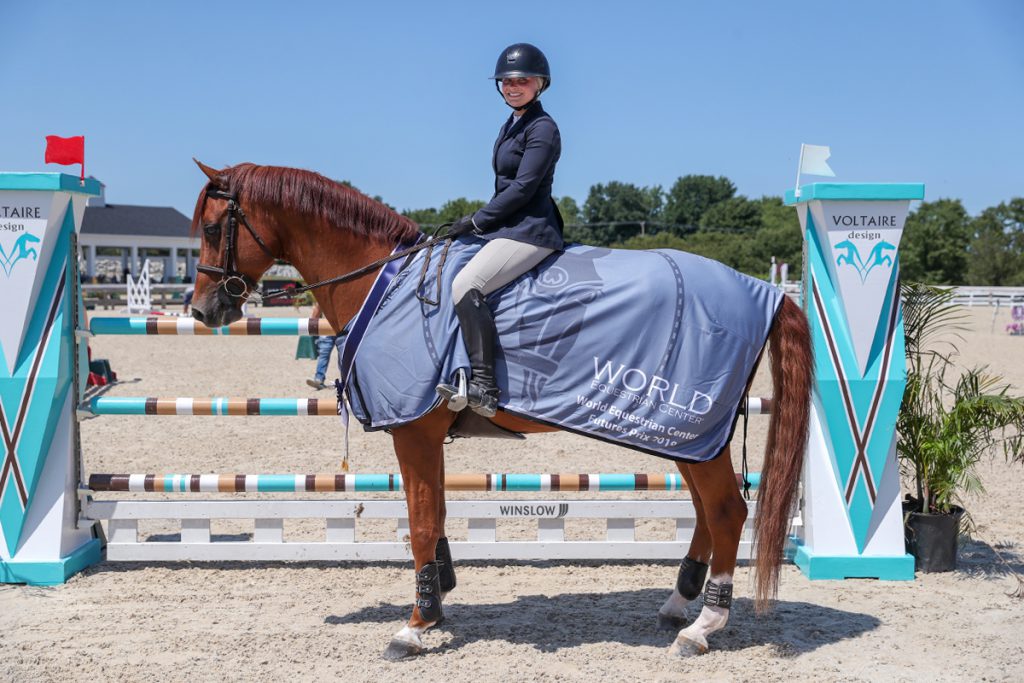 The $7,500 Futures Prix 1.30 m sponsored by Voltaire Design saw equally as tough competition with five of the thirteen entries advancing to the jump off. Though many seasoned professionals competed in the class, it was Amateur Madeline Dunlap and her own Don Gerhard (De Chirico x Kenopia) who stepped up tp take the blue.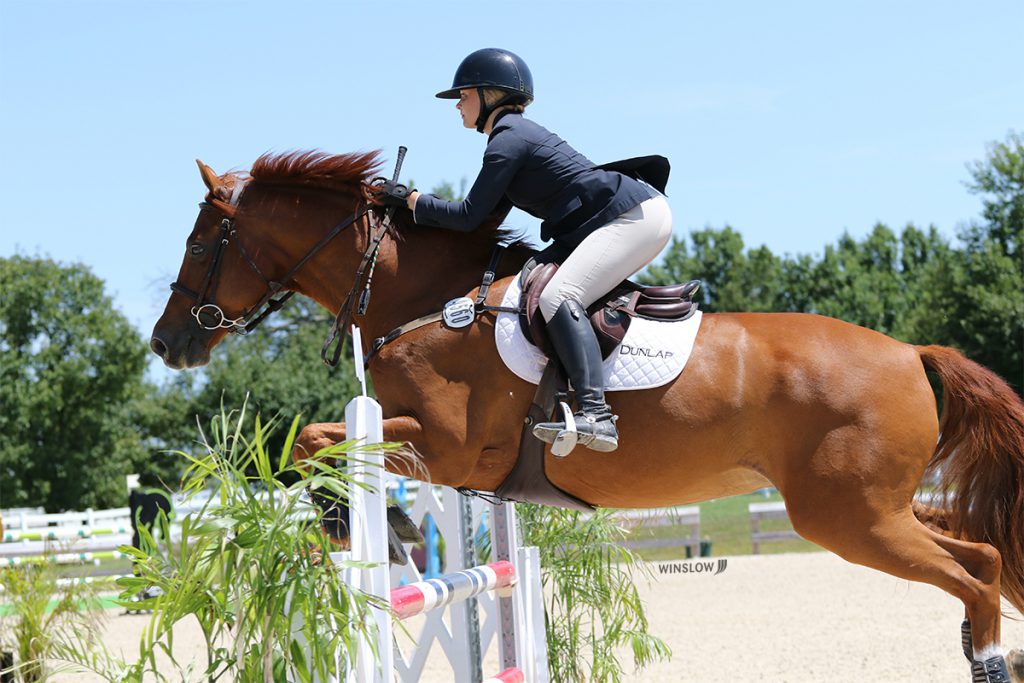 Dunlap and her nine year old Holsteiner gelding compete regularly in the High A/O Jumpers, taking many top placings. The pair have worked their way up from the Low A/O Jumpers over the past year and looked like veterans in this afternoon's class. Dunlap and Don Gerhard rode a foot-perfect first round, jumping clear in a time of 70.065 seconds, five seconds under the time allowed of 75 seconds. The pair continued straight to the jump off of the Table II 2b event, increasing their speed and riding with notable precision. The pair crossed the timers at 37.637 seconds, which easily held the lead for the remainder of the class.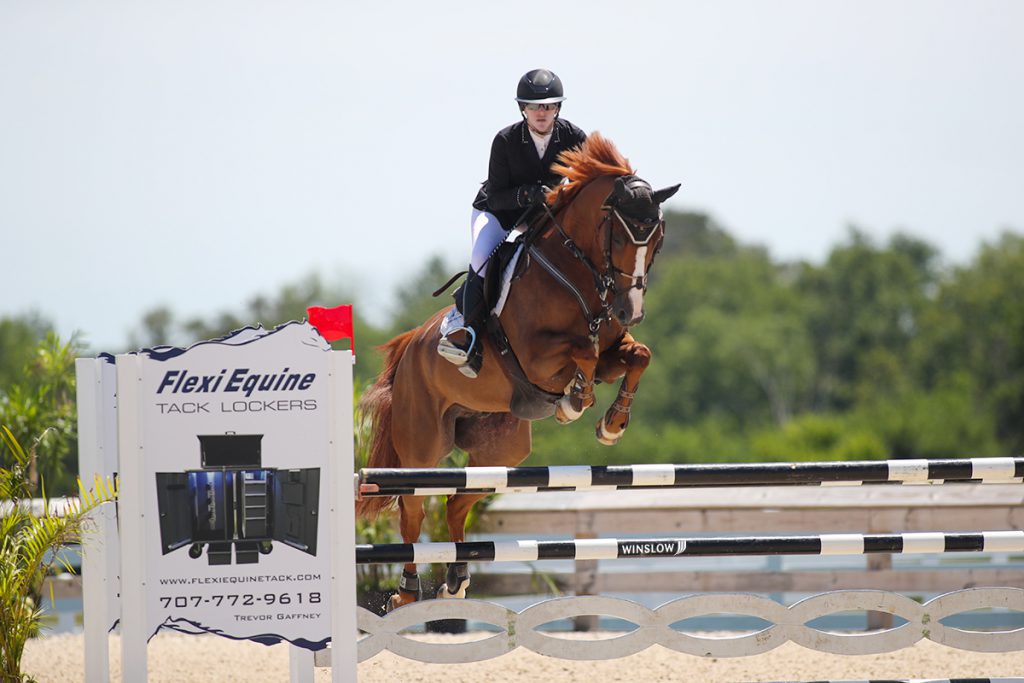 Megan Bash also had a fantastic ride in the Futures Prix, this time aboard Cleveland Equestrian's Ti Amor B Z (Taloubet Z x For Play B Z), a seven year old Belgian Warmblood gelding. The pair have taken top placings over the past two months in several Open Jumper classes. This afternoon, Bash and Ti Amor B Z took their time in the first round, making sure to leave all rails up in a time of 72.632 seconds. The pair continued straight to the jump off with the same strategy, which proved successful. Bash and Ti Amor B Z crossed the timers at 41.508 seconds for a second place finish.
We caught up with Madeline Dunlap, a sophomore at Ohio State University who rides with Sarah Ash and Michaella Gerlacher at Duncan Run Farm, after the class to chat about her win. "Really it was just getting him confident again. This was the first confident ride that we've had in about a month, so I'm really just happy that he was eager to go to the jumps. He's been really good about getting right to the base. We had a new bit and I was able to sit on top of him a little bit better, which helped him to not have any rails, so I felt like that really contributed to it," said Dunlap.
Dunlap explained her history with Don Gerhard, "He's nine years old. He's a Holsteiner gelding. He is green for his age. He had a neurological disease for about a year that set us back about two years. He was doing 1.35 m when he was seven then we got all the way back down to 2'6″ when he was eight and we're just building back up. He's a great horse. He's so eager to learn and he loves it when you talk to him. That's what calms him down the most. I'm just really happy that we were able to get in and get a good ride because it's what's going to help us move forward."
Dunlap also gave us a little background on herself, "I've been riding for about ten years. I originally did mostly Hunters and Equitation and I just started out in the Jumpers a few years ago. It's really become my favorite thing. I love the rush of it and riding is really just my safe place. The young Jumpers are my favorite because you get to learn and grow with them and you feel like you're learning a lot while you get to see the benefits of your training, which is my favorite part of the sport."
$7,500 Futures Prix 1.30 m Results
Don Gerhard, Madeline Dunlap – 0 | 0 | 37.637
Ti Amor B Z, Megan Bash – 0 | 0 | 41.508
Alfie Z, Payton Beerbower – 0 | 0 | 44.411
Floyd W, Sean Jobin – 0 | 0 | 45.291
Cix Degrees HH, Claire Wasielewski – 0 | 0 | 45.350
Fedel, Gwen Goodwin – 0 | 4 | 41.740
Oak Groves Celebrity, Anna-Rose Klingenstein – 0 | 4 | 47.257
Cornetta KF, Charlotte Clark – 4 | 68.784
Billy, Jamie Alnwick – 4 | 75.250
RL Real Love, Haley Kane – 8 | 68.348
Photos courtesy of Winslow Photography.

Get your entries in for the WEC Fall horse shows featuring 5 back-to-back shows with nearly $1 Million in money and prizes offered. Feature classes include two $50,000 Grand Prixs and 16 Hunter Derbies during the series with two $20,000 USHJA National Hunter Derbies (Open and Non-Pro) weekly. Entries are open now and stall reservations can be made online at www.horseshowing.com.