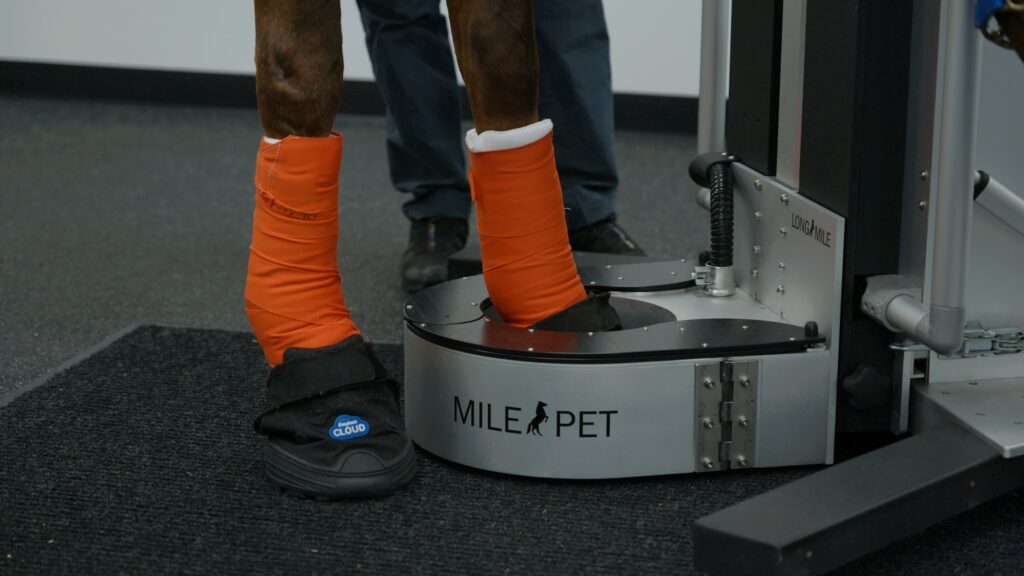 One of our equine sports medicine specialist veterinarians, Dr. Robin Bell, recently presented a talk at the first Equine PET symposium. Held at the New Bolton Centre in Kennet Square, PA, this meeting was the first gathering of equine PET users and veterinarians in the world. There were speakers from across the states, including the veterinarian who has pioneered this technology, Dr. Mathieu Spriet, from the University of California,Davis. The presentations were an interesting mix of clinical cases, the results of research studies, and basic science.
Here at the University of Florida Equine Hospital at World Equestrian Center, we are the only facility anywhere to offer this amazing standing imaging technology with both standing CT and standing MRI available in the same hospital. 
The PET machine itself is similar to a traditional bonescan machine, in that it uses an injectable radioactive substance (radioisotope) to reveal regions of potential pathology in either bone or soft tissues. It has a number of advantages over bonescan, one of the biggest being the ability to 'fuse' the PET images with both MRI and CT images to precisely identifiy the abnormalities. The standing PET scanner also allows us to acquire images in 3D, which is one of the major shortcomings of bone scan. Additionally, as the radioisotopes have a much shorter half-life than the those used in bonescan, the technology allows horses to be discharged from the hospital on the same day, eliminating the need for an overnight hospital stay.
On its own, the PET scanner can help to identify active areas of pathology that might be causing lameness. It is especially useful when nerve blocks have isolated the region where the lameness might be coming from, but there is possibly more than one site of pathology in that area. It is also very useful in helping us decide which imaging modality is better to make a more definitive diagnosis, such as standing MRI or CT.
When the PET is combined with either standing MRI or standing CT, it exponentially increases the chances of making a definitive diagnosis by allowing us to know what is happening metabolically in this area. This information can be invaluable in helping us to provide prompt and accurate therapy, and getting your horse back in the ring!
Our equine hospital is open Monday through Saturday from 8 a.m. to 5 p.m. Learn more about all of our services at hospitals.vetmed.ufl.edu/wec or contact us at (352) 414-3858 for information and appointments.