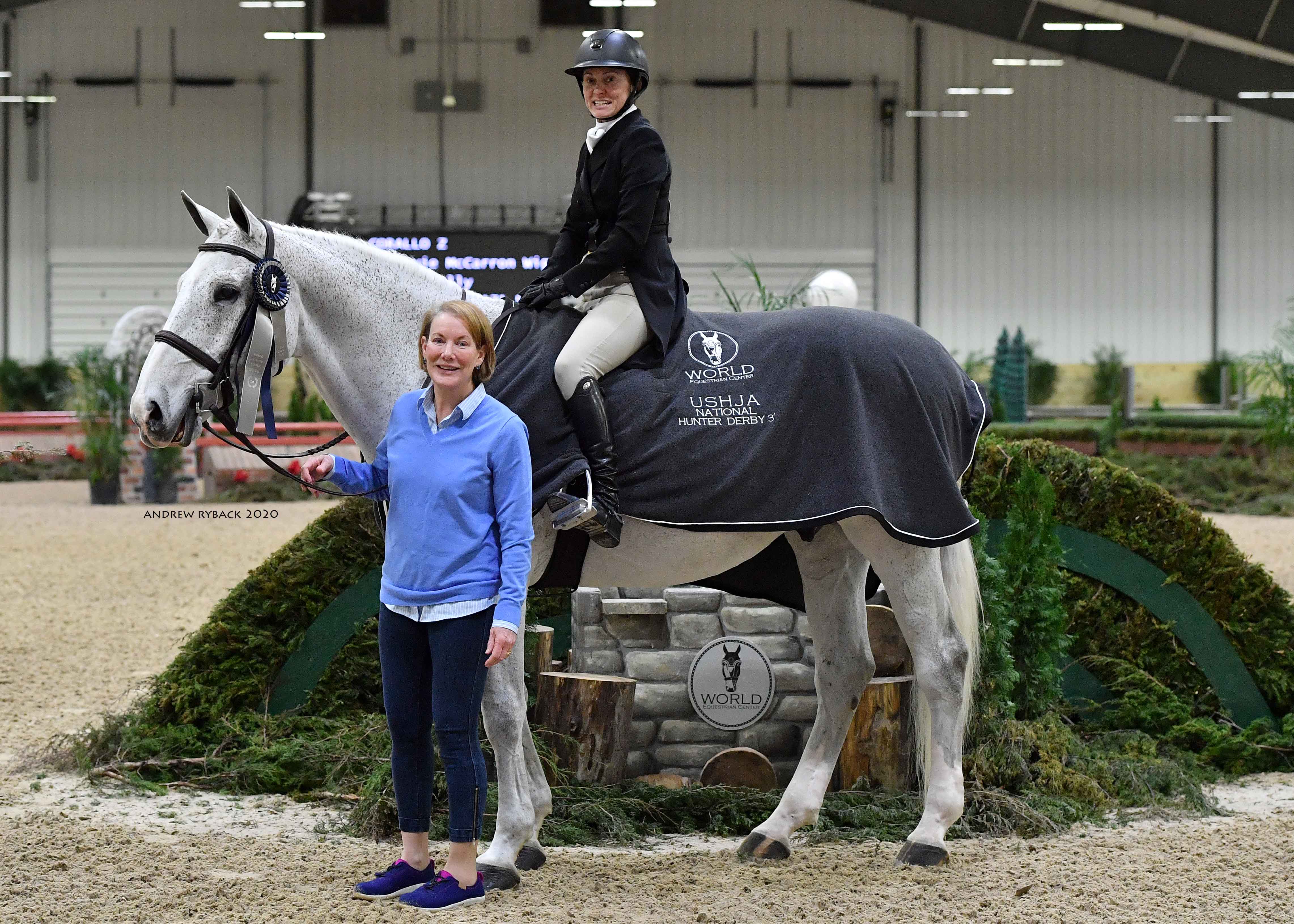 A field of twenty seven elegant hunters vied for the win this evening in the $5,000 USHJA National Hunter Derby where several scores climbed into the nineties.The course for tonight's derby, designed by Bobby Murphy of Lexington, Kentucky, emulated the hunt field with plentiful cedar brush natural fences and even a charming chicken coop-flanked vertical. The class was highly competitive with a cutoff score for the handy round of 77, but it was Stevie McCarron Wigley and Dell Kelly's Corallo Z who were awarded top honors.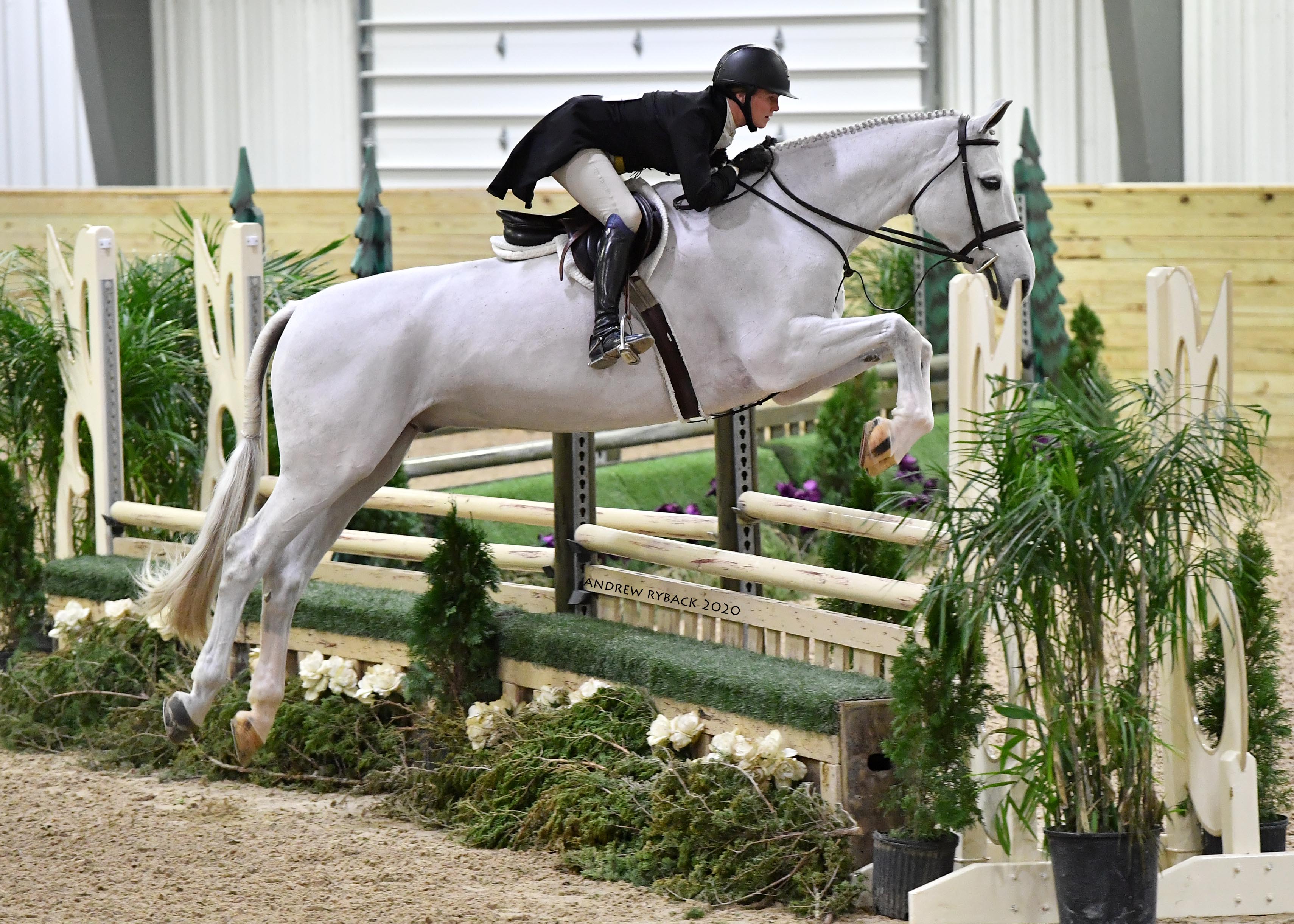 The highest score of the first round was earned by Melissa Donnelly and Elizabeth Becker's Corlando 49 (Cartani x Olanda I). The pair took several top placings in World Champion Hunter Rider (WCHR) classes last week at World Equestrian Center and also earned a sixth place finish in last week's $10,000 USHJA International Hunter Derby, preparing them well for this evening's 3′ track with 3'5″ high option fences. Donnelly and the fourteen year old Holsteiner gelding chose all four high options in the first round, earning a score of 87.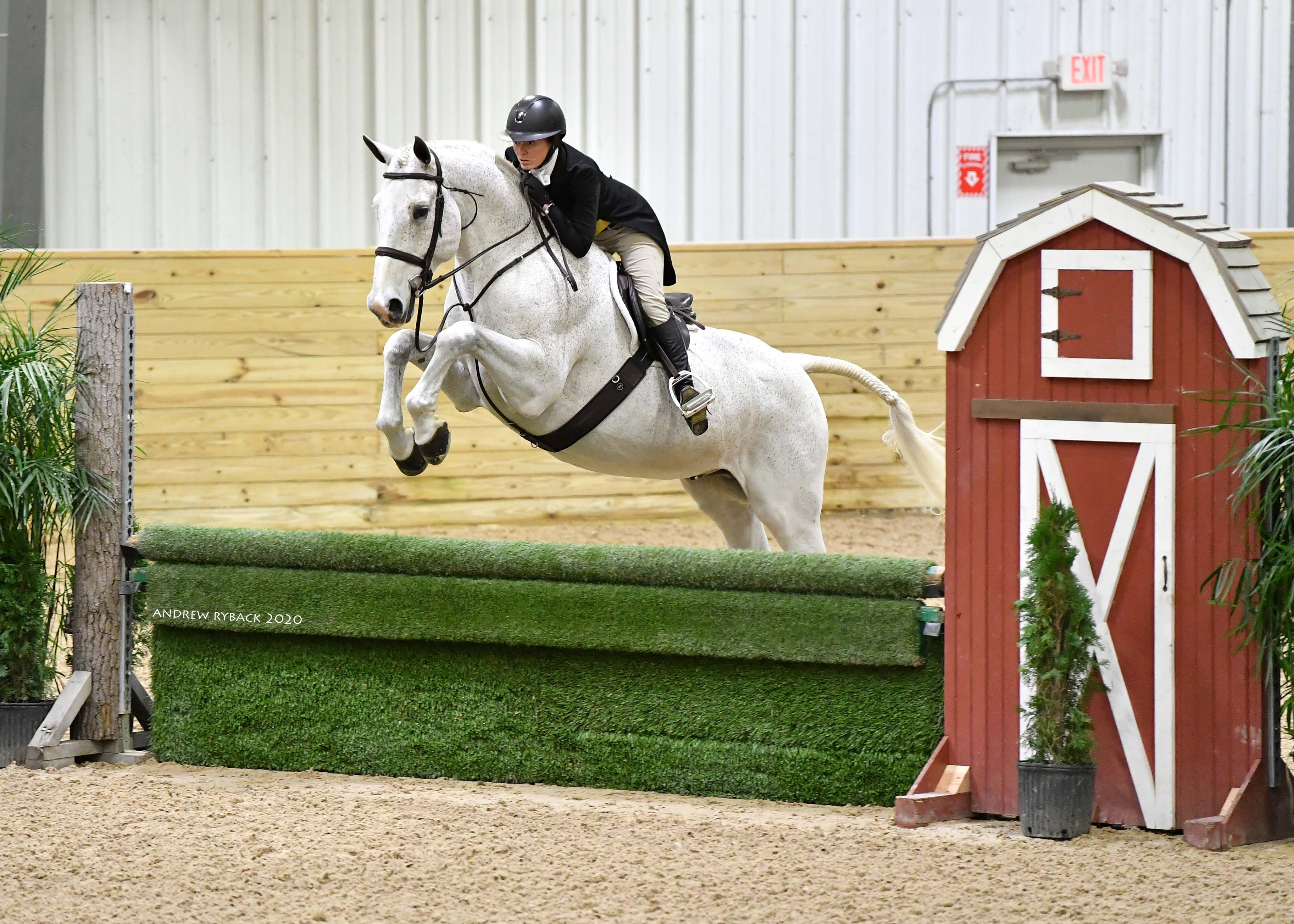 Stevie McCarron Wigley and Dell Kelly's Corallo Z were also impressive in the first round. While the pair are a newer match, Corallo Z has plenty of experience in the derby ring. The ten year old Warmblood gelding took first place in the $40,000 USHJA International Hunter Derby at World Equestrian Center during the WEC Fall Horse Shows in October with Greg Crolick. Tonight, McCarrin Wigley and the handsome grey gelding delivered an impressive first round, taking all four high options and earning a score of 81.5.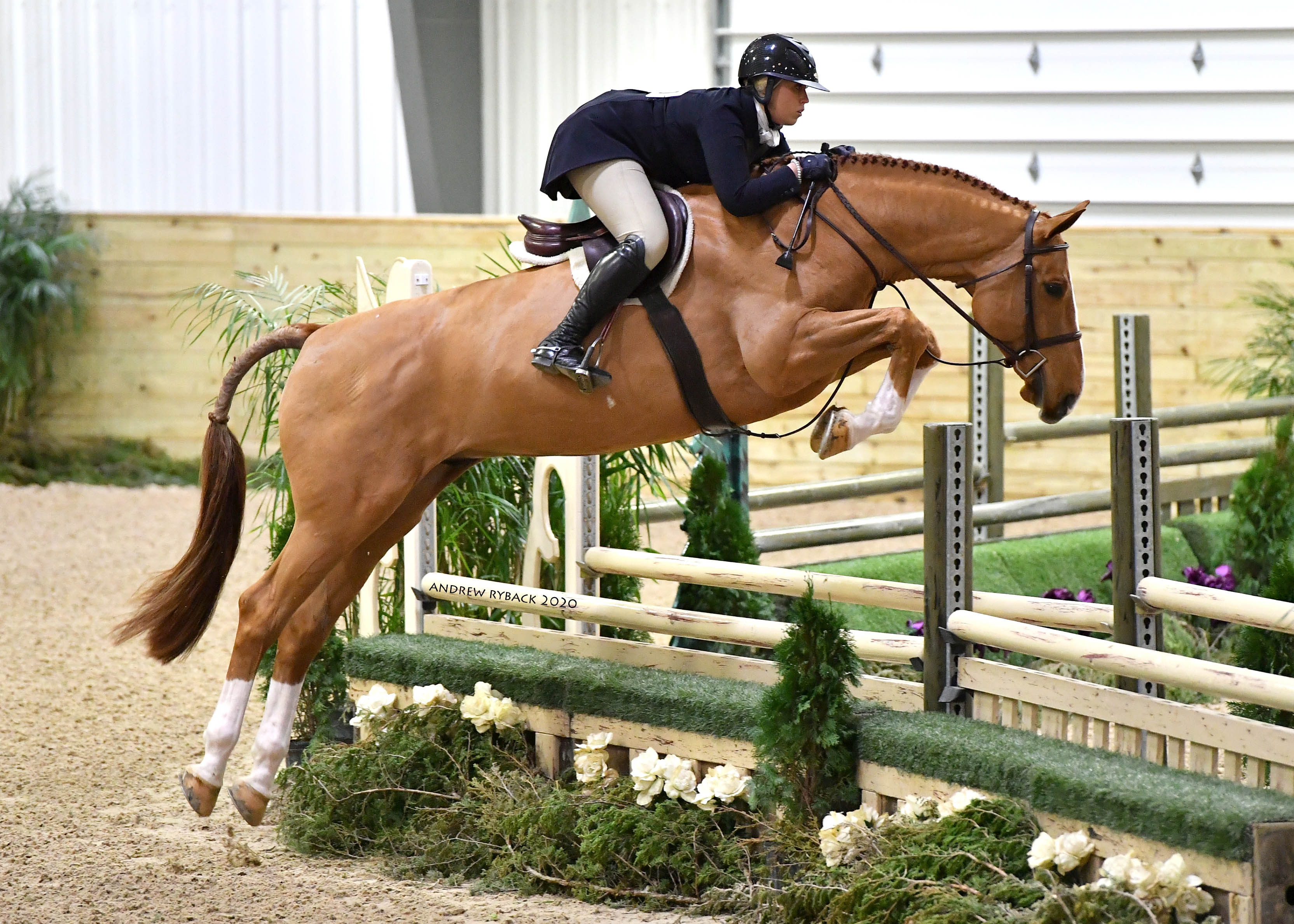 Anna Schierholz and Grace Hutson's Constellation (Cellestial) laid down a brilliant first round in this evening's $5,000 USHJA National Hunter Derby. Like Donnelly and Corlando 49, the pair also showed to top placings in last week's WCHR classes at World Equestrian Center. Tonight, Schierholz and the lovely seven year old KWPN gelding opted for all four high options, earning a first round score of 81.
The ring was refreshed and the top twelve entries returned for the handy round of the $5,000 USHJA National Hunter Derby. Schierholz and Constellation returned mid-pack, taking handy inside turns to fences two, four and six. The pair took three high options, bringing their second round score to 88 for a total score of 169, moving into the lead. McCarron Wigley and Corallo Z were next to take to the handy course. The pair also hugged the inside track and took all four high options for an impressive score of 90, the only nineties score of the class. This brought their two round total to 171.5, sending them straight to the top spot. Last to return was Donnelly and Corlando 49. The pair mimicked their competition's inside track, also taking all four high options. Donnelly and Corlando 49 earned a second round score of 83.5, bringing their overall total to 170.5, just one point behind McCarron Wigley and Corallo Z, leaving them in first place.
McCarron Wigley of Cloud Nine Farm in Lexington, Kentucky Stuck around after the awards ceremony to chat with us ringside about her win, "This is our first horse show with Corallo Z, or 'Grandpa' as we call him in the barn. We purchased him about a month ago for my client Dell Kelly who bought him to do the Adult Hunters. He has a history of doing the big International Hunter Derbies with Greg Crolick and we were fortunate enough to buy him. I'm just so thankful for Dell to give me the opportunity to ride her horses in these big classes. "
When asked about her rounds, McCarron Wigley replied, "In the first round I wasn't as great on my other horse, but I went in the ring on Grandpa knowing that he was going to be a 'steady eddy' and I could count on him. I felt a little bit more at ease riding him. We had one little rub where I relaxed my leg off of the ground, but we still got a decent score. He walked into the handy trip like, 'I got it,' and I just kind of guided him and that was that!"
We also received some insight on Corallo Z's wonderful personality, "It's funny, he's kind of an old soul, which is why they call him 'Grandpa' even though he's only ten years old. He's just super laid back and quiet as can be. You have to absolutely kick him around when you ride him at home. He's just a good soul."
McCarron Wigley also added, "I'm based in Lexington, Kentucky. We try to show at World Equestrian Center about once per month, but this is our first time showing since October. I have a barn of twenty four horses at home and we have eight here, so we have a full group. We go to all of the shows at the Kentucky Horse Park, that's kind of our home base. We're just so fortunate to be based in this area."
$5,000 USHJA National Hunter Derby Results
Corallo Z, Stevie McCarron Wigley – 81.5 | 90 | 171.5
Corlando 49, Melissa Donnelly – 87 | 83.5 | 170.5
Constellation, Anna Schierholz – 81 | 88 | 169
No Introduction, Christopher Coberley – 84 | 84 | 168
Doc Holiday, Maria Moore – 85 | 82 | 167
Atoka, Sydney Callagy – 79.5 | 87 | 166.5
News For You, Meg Howard-Fuleky – 80.5 | 85 | 165.5
Grand Tour, Melissa Donnelly – 80 | 83 | 163
Double Dutch, Madison Fankhauser – 82 | 80 | 162
Ciriaco, Camryn Lubner – 77 | 72 | 149
Photos courtesy of Andrew Ryback Photography.