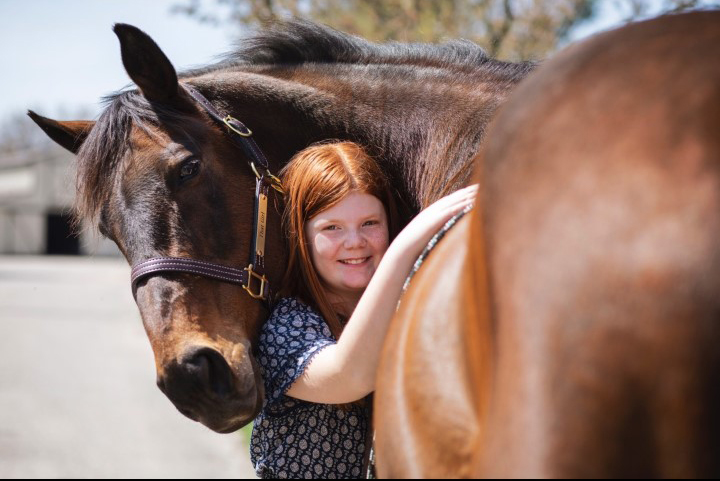 This week's Sunday Spotlight falls on Addie Oderkirk of Grand Rapids, Michigan. At just 11 years old, Addie is successfully making her way around the 2'6″ with her adorable OOTB mare. Addie took time this week to chat with us about the start of her riding career in the UK, the horses she has owned and the goals she has set for herself over the next few years.
WEC: How did you get into riding?
Addie: I was first interested in horses when I was about three or four years old. My family took a trip to Mackinac Island where I sat on a horse for the first time. I loved it so much that I wanted to start my riding journey. I knew right away that riding was the perfect sport for me. At that time, my family and I lived in England, and when we returned to the UK from vacation, my mom signed me up for riding lessons. I took lessons for three years in England before we moved to the US. I've now been riding and showing for about four years over here.
WEC: Tell us about your early riding career.
Addie: I started showing in the walk/trot at a local show four years ago on various school horses from my old barn and advanced my way up to crosspoles. When I got me first horse, Oh So Hot, or Honey, we gradually moved up to the 2'3". Honey was a 20-year-old, 15.2 hand, sorrel, Tobiano American Paint Horse mare. She was known for her attitude and doing what she wanted, when she wanted. She taught me how to sit up and use my leg properly. When I was ready to move up divisions, we retired Honey.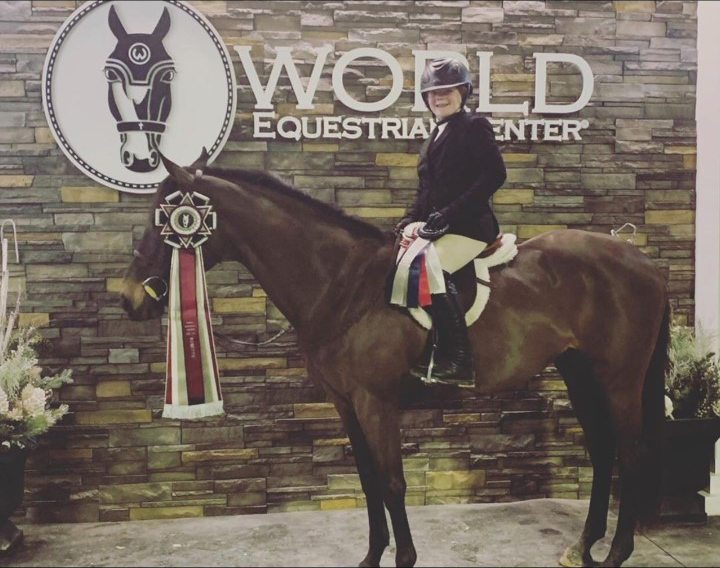 My next horse was That Girl, orMozza in the barn. Mozza was an 18-year-old 16 hand, dark bay, Canadian Warmblood mare, and was full of sass and attitude. She took me to my first A show at the World Equestrian Center. After owning and showing Mozza for around a year and a half we sold her to my trainer, Chelsea Vickery, so that she could be a school horse at White Oak Farm.
WEC: Tell us about the horse you have now.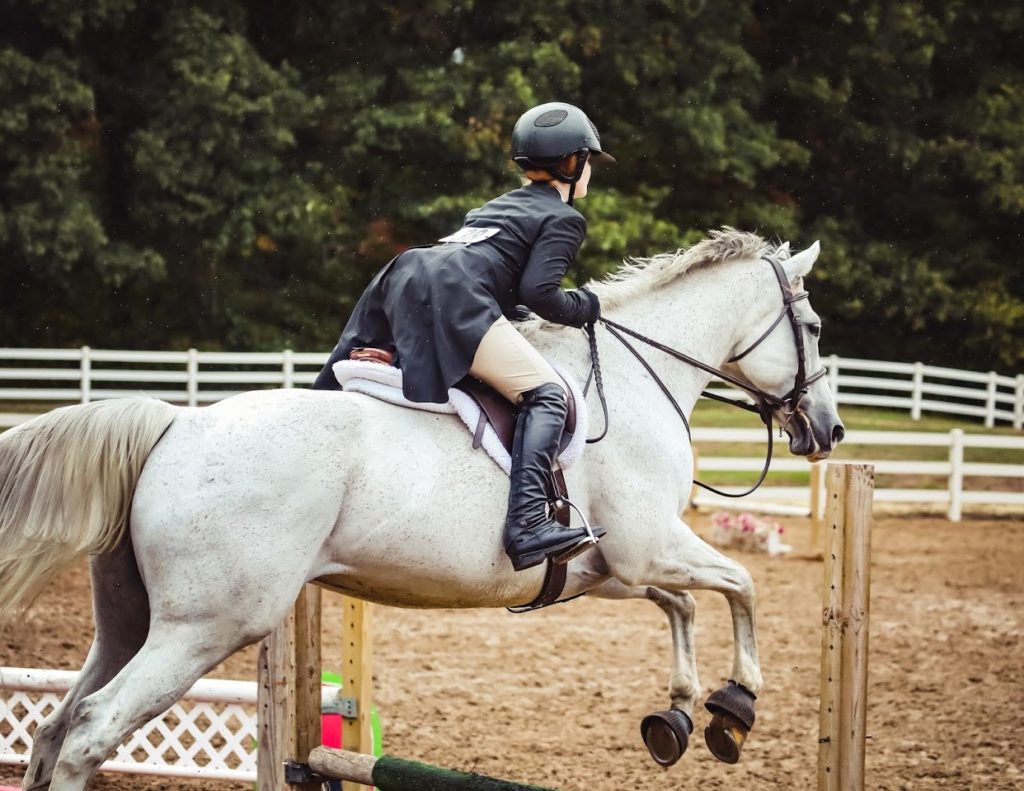 We recently welcomed Magnolia, or Maggie, into the family. She just made the move from Kansas to Michigan, so I am excited to see her reaction to the cold and snow. Maggie is a 13-year-old, 16.1 hand, flea-bitten gray, OTTB mare. I am looking forward to our journey together and can't wait to introduce her to the World Equestrian Center shows. We are planning to show in the 2'6″. I think that Maggie will teach me how to be a better rider and help me move on to higher levels. All of my past horses have been quite slow-going, so Maggie is a change for me, being an OTTB.
WEC: What barn do you ride with?
Addie: I ride at White Oak Farm in Lowell, Michigan, with Chelsea Vickery and Dori Schlientz. I moved to White Oak Farm two years ago because they specialize in hunter/jumpers. It was the best decision I have ever made. Over the past two years I have become a better, more confident rider and am constantly being challenged by my trainers. For example, this month, we took my stirrups off my saddle, and this week's challenge was a bareback lesson where I jumped 2'9".
WEC: Tell us about one of your memorable riding experiences.
Addie: One of my memorable riding experiences was actually a riding injury. Around March of 2019, I fell off of Mozza after a jump and she stepped on my arm. Luckily, there were no broken bones, but we did have to go to the hospital just to be sure. I did have really bad bruising in the shape of her shoe for a few months. I lost all of my confidence, and couldn't ride without pulling on my reins and getting nervous. However, I pushed through and my trainers helped me gain my confidence back throughout the show season.
WEC: Do you have any hobbies outside of riding?
Addie: One of my hobbies outside of riding is art. I like to draw horses on my iPad. It really helps me relax; it's so peaceful. I like to use the app "Procreate" to draw. It takes me between three and seven hours to finish a drawing of a horse and rider. I also like to draw abstract art. I enjoy drawing when I'm not riding because it takes up my time, and I don't even realize it while I am doing it. I also like to bake horse treats, play with my three cats and spend time with my family.
WEC: Has anyone inspired your riding?
Addie: I find inspiration in my trainers. When I'm having a rough lesson, they refuse to let me give up. They push me to succeed. I believe that my trainers are the reason that I've advanced as much as I have over the past two years. I came to them just finishing my second year of showing crosspoles, and this next show season I will be showing in the 2'6". I know that my trainers would never put me in danger, even though sometimes I think they are trying to kill me during lessons. They have helped me become the rider that I am now.
WEC: What are your riding goals?
Addie: One of my goals is to be a better rider. I know the basics of riding, and now it's time for me to move up a few levels. Someday, I hope to qualify for and compete in Medal Finals. Recently, I watched my barn friend, Hannah Jackson, ride at the National Horse Show and it truly inspired me.
Thank you for sharing your riding journey with us, Addie! We hope to see you at WEC again soon.