This week, we introduce Amateur Aimee Kemper of Cincinnati, Ohio as our Sunday Spotlight feature. Aimee has been riding horses for the majority of her life and, even through a few breaks from the sport, always finds her feet back in the irons. According to Aimee, she has the "riding bug" that we all know too well. Aimee has worked hard for the many success she's had as a rider, and even shares the miraculous comeback story of her current mount, Idyllic, with us.
How did you get into riding?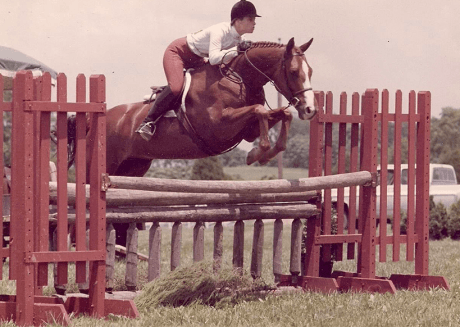 My mother grew up with horses, so when my sister and I were little we took weekly lessons and went to horse camp. When we moved to Louisville, Kentucky, my parents bought property so that we could have horses. There was a local Pony Club where we lived. It was kind of mandatory, if you wanted horses, that you had to learn everything about taking care of them. So I grew up coming through Long Run Pony Club, which is mostly eventing. You learn the rallies, how to do Dressage, Stadium Jumping and Cross Country, as well as all of the horsemanship stuff. My sister and I both kind of leaned toward the Hunter thing. I was probably twelve years old, and I remember we were having issues with one of our horses, just barn manners like you would go in the stall to put a bride on and it would spin, so my mom said, "Would you like to start taking lessons from Rick Fancher?" Rick is kind of a prominent horseman, and he was up-and-coming at the time. He came to Kentucky with Nina Bonnie and she helped him build a business, I think. I remember being over the moon that I was allowed to ride with him. One thing led to another, so we ended up selling our little Quarter Horse and getting nice show Hunters. I spent my junior years with Rick competing all over. We went to Michigan, Detroit, Nashville…kind of stayed in the Midwest.
Tell us about your Junior riding career.
I had a lovely horse named Say What that we purchased from Wilson Dennehy out of Colorado. He was a very fun horse. He was a Small Junior Hunter, and I showed him for four years. I did some Equitation and made it to Medal Finals one year. Then I focused more on the Hunters and ended up leasing another one in our barn called Paddington for my last Junior year. Then it all had to come to a screeching halt when I moved to college at Vanderbilt. We sold the horses, but I still tried to work for Rick when he came down to Nashville. I would groom for him and rode whenever I could. I never really got out of it.
What did you do after college?
After college, I got married and moved to Cincinnati. I had a horse at the time, but I decided to start a family so I sold the horse to do that. I had four children, two sons and two daughters. I think when my oldest daughter, Catherine, was four or five years old I got her into lessons and let her do the Leadline classes. Then a few years later I had another daughter, and at this point I took a hiatus from riding to raise kids. Catherine got into riding a little bit again and it wasn't until my second daughter, Helen, was six that she started riding. Catherine was twelve at the time, so I found an affordable horse that both of them could ride and I got them into it. It wasn't like when I was a kid. There was a Pony Club option and I did have Catherine do Pony Club up to a certain level, but then we just started riding with trainers. Catherine got to a point that she wanted something nicer, so I found Zuzu's Petals in Virginia. She was the perfect horse for Catherine, who wanted to do the low level Jumpers, and she was quiet enough so that Helen could ride her as well. The girls enjoyed several years of doing that. Through all of this, I would get on if they couldn't come to the barn, so I still rode, but didn't really show.
When did you start showing again?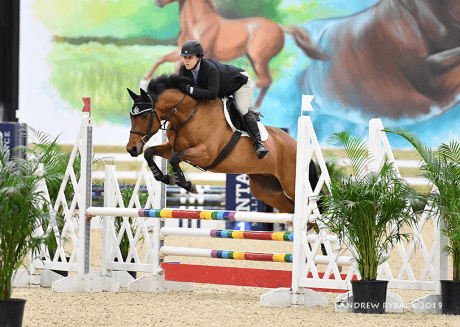 The girls slowly started losing interest. Catherine went to college and Helen was very talented, but she didn't really like to show. She's a competitor, but she didn't like the "waiting around" aspect of horse shows. I thought, "I've got this pretty nice horse here, maybe I'll take a turn." At this point, we had started riding with Aubrey Sears at Milestone Equestrian. So I did the Adult Hunters on Zuzu and Aubrey did her in the Performance Hunters, and she was quite successful locally. She ended up sixth place in the Zone for Performance Hunters. She was pretty talented, and I had a ton of fun. That's what got it going again for me. She was so simple that I decided to get a young project, so Ken Arnold leased Zuzu and eventually bought her, and I got Idyllic (aka Oscar) in late 2014. We did the Baby Green Hunters for a year, then he had a little suspensory injury so he had 2016 off. I had worked for Aubrey since 2014, doing a little bit at the barn and at shows to keep things affordable. Until we joined Aubrey, we were kind of vagabonds. We had our own truck and trailer, we did all of our own care. Once I found Aubrey, it just worked out that, if I could put in a couple of days per week at the barn, that it would work for me.
Oscar was just coming back in the Fall of 2016. Aubrey was going down to Brownland, and we decided to go. It was day two or three and we showed up in the morning to feed, and Oscar had gotten his foot stuck between the bars of the temporary stabling. He had freed himself, but he had compromised the joint capsule in his pastern and needed surgery. We left him down there for weeks, and he had surgery. He was out of commission for another year, because there was also some soft tissue damage. Of course, I was devastated. I decided to turn Oscar out for a year. I was working off my board there as well, so I would go do stalls there, then come do stalls at Milestone. At the time, I came into a little bit of money and I really wanted to have fun again, so I leased Czac Brown and had the most amazing 2017 on him. Working for Aubrey, we went all over the place. We went to every show and he was a winner. We ended up Kentucky Hunter Jumper Champion that year and Reserve Champion in Ohio, as well as third in Adult Equitation for the Zone, so I had a really really fun time.
Oscar is showed at World Equestrian Center this week, correct?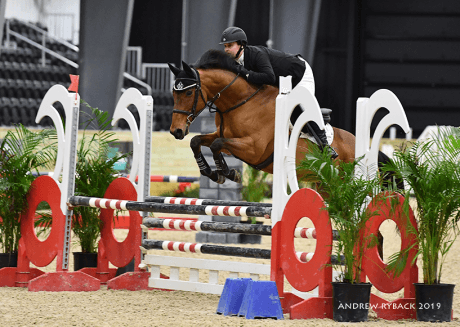 Yes, Oscar has come back. When he came back, it was clear he was going to be a Jumper, so we started in the Intermediates last year. This year, we've bumped up a little bit. He's kind of a success story that he's come back. He means the world to me. He's got a heart of gold. He just needed his person to believe in him. He's been amazing, so it's been fun. I have the "riding bug", and luckily I have a very supportive husband. He's the one I need to thank for letting me come and show and stay at the shows.
What are your future riding goals?
I just want to enjoy my guy for what he is. He's taught me a ton. I've learned through these recent experiences that everything it takes to horse show: the money, the healthy horse, all of the stars aligned…there's so much that goes into just getting to the horse show and I think a lot of people take that for granted sometimes. It's almost a miracle that Oscar's here, for sure. I hope I can do this for a long time. I love it.