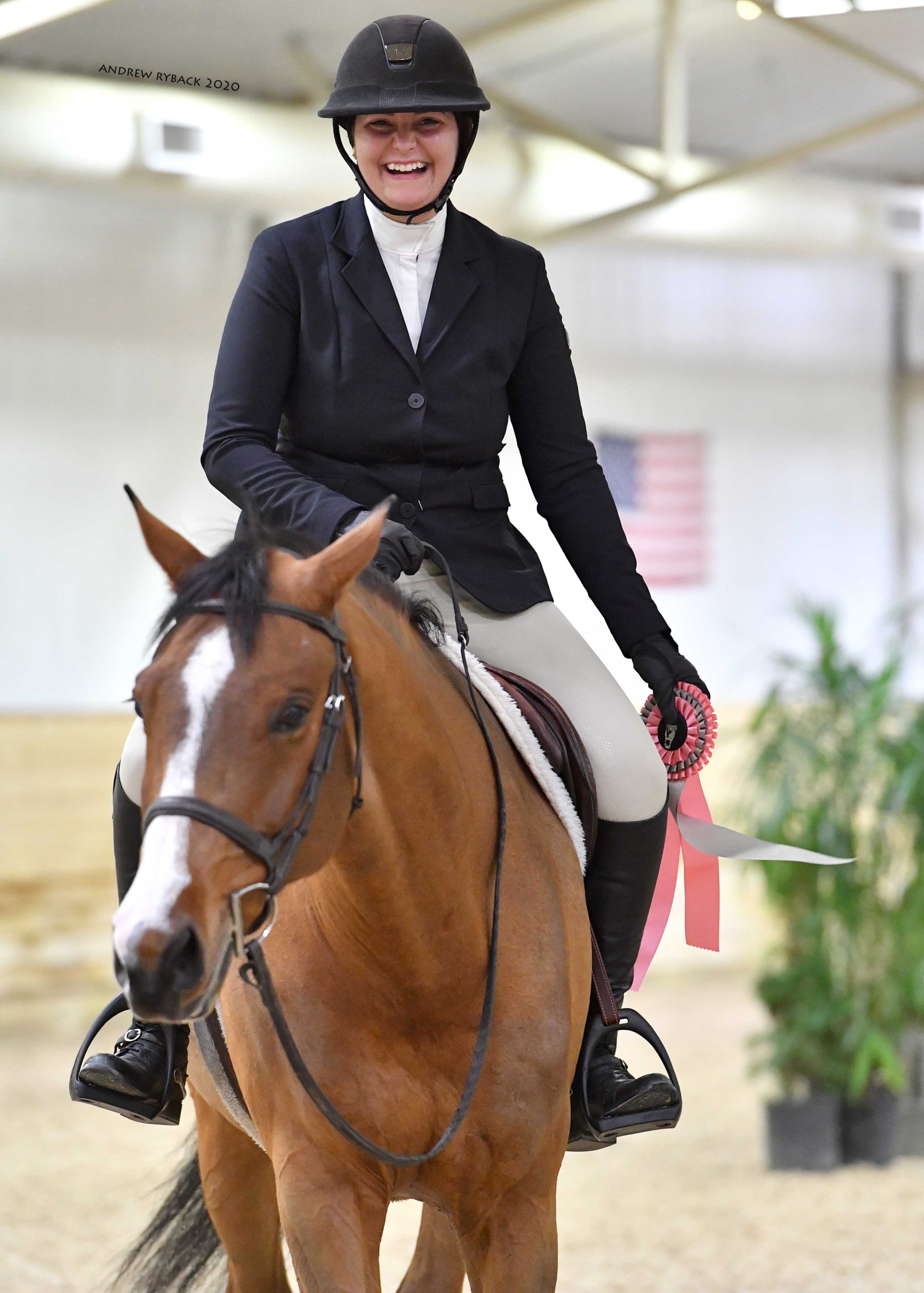 This week's Sunday Spotlight lands on Keara Olson. Keara is a manager with Andrew Ryback Photography. You can catch her during the winter circuit at World Equestrian Center in ARP's Airstream trailer managing the office side of the business or ringside taking photos. Though Keara spends most of her days at horse shows, she hasn't shown horses in six years. But this week, Keara made her debut back in the show ring aboard Karin Martin's Gentleman (Quandolino), a big, handsome bay German Sporthorse gelding with an equally large personality. Keara took time out of her packed schedule this week between showing and working to chat with us.
WEC: How did you get into riding?
Keara: I got into riding through a Martha Stewart TV show. I was really little and was watching a Martha Stewart show on TV. She had horses on her farm and I loved everything about it. One of my mom's friends rode and my mom started taking me to the barn when I was about four years old. We haven't looked back since.
WEC: Tell us about your early riding career.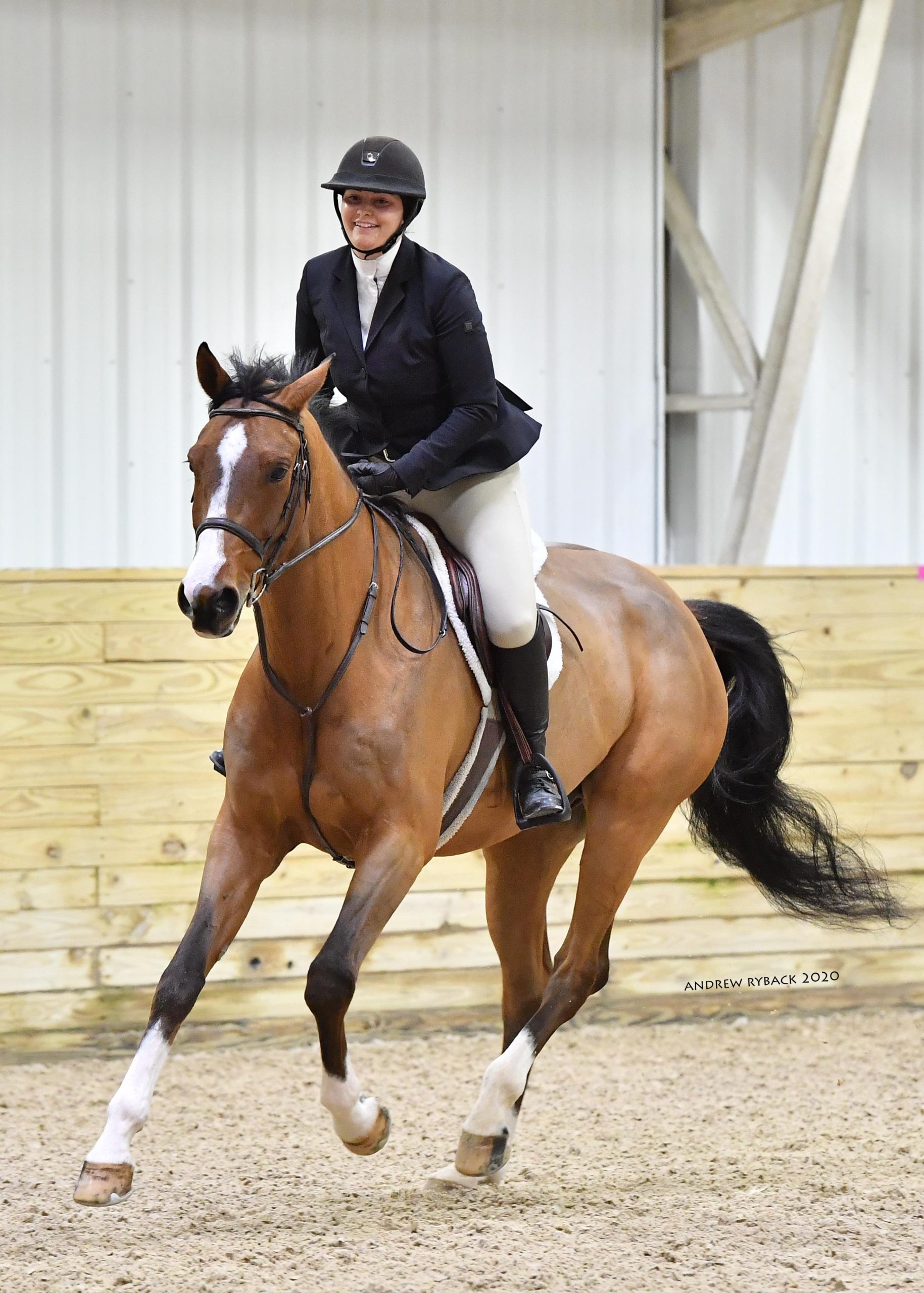 Keara: I've always done hunter / jumper stuff. I really just did schooling shows from the time that I was seven until about 13, then I did the local Illinois hunter / jumper circuit. After that, I did B-rated shows until I was about 16 years old. I've only ever done two AA-rated shows: one right before I went to college and now this week at WEC.
I just rode the barn's horses, pretty much whatever was available to me until I was 13 years old. I remember riding this terrible pony named Raisin. She would never jump anything you asked her to jump. It was fine at home, but we would go to the small schooling shows and she just wouldn't jump. To this day, my mom still hates ponies because that pony would never jump for me.
WEC: When did you get your first horse?
Keara: I had always begged my parents for a horse and they always told me that I could get a horse at 14 years old. They thought I would grow out of it by then. For Christmas when I was 13 years old, they surprised me with my own horse named Troy. I still have a leather nameplate bracelet with his name on it on my car keys. He was the best first horse I could have ever had. He was a big, dark bay Mecklenburg gelding that had been there, done that. He was Taylor Flury's Children's Hunter or Junior Hunter, then he came to our barn. Somebody at our barn bought him, then had to move across the country and couldn't take him with her, so our trainer, Joleen DeWitt, kind of inherited him. She sold him to my parents for one dollar. I did basically everything on the local circuit with him. We did the children's equitation, a little bit of jumpers, a little bit of hunters; he could really do anything. We eventually retired him and had to put him down when I was 18.
WEC: Did you have any other horses?
Keara: When I retired Troy I got to ride my trainer's young horse named Schnitzel. He was a Pinto / Warmblood / Thoroughbred cross. He was really pretty, but he was a little crazy. That was around the time that I got close with Andy and Stacy Ryback and Stacy told me to take a lesson on her horse at Benchmark Stables with Liz Atkins. I did and I loved it. I started taking lessons there and that led to me being able to ride the amateur ladies' horses at the barn. At the time I was still a junior and they were happy to let me ride. I did half lease a jumper, who was really fun. I also rode some baby green horses. It was so much fun. It was just a good time at Benchmark. After that, I went off to college at the University of Alabama.
WEC: Did you ride in college?
Keara: I did ride in college. I did some IHSA shows and some NCEA scrimmages. I rode on the team for two years.
WEC: Where did you go from there?
Keara: I went back to Illinois after that. Liz was hurt at the time and had me ride a bunch of her horses. I didn't horse show at all. I was so busy working that I didn't have time. When I started shooting for Andrew Ryback Photography at WEC, I started riding at David Beisel Stables in Goshen, Ohio.
WEC: How did you start leasing Gentleman (Jack)?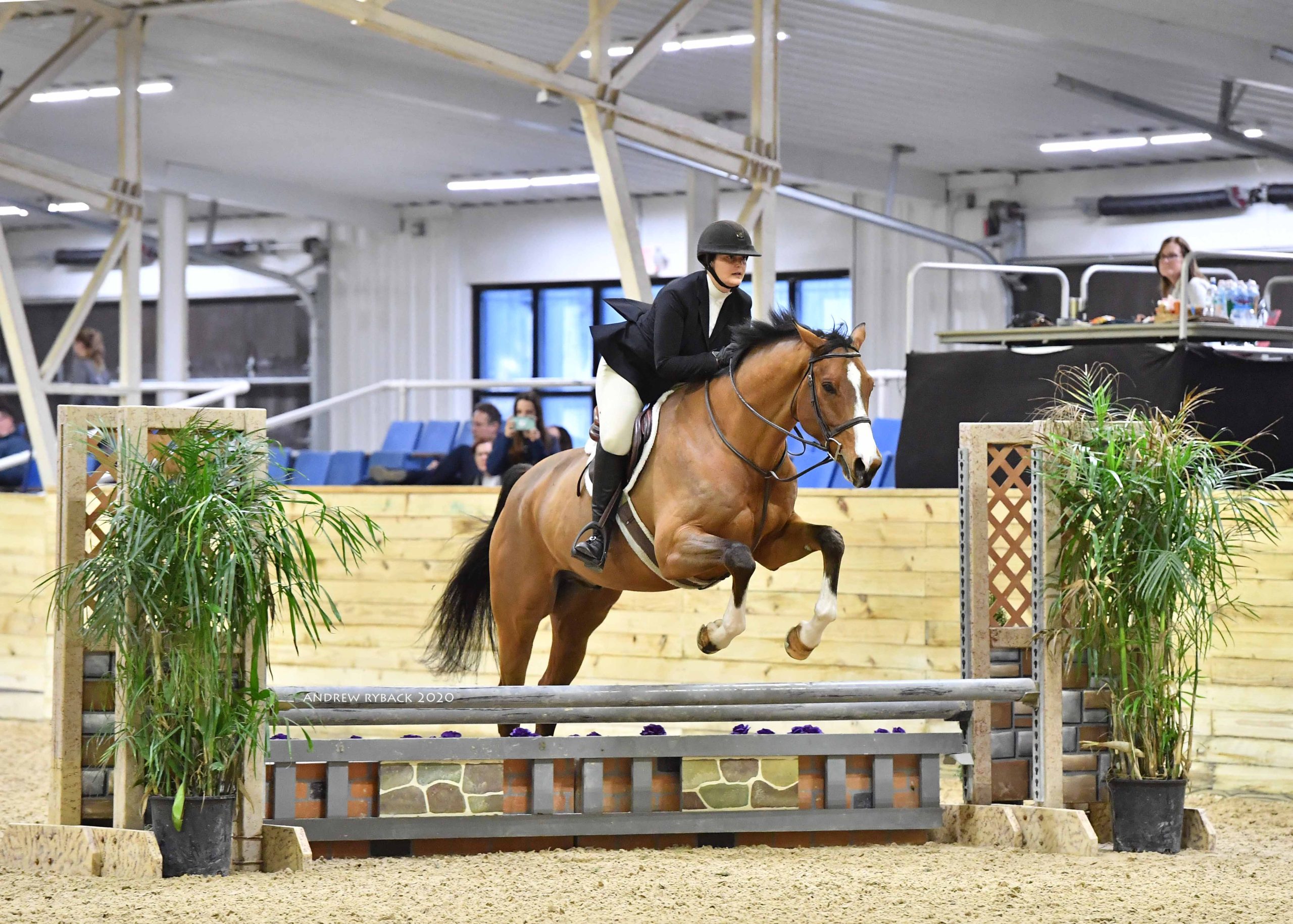 Keara: Jack kind of fell into my lap. One of my friends' moms offered for me to try him. They didn't want to take him to Florida with them. She said that if I liked him, I could just pay his bills for the winter and lease him until they got back from Florida. I tried him and I loved him. I rode him for about a week, went home for the holidays, then came back and started riding him regularly. I lessoned, then started to question myself a little bit. He's a young horse who doesn't have a ton of experience. We've done a ton of work and he's really becoming a nicely behaving young man.
WEC: Tell us about his personality.
Keara: He's always in your pocket. He wants to be with you all of the time. He wants to be friends with you, other horses, dogs, cats, you name it. He's goofy.
WEC: Tell us about showing this week.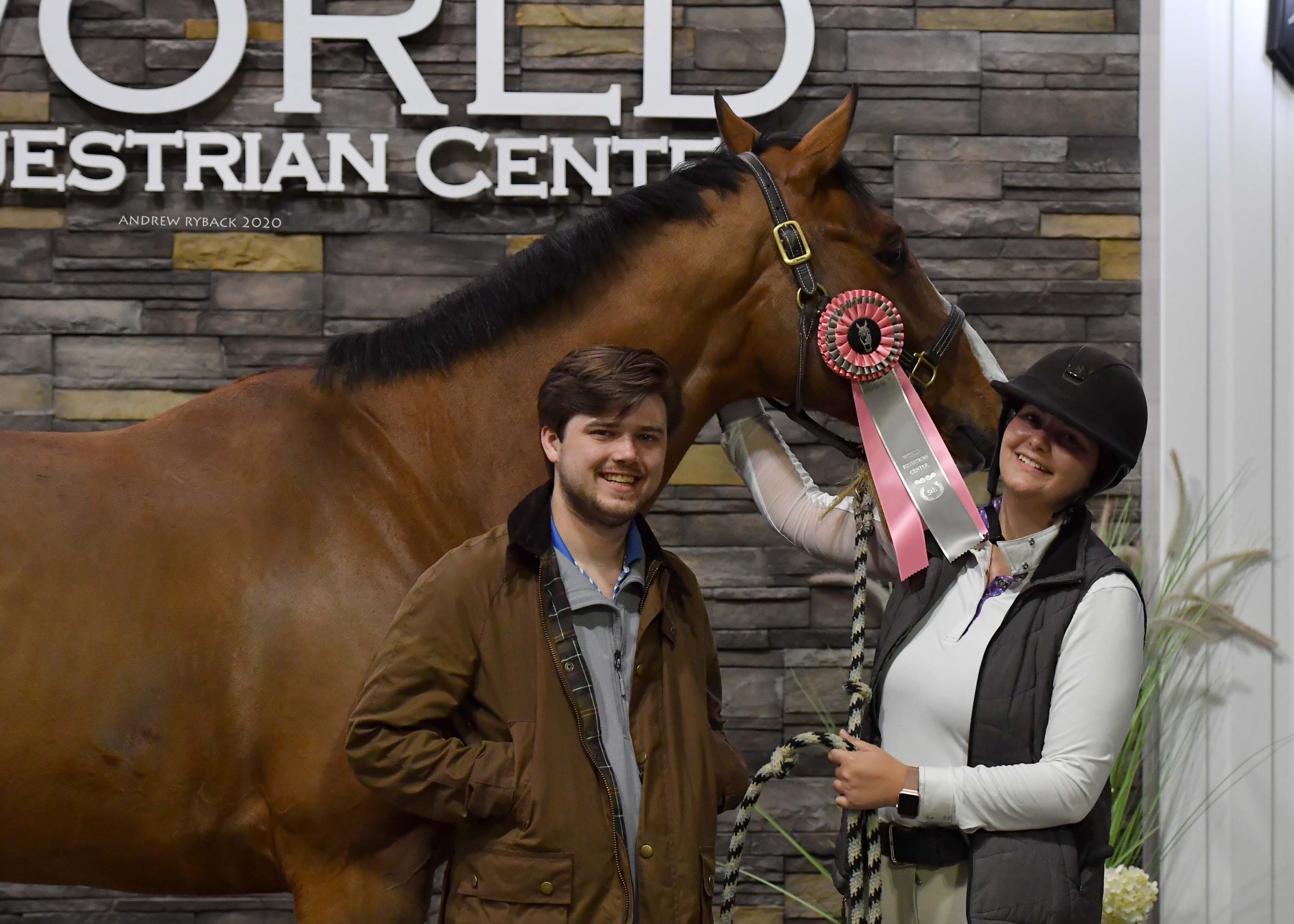 Keara: It went really well. I haven't shown in six years (not counting college riding), and going back in the ring was great. Taking a deep breath and riding with David Beisel and Allie McBreen was refreshing. They're so positive. Though we weren't perfect, he was better than I could have imagined. I'm so confident riding with David and Allie, so I was able to laugh at our imperfections instead of fixating on them. We also finished up with a fifth on the flat!
WEC: How did you start working for Andrew Ryback Photography?
Keara: When I was around 15 years old, my trainer Joleen DeWitt would host small horse shows as part of the Northern Illinois Hunter / Jumper Association. I was always running around the horse shows with my little Canon Rebel taking pictures of the show and my friends. At the time, Andy had just started Andrew Ryback Photography. It was just him and a table in the barn. He saw me running around taking pictures and asked to see what photos I got. I showed him and about a week later, his wife Stacy sent me a Facebook message asking if I would intern at an upcoming Lamplight show with them. I interned for them for a few hours, then they hired me. I've really become close with Andy and Stacy over the years.
WEC: What's your favorite part of working for Andrew Ryback Photography?
Keara: I love being at all of the horse shows and getting to be a part of what I wish I could do every day – horse show! As a kid, I would have never imagined myself being able to go to all of these awesome horse shows. Being able to watch it all every day is amazing.
I would really like to thank Andy and Stacy for giving me all of these opportunities. I don't think I would be able to be at WEC and be able to horse show, and also work, if it wasn't for them.
We love having you at World Equestrian Center as both a photographer and an exhibitor! Be sure to pay Keara a visit in Andrew Ryback Photogrphy's Airstream trailer between Vendor Village and the R+L Arena.
Photos courtesy of Andrew Ryback Photography.