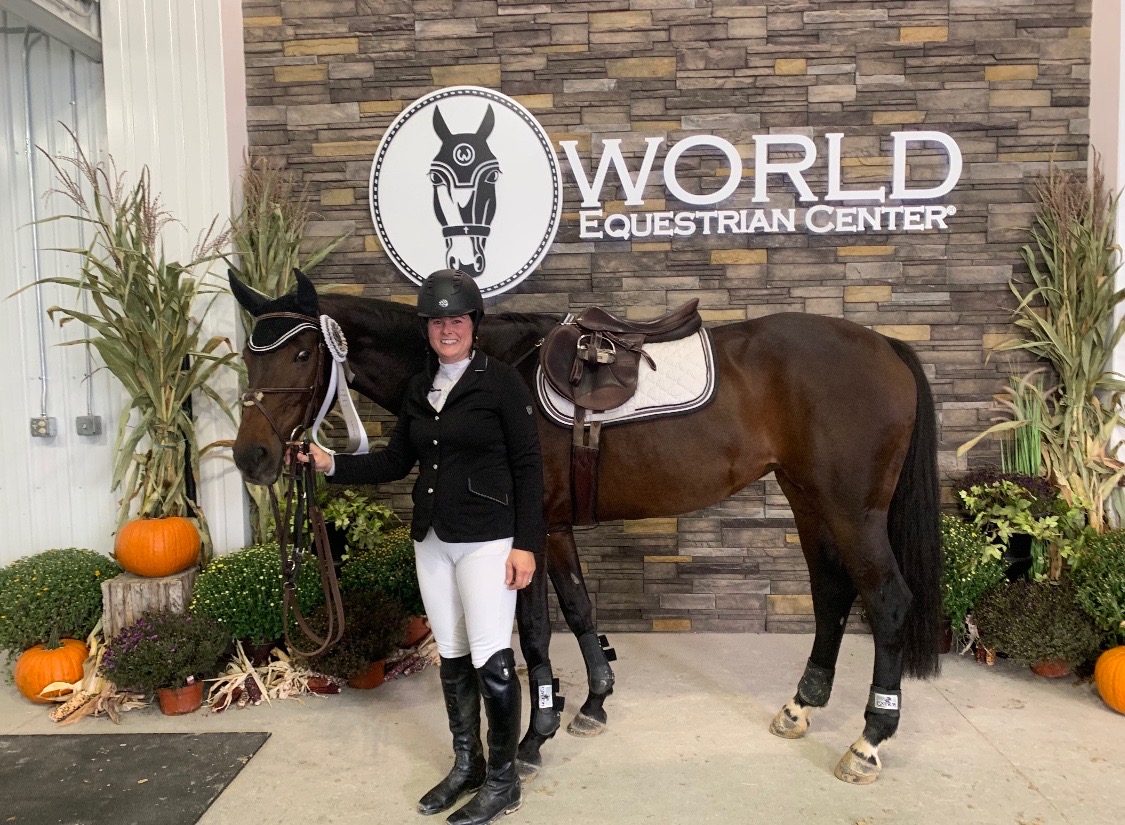 This week's Sunday Spotlight falls on Amateur Jumper rider Angie Yates. Angie is from Indianapolis, Indiana and rides with Robert Mendoza at Bannockburn Farm. Not only is Angie a fantastic rider and a loving mom of three, she is also an equine vet! This weekend, Angie showed her mare Donastar in the Novice Child/Adult Jumpers and earned fantastic ribbons. Read on to learn about Angie's Quarter Horse roots and how she found her way into the Jumpers!
WEC: How did you get into riding?
Angie: My parents were in horses long before I was born, but they were Quarter Horses. So I started on the other side of things in the Western disciplines. I was that kid that someone was holding on a horse when I was six months old. I did the Leadline when I was three, but it was the Western Leadline, so I was completely on that side of things. My parents will back me up on this – I was the kid that had pictures of jumping horses on my walls when I was growing up and I would always ask my parents for a horse that would jump. They said, "Well, these are the horses that we have, so you have to wait until you can buy your own horses."
My parents stood two stallions – a father and a son. I always had the young horses. It was such a bummer sometimes because, right when you would break them and get them going, they would be be for sale. I hardly ever got to show anything that was over three or four. We did a lot of the Halter and Futurity babies. I did the All Around – the Pleasure, Horsemanship, Trail and even ran barrels for a couple of years. We had a horse that was bred to run barrels and he did get a little bit older. There was a woman at Black Hawk College that really believed in doing the Pleasure Futurity with her babies, then she would put some Reining moves on them, and then she would make them barrel horses. They were these super athletic, broke horses and I loved her approach. So, I sent that horse to her, then ran him in the barrels a couple of years.
My family still shows Quarter Horses. We all live right on a family compound, so we share a barn, and we have my Warmblood that's a Jumper, my middle daughter's pony that we're leasing, and all of the rest of them are Quarter Horses. So it's very much an East-meets-West in our barn, but for the most part everyone coexists fine. It definitely adds some dimension to everything.
There are very few disciplines that I haven't at least dabbled in, but the Jumpers are my absolute favorite. It's what I wanted to do from the time I was a little kid. I get to live the dream now.
WEC: When did you start jumping?
Angie: Finally when I turned eighteen and went to college I was able to ride on my IHSA team at Indiana University Purdue University Indianapolis and that's when I started jumping. I never got to jump until then. I started in the Equitation and then did the Hunters. I was able to do the Jumpers one year at vet school. I always wanted to Event because I started working the Kentucky 3 Day Event, so I got a horse that I Evented for a couple of years. That's when I started riding with Robert Mendoza because he will go around and help the Eventers with their stadium rounds, so that's how I've progressed into the Jumpers. Now, that's what I'm focusing on. With my three kids, vet practice and everything, it's hard to do Eventing because you have three disciplines that you have to keep up on. So I decided to just do the Jumpers right now.
WEC: Tell us a little about your vet practice.
Angie: My practice is Yates Equine Veterinary Services. I am a solo ambulatory Equine Practitioner. It's just me in the practice, but I have multiple licenses in different states (Indiana, Ohio, Kentucky, Florida). It's nice when we're showing or I'm grooming for Robert that, if something happens, I have licenses in all of the states that we show in. That way, no matter where we are, if somebody needs something, I always have my Vet truck with me.
WEC: Tell us about your horses.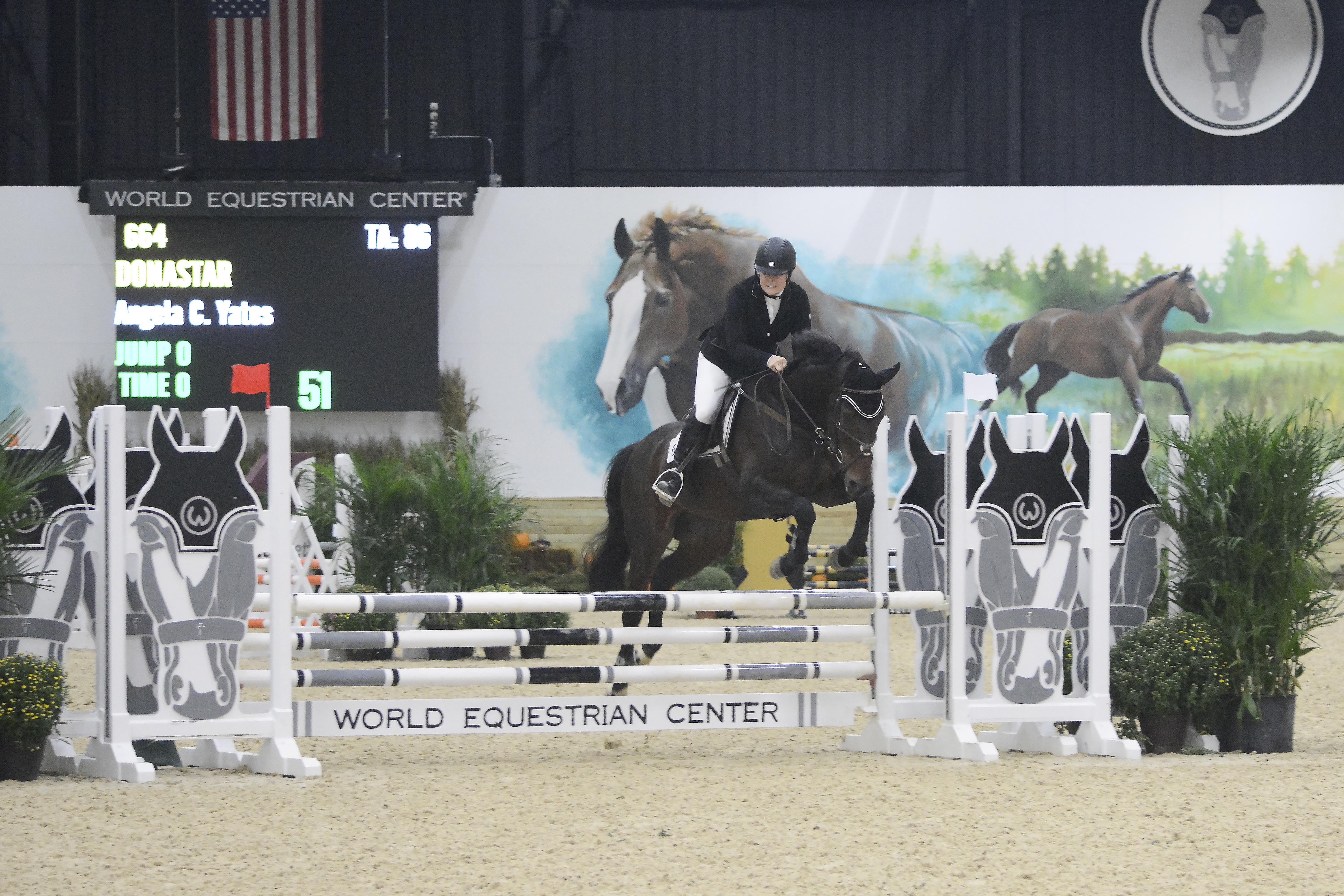 Angie: I have two right now. The one that I do in the Amateur classes, Donastar (Dona), came from Robert's dad Joe Forest in New Hampshire. She's a cool story, because she has multiple siblings, two of whom have done the Grand Prix. One of her brothers is owned by Lisa Goldman-Smolen and one Liz Atkins did in the Grand Prix. Mine is the youngest of the five siblings. My goal for her is the 1.10m like the High Child/Adult. She's really cool. She's very sweet. Robert showed her mother here as a twenty year old two years ago. Joe sent Dona out to Indiana in June of 2018, so she came out pretty green. She's eight, but she had never left the farm. We've spent the last year getting her to the point where I could show her.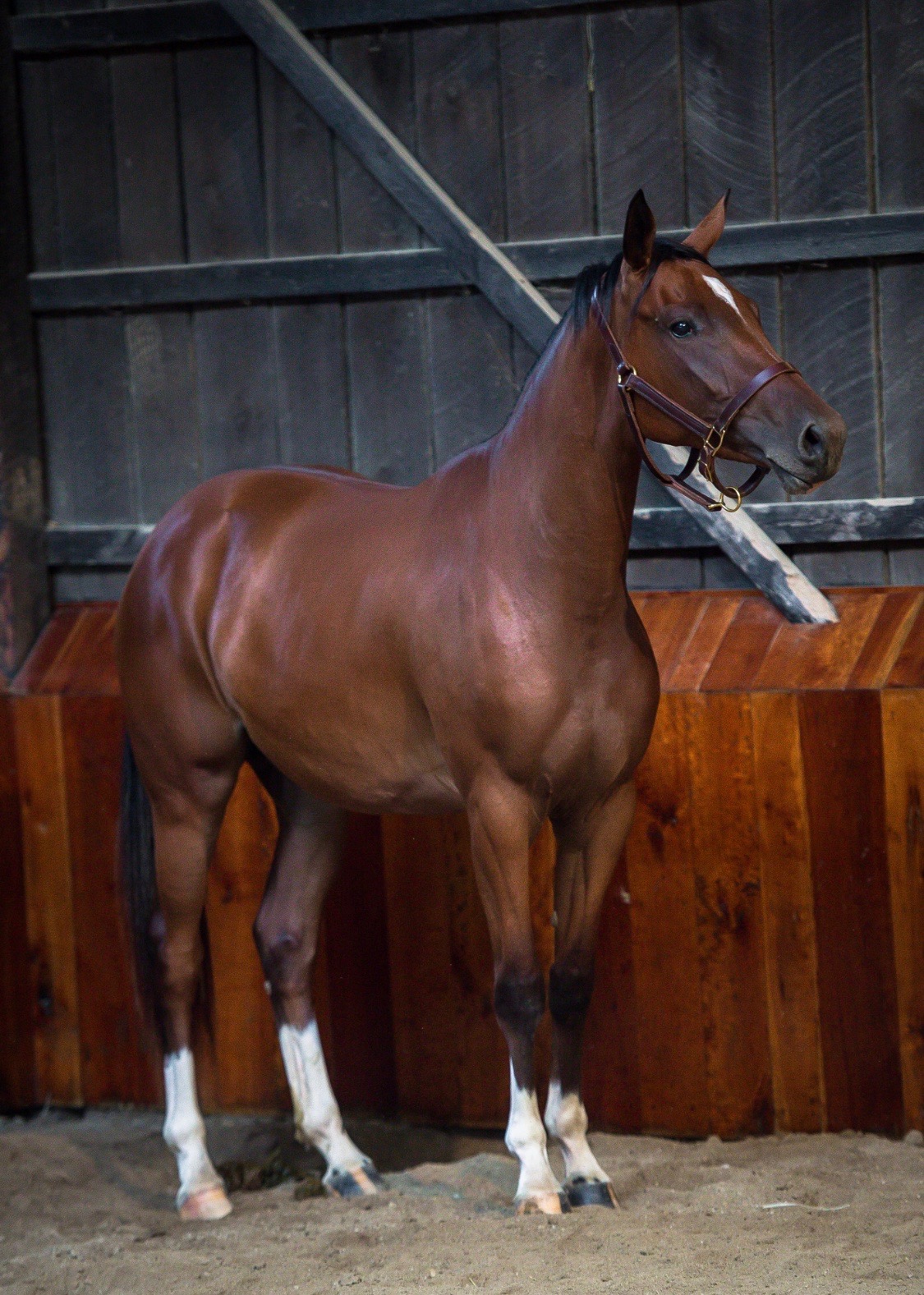 The second one is a three year old, Queen B. I just bought her this Summer. She's by Emerald and was bred by Allyn McCracken. We are really excited for that one because the Emerald babies are doing great in Europe right now. She actually has a full sister that's showing in Europe and doing the 1.30m right now. She's growing up. She lives at Robert and Kezie's house on Allyn's farm. She'll start her four year old training around February. Hopefully this show next year will be her first horse show.
WEC: Tell us about your daughter's pony.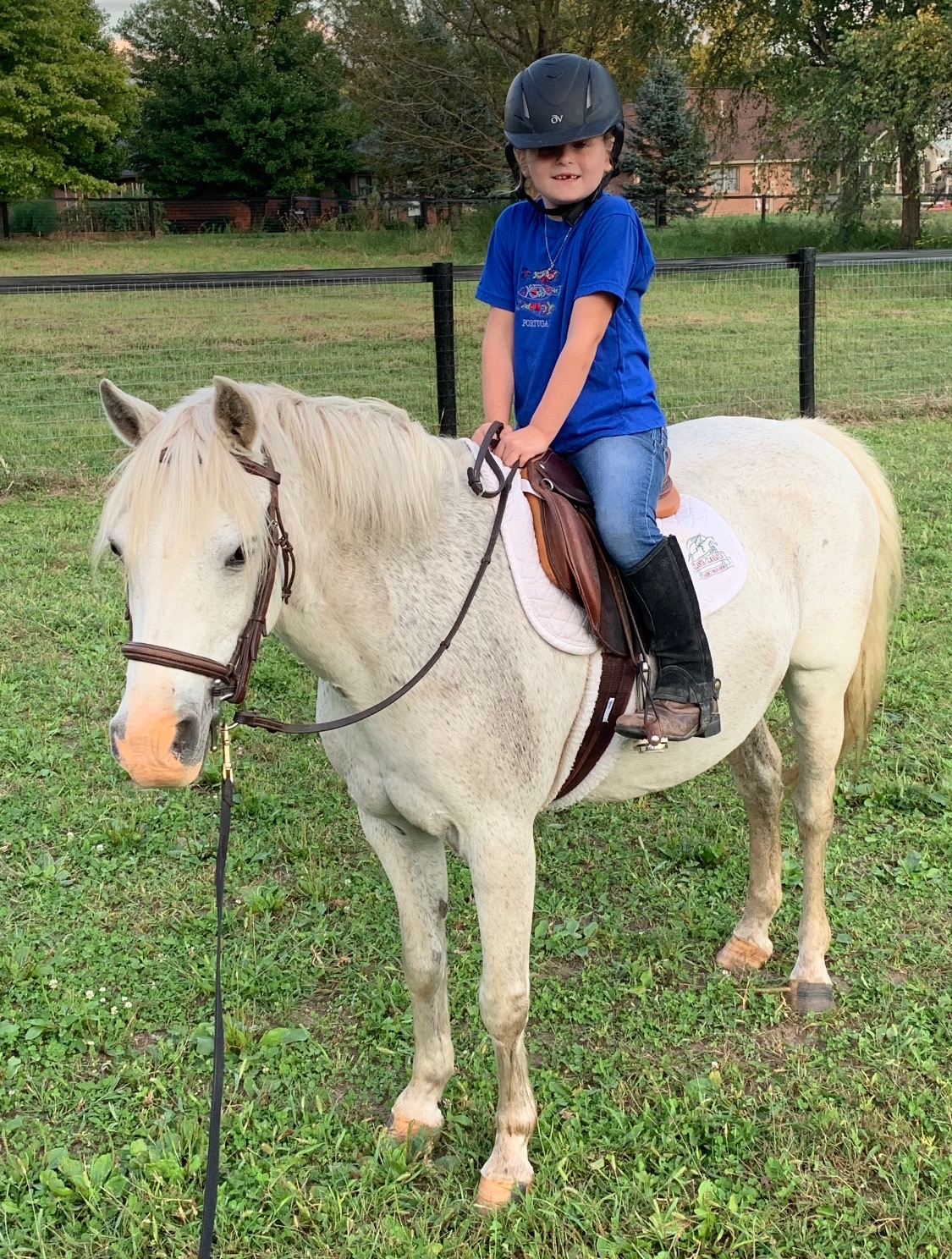 Angie: I have three girls who are 7, 5 and 1. The middle one, Tess, is the one that's horse crazy so far. I work for a lot of the people in Indianapolis that show here and one of my clients, Kathy Reinheimer, posted on my Facebook after I had shown my five year old riding Donna saying that she had a few ponies. I said, "Here's how it works in my house: I'm not in charge of this. Grandma's in change. So she has to approve whether or not we get a pony." Finally my daughter wore my Mom down and she said okay. Kathy let us lease this Small, Skylar, who is amazing. We are so grateful. She's the best little pony a five year old could ever ask for. She'll be here during WEC Fall Classic I.
WEC: Tell us about your future riding goals.
Angie: The short-term goal is to move Dona up to the Low Child/Adult. This was the first weekend that she's done the Novice and was great. For right now, it works the best if I can bring her over form Indianapolis on Tuesday so that she stays with Robert for the week and he does the professional classes on her. I come on Friday and she is really prepped and very calm. She likes her lunge in the morning, even though she's a Jumper, she likes to go play on the lunge line – even on Sunday.
For Queen B, we would love it if she was a 1.60m horse. All of us want a 1.60m horse. With her breeding, she should at least be able to do the 1.40m and be competitive in the Regional Grand Prix. The thing about the three year olds that's exciting and a little maddening is that you don't know what they're going to be like. She seems really good minded, but they haven't done enough to really know. Maybe she won't make a 1.50m-1.60m horse but she's got an amazing brain and maybe I do her in the Low Amateurs or the Mediums. I don't know if I'm brave enough to do the Highs. I feel like the sky's the limit for her right now.
WEC: Angie also told us the story of how she started riding with Robert.
Angie: I've known the Mendozas for eight years since they moved to Indiana. We met because I did Allyn's vet work. We knew eachother for three years before I started riding with him, and I've been riding with him for five years. A couple of Winters ago here when I was pregnant with my third daughter, I groomed for him all Winter. It was always kind of a joke because I'd be standing there cleaning tack and I was totally incognito and Robert would say to people, "That's my vet," and people would kind of laugh like, "That's not your vet, why is your vet grooming for you?" But, that really did happen. That was the first time I had really spent a lot of time at WEC, which was the 2017-2018 Winter. We were here last Winter and we'll be here this Winter. We really like to come over here.