This week's Sunday Spotlight shines on junior rider Averi Malec of Brighton, Michigan. Averi grew up watching her sister show, but, for the majority of her life, Averi's severe horse allergy prohibited her from pursuing her passion for horses. After years of allergy shots, Averi is chasing her dreams right into the Junior Hunters with her handsome Selle Français gelding, Enzo. This week, Averi took the time to tell us about her love for the sport, her goals for herself and Enzo and her gratitude for getting to finally ride horses.
WEC: How did you get into riding?
Averi: My mom rode when she was younger and my sister showed Quarter Horses. I would always try to go watch my sister show, but I couldn't stay for very long because I had a horse allergy. I couldn't stay in a building with horses for more then five minutes before I started having a severe allergy attack. When I was around nine or 10 years old, I started getting allergy shots to combat my allergies. It helped me so much and I started taking lessons at a local barn when I was 11 years old.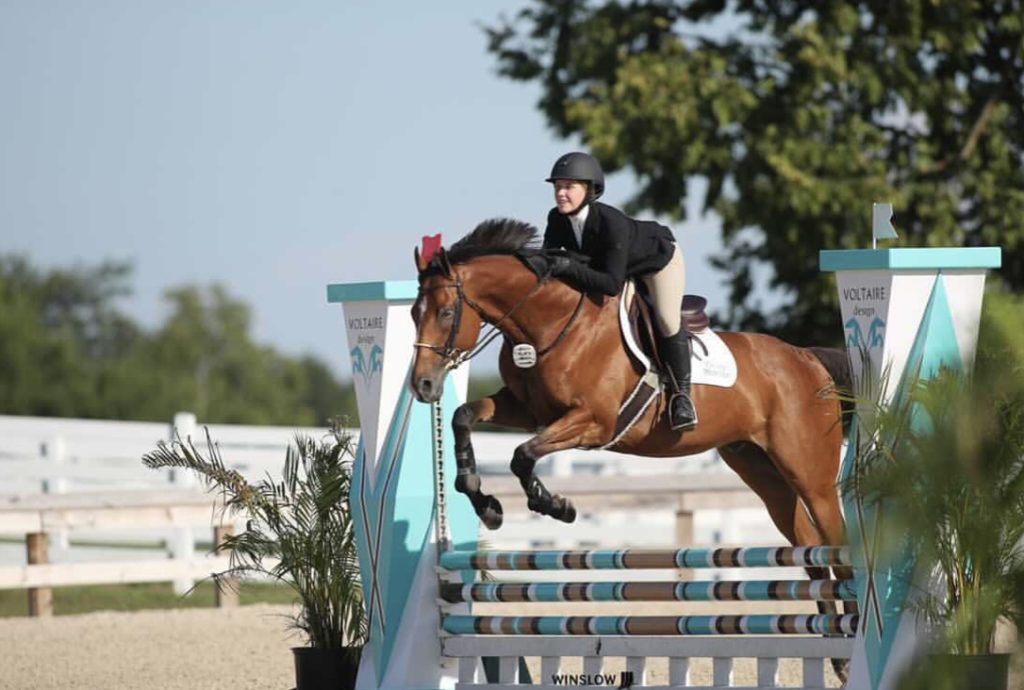 I had always wanted to do the hunter/jumpers. At the local barn I just rode once per week and did barrels. After riding for a few months, I convinced my mom to let me take lessons at a small hunter/jumper barn. After about two years of riding lesson horses and training with different trainers, I got my first horse, Pinckney Hill, or Pickles in the barn. Pickles is an OTTB and he is a really good boy. He's currently being leased out. We did the Novice and Intermediate Jumpers together and had great success in classes at World Equestrian Center. I also leased a hunter for a few months named Ben. Ben was one of the best horses I had ever ridden and he helped me a lot with my confidence as a rider.
WEC: Tell us about your current horse.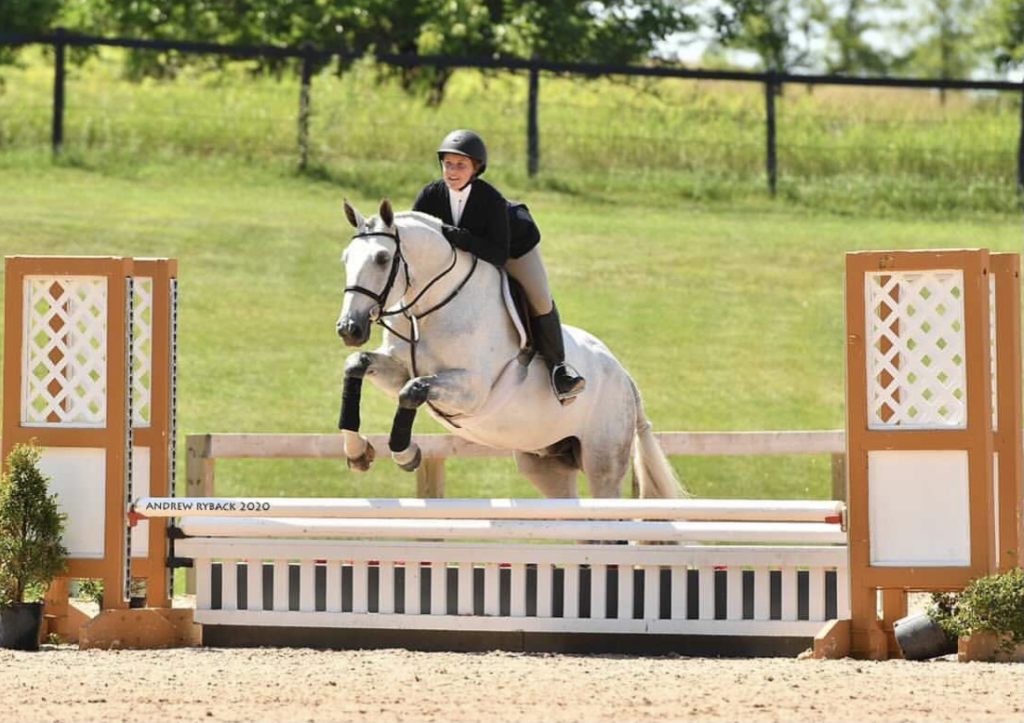 Averi: This past June, I had the opportunity to purchase En Plus Du Givre, or Enzo in the barn. He's a 6-year-old Selle Français. In the short time that I have owned him, he has been so tolerant of all of the things we have shown him like the equitation. We even dressed him up as a tiger for Halloween and I was Carole Baskin. He's a really special horse. He has a very calm, friendly and eager-to-please personality. I showed him once this past summer in the Low Children's Hunter and Equitation at GLEF, but, because of COVID, I was only able to show him at that show. I can't wait to start showing him again. Hopefully by the next show we'll be ready for the 3'3″ Junior's. Enzo is a very calm and friendly guy. He will do anything for me, basically. For a 6-year-old, he really is tolerant of everything. He has been so good to me.
WEC: What are your riding goals?
Averi: My biggest riding goal is to qualify for Junior Hunter Finals. I also hope to move up to the 3'6″ one day. I would like to compete in derbies someday, as well, and make it into a handy round.
WEC: Do you have any hobbies outside of riding?
Averi: When I'm not at the barn I love to surf and jet ski up north at our lake house. I also like to mountain bike with my family.
WEC: Has anyone inspired your riding?
Averi: My sister has definitely inspired me. She rode for a while and had a very successful show career. She is the main reason that I got into horses. She used to give me all of her ribbons and I would put them on my fake horses, since I couldn't be around real horses due to my allergies.
WEC: Tell us about your horse allergy. What does it mean to you to now be able to pursue your passion for horses?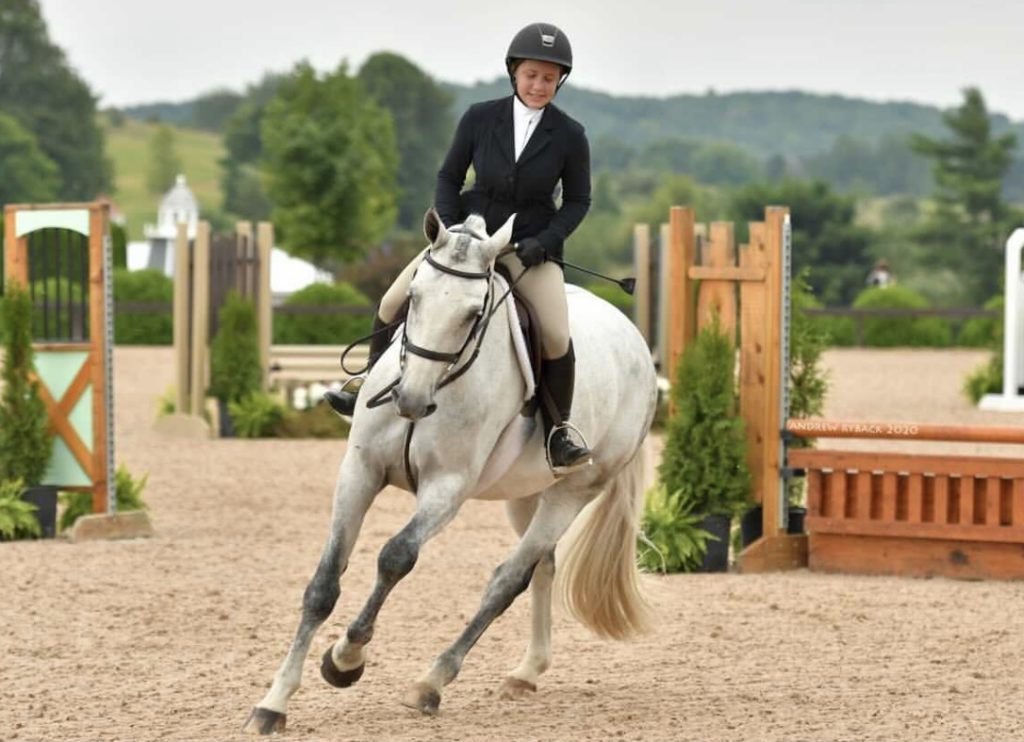 Averi: I still have allergies. Sometimes I will have to have someone help me groom because I'll start tearing up and sneezing. Allergy shots have helped a lot. I am so happy that I am able to ride, now. I have always wanted to ride and jump. I've had that dream since I was a child, so being able to fulfil that is really special.
We are so happy for you, Averi! We hope to see you and Enzo at WEC soon.