This week's Sunday Spotlight falls on Elyse Batista from Guelph, Ontario. Elyse is a young Amateur Jumper rider balancing pursuing a Master's Degree and achieving high goals she has set for herself and her lovely horse, Viva's Dolce W (Dolce). Elyse's experience aboard countless ponies from a young age has shaped the rider she is today, and she could not be more thankful for everything she has done in her riding career.
How did you get into riding?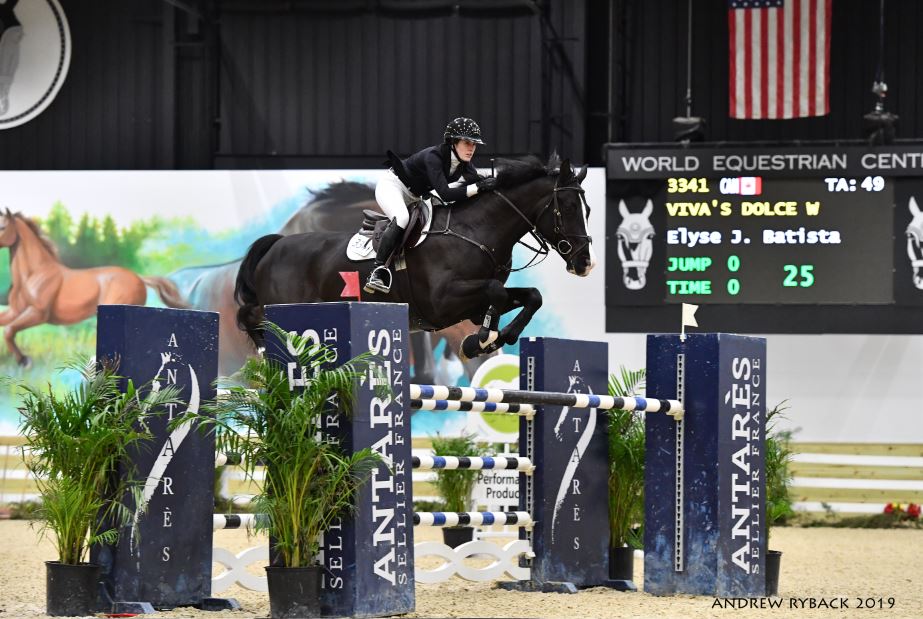 So, I started riding when I was three years old. I was that kid that used to go to the zoo and not want to see the exotic animals, I really just wanted to pet the horses. My mom rode a little bit when she was younger, so she got me into lessons really young. I actually started Western, then from there I got into English and got into showing and really loved the competitive side of it. I was super lucky that I was at a barn that promoted really good horsemanship. There were a lot of young kids there and I got a really good basis when I was younger. I moved around barns a little bit as a kid and I ended up at a barn that had really great Summer camps going on and a great lesson program and tons of kids my age. That barn actually hosted a lot of schooling shows, so I've been competing since I was five years old.
Tell us about your early years in riding.
I did a lot of ponies as a kid. I didn't get my own pony until I was ten and he was my first A Circuit pony named Reese's Pieces. He was spectacular. He did the Small Ponies on the A Circuit, Prince Philip Games, Cross Country, Dressage…he did everything. From there, we started narrowing down into what I was competing in, because I wanted to show and stay on the A Circuit and it was hard to maintain all of those different things that he was doing. So we ended up doing the A Circuit with him and he was great. He was absolutely the family pet.
I was really lucky that I got to ride such a diverse group of horses growing up. Dolce, my current horse, is my first and only Jumper. Before we got him, I did a lot of ponies for other people between the ages of twelve and eighteen, and I owe most of my riding to those six years. I would not be as capable as I am today if it weren't for all of the different opinions and input I received. I rode ponies until the very last day that I could. I got to ride for a bunch of different trainers growing up. I had a pony that I took to Kentucky one year that was spectacular, I had a pony that they let me take to Ocala one year…I was so lucky that I had these opportunities to take these ponies that I may have not run into had I had my own. So, as much as everybody wants to have their own growing up, I was lucky to be able to ride for tons of different people and I think it made me a way better rider.
Are there any ponies that stick out in your mind when you think back on those experiences?
One's name was Mr. Bojangles. He was one I got to take to Ocala the first time I ever went. He and I got along really well, we had a really good relationship. We had an incredible year, and he was quite young at the time so that was really great to see. One of the first small ponies I ever leased from someone was named Summit Lighthearted, and she arguably taught me how to ride. She taught me everything that I knew about the show circuit. I had a pony named Harvey that I rode that I got to take to Kentucky. He was such a fun ride. He was such a unique ride that once I finally figured him out, he was one of my favorites.
Tell us about Viva's Dolce W (Dolce).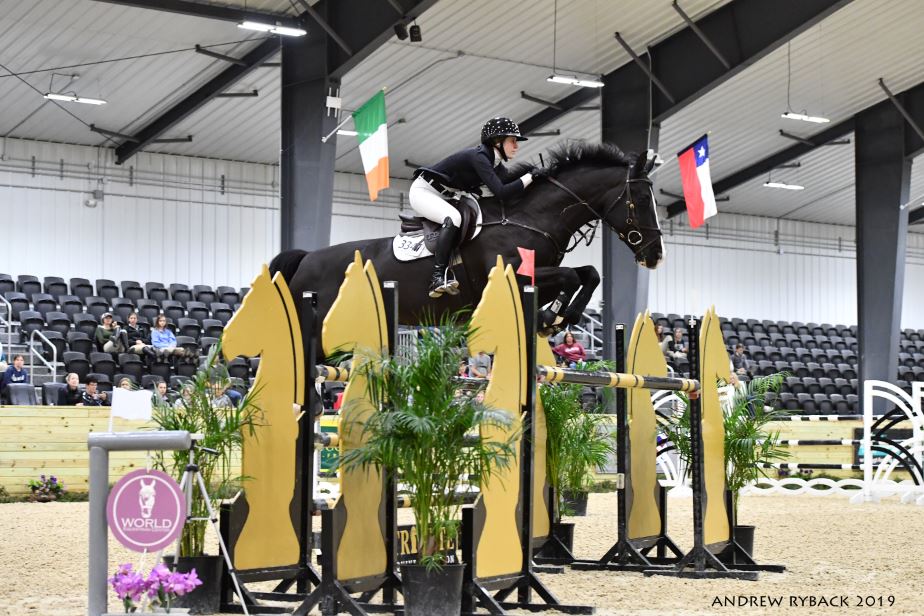 Dolce is turning nine this year. He's the first horse our family has ever owned. We bought him when he was three, so he is the one we've owned for the longest. We've done everything. I jumped my very first 0.80 m with him and we have jumped every single class at some point going up. He did the CT Medal in Canada at age five. He is one of those horses that never ever says no. He doesn't have bad days, he comes out and gives 125% every single day. So not only is he super talented, he's just such a great guy. He's got a personality to die for. He's so friendly. We take him for hand walks here at WEC and he stops at every dog he sees. He's absolutely the family pet. He's such an attention hog; he loves anybody petting him. He'll be standing ringside waiting to go in the Grand Prix and he'll just have people coming up and petting him. He loves it. That's his favorite part of his job. He's a lovely boy. I'm very lucky that he not only is great in the show ring, but he's great at home, too.
What made you decide to do the Jumpers?
When I rode my last pony when I was eighteen, I didn't really know where I wanted to go with this. So, I set my goals very high. I wanted to do the Under 25, which was a bit of a grandiose goal at the time, but we're actually getting to it now. He jumped his first Under 25 last year. So, I set this goal for myself and it was a bit of a lofty goal and we started looking for horses and we tried seventeen before we picked Dolce. He was not as impressive as he is now. We took it quite slow since he was only three and really focused on the good basics. He does a lot of ground work and a lot of flat work.
Tell us about your first Grand Prix you did last week.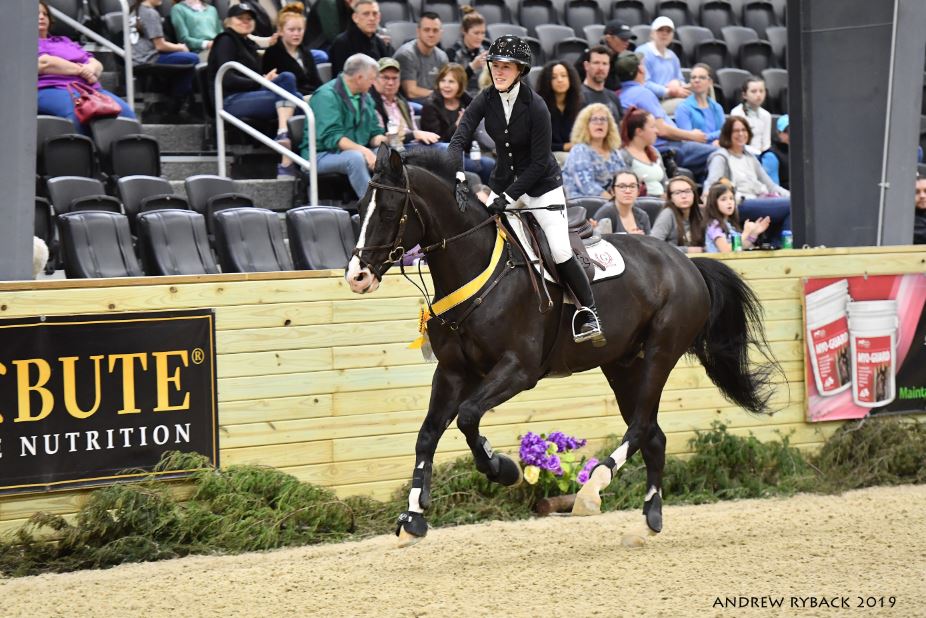 So, last Saturday was my first Grand Prix and I was third, so I was so proud of him. That was his first double clear 1.40 m class. He's one of those horses that steps up to the plate whenever you put him in the ring. He's really bold and brave and always tries his heart out. That was our first try at it, so I'm really excited to become a little more consistent at that height, because it took us a long time to get here.
Tell us about your future goals.
I would love to have him keep doing Grand Prix level stuff. I love that he's able to come to the States and compete as well. It's really beneficial that he can go to these new facilities and not have any issue. So going to a few different places and being consistent would be my goal.
I also start Grad School in the Fall for Civil Engineering, so I want to balance that and riding. The school I'm going to is really fantastic for that and my Mom and my coach work hard to make sure that Dolce and I are prepared. So I'm really excited to finally balance the level we're riding at while also going to school and being successful in both.
Elyse also added:
I'm very thankful for Dolce, we've been through everything together. When you get them that young, you always know that things aren't going to go perfectly the whole way through and we've had our setbacks, but it's really nice to be able to look back now that we're both older and see how far we've come. It's very rewarding. As hard as it was when he was a baby, we did it. We reached our goal.