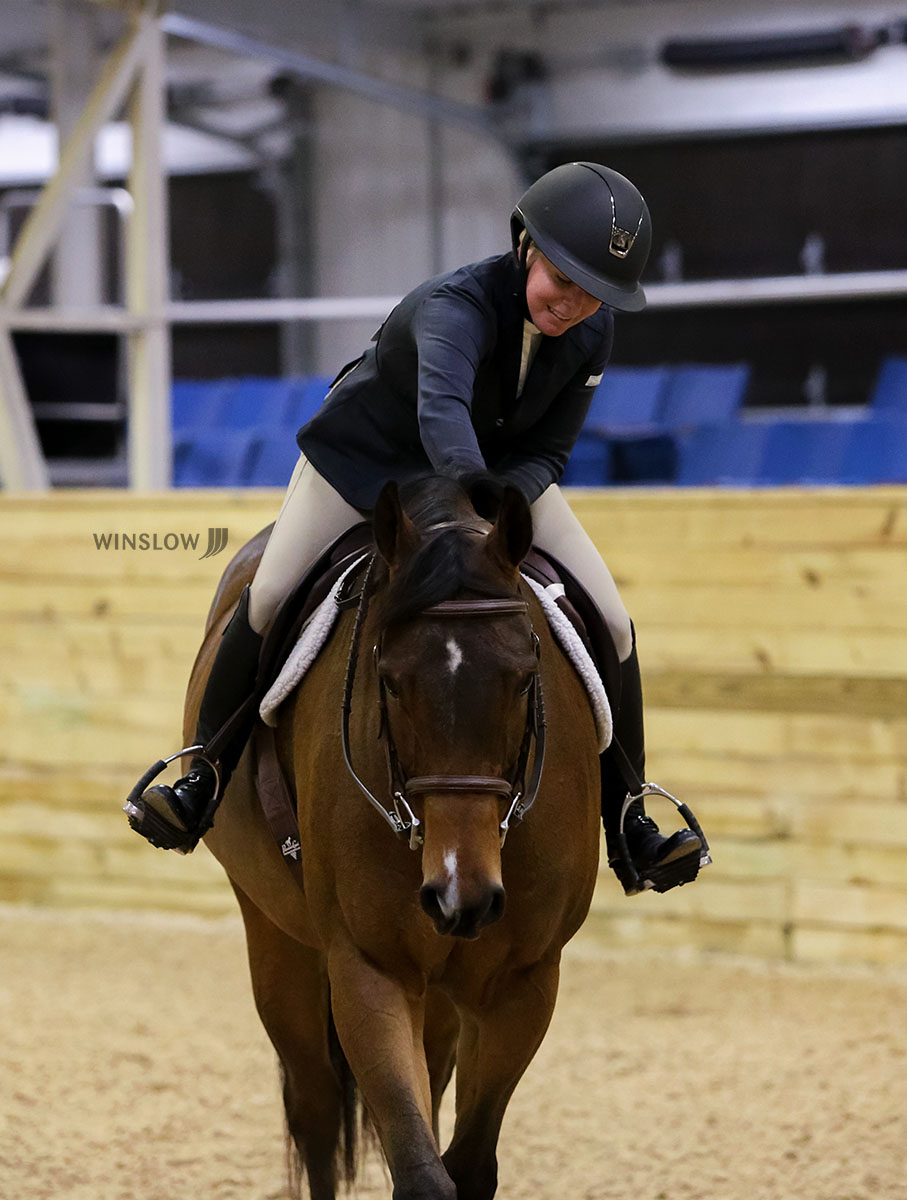 This week, a horse and rider made their return to the show ring at World Equestrian Center after a hiatus that included two years and near career-ending injuries for both. But amateur Emily Papa and her Larks Easy Escape had nothing but smiles in the Roberts Ring today as the two finished their division and proved that where there is hope, there is a way back.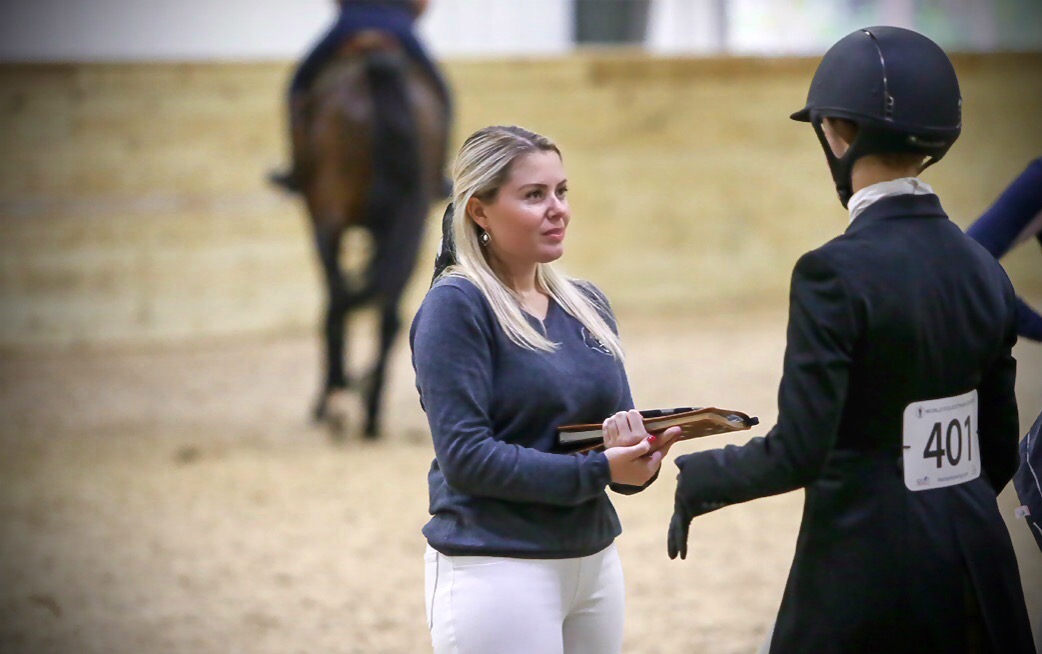 Emily is a Content Specialist at World Equestrian Center, which means she normally writes this blog, among other things. You'll often see her ringside, the petite blonde interviewing riders after winning rounds. But this week, as she made her return to the show ring, we turned the keyboard around to shine the Sunday Spotlight on Emily.
Emily grew up in Florida and started riding at age six. She rode Western and when she got into showing, she competed at local and open shows in the Western Pleasure division. "All of the older girls at the barn were doing hunters, so I transitioned into English and began showing in the hunters. I never did ponies, instead I got a horse called IBM Painted Lady, and from the time I was 10 to 15 years old, I did Open Hunter shows."
When she was ready to move up, Emily bought Regal Integrity, a flashy 16.3 chestnut mare whom she showed successfully on the Quarter Horse circuit. Emily describes Regal as "a very typical red headed mare – think Regina from Mean Girls – that was just her personality. We won Region 10 Finals in the Youth Equitation. We showed at Quarter Horse Congress in the Novice Youth and the Youth Hunters, Equitation Over Fences and the Hunter Hack. That was pretty cool. But in the end, we really had a bad personality clash – I wanted a horse I could love on and she wasn't having it. We just didn't get along."
In fact, things got so bad that in January 2015, that Emily set about finding a new horse. She was discouraged by her experiences with Regal, who had made her dislike riding and showing to the point of quitting.
"I was really at a point that I didn't want to show again – I was really not happy that we didn't work out. But then I met Oaklie, and he made me fall back in love with the sport and everything about it."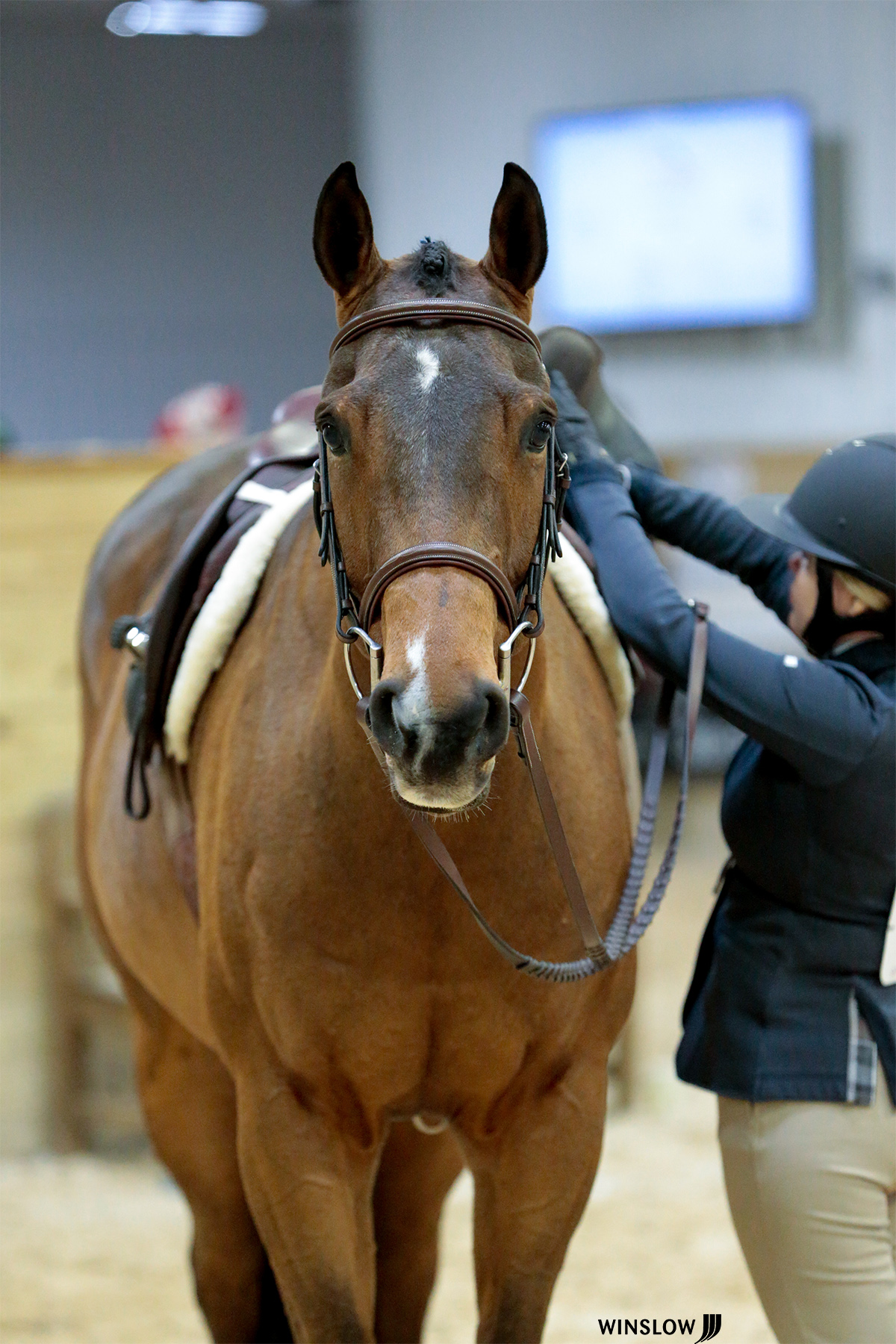 Emily describes their first meeting and knowing that he was the one. "I was in the market for something that had been there done that, something super broke. My best friend Hannah Bedwell had a young horse and he wasn't for sale quite yet, but she said she knew I was in the market, so she asked me to sit on him. He was four and she had wanted to keep him for another year and put some miles on him. When I went to see him he just spun the bracelet on my wrist for a half hour and I loved him right away. He's a goofy guy in the sense that he's not fancy and not ever going to win the hack, or even place under saddle, but he has such a good heart. I just kind of knew he was the one for me."
Even though she hadn't wanted a young horse, Oaklie never misbehaved. "Although he was young, he never thought of doing anything bad. Carole Wilson helped me with him from age five to eight and he wouldn't be who he is without her help. When I started showing again, Carole's niece Kiera Wilson took us to the A rated shows and helped me get around. We did Adult and Intermediate Hunters at shows in Tampa, at Fox Lea in Venice and HITS, Ocala. We got great ribbons, and were champion or reserve at those shows and I was just so happy and proud of him because these were very competitive divisions at 2'6".
He's always the underdog because he's not flashy and he's kind of little. We always have to gallop down the lines to get the numbers – but he has this sweet expression the whole way around. He enjoys himself and has fun. I think it is his personality – he's just such a happy boy and he loves his work".
In September 2016, Emily and Oaklie were schooling for a show when a missed distance turned into fall that broke Emily's back.
"We were really on our game then and it was my fault – he tried to save me. I put him in a bad spot and just slipped off and he really tried to save me. It was not a dramatic fall, but I ended up with compression fractures in my L2 vertebrae. So I found myself in the hospital and off for two months, before I could even get back on and ride, much less go to a show".
Then in early 2018 Emily landed her 'dream job' in the marketing department at the World Equestrian Center. This meant a move of more than 1,000 miles from Ft. Myers Florida to Wilmington, Ohio for both Emily and Oaklie.
Unfortunately, Oaklie was badly injured on his way from Florida to Ohio, sustaining a sesamoid fracture in his right hind ankle. Once he arrived in Ohio, he was diagnosed by Dr. Bryan McNabb of Lebanon Equine Clinic and underwent surgery in Lexington, Kentucky by Dr. Wes Sutter.
Still trying to settle in to her new job, Emily recalls the day she learned Oaklie had been injured. "I called my parents and said, 'Why did it have to be him. He has the kindest heart. Why does something that bad have to happen to that good of a soul. I wish it had been me that had gotten hurt instead of him.'"
After the surgery Oaklie returned to Ohio to recover, and was cared for at Kinsley Farm / Milestone Equestrian by Aubrey Sears and her team. Emily arranged for him to have a large 12×14 stall and his favorite treats – Sour Patch Kids (she buys them by the 5 lb. bag).
Emily was committed to seeing Oaklie through, not knowing what the future held for either of them.
"I wanted the best care for him and to give him the best life possible, not knowing if I could ever ride him again, much less jump or show. And I had no desire to ride any other horses, if I wasn't going to ride him, then I was done."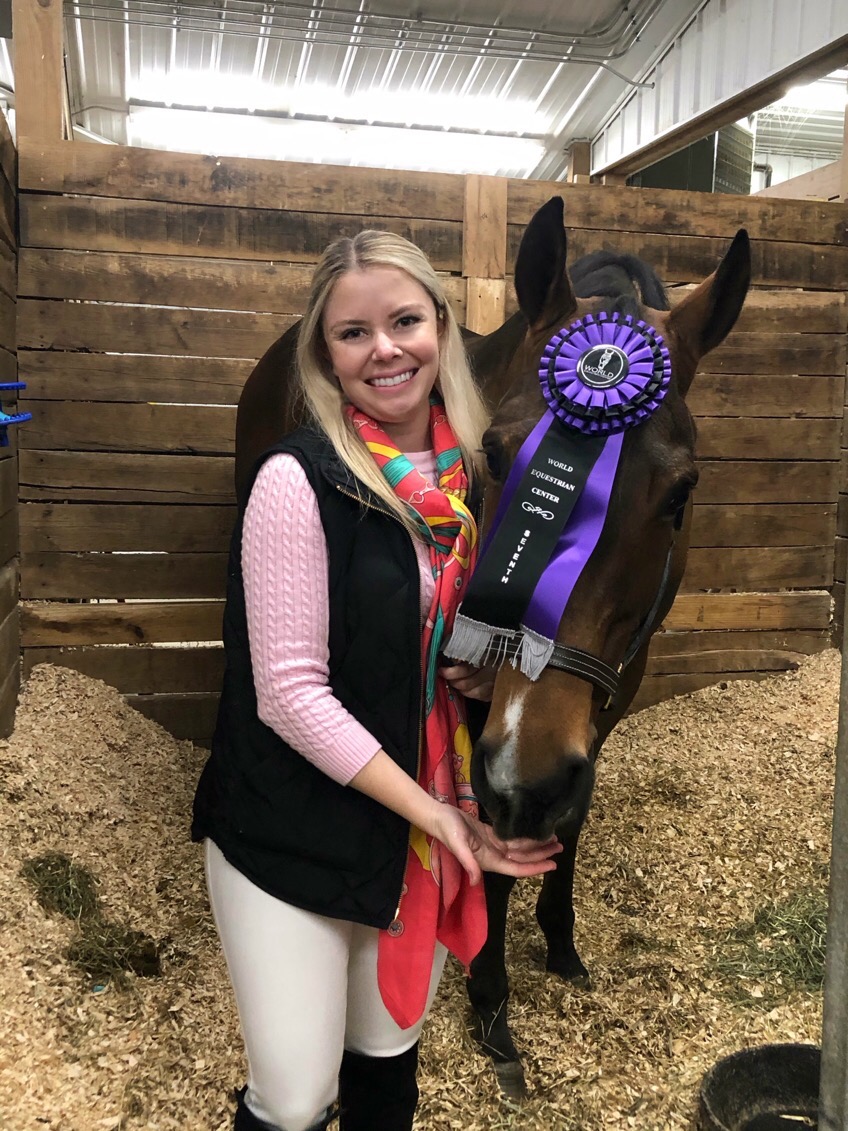 "If it wasn't for Aubrey and the entire team at Milestone, I'm not sure that he would have come back. They took insanely good care of him – they made sure he healed perfectly. He was wrapped and on the Theraplate. Whatever was needed, it was never a question – they did everything they could to ensure that he was comfortable after the surgery. Then he was being hand walked daily. He was a lot of work, the care after his surgery – his daily care was so much extra work and they never made me feel like it was problem."
"Oaklie got really depressed when he got hurt – and so did I. When I was in my darkest hours, and when I was so down about the situation Aubrey and her team were so positive and supportive. They were going about it like they were sure Oaklie would come back, even when I doubted it they gave me hope. It meant the world to both of us having that support system."
When the pair got back to work, first hand walking, then tack walking and finally trotting, Emily saw the depression lift and the Oaklie become his former self. "He was back to licking all the time and looking for his Sour Patch Kids. He was so happy again because he just really likes to work."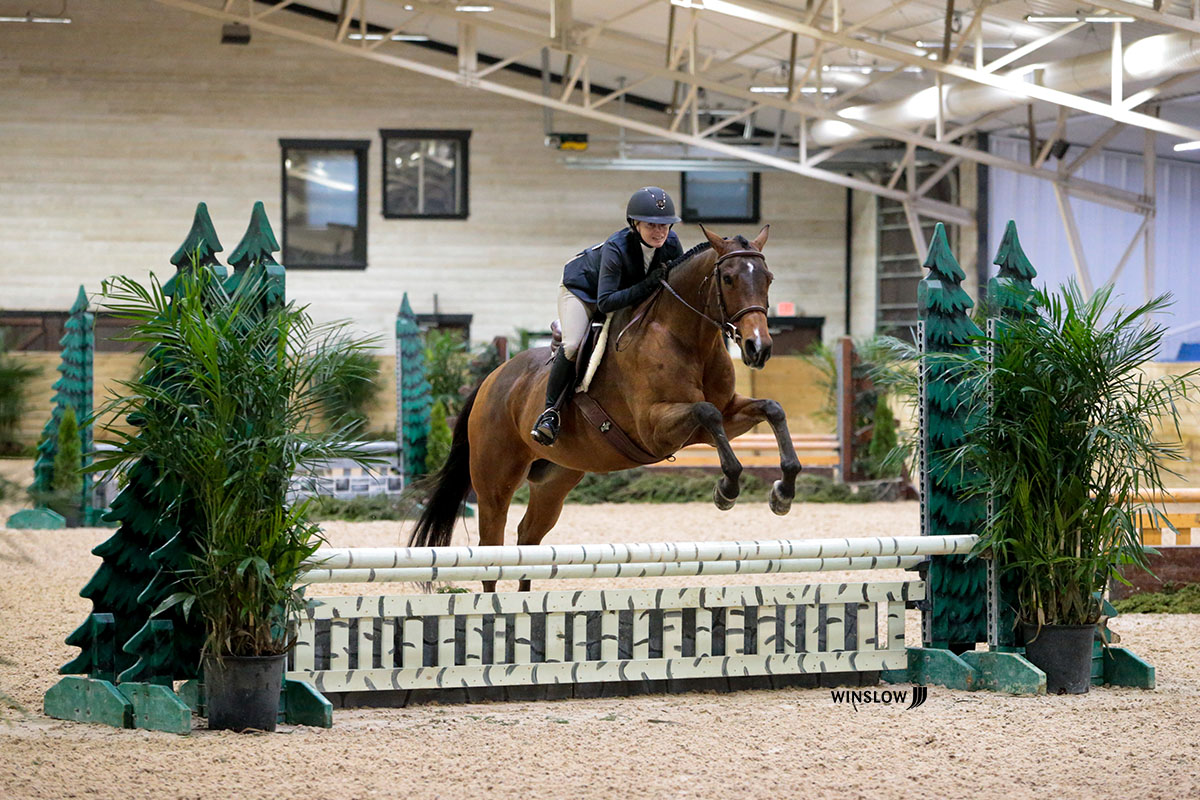 While Emily credits Aubrey and everyone at Kinsley Farm / Milestone Equestrian with the care and encouragement needed to get the pair back to the show ring this weekend, it is evident that Emily and Oaklie share such a deep bond, that no matter what happens, they will never give up on each other.
As we look toward 2020, we wish Emily and Oaklie health, happiness and many more shows at World Equestrian Center! (Oh, and lots of Sour Patch Kids to celebrate every round.)
Photos courtesy of Winslow Photography.