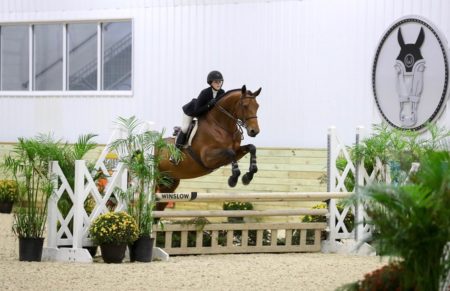 This week's Sunday Spotlight lands on junior Gabi Phlegar. Gabi rides at Sugar Run Farm in Plain City, Ohio, with trainer Jen Nadalin focusing on Equitation and jumpers. Though she has just started in the jumper ring, Gabi has already fallen in love, both with the discipline and her jumper lease, Fil. Gabi took time this week to chat with us about her pony career, a special pony that impacted her riding and her goals for the future.
WEC: How did you get into riding?
Gabi: In kindergarten I went to a riding camp for about two weeks, and I decided that I really liked riding and should continue riding and taking lessons.
WEC: Did you own or lease any horses or ponies during your early riding career?
Gabi: I was pretty small as a kid (I'm still only 5'2″), so I just recently stopped showing ponies. I had a couple of ponies while I was growing up. I started in the Medium division, then did the Greens and the Regulars. I developed a young one, and then I got a Large Green about two years ago. I did him in the Children's Ponies for a little bit and did his green year at Pony Finals. We leased him out this past winter.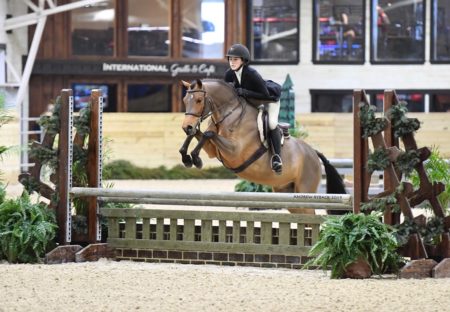 All of the ponies I rode impacted my riding career. I had a lot of green ones that helped me learn that not every day is going to be perfect, and you have to learn from your mistakes. One of the more memorable ponies that I rode was Kissed By The Bay (Skipper) my Large Green that I just leased out. His personality is just awesome, you can't get better than that. He's super snuggly and always wants to do his best.
WEC: What do you show in now?
I've decided to take riding more seriously and start showing on the circuit. Over the past two years I've become more serious about doing the Equitation and going to indoors. I saw a lot of other girls taking that route and they really liked it. I had a lot of friends that decided to ride at schools with division 1 equestrian teams, and we talked about how nice the sportsmanship was and all that you learn throughout it. There's a lot of responsibility that comes to play when you're working at that high of a level. I decided that was something that I wanted to look into as I grew older.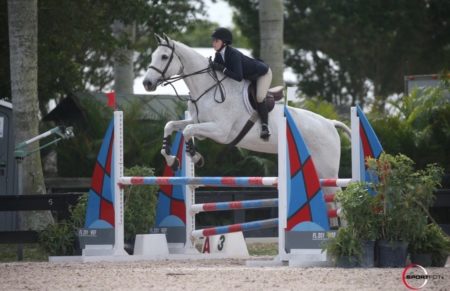 Right now I'm showing Fidalgo Van Het Leliehof (Fil) and Charleston. Fil is my jumper, and he was with Ashland in the winter. We decided to lease him when we leased out Skipper, since that made room for another horse. I decided to pick up on the jumpers and try something new. I ended up falling in love with it. I'm going to continue doing the jumpers. We moved up to the Highs after the third horse show that I went to, and we head up to Traverse City next week, so I'm excited to continue learning and growing on Fil. Charleston is the Equitation horse that I'm currently riding. I've done the Equitation for just over a year. He's awesome.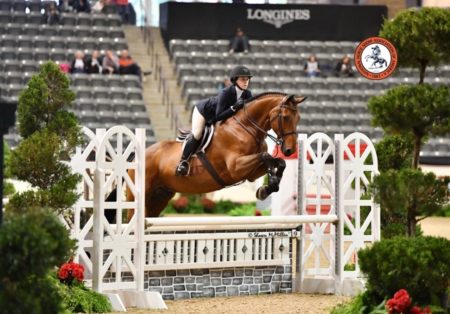 I also have Barradouz (Shoopy). He was the first horse that I moved up from the Children's Hunters on. I did the Equitation with him for the first time last year and he took me to Indoors last year. We still own him, but I'm not currently showing him.
WEC: Do you prefer the jumpers or the equitation, or like them equally?
Gabi: I didn't start doing the jumpers until more recently and I fell in love with it, but I would say that I like them pretty equally. They both teach you great things. I've realized that the jumpers really help you to make decisions faster and be more confident in yourself, which helps in all of the other rings. Since the equitation is very fundamental, it helps with other horses that I ride and helps with my overall position and knowing the basics.
WEC: Tell us about your horses' personalities.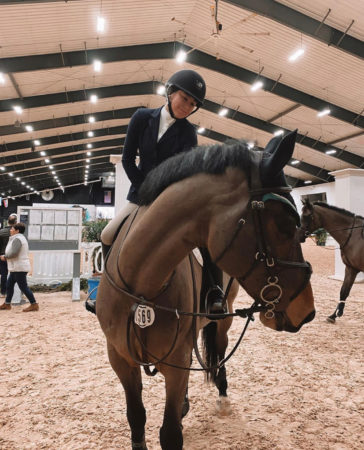 Gabi: They're both really great horses. Fil I would say is a little more snuggly than Charleston. Fil is always trying to do his best for you and he really wants to win, which is an awesome quality in a horse. Charleston is lazy, but I love him to death. He gets the job done. You can tell that he really likes what he does.
WEC: What grade are you in?
Gabi: I go to Upper Arlington High School where I'll be a Junior this year.
WEC: Have you thought about riding in college?
Gabi: It's something I've been looking into. I went to an Auburn camp this past fall and I was planning on going to other camps in the spring to see if that was something that I would be interested in. I'm hoping to do something with riding as I graduate high school, whether it be with my own horses, IHSA or division 1. I'm pretty open when it comes to schools. I'm still going to visit them. I'm really interested in Southern Methodist University and Texas Christian University.
WEC: Do you have any hobbies outside of riding?
Gabi: I've spent a lot of time this summer going on adventures and trying to stay pretty active. I like to spend time with friends and go to parks or the metro park. My family travels a lot, so I've always really liked traveling and seeing new places.
WEC: Where is your favorite place that you've traveled?
Gabi: My favorite place would probably be Japan. We went there two years ago. It was very different than any other place that I've been to. We got to visit family there, so that was awesome. The culture was really fascinating.
WEC: What are some of your riding goals?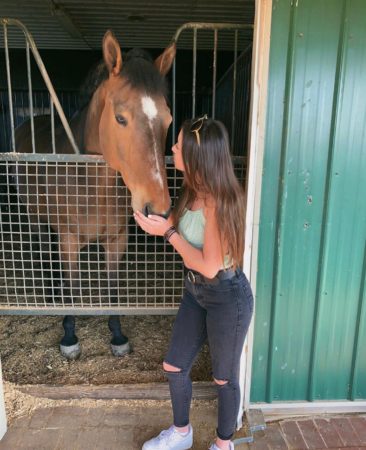 Gabi: I'm doing the Equitation right now, so I would like to be more consistent. I would like to have a consistent round at indoors this year. I qualified for Maclay Finals this year, so that's something I'm excited for. Last year I did the 3'3″ Medal, but this year I'm doing the 3'6″. With Fil, I would like to move up to the Highs and eventually qualify for the NAL and Washington. Then, in the next two years, I would like to move up to higher divisions with Fil.
Good luck ths summer and we can't wait to see you moving up in the jumpers at WEC, Gabi!