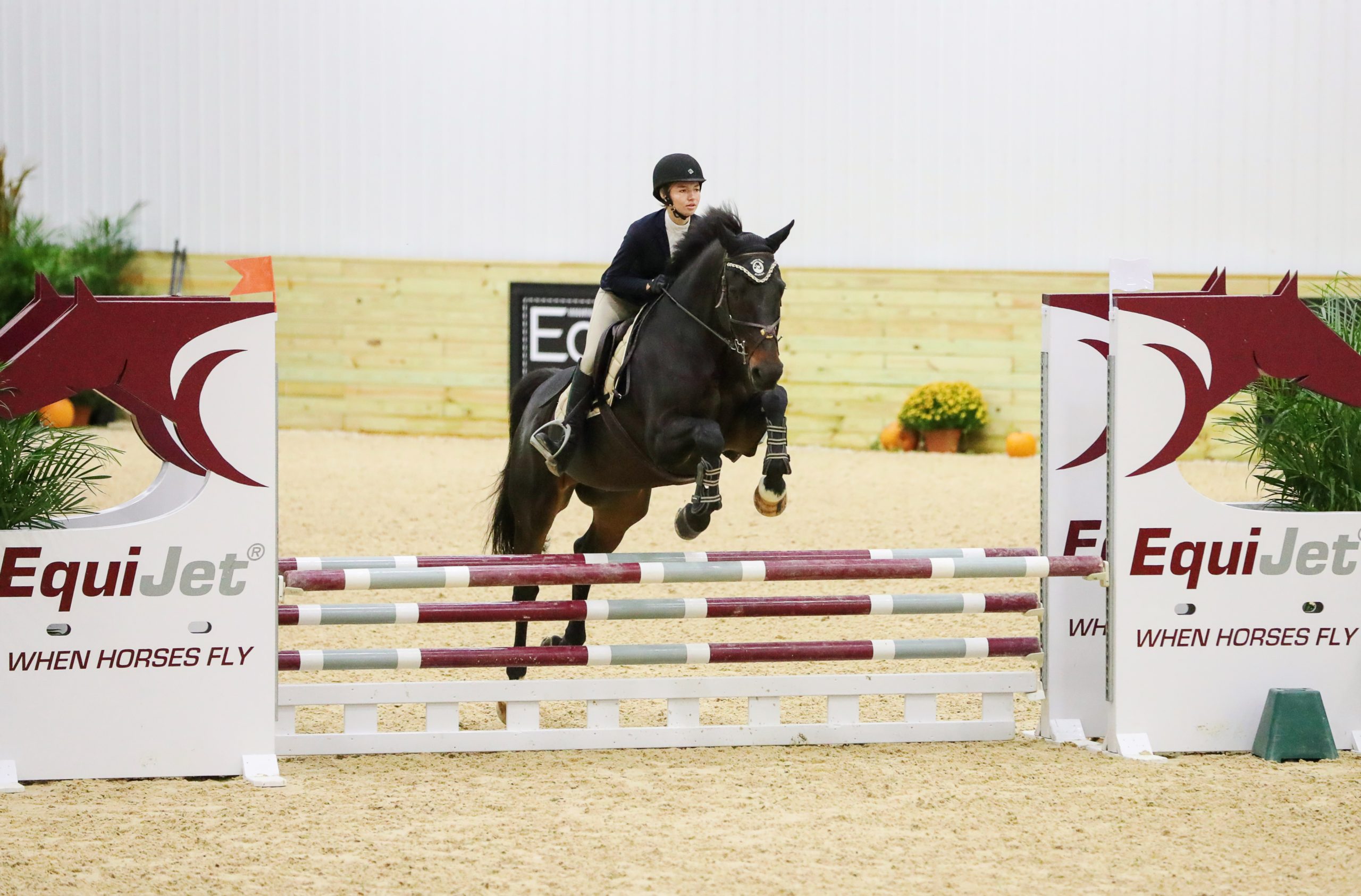 This week's Sunday Spotlight lands on Junior Isabella Kacachos. Isabella is an animal lover at heart and enjoys spending her time with her pets both in and out of the barn. Isabella rides at Honey Tree Stables in Oxford, Ohio, and is working to bring along her adorable young pinto Warmblood mare. Isabella took a few minutes to chat with us this week about her love of riding and her admirable riding goals.
WEC: How did you get into riding?
Isabella: When I was growing up, my mom put my sisters and me in a lot of different activities around our town, and it just so happened that there was a stable right down the street from where we lived. When I was seven years old, my mom asked me if I wanted to try horseback riding and signed me up for a lesson. I ended up loving it and started taking lessons regularly. The stable I started at, Honey Tree Stables, is the same stable I ride at to this day. I'm 16 now, so I've ridden there for a while.
I just rode lesson horses in the beginning while I was learning everything and having fun. Our barn did a few in-house shows, so I competed over Poles and Crossrails on some of the lesson horses.
WEC: Tell us about your first horse.
Isabella: We leased our first horse when I was 13. Her name was Zuri. She was the first horse that I took to a show outside of the barn. She took me from Crossrails to 2'6″ in less than a year. She was just amazing and I loved her. She was really sweet and was the best teacher. I have the most amazing memories with her, and I could do everything on her.
WEC: Tell us about the horses you have now.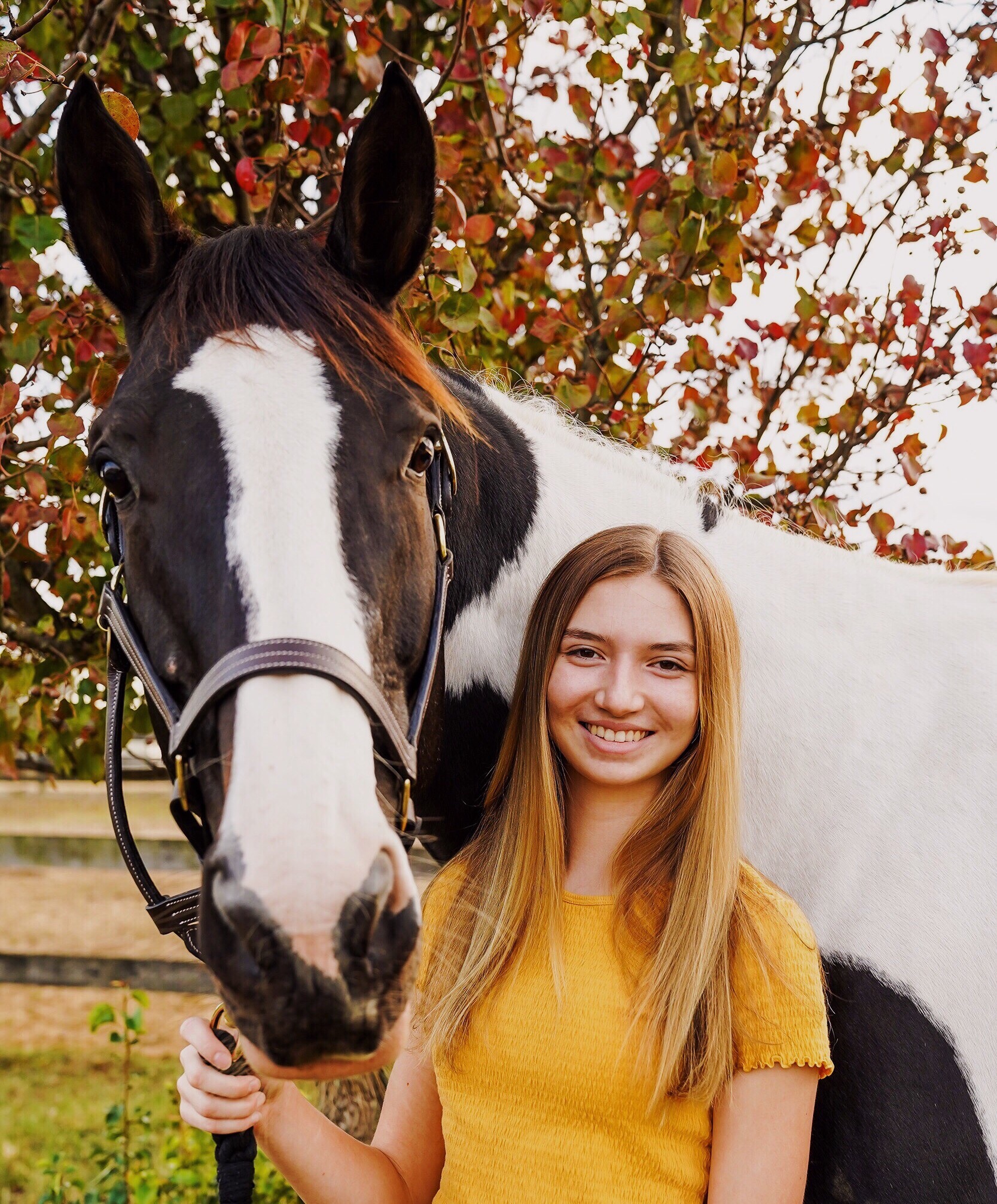 Isabella: I just got my first horse, Gracie, this past May. She's my dream horse. She's a young, 17 hand, pinto Warmblood mare. She's so funny and sweet. She's still a little green, so sometimes she can be a handful, but she's so much fun. I think she's really special and has a lot of potential. My trainer and I are currently working on some of the basics with her and doing some small crossrail and 2′ courses. I haven't shown her yet, but I'm hoping to this year. I'm really excited for the future with her.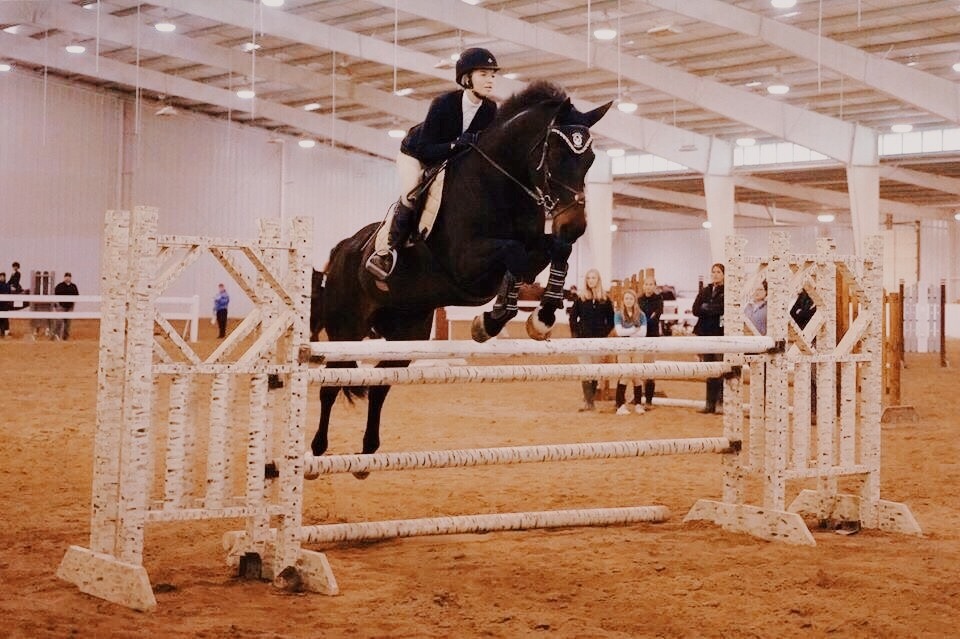 I also lease a horse named Cappy. He's been at Honey Tree Stables for a few years, but I just started riding him consistently this summer. We started showing in the 3′ Equitation, Derbies and Medals in September, and then started in the Novice Jumpers in October. He was the first horse that I've ever done the jumpers on. He's more of a jumper type, but he can also do the Equitation. The jumpers have always been something that I've really wanted to try and he was the perfect horse to try it on. I trust him a lot and he always gives it his all. He's such a fun ride.
WEC: How do you like the jumpers?
Isabella: I like it a lot. I really love both the hunters and the jumpers – they're so different and both so much fun. Both rings challenge me in different ways, which I really like.
WEC: Tell us a little about yourself.
Isabella: I'm a sophomore in high school. Outside of riding, I like running track. Last year, I did the 300m hurdles and the high jump, and that was really fun. I also like painting and drawing. I love spending time with all of my pets, too. I have two dogs named Bentley and Daisy and two cats named Lacey and Rosie.
WEC: What are some of your riding goals?
Isabella: For this year, I want to keep showing Cappy consistently and improve. I'd really like to start showing Gracie and moving up through the levels. I want to keep riding for the rest of my life. I would love to be a trainer or a professional and do Grands Prix one day. I also think that breeding horses would be really fun to do some day.
Isabella also added a personal note:
I would like to thank my family for always supporting me, and my trainer for helping me make my dreams come true. I'd also like to thank all of my friends for always being there for me. I feel so lucky for all of the opportunities I've had.
We wish you luck as you move forward in your riding career, Isabella, and we can't wait to see you in the show ring with both Cappy and Gracie!