This week's Sunday Spotlight features seventeen year old Junior rider Josephine (Joey) Rose. Joey has been riding for the majority of her life, and has a list of accomplishments that any rider would be extremely proud of. Joey's ambition and talent drive her to succeed in both horses and education, with her goals aimed toward a Business degree and going pro in the next few years. We would also like to wish Joey a happy early birthday, as she turns eighteen next Sunday!
How did you get into riding?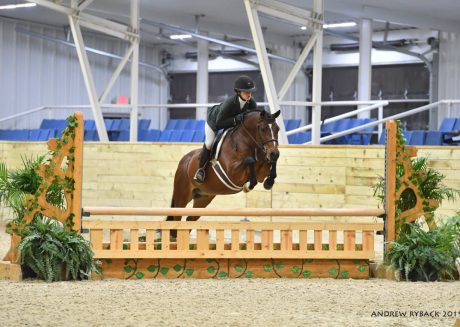 I would always drive past horses on the side of the rode and say, "Dad…HORSES! I want to ride!" He thought I would be better at soccer, basketball or tennis, but I was sure that I wanted to ride. He kept saying no, but that only made me want to do it more. I had done a few riding Summer camps and stuff since I was about five or six years old and my older sister dabbled in riding, but I didn't start actually riding until I was seven or eight. Jennifer Edwards' son was in my older sister's class, so that's how we got connected with her. She's still my trainer today. My dad finally gave in and one day said, "I got you a pony!" My pony's name was Lacey. She was kind of a brat…but she was my brat so it was okay! She was a cute little roan pony that I did in the Crossrails. It was great because she was mine. It didn't matter that she was a brat because I loved her.
Tell us about the horses and ponies you have now.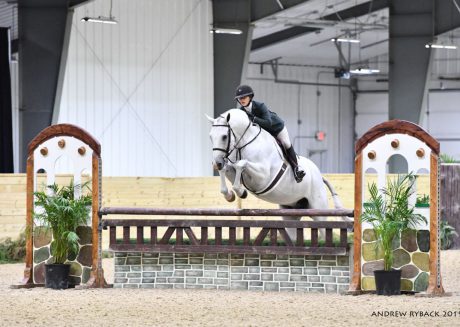 I'm moving up into the horses. It's my last Junior year, but I have both horses and ponies. Right now I own five and lease one. We sold Lacey and we leased consistently up until I got a pony named His Way, or Winnie, who I still have today and I do in the Large Ponies. I've had him for about five years. He just turned twelve. He's a German Riding Pony. He's my pride and joy because I just love him so much. When I had Lacey, she was my pony, but Winnie was the first one that I really showed a lot and went to big shows with. We went to Pony Finals, Indoors…all of that. So he always has a special place in my heart. He's a saint, he'll do anything for you.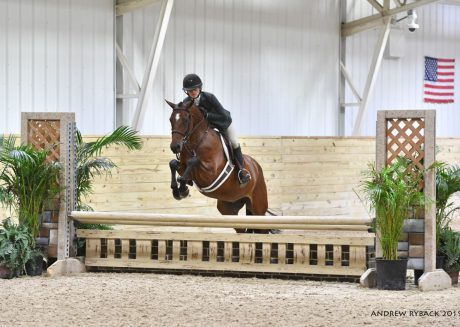 I also do the Large Ponies on Cacique, or Zeek. He is a freak of nature. He moves a ten, jumps a ten, models a ten…he's a star. I've had him for about three years, since he was about six or seven. When we first got him, he was scared of everything. Now he'll jump from anywhere, he's really good. I also have Cracker Jack, or Murphy. He does the Small Juniors. I've done Indoors with him. He's twelve years old. We've had him since Devon last year. We got him right after Devon. He's really good…they're all so good! I have Cassino, too, who was my first horse-sized horse. I just had ponies before him. He's a dream for a first horse. He's exactly what you would want for a first horse. He's so good. I moved up from the 2'6″ to the 3'6″ in under a year on him. I was Champion on him at Capital Challenge. He's great! I have Neverland, or Cappy, who I do the Large Greens on. He's only four going on five. He's really young, but he's coming together really nicely. I like to take the green ones and put them together. I have Grandis Van T Heike, or Grandis, who I just got on Christmas. I do the Children's Jumpers on him. We took him to the WEF in Wellington, Florida and everything, and he was so good.
Tell us about some memorable show experiences you've had.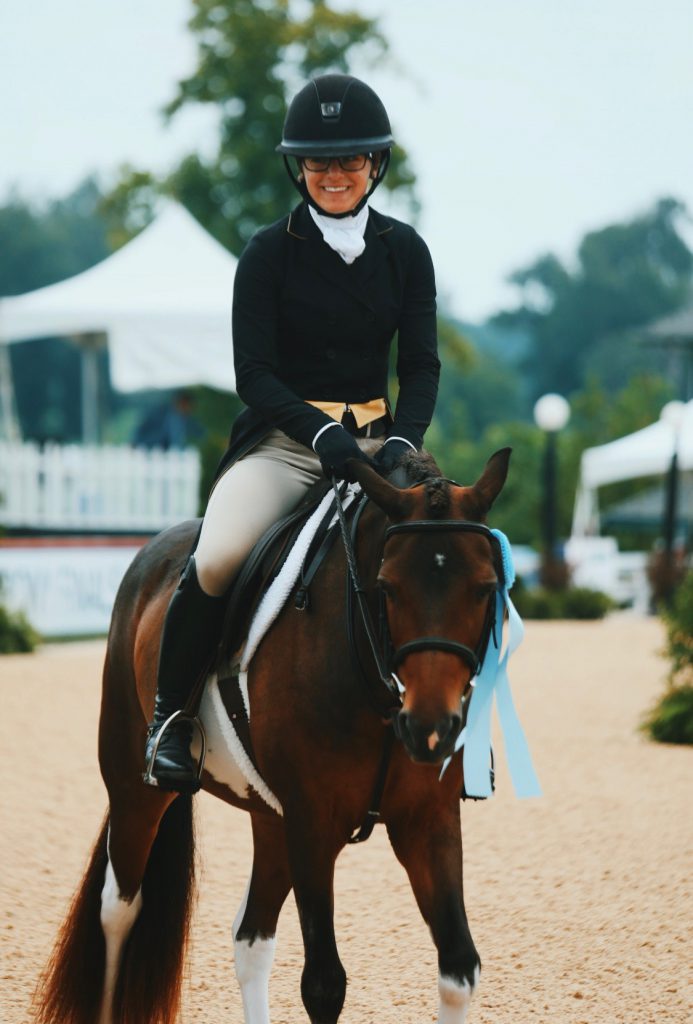 Pony Finals is always a lot of fun every year. This year, I ended up top twenty with all three ponies that I rode. I took a little pony named Galloway Joe, or Joe, who was actually from Craigslist. When my trainer got him, he was skin and bones. He ended up fifteenth overall and was tenth over fences. He ended up Horse of the Year. He's a dreamboat. I love him so much. He's my child. He's still at the barn and he'll be at WEC next week with a little girl doing the Children's Ponies. He's the cutest little paint. I love paints. If it's a paint, it's mine. Pony Finals was a big accomplishment with him. This year was great. I also ended up Champion at Harrisburg this year on Winnie, so that was really exciting, and I ended up Horse of the Year on Zeek.
What made you start doing the Jumpers?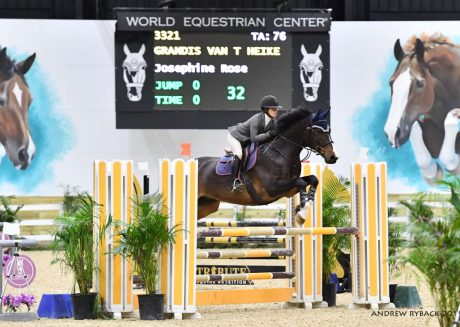 It was something new and exciting. Grandis is so good, he usually goes clear. He was Champion at WEF. It took us a long time to find the right one, but we found him and I feel like I can do anything on him. He's one of those horses. I had done the Hunters for so long and I wanted something new. I'm also trying to slowly move out of the ponies so that, when December comes, it's not a sudden move. It's been a lot of fun.
What are your future riding goals?
My main goal is consistency. Also, I love taking the green ones and making them into something so I think I'm going to continue doing that in the future. I just committed to the University of South Carolina's Equestrian Team, so I'm going to go there for four years and then I really want to go pro. I do want to get my Business degree first. So my plan right now is to do that and go pro!
Photos courtesy of Andrew Ryback Photography.