This week's Sunday Spotlight lands on Keely O'Hara, an Amateur Jumper rider with plenty of talent and a deep love for equestrian sport and her horses. Keely has been riding for as long as she can remember, with her family's roots planted deep in the horse industry. "My Mom owns a farm," Keely explains, "She's a third generation horsewoman, so I think it is just kind of in us to ride horses."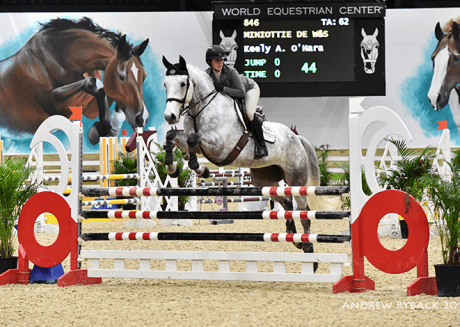 Keely keeps her horses at her Mom's farm, Evergreen Stables, in Cazenovia, New York, and rides, travels and shows alongside Kevin McCarthy, another impressive Amateur Jumper rider. The pair showed at World Equestrian Center's WEC Winter Classic #4 this week, both taking home blue ribbons in their respective divisions. Though she thoroughly enjoys riding as an Amateur, that was not always Keely's plan. She explains, "Originally I actually wanted to go to school to be a teacher, but then I decided I didn't really want to be in a classroom all of the time. So I went Professional and worked for my Mom for quite a while. Then, about two years ago, it came to a point where it wasn't as fun as it used to be. I enjoy riding, and I was like, 'You know what I'm too young to not enjoy it!'"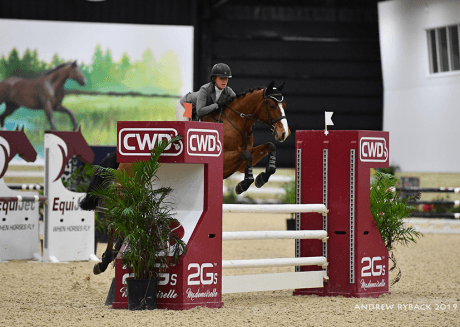 This launched Keely's Amateur Jumper career. She began showing as an Amateur, and realized that she enjoyed that much more than being a professional. "It's nice because I could enjoy the sport without having to rely on clients to go to the horse shows," says Keely.
With her status change in the horse show world came a career change as well. Together Keely and Kevin opened up McCarthy's Pub in Cazenovia, New York. According to their website, "Our family-oriented, traditional establishment offers the best Irish comfort food and hospitality in Central New York. We are the sister pub of the renowned McCarthy's Pub that was founded in County Tipperary, Ireland in 1976. Our family originally came to the Cazenovia, New York, area to buy, sell, and train horses, but we ended up falling in love with the local people and decided to stay. The McCarthys have been working with horses and running pubs for generations, and we have three different generations working together to run our establishment. Our food is inspired by many hearty, traditional Irish favorites, and we have a first-class chef in our kitchen to make them for you. All of our produce and meat are sourced locally in Madison County, New York. We even have Irish bartenders who are ready to serve your favorite Irish whiskeys and beers."
With opening up the Pub, Keely is able to travel and show with Kevin. Keely explained that she has two three-year-old horses at home, as well as a great five-year-old, but they are not ready to show in the Amateur classes yet. So, for now, Keely is leasing and showing two horses from Kevin's good friend Maarten Huygens, Miniottie De W&S (Quincy x Chottie W) and Ali Baba De La Pomme (Tinkas Boy).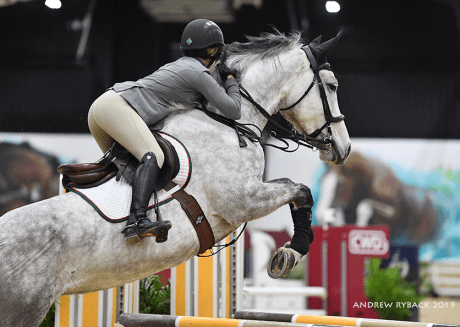 Both Miniottie De W&S and Ali Baba De La Pomme have lovely personalities, according to Keely. "Mini is like a tomboy, she's not very mare-ish. She is quiet and super sweet. She's an in-your-pocket type," Keely explains, "Ali Baba should have been a large pony with his personality. He's an in-your-pocket type as well. He is hysterical, he's an absolute doll."
Keely brought both Miniottie De W&S and Ali Baba De La Pomme to WEC Winter Classic #4 this week, and says they were both fantastic. "They're both super fun in the ring. She is like a semi truck in the ring, and he is like a sports car, but they're both fast and super competitive," says Keely. She had great successes this week with both horses, with a third place finish on Ali Baba De La Pomme in the $200 Adult Amateur Jumper 1.10m on Saturday, and a first place finish on Miniottie De W&S in the $1500 NAL/WIHS Adult Amateur Jumper Classic 1.10 today as well as a second place finish in the $200 Adult Amateur Jumper 1.10m on Friday. To top it off, Keely and Miniottie De W&S were Champions in the Adult Amateur Jumpers this weekend.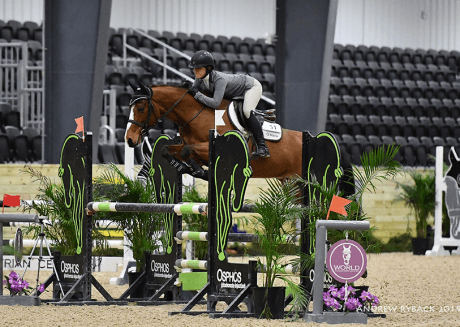 When asked about her rides this week, Keely said, "Mini was phenomenal today. She jumped her heart out. She was a little fresh, like she knew it was classic day. In the schooling ring she was super playful, then in the ring she jumped phenomenal. It was a pretty fast class, honestly, I didn't think we would win. But she was really good. There was like two other clears with good times. She was fantastic all week. Ali Baba showed on Saturday and he was fantastic. He was actually third in his class, he jumped great."
Both Keely and Kevin will be returning to World Equestrian Center for more Winter Series of the Midwest shows, so keep your eye out for these awesome Amateurs in the show ring!
Photos courtesy of Andrew Ryback Photography.