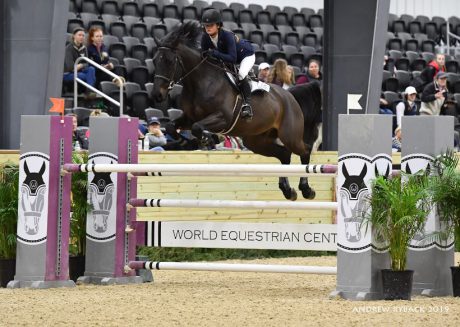 This week's Sunday Spotlight focuses on up and coming nineteen year old Amateur rider Logan Taylor. Logan is a passionate Jumper rider making a name for herself in the show ring through her own hard work and dedication to the sport. Logan rides with David Beisel at David Beisel Stables in Goshen, Ohio, and says she spends most of her days at the barn working with her three horses, Five Star (Oh Star [Olympic Star] x Pina Colada) , First Finch (Amadeus x Silvia) and With A Little Help Sir (Sir Shutterfly x Hauptstutbuch Lissy).
How did you get into riding?
I started riding with Karen Reid when I was five years old because my Mom had started working with her husband, and my Mom had ridden Western and done trails, so she decided she wanted to get back into riding and try out Hunter / Jumpers. Then she started bringing me to the barn. She started showing in the 2'6″-3′ Hunters, and I would tag along and take lessons and do Pony Camp. I started out doing ponies, mainly the Pony Jumpers. All of the fun stuff. It was more of a hobby until I came to David Beisel's barn when I was thirteen years old. It was the Summer going into High School. I started going to all of the A-rated shows with David and setting jumps for him, and I got super into it. It made me realize that that was what I wanted to be doing.
Did you always do the Jumpers?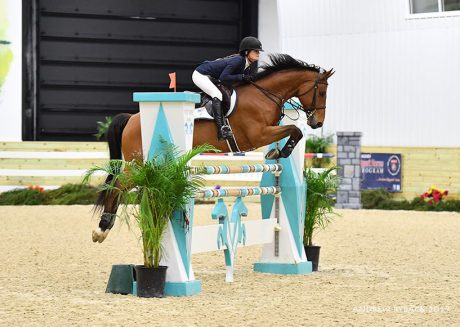 I did Pony Hunters, and I was the same height I am now, which is tall, so I didn't do too well in it. It was not my realm of excellence. I started doing the Jumpers and found that it suited me a lot better. I showed a Hunter in the 2′ division a few weeks ago, but it's not really my thing. Actually, this week, we took my Mom's seven year old Hunter and I started doing him in the Jumpers. I jumped him 1.30 m earlier this week, so I might have another little prospect on the way!
Tell us about the horses you had growing up.
We bought my pony Hotshot. We actually still have him, he's at a barn being a lesson pony. He was super hot…he fit his name well. My first show on him in the Walk Trot division, he decided he wanted to canter. I didn't ride him for years after that and we ended up getting a cute little Medium Palomino Pony that kind of showed me the ropes in the 2′. I moved up to the 2'6″ on her, then I started doing Hotshot in the 2'6″ Jumpers in the local circuits. I've actually been showing at World Equestrian Center since I was nine years old, and I'm nineteen now, so it's been really cool to see the place develop.
We tried to make Hotshot a Pony Jumper, but I think that the level of scope and bravery required for the big spreads put him in a little over his head, and he was stopping, so we got my first horse, whose name was Nickle. I only had him for two months and I only got to do one show on him before all of the cartilage in his fetlock had deteriorated and he was lame. I was told that we we were going to have to put my first horse down. We sent him to Pennsylvania to do this experimental surgery where they fused the bones together, so we ended up not having to put him down. I still have him. I can not see him for a year and a half, show up and hop on his back and canter around. He's such a champ. It was really hard when he broke. I almost quit riding. I had invested all of my happiness into this horse, and then he broke, and I thought he was going to die. It was awful.
What made you start riding again?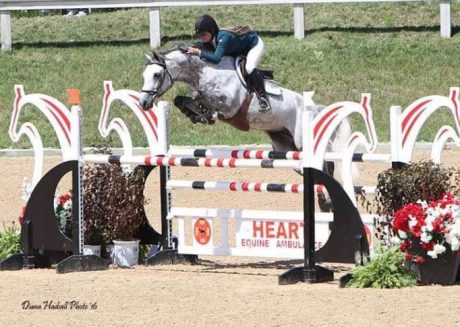 Shortly after that was when I moved over to David's barn and kind of started to fall in love with the sport, but I didn't have a horse. In 2014, after I had been having trouble with a mischievous sale horse David had me riding, Paige Beisel (David's wife) said, "You need to find this girl a horse!" So David found me a really cool five year old stallion named Five Star. Keep in mind that I was fourteen at the time. We were in Kentucky when I tried him, and he wasn't much at the time. He couldn't even canter a line straight. He was so green. He didn't even have a USEF number. But I just knew this was the horse. So I've had him for almost five years now, and he's just the love of my life essentially. He's been great. I won the $7,500 Futures Prix 1.30 m on him three years ago. He was the first horse that I ever moved up past the 1.10 m on.
Five Star and I both needed some more experience, so I sent him out to California for a good bit of 2017 to train with Olympic gold medalist Will Simpson, but it wasn't the best match. He eventually came back to David and he and David started doing really well. They were Champion in the 1.2o m at Tryon International Equestrian Center, then came to WEC and have had top placings in the Futures Prix. Recently, we were down in Ocala, Florida and David showed him in a $10,000 1.35 m Classic, and he was third, so he's really starting to come together again. He's finally got his heart back in it again. I hope to start showing him again soon.
Tell us about your other horses.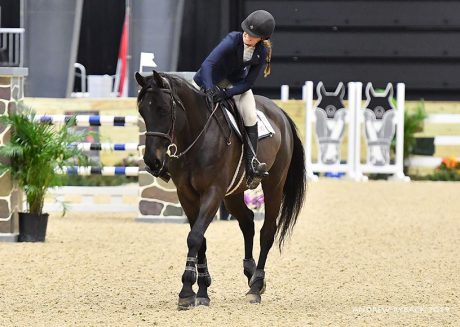 Up until this last Fall, we had not put money into a horse. I've been on a bunch of sale horses, kind of whatever David could throw my way, and it has been really cool. I won a big $25,000 class on one. But I had been stuck at the 1.10 m for about a year. It was hard, going from winning the Futures Prix to only jumping 1.10 m. This past year, we took the money that we had been saving for my college fund after I decided not to go to college and we used that to lease First Finch. First Finch is a lease-to-buy, so if things keep going well I'm hoping we can buy him. We're going to try some 1.40 m classes later in the year. He's only eight, so he's not a seasoned, developed horse. We're both kind of developing at the same time. He's the perfect teammate. He always does whatever I ask him to do. He's so brave. There was a huge 1.35 m Classic that we did in Ocala a few weeks ago, and it was a really tough class with a really tough course. It was easily the biggest course I had ever jumped. He just went out there and went around like it was no big deal. He's really cool. He loves to jump.
David had been riding the With A Little Help Sir horse and doing really well on him. I walked into the barn one day, it wasn't a great day, I wasn't in a great mood, and With A Little Help Sir's owner and my Mom were talking. My Mom turned to me and said, "How would you feel about this being your next horse?" I was shocked. I was still on an extreme euphoric high from leasing Finch and I was shocked. I had been watching him with David and I thought he was a super sharp jumper, but I never in a million years thought I was going to have my hands on him. This was at the end of December. I hadn't even jumped two jumps in a row on him until we were in Ocala a couple of weeks ago and I was really pleasantly surprised. We almost mesh even better than Finch and I do, and that's saying a lot. We did get some ribbons in the 1.20 m in Ocala, which was great. We did the Futures Prix at WEC last week and this week and were second and fourth, so that was awesome.
What do you see in the future with your horses?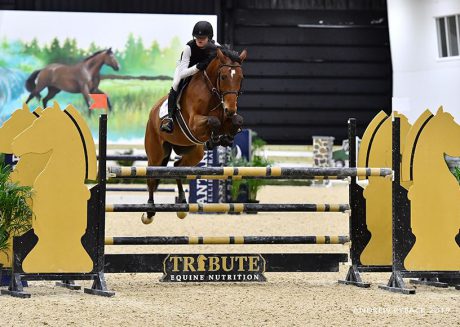 For Finch, I want him to be my U 25 horse. I've schooled a few 1.50 m jumps on him, and he totally crushed it, so that will just be a product of developing him and seeing where he can go. I'd like to move up to the 1.40 m on him later this year. I don't want to throw us into it, I want to give it time, but it would be cool if he could do the 1.50 m Prix one day. For Sir, I don't know if he can do the 1.60 m, but David is really confident that he can jump clear around the Kentucky Prix, and those are pretty big. Five Star…I've said this since the first day I sat on him…he's going to be my $1 Million Prix horse. He's going to do the 1.60 m with me. He has all of the scope in the world. I'm a little biased, but he's incredibly talented. He's a really special horse. I really want to breed him this year, too. That's my goal. At some point, it probably won't happen soon, but my next horse is going to be a mare. I need a lady in my life. I need a lady to keep us all in check. A mare would do me some good!
Do you do anything outside of riding?
I have essentially sold my soul to horseback riding. I wake up, I get to the barn at seven or eight in the morning, I'm there for 10-12 hours, then I come home and work and take care of my dogs. I work for my mom's company, REV Media Marketing. I run their Instagram, and it's got almost 35,000 followers, so it's a big job. It's pretty demanding.
Photos courtesy of Andrew Ryback Photography.