This week's Sunday Spotlight lands on fourth generation young horsewoman Miracle Smillie. Miracle frequently shows at World Equestrian Center competing on her ponies Daventry's Emerald City (Ozzie) and Apollo LCD (Apollo). Miracle had a fantastic week at WEC this week, competing with Ozzie in the 2′ USHJA Hunters and with Apollo in the Intermediate Child/Adult Jumpers .80 m, the Intermediate Child/Adult Jumper Classic and the .80 – .85 m Jumpers. Miracle took time this week to sit down and chat with us about her riding career.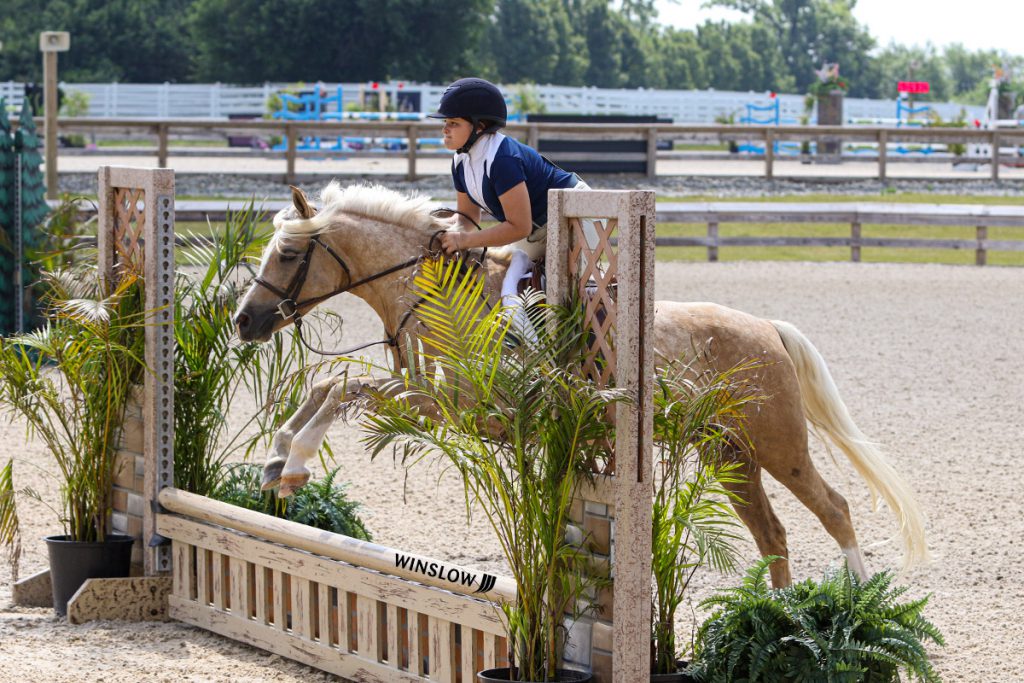 WEC: How did you get into riding?
Miracle: My mom rode, so at first I would just ride in front on the saddle with her. I was about a year old at the time. Then she got two ponies when I was a year old named Daisy and Joya. My Great Grandma, Grandma and Mom rode, so we've all ridden. My Great Grandma did Eventing, my Grandma started in Hunters then did Jumpers and my Mom did Eventing, then Hunters, then Jumpers.
WEC: When did you start riding on your own?
Miracle: I started riding on my own when I was about three or four.
WEC: When did you start showing?
Miracle: I was six. I showed a pony named Yum Yum Bubblegum or "Angel" in the Walk Trot Poles and Crossrails.
WEC: Tell us a bit about your show career so far.
Miracle: I've mostly done Hunters, I just started doing Jumpers. I've done the Walk Trot Poles, Crossrails, Opportunity 2', 11 and Under Equitation, 2' USHJA, 2'6" USHJA, .70 m Jumpers and the .80 m Jumpers.
WEC: Tell us a little about some of the ponies and horses that you've owned.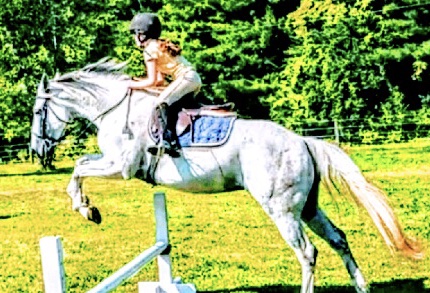 Miracle: Angel was my Hunter pony. She was naughty if I did bigger than 2', but other than that she was really good. I could get on her and ride bareback and stuff. Then Charlotte a little grey pony that was identical to my Mom's horse. I didn't show her, but I rode her bareback and double. Then I had Ciuas. I liked him because, even though he was a big 17 hand horse, he would just be a really good boy and he was a lot of fun to show. I showed him in the 2' Opportunity or 2' USHJA. Then I had Grace who was a large grey pony. I showed her in the Jumper ring, but she didn't like it, so I went to the 2' and 2'6" USHJA classes.
WEC: What horses do you have now?
Miracle: I have Ozzie and Apollo now. I like Ozzie because he's good at any height and I like Apollo because he's a lot of fun and really nice.
WEC: Tell us about how you got into the Jumpers.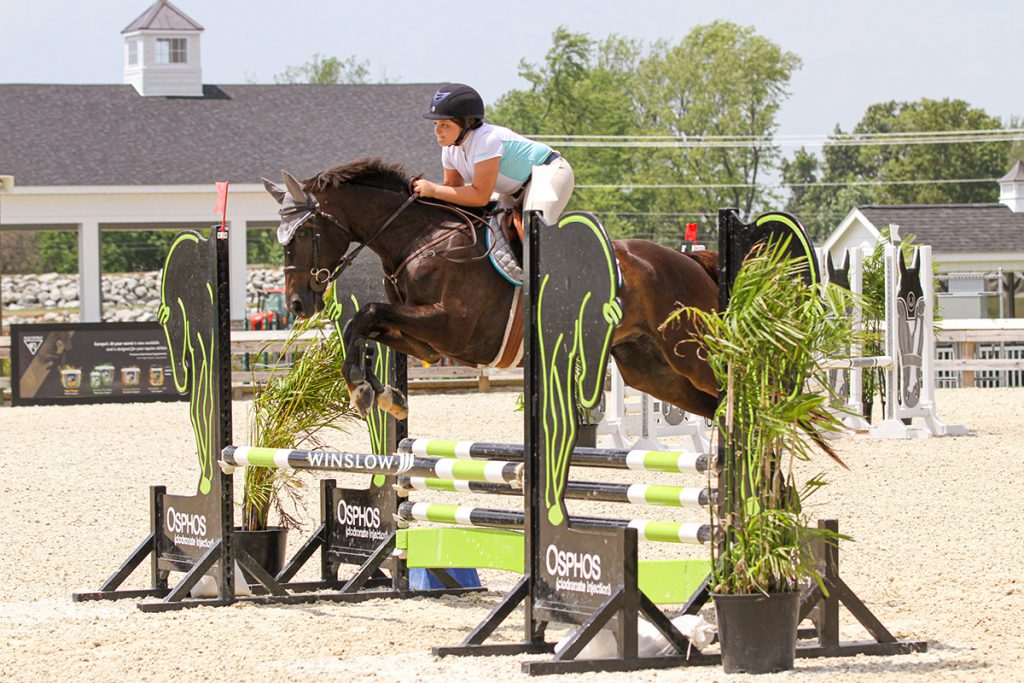 Miracle: I always watched my Mom do it and Ciuas was a Jumper and he was really fun, so I thought it would be fun to get a Jumper. I started with Ozzie and did the .75 Jumpers and we got Champion, that's what made me want to do it. So, we went to Florida. I was going just to ride, I wasn't going there to ride a horse. It was in March or April. We tried a chestnut Hunter that was a good boy but it didn't work out.
My Mom said we were going to go try a horse for a friend, which we weren't actually doing. We were going to look at it for me. On the way, we were calling him "the pony" because we didn't know his name. I told my Mom I always wanted a horse named Apollo. Then, we got there and his name was Apollo. I tried him and I could feel how strong he was and it made me nervous at first. But I ended up really liking him. I showed him twice, he was really cool. Then my Mom told me that the vetting "didn't go well" (which she was just saying.) She said we were going to say goodbye and stopped at the store on the way and got a bunch of craft stuff like a white board, a marker, tape and ribbon. When I got to the barn they asked me to go help set jumps. When I went back in the barn, he had a big bow on him with a sign that said "Welcome to the family, Miracle. Love, Apollo." So I got him and brought him home.
WEC: Tell us about a memorable show experience you've had.
Miracle: On Angel, I did really good that day. They had fun classes at the end of the day, like competitive flat classes. Since I did good, my trainer put me into the class and we went in and won! We got this really cool glass trophy.
WEC: What do you see in the future for your riding career?
Miracle: I don't think we can go to the Olympics, so instead of that I want to do the World Cup and Grands Prix and be a trainer.

Join us for our Upcoming Shows
Be sure to get your entries in now for our August 7-11 horse show – the last show of the Spring / Summer Series which features a $5,000 USHJA National Hunter Derby. An added plus: there is no braiding required! Reserve your stalls and submit your entries at www.horseshowing.com.
Get your entries in early for the WEC Fall horse shows featuring 5 back-to-back shows with nearly $1 Million in money and prizes offered. Feature classes include two $20,000 USHJA National Hunter Derbies (Open and Non-Pro) weekly. Entries are open now and stall reservations can be made online at www.horseshowing.com.