Tho Ohio Hunter Jumper Association hosted their annual Medal Finals today in the Sanctuary Arena during the Country Heir Midwest Indoors II. Competition was fierce with two separate divisions to show, the 2′-2'6″ division and the 3"-3'6″ division, and both division Champions competing head to head for an Overall Champion title.
OHJA Medal Finals 3′-3'6″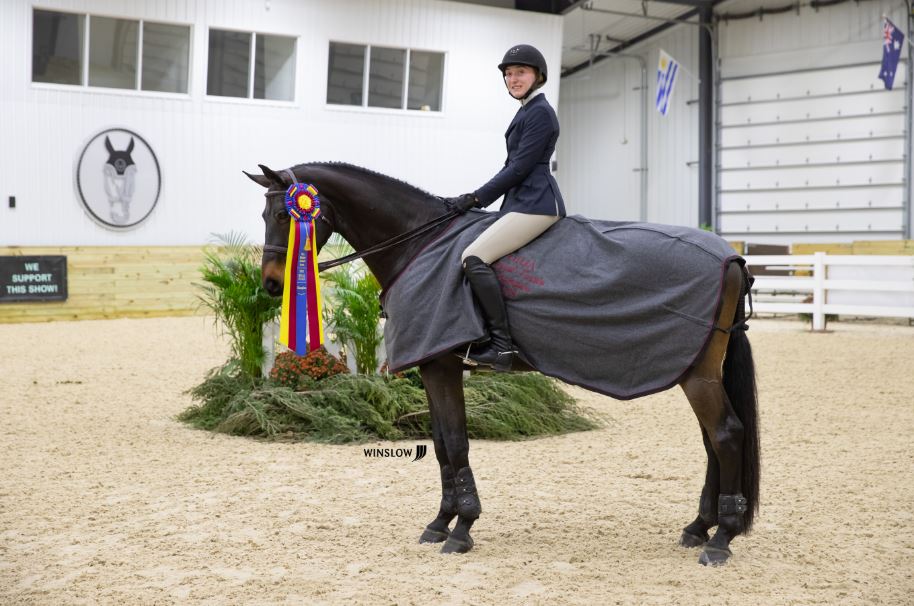 14 riders delivered impressive competition in the 3′-3'6″ division of the OHJA Medal Finals, each riding a beautiful first round. The course consisted of single fences and bending lines that allowed riders to find their flow around the ring. One rider stood out from the start. Third to ride in 3′ height of the 3′-3'6″ division was Madison P. Fankhauser aboard Elizabeth G. Walters' Double Dutch. Madison delivered a stellar round, riding with an air of confidence that showed her incredible ability in the tack.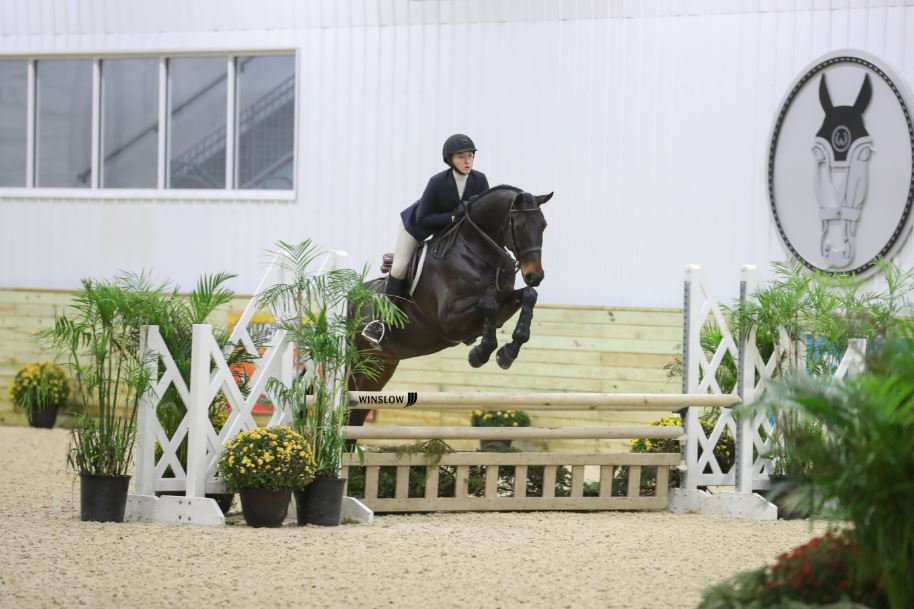 Not only did Madison take home Champion in the OHJA Medal Finals 3′-3'6″, she was also voted by the judge as Overall Champion of the OHJA Medal Finals, and her name will be added to the perpetual trophy. Madison was ecstatic with her placings in the Finals today. "[Double Dutch] felt really well balanced and even throughout the whole ride today," Madison explained. "At home, Angela [Moore], my trainer, makes crazy courses with a lot of decorations and a lot of end jumps and bending lines. I think that really helps us prepare." She went on to compliment the recently imported Double Dutch and all of his "perfection".
OHJA Medal Finals 3′-3'6″ Results
1. Double Dutch, Madison P. Fankhauser
2. Ecuador, Alexander Alston
3. Zimba, Brooke Alexander
4. Barradouz, Gabrielle Phlegar
5. Kingston Lane, Katie Rankin
6. Chamonix, Sydney L. Miller
7. Jumping For Joy, Erika Thornell
8. Piano Man, Elizabeth Orosz
9. Ragazzo Carino, Adeline Pavlin
10. Vivendi Boy, Erin Hasenoehrl
OHJA Medal Finals 2′-2'6″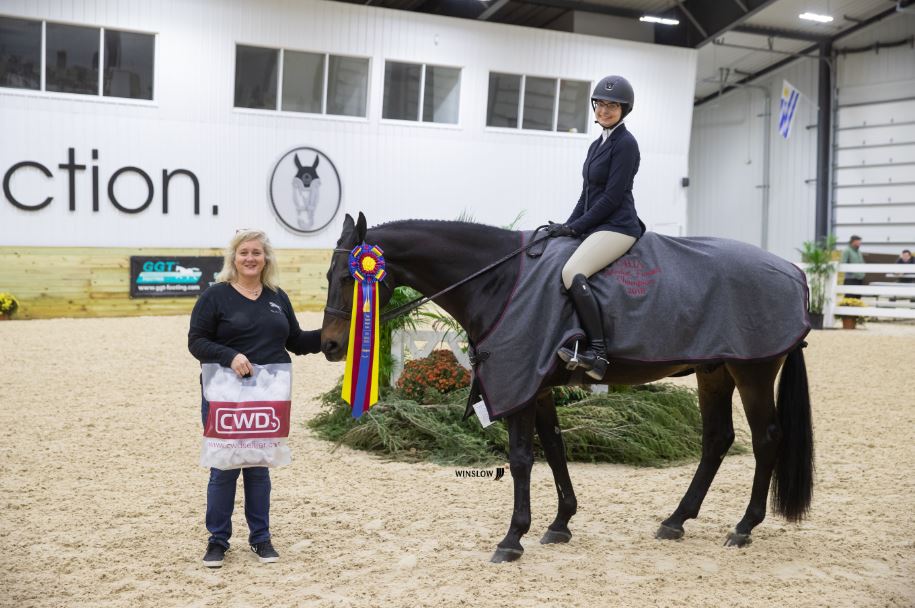 The 2′-2'6″ division led the Finals off, with about 20 riders to compete. Junior and Amateur riders competed against one another on both horses and ponies, adding another level of interest and difficulty to the competition. The course remained the same as that of the 3′-3'6″ division, again allowing the riders to to demonstrate adjustability in their mounts. The majority of the riders competed over the 2'6″ height, and all riders rode the course exceptionally well. The group then continued onto the flat phase, which set many riders apart from the pack with stellar equitation and exceptional horsemanship on display.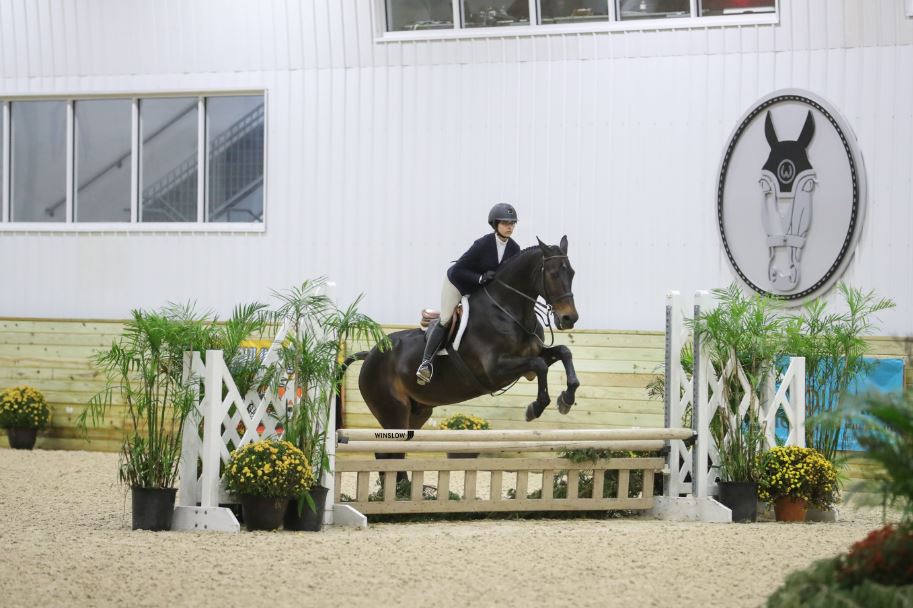 Though many rides were noteworthy, it was Melodie Robitaille aboard her own Written The Stars that took Champion in the OHJA Medal Finals 2′-2'6″. Melodie and Written The Stars competed at the 2'6″ height, riding a lovely flowing course that exuded confidence. Coming off of their win in the $2000 Non Pro Derby 2'6″ at the WEC Fall Classic in October, Melodie and Written The Stars were well prepared for the Finals today. "To prepare for [the OHJA Medal Finals], we did a lot of sitting trot and transitions, as well as a lot of pole work and a good bit of bending lines," Melodie explained about her weeks leading up to the Finals. She was particularly proud of Written The Stars' performance today, "He was perfect for my round, I couldn't have been happier."
OHJA Medal Finals 2′-2'6″ Results
1. Written The Stars, Melodie Robitaille
2. Fandango, Marta Peredo Sanchez
3. Score, Jacob Harris
4. Robin Hood, Alexa Manly
5. Captain Nemo, Ella Norman
6. Sollux, Maureen Clancey
7. Stellar, Daniela Casline
8. Lorentino, Ariana N. Angelis
9. Fine Art, Lillian Krueger
10. Capriccio, Emily Williams